This post may contain affiliate links, which means we may receive a commission if you purchase through our links. Please
read our full disclosure here
.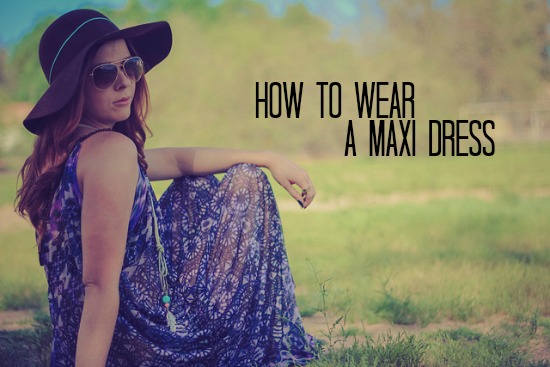 CF has written a lot of articles about maxi dresses in the past, and – although it took a while for me to get on board – I think I'm slowly falling for this trend, too. This week, I decided to dig inside my closet and find the only maxi dress I have – which I have probably worn twice in the year since I bought it – to play dress-up and experiment a bit.
The reason this piece of clothing is so scary for me is that I find it overwhelming in terms of length and color. Also, I used to think it was more appropriate for the beach than campus. However, by the time I was done with this post, I had already changed my mind! Read on to see how I styled a maxi dress for spring:
1. Find the right balance
Now, this dress might not be for everyone, but I am of average height and think I managed to pull it off easily. The key here is to combine and experiment, but always keep in mind that there's a specific silhouette out there that works for you and will always make your body look absolutely amazing. You may have to experiment to find it, but it's worth the time invested!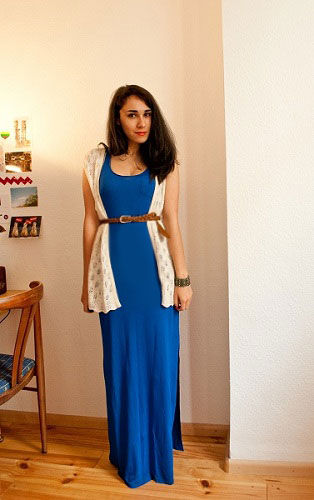 I wasn't very comfortable with how tight my dress was in the back, so I wanted to wear something that would mask that area. I added a crochet vest on top, but since I also wanted to look put-together, I used a belt to emphasize my waist. The vest also has a second function: because the dress is such a strong electric blue, the neutral white makes it easier on the eye and less overwhelming.
2. Slightly formal
I wanted to see if I could take a beachy maxi dress and style it into a look that would be appropriate for an office or classroom setting. I think I succeeded, although for a conservative workplace I would replace the chunky sandals with a different pair of high-heeled shoes.
Overall, this is probably the easiest way to completely transform a piece of clothing: just add a navy blazer, roll up the sleeves, and put on some fancy shoes.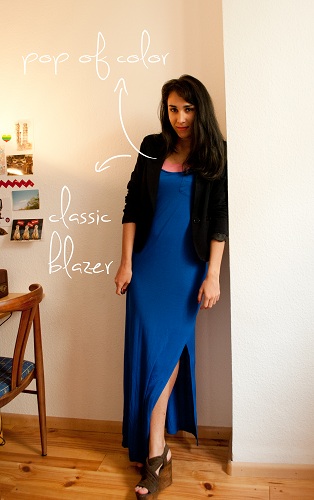 Also, I don't know if you noticed but I wore a top underneath the dress – again, double purpose: not only does it hide excess cleavage, but the pink color of the top warms up the cool-toned blue of the dress.
3. Use your resources creatively
This next look transforms a maxi dress into a skirt by layering a blouse on top. If you do this, remember to pay attention to the shirt you choose. I tried several alternatives but what worked best for me was anything that still showed a bit of the dress, such as this off-the-shoulder t-shirt.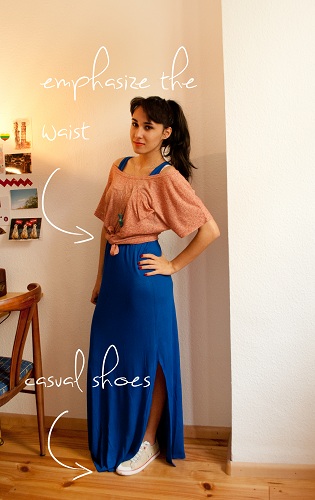 I found it necessary to do something to keep the whole ensemble from becoming too sloppy and baggy, hence the knotted t-shirt. Although I liked all the outfits, I think this was my favorite – it's casual, sporty, and it looks effortlessly chic. It's also appropriate for campus, especially with the warm weather we've been having these days!
4. Forget the rules
Usually, maxi skirts or dresses are supposed to be worn with something tight on top, to maintain a balanced shape. As you can see, I took a different approach, based mostly on what I like to wear and not wanting to obey the rules.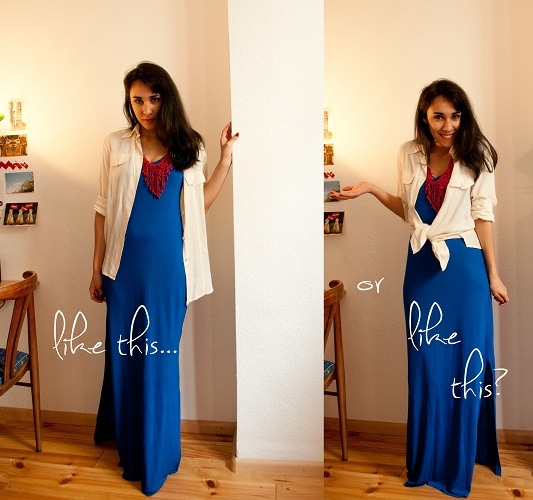 For my fourth outfit, I went for a white shirt which is rather loose and long and I went all in with the accessories, choosing a bold red coral necklace. The red was a dare for me, since the dress was also a strong (but complementary) color, however I think it turned out nicely. I couldn't decide whether I should wear the shirt unbuttoned or tie it at the waist, so I included both photos, just to see what you think about it!
5. Just one more thing…challenge yourself.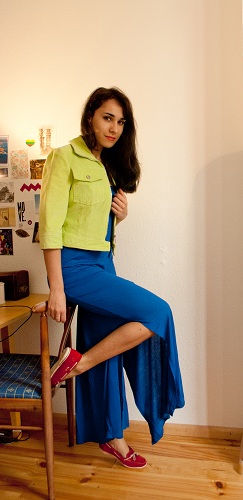 I included one last outfit just because it is one that shows how much I've grown since the beginning of the year. Some time ago, wearing something like this used to scare me, but if you remember my New Year's resolutions, I promised myself to take more risks when it comes to fashion. One of them included wearing more colors, so here I am, wearing three different colors and feeling proud of it.
Your turn, beautiful!
Do you own a maxi dress? Would you wear any of my outfits? How would you style a maxi dress? What other pieces would you like to see me style? I hope I inspired you to give maxi dresses a try and I'm looking forward to hearing what you have to say about it!