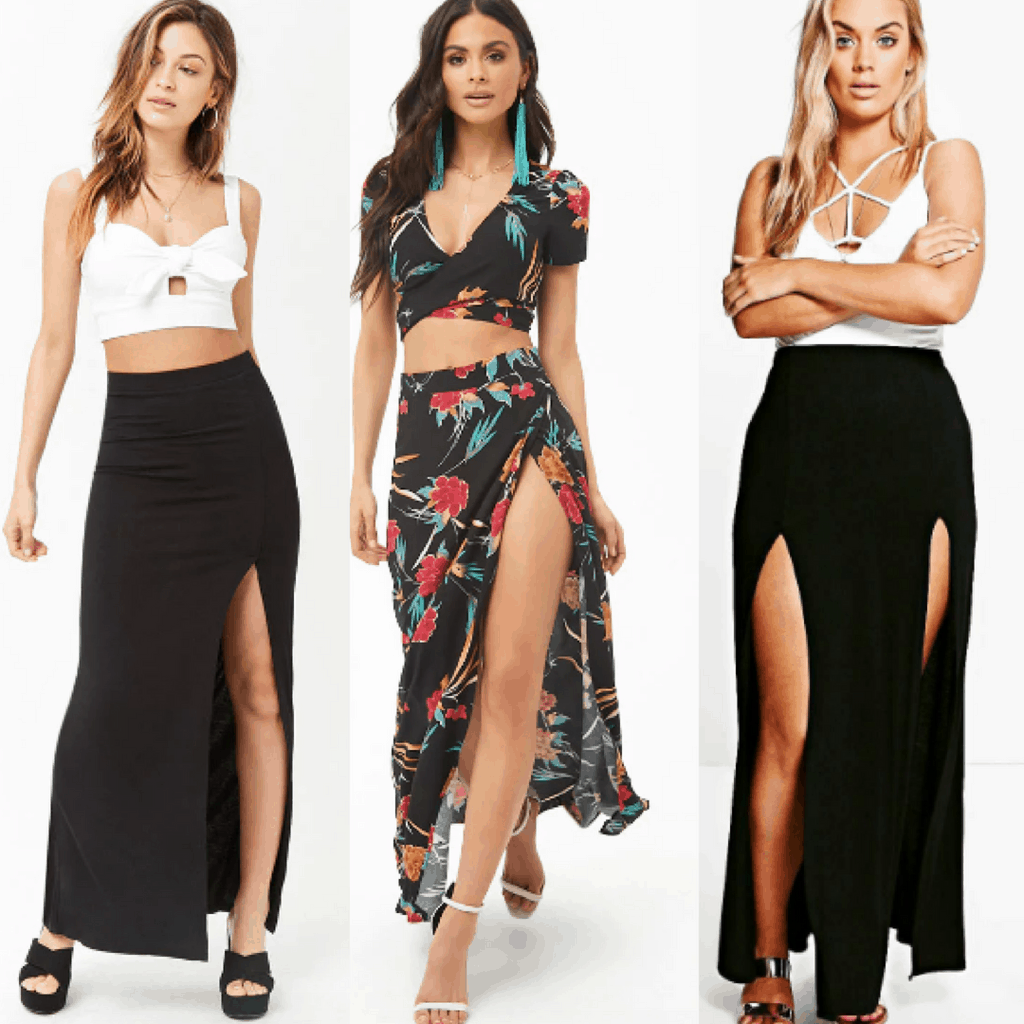 Products L-R: Forever 21, Forever 21, & Boohoo.
Everyone should own at least one maxi skirt with a high slit or even a slit on both sides. Split maxi skirts are perfect for warm weather and they're also perfect for a multitude of occasions, from dinners to days on campus.
You've probably seen maxi skirts with slits in most stores you frequent — they always trend in the summer months, and they have a little bit of a '90s throwback feel that's popular right now. The great thing about maxi skirts is that they come in so many different colors. There's one for every color in the rainbow, and they can be styled a million different ways.
Below, I'll show you how to style a split maxi skirt for a day of classes and a night out:
How to Style a Split Maxi Skirt for Class: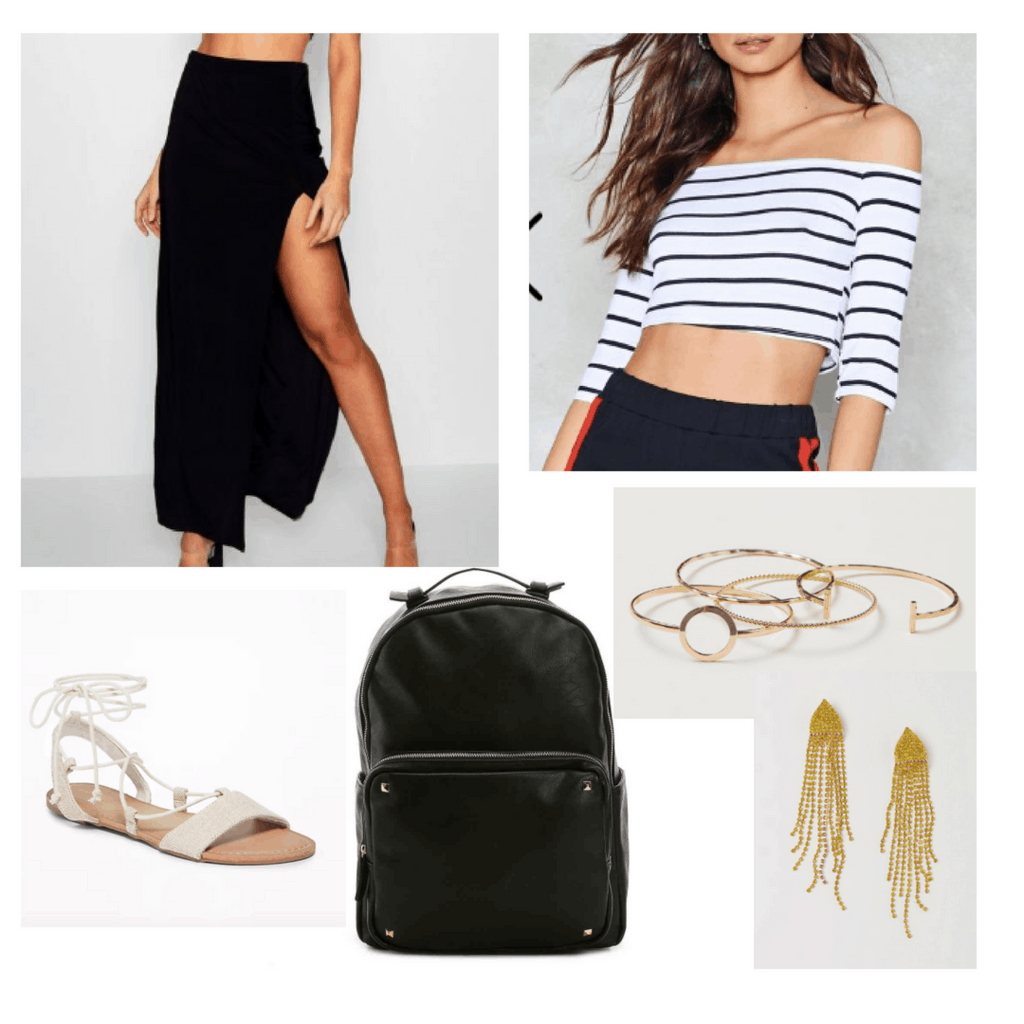 Products: Skirt – Boohoo, Top – Nasty Gal, Sandals – Old Navy, Bangles- H&M, Earrings – H&M, Backpack – DSW.
For this look, I paired a maxi skirt with a striped crop top. Maxi skirts already look amazing on their own but with a crop top, you have a chic and trendy outfit that's surprisingly still covered-up and appropriate for class. (The long sleeves on the crop top help!)
I paired this outfit with cute lace-up sandals. Every girl needs some lace-up sandals in her closet and these ones are the perfect ones to pair with your maxi skirts, as you'll see the pretty laces via the skirt's slit. Finally, to complete the ensemble, I paired the look with some cute bangles and dangling earrings. Finish the outfit with a cute backpack to hold your essentials and you're good to go.
How to Style a Split Maxi Skirt for a Night Out: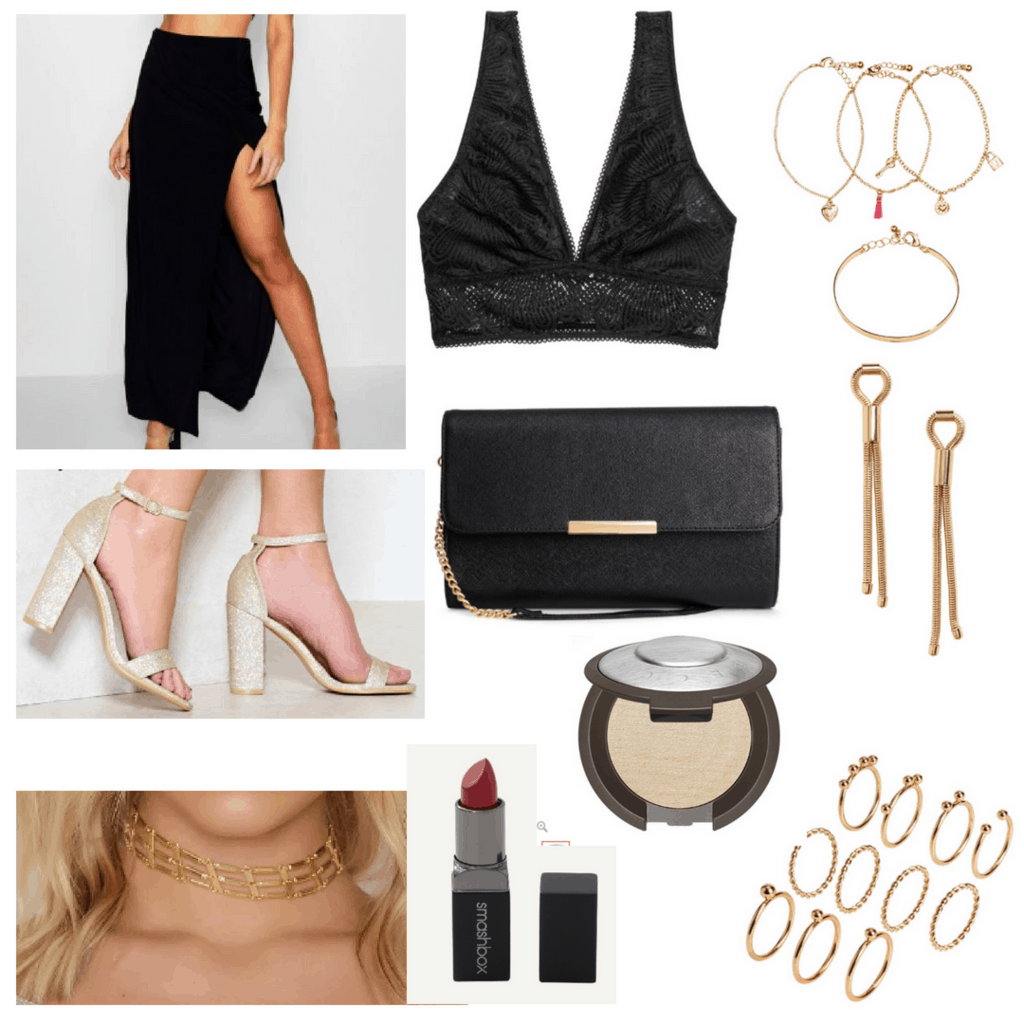 Products: Skirt – Boohoo, Top – H&M, Heels – NastyGal, Choker – NA-KD, Bracelets – H&M, Earrings – H&M, Rings – H&M, Lipstick – Smashbox, Highlighter – Becca Cosmetics, Purse – H&M.
Taking the same skirt, I went for a daring vibe and paired the skirt with a sexy bralette. Bralettes are perfect for pairing with maxi skirts as they're simply a more daring take on a crop top. Since the skirt is high-waisted, you won't show as much skin as you'd think with this look, while still looking sultry and on-trend.
As for shoes, I paired this outfit with cute gold high heels. I completed the outfit with a gold choker, gold bracelets, cute gold dangling earrings, and a couple of gold rings. To make the outfit perfect for a night out, I completed this look with a bright, bold red lipstick from Smashbox. To ensure that you are ready for the night out, I included a Becca Cosmetics highlighter that will have you glowing the entire evening! A simple black purse completes the ensemble.
Split Maxi Skirts: Yay or Nay?
Whether you're going to class or going out with some girlfriends, maxi skirts with slits are totally versatile. As always, casual or dressy is all in the styling.
How do you all feel about maxi skirts? How do you style them? Comment down below and let us know what you think!