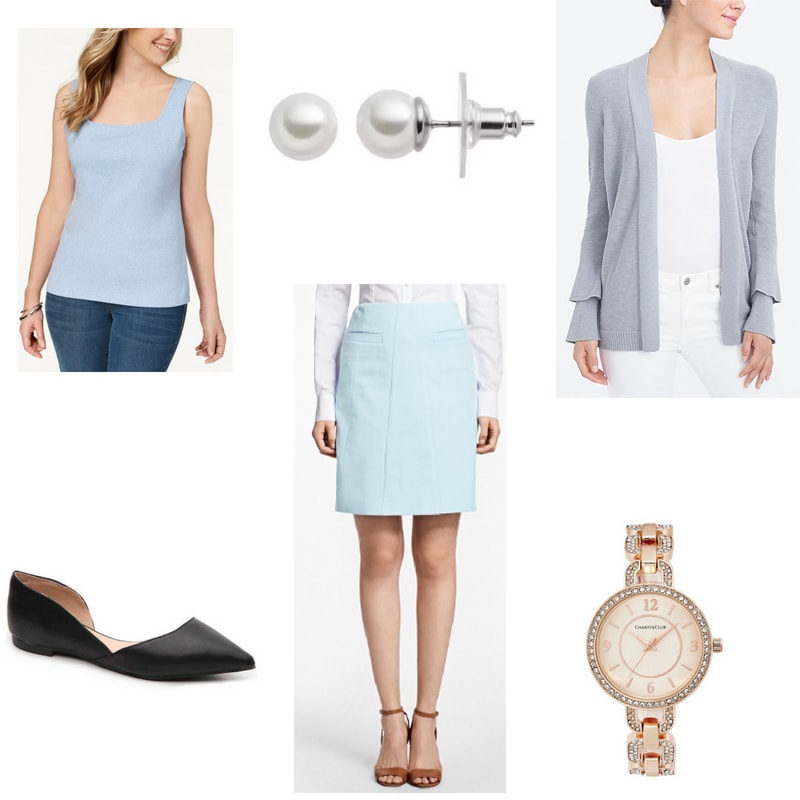 Summer internships and jobs are practically required for college students looking to make the most of their vacation time. If you're working in an office this summer, it's important to dress professionally, but it can be hard without getting hot. What doesn't make it much better is that most college students don't have the budget for a full work wardrobe.
So how can we solve this? One way is to learn to style the summer staples you have in your closet for internships/work. That way, you can save money while dressing professionally in the summer.
Of course, not all summer staples are going to fly in the workplace, especially not in conservative workplaces. Because of this, we've included some tips below to guide you. As well, keep in mind that the outfits below are best for fashion-forward workplaces, casual internships and jobs, and casual Fridays.
Things to keep in mind:
Because you're probably wearing a casual piece to work, it's best to keep the rest of the look more professional. If you're wearing a casual summer piece and add another summer piece to your look, it may turn out to be less professional than you wanted it to be.
Natural, breathable fabrics are great for hot weather. Natural fabrics, like cotton and linen, will keep you much cooler than artificial fabrics, such as polyester and nylon.
Loose-fitting silhouettes are a good idea. Because it's gonna be hot out and you might encounter times where the AC is broken, slightly loose-fitting clothes will keep you cool and won't cling to your body.
Even though it's hot, it's best to avoid low-cut tops and dresses and short hemlines. This rule obviously applies to many workplaces. The hemline of your dress, skirt, or shorts should be no shorter than mid-thigh. (And take your cues from the office — if no one wears even mid-thigh items, stick with the hemline length that other people are wearing and don't go shorter!)
In case the AC is on full-blast, bring a cardigan or a light jacket. Even though it's hot outside, workplaces put their AC on, and it can get chilly inside. A cardigan or a blazer will not only keep you cool, but make sleeveless tops and dresses more professional.
Let's take a look at the outfits, shall we?
Maxi Dress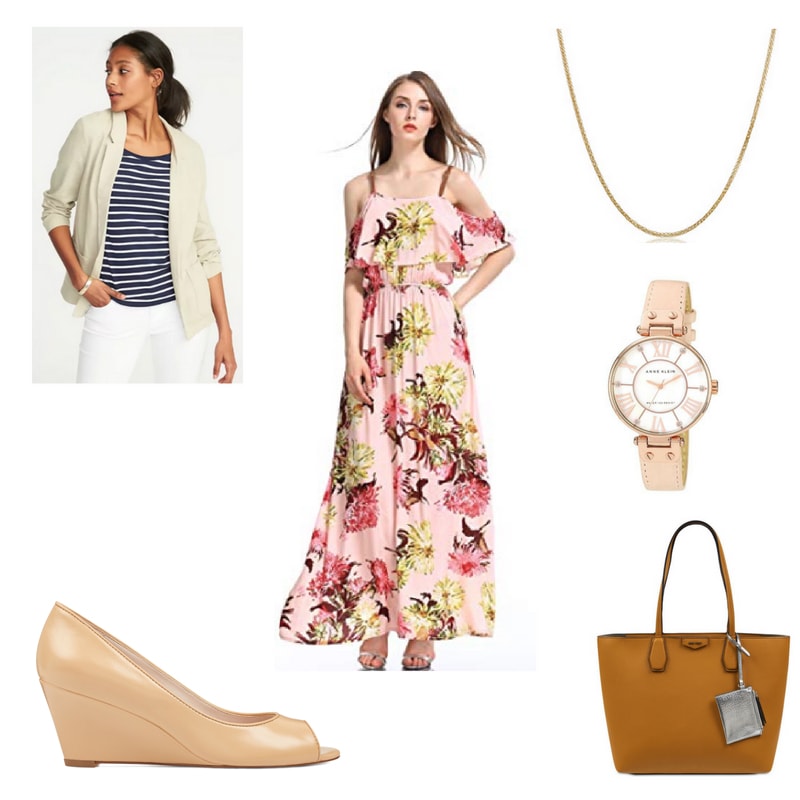 Products: Dress – Amazon, Blazer – Old Navy, Shoes – Nine West, Necklace – Amazon, Watch – Macy's, Bag – Macy's
A maxi dress is a summer staple that you likely have in your wardrobe. This one from Amazon is breathable and versatile. Because of its versatility, you can wear this dress to work. Its floral print is sweet and fresh, and when paired with a neutral blazer, the dress becomes toned down, modest, and professional.
Nude wedge pumps keep the maxi dress from dragging on the ground, but won't sacrifice comfort. Keep the rest of your look simple with a chain necklace, a leather strap watch, and a brown work tote.
Tank Top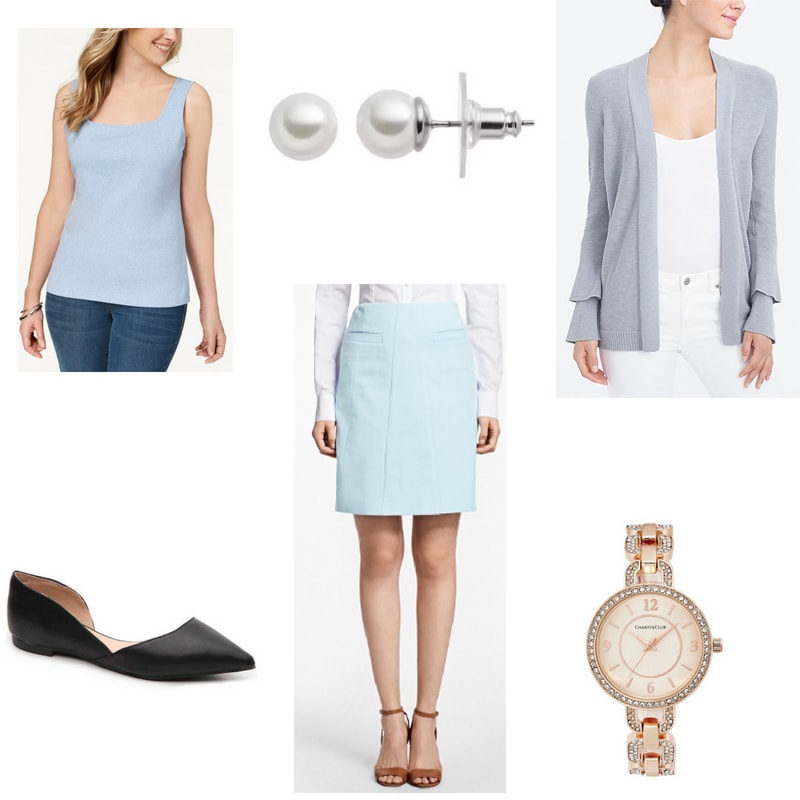 Products: Tank – Macy's, Cardigan – J.Crew Factory, Skirt – Brooks Brothers, Flats – DSW, Earrings – Kohl's, Watch – Macy's
There's a good chance you wear tank tops a lot in the summer, and this professional outfit, which would be great for casual internships and fashion-forward jobs, shows you can wear a tank top to work.
It's always a good idea to keep your arms covered in the workplace for the most professional feel. A pretty cardigan from J.Crew Factory will do that. This cardigan is lightweight so it won't have you too hot in the summer.
A light blue a-line skirt looks like a pencil skirt, but is much more breathable and when paired with the tank top, it looks like a monochromatic look (the tank's shade is slightly darker than that of the skirt).
Accessory-wise, black pointed-toe d'Orsay flats give off the professional vibe and look great with the outfit. Pearl earrings are simple and great for working wardrobes. Finally, a rose gold watch with little diamonds adds sparkle.
Denim Shorts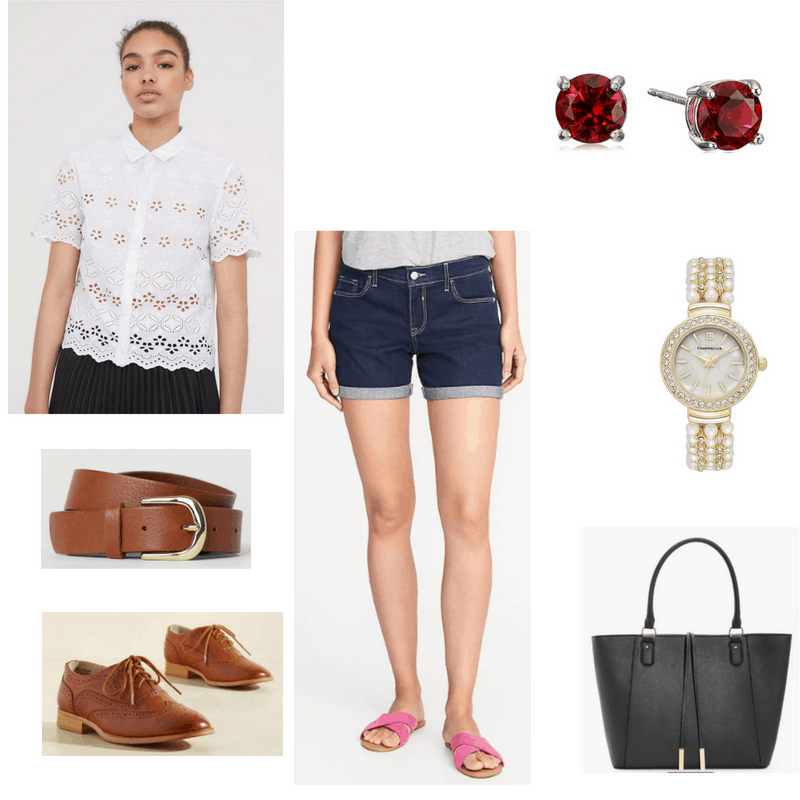 Products: Blouse – H&M, Shorts – Old Navy, Shoes – Modcloth, Belt – H&M, Watch – Macy's, Earrings – Amazon, Tote Bag – Boohoo
You probably have a pair of denim shorts in your closet. While denim shorts may not be appropriate in most work environments, that doesn't mean they can't ever be made workplace-appropriate. This outfit above shows you that it's possible to make shorts, even denim ones, appropriate.
As with the other looks in this post, this outfit would be great for a very casual internship or it could work for a casual Friday. (As always, take your cues from what other people at your work wear — if you've never seen denim shorts there, don't be the first person to rock them!)
The shortest that shorts can go for work is mid-thigh, and these shorts from Old Navy are longer than your typical cutoffs. When paired with a pretty eyelet blouse and brown oxford shoes, these shorts instantly become more professional. The blouse does have eyelet embroidery and may show a little skin. If you want to be safe, we recommend wearing a tank or cami under. What's great about the blouse is that it's 100% cotton, AKA comfy for the summer.
A brown belt matches the oxfords while a pearl watch and ruby studs offer a fashion-forward vibe.
Sundress
Products: Dress – Amazon, Cardigan – UNIQLO, Wedges – Amazon, Earrings – Nordstrom, Necklace – Macy's, Belt – Target
Sundresses are a big summer staple and it's possible to make a sundress appropriate for work. This sundress is also a little white dress (LWD), which is a versatile summer staple. Just add a pink cardigan to keep you appropriate, protected when the AC's on, and stylish. Pink and white is such a cute color combo, isn't it?
These simple brown wedges look great with the dress and cardigan combo. Add some girly jewelry, namely gold flower earrings and a rose gold pearl necklace, to add sparkle to the look.
Sandals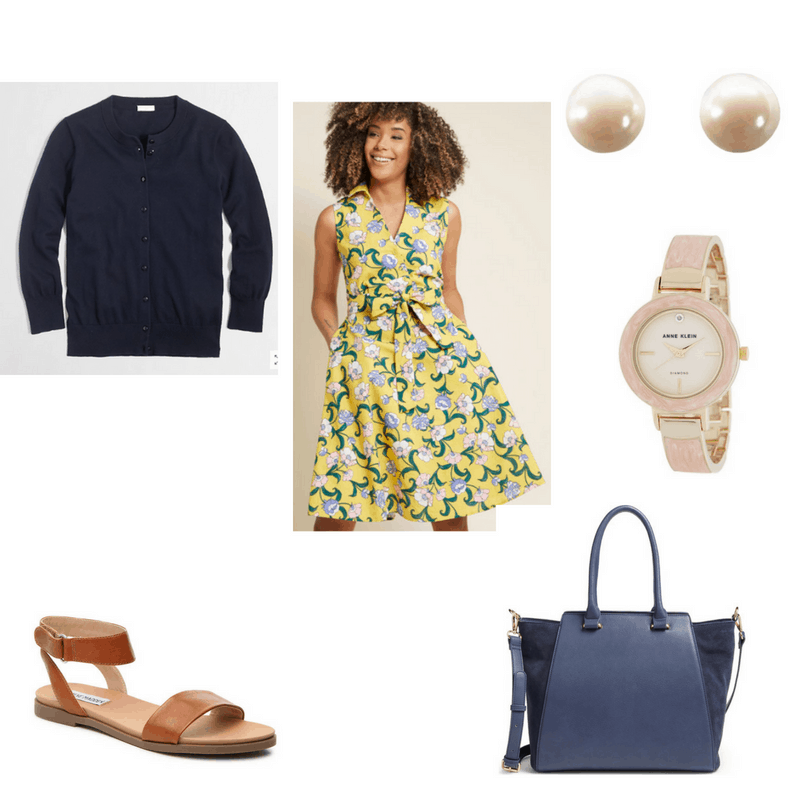 Products: Shirtdress – Modcloth, Cardigan – J.Crew Factory, Sandals – DSW, Watch – Nordstrom Rack, Pearls – Lord and Taylor, Bag – Nordstrom
Sandals are the ultimate summer shoe, and we're willing to bet you own a few pairs already. Despite their comfort and versatility, sandals aren't allowed in all workplaces. However, if you've seen sandals at work before, then you can feel comfortable styling them into this professional look.
When these simple brown sandals are paired with an adorable yellow floral shirtdress from Modcloth, the dress-and-sandals combo can be worn for any summer occasion, including a Casual Friday. How cute is this bow belt on the dress? A navy cardigan from J.Crew Factory will help tone down the dress to make it more professional. The bold print and color of the shirtdress pops against the muted color of the cardigan.
Pearl earrings and a simple watch add professional sophistication to the look while a navy satchel pulls everything together and matches the cardigan.
Espadrilles and Sunglasses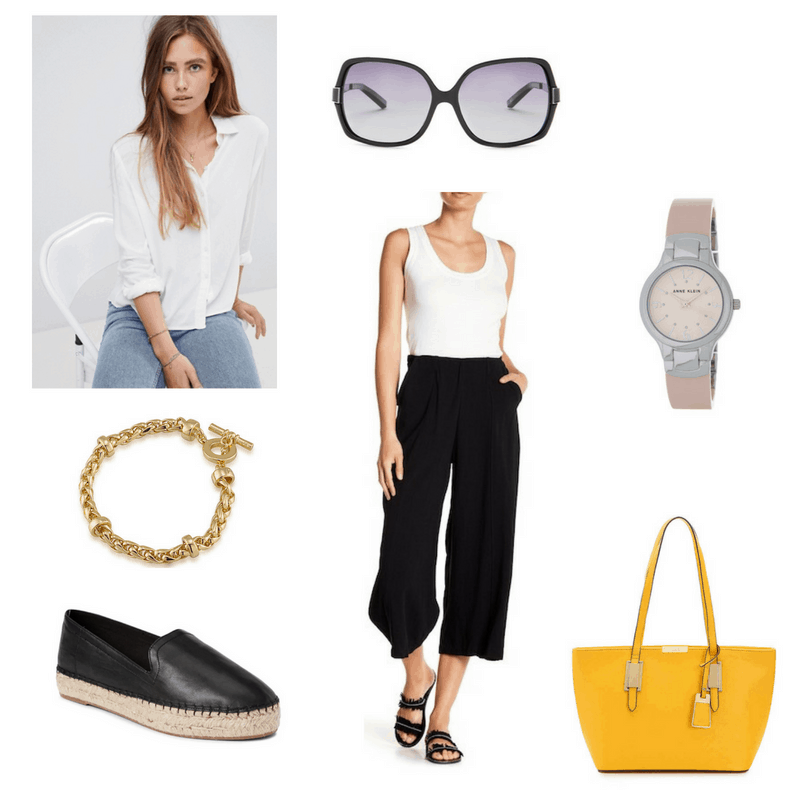 Products: Shirt – ASOS, Culottes – Nordstrom Rack, Espadrilles – Gap, Watch – Nordstrom Rack, Bracelet – Bloomingdale's, Sunglasses – Nordstrom Rack, Tote Bag – DSW
We all know that espadrilles are trending like crazy this summer, so we might as well make them look chic for the workplace. These espadrilles are also loafers; loafers look very professional, so these loafers should be fine for most casual workplaces.
When you mix the espadrille loafers with a classic white button-down and black culottes, you effectively create a blank canvas for accessories. Here, we want to achieve a professional vibe, so let's add a sparkly gold chain bracelet and a two-toned watch with subtle sparkle.
Let's add a work tote that is both cute and functional. This work tote is yellow and Gen Z yellow is a trending color in 2018; the bag also provides a bold pop of color. Oversized sunglasses would look so chic with this look and protect your eyes on the way to the office.
Do you wear non-traditional items to work?
What do you wear to work in the Summer? How do you style your casual pieces to make them appropriate for work? I'm eager to know your thoughts.