This post may contain affiliate links, which means we may receive a commission if you purchase through our links. Please
read our full disclosure here
.
As you might have noticed from my previous post on how to wear leopard print, I love patterns and prints. I love mixing them up, but I also love having them as the focus of my outfit. For this post, I am going to show you guys how to wear polka dots – one of my absolute favorite prints.
Below, I have created four outfits for very different occasions, all featuring polka dots – a casual daytime look, an outfit for a day at the office, a date night ensemble and a formal look. I hope they inspire you to bring this trendy print into your life!
1. Daytime Casual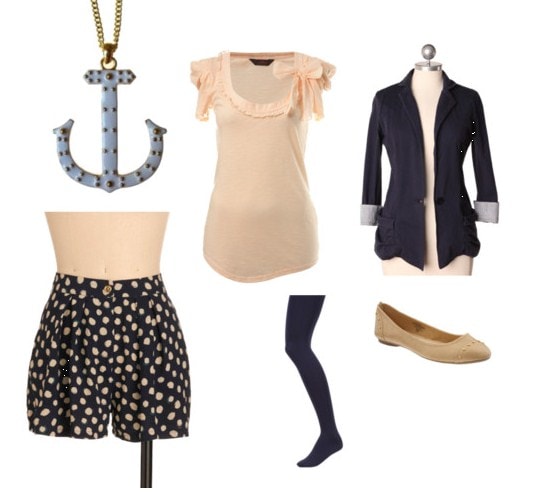 top/blazer (the one I used is out of stock but this is similar)/ shorts/tights/shoes/necklace
When I think of polka dots for daytime, my thoughts go straight to patterned shorts. Although they were a summer trend, there is no reason you can't keep wearing your favorite pair into next season – just add opaque tights and a cardigan, like I did in the outfit above. Finish the look off with a cute anchor necklace for a fun nod to the nautical trend.
2. Dots at the Office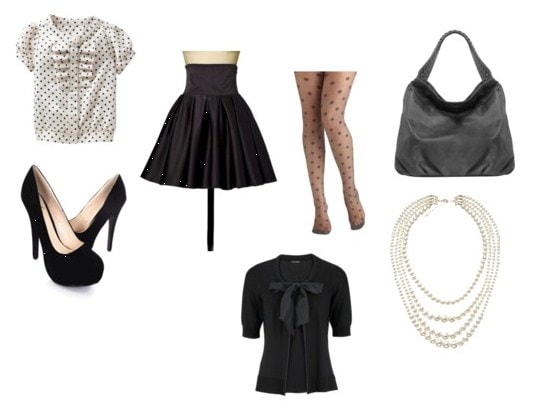 cardigan/top/skirt/tights/shoes/bag/necklace
Although most summer-long internships are over now, I know many of you CF readers are still working while you're in school. But even if you're not working right now, a cute, professional-looking outfit is essential for events ranging from meeting your advisors to job interviews.
I love workwear, but I hate boring pant-suits, so this look is a fun take on corporate chic. The skirt is long enough to be office-appropriate, while the polka dot shirt is girly and fun. A big bag and girly cardigan help this look transition between many temperatures and settings. I added dotty tights for interest, but you could substitute plain tights for a more subtle look. I finished the look off with heels, but you could also wear flats instead.
3. Date Night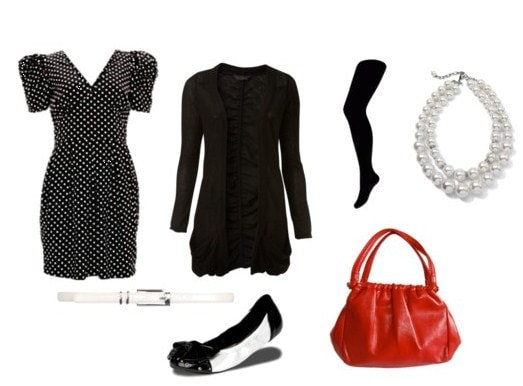 dress/cardigan/tights/shoes/bag/necklace/belt
Date night outfits are tricky – whether it's a blind date, a date with a guy you've had your eye on for a while, or simply a night out with your boy, it's difficult to get the sexy/chic balance right for that special occasion.
Fortunately, this perfect little polka dot dress is the epitome of cute and sexy. It has a gorgeous fit, yet is completely simple; it'll make you look amazing, but not like you tried too hard. I added a bag in this season's hottest color, bright red, and a cardigan for warmth (unless he's a real romantic and offers you his jacket!). A belt will cinch you in at the waist (belt it over your cardigan) and these Chanel-esque flats will keep you comfy yet stylish, no matter where the night takes you.
4. Formal Night Out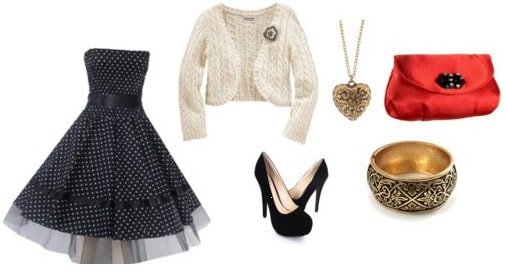 bolero/dress/shoes/clutch/bangle/necklace
We all now the little black dress is fashion royalty, but for some formal events, you want something a little more interesting. Enter the LDD- the Little Dotty Dress. Dresses like the one above have that sexy '50s-style silhouette while maintaining a classy length and exuding sophistication.
I kept this outfit simple, accenting the dress with gold jewelry and a little white cardigan. Again, I added a red bag for a pop of color, and kept the footwear simple with basic black heels.
If the exact dress above isn't your taste, but you like the look, you can get these kinds of dresses in hundreds of other colors and cuts – retro-style websites like Dolly Dagger are perfect for those of us who like vintage glamor, and are full of these types of dresses.
What do you think of polka dots?
How do you like this trend? Do you think it's super-fun or cute overkill? How will you be wearing polka dots this season? Have I inspired you to embrace your inner '50s girl? Let me know in the comments!