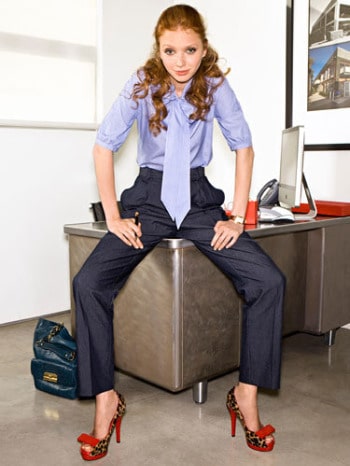 Even if you see nothing but fun in your future right now, you will eventually have to go to a job interview. If you've already been through the interview process and have a great job (lucky you), you still might need clothing that's more than casual for the office. Due to popular request, here's my list of fashion essentials for job interviews and work environments.
To start, here are some tips on shopping for interview and work wear:
Skip sexy! An interview is your opportunity to show your potential employer what kind of worker you are going to be. Traipsing in wearing a mini skirt and sequined tank top on says "party girl", and that is the last thing your boss-to-be wants. You want to look professional–but that doesn't mean you have to sacrifice style!
Focus on business casual classics that can be worn many ways. You want versatile pieces that you can personalize with different accessories.
While stores like Forever 21 and Charlotte Russe might be great places for everyday wear and accessories, you may need to step it up and spend a bit more (but not too much) on work clothing or interview wear. If you have a tailored piece from a discount retail store, you can probably get away with wearing it, but don't wear anything that might look too trendy or cheap.
Office Essentials
Here are some must-have items and outfit inspiration for your big interview:
1. A Works-with-Everything Jacket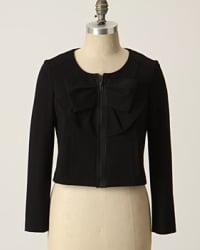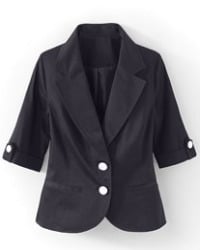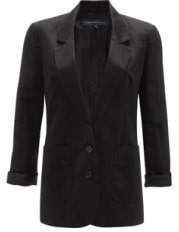 Product Information: Bow Jacket – Anthropologie, Blue Blazer – Newport News, Sateen Boyfriend Blazer – French Connection
Suits are boring, and for most entry level job interviews, too stuffy. A jacket is a great way to take things up a notch without resorting to a matchy-matchy suit set. If you already have a suit you love, break up the set and wear the pieces on their own. A blazer can be worn with almost any basic (dress, skirt, trousers) and is versatile enough to transition into everyday wear as well.
A blazer needs to fit your body type and personal style. If you are curvy like me, make sure that your jacket nips in at the waist (could I sound any more like Stacy and Clinton?), like jacket #2 above, so you don't look boxy. A long, slim, and fitted boyfriend blazer (see jacket #3) flatters busty shapes, and a bold embellishment, like the bow on jacket #1, or a bright color, can work on pear shaped bodies. No matter your shape or size, be sure that you can comfortably button up your jacket without any pulling or gaping in the bust area. A jacket should be comfortable and should fit you right!
2. Professional Trousers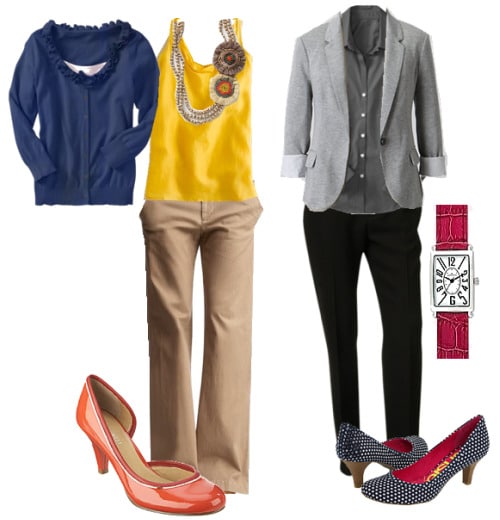 Product Information: Outfit #1: Cream trousers – Gap, Yellow silk tank – J. Crew, Ruffle-neck cardigan – Old Navy, Embellished necklace – Anthropologie, Orange pumps – Nine West Outfit #2: Straight leg trousers – Forever 21, Charcoal button front – Old Navy, Grey blazer – Anthropologie, Pink watch – Lord and Taylor, Polka-dot heels – Zappos
A great pair of pants can work year round with tons of different outfits. You can dress them up or down, pair them with flats or heels, and no matter what you'll always look pulled-together.
I would wear Outfit #1 to the office for a regular work day. It might not be dressy enough for an interview (depending on the industry and the position you are interviewing for) but it is definitely a stylish alternative to a basic button-front and grey pants. Don't be afraid to try new trends for work–just err on the conservative side (no sheer tops, for example). For this outfit, I decided to go with brights, which were all over the Spring runways. Mixing and matching several bright colors (like orange and yellow) is perfectly fine as long as you have neutrals to ground the outfit.
Outfit #2 is interview appropriate. My mom always tells me to dress one level above the job I'm interviewing for, and this is a good rule to stick by. If you are interviewing for a job that requires you wear business casual, take it up a notch and go the professional route. For most interviews, I would go with a serious look, but add on feminine/playful accessories like a printed shoe or pretty watch to make it your own.
3. A Structured Bag
You are going to need something to carry all your "stuff" in, but you don't want an ultra-casual hobo or a super trendy bag for a work environment. A structured, serious, but still stylish bag is essential. This is a great time to go with an investment piece. If you are going to spend money on one thing for work, go with a bag – a good one will last you forever and make you look more professional. Here are a few structured bags in several different price ranges: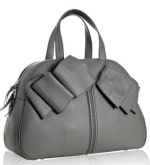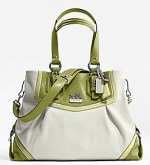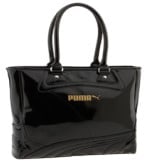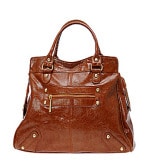 Product Information: YSL Bowler ($$$$) – Bluefly, Coach green carry-all ($$$) – Coach, Puma patent tote ($$) – Nordstrom, Camel Leather Tote ($$) – Aldo
4. A Stylish Pair of Low Heels
Low heels get a bad rap for being old ladyish, but a kitten heel can be just as fashionable as a your sexy sky highs, especially in the office. That said, if low heels aren't your thing, high heels definitely give you confidence and exude power, so in most cases feel free to wear any heel you'd like to work or an interview. However, some people have trouble distinguishing between professional and party. If you have that problem, stick to a low-heeled shoe like these: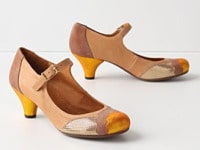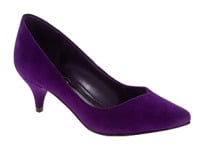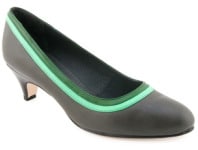 Product Information: Mary-janes – Anthropologie, Purple suede heels – DSW, Green trim pump – Far Fetch
When looking for stylish low-heeled shoes, my best advice is to go to sites where you can search through their catalog by heel-height. Zappos, DSW, and Payless all allow you to do this, and it's much easier than going through the entire site. Zappos also allows you to narrow down the low-heeled shoes by designer. That way, you can prevent any potentially grandma-ish shoes from popping up.
5. A Shift Dress
Like the white t-shirt from the Going to Class Essentials feature, a simple black dress can go a long way. Re-working a basic shift dress (or whatever plain dress you have in your closet) is a great way to stretch your work wardrobe.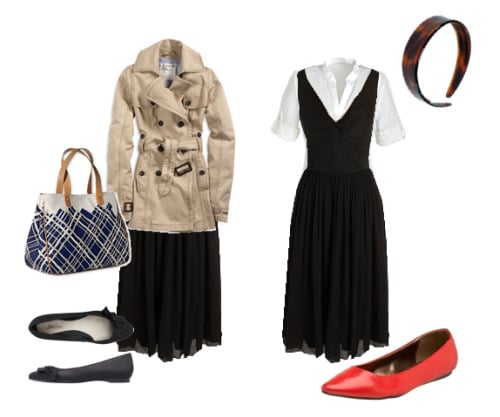 Product Information: Outfit #1: Black dress – J. Crew, Flats – Payless, Tote – Coldwater Creek, Trench – American EagleOutfit #2: White blouse – Delias, Red flats – Endless, Headband – Ulta
What do you think?
For more on this topic, be sure to see our article on How to Dress for a Job Interview! It contains even more tips and outfit ideas, sorted by the industry you want to work in.
Now I want to hear your thoughts! Have you ever been to an interview? What did you wear? Do you think these looks are work appropriate? What do you wear to work? I'd love to hear from you.