No matter what climate you live in, there are tons of different weather conditions you have to brave in order to get to class. Living in Ohio, we get almost everything, so I pretty much have dressing for extreme conditions down to a science.
In Nina Garcia's book, The One Hundred(which inspired this series), she lists several items to aid in your all-weather survival: umbrellas, sun hats, gloves, etc. You will definitely see those items here, but this post is meant to be a bit more of a reference guide for getting ready. It's snowing: what to wear? Look here.
I've grouped my essentials for weather survival into 3 of the most common weather conditions you might face, that way, if you never see snow (lucky you!), you can skip that section and hunt down the section for hot weather! Check out a few of my ideas for what to wear while braving the elements:
Rain, Rain, Go Away
1. A Pair of Puddle Hopping Boots
I'm not going to go into why rain boots are important – I think we all know why we need them! Below, I've featured a few cute pairs I like, along with sample outfits. If the boots below don't do it for you, see: Get Ready for Spring: Cute Rain Boots to Fit Your Style and The CF Guide to Stylish Rain Boots for even more of our favorite options. There are so many cute pairs out there!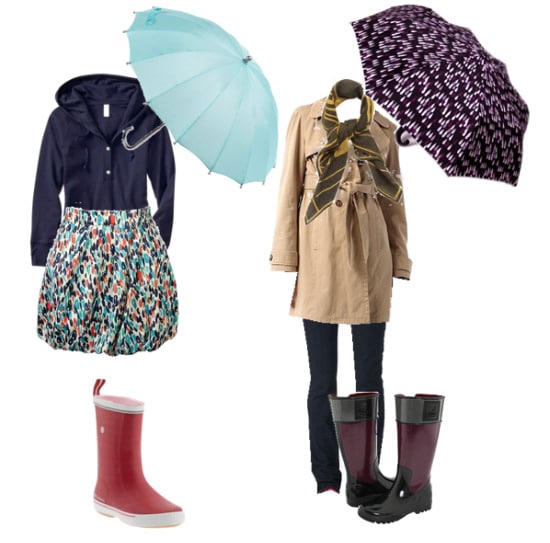 Product Information: Outfit #1: Red rain boots – Piperlime, Printed bubble skirt – Forever 21, Navy hoodie – Old Navy, Light blue umbrella – ModClothOutfit #2: Purple rain boots – Zappos, Skinny jeans – dELiAs, Trench – Urban Outfitters, Scarf – French Connection, Printed umbrella – Umbrellas.net
Outfit #1 was inspired by a look I spotted on Rachel Bilson recently. I like the mix of dressed-up (bubble skirt) and dressed-down (hoodie), and the hoodie is also practical if it's on-and off sprinkling and you don't want to carry around an umbrella.
I can't resist a classic trench, and the high belt on the one above gives it an empire waist appeal, which is a unique cut that will set your trench apart from the rest. When I'm debating about what colors to wear with a neutral outfit my go-to is complementary colors. In Outfit #2, I went with purple and yellow: the berry color of the boots and umbrella complements the mustard yellow printed scarf.
2. Rain Jacket
When it's raining so hard that a light trench won't cut it, it's time to get serious with an actual rain jacket. If you are going to be out in the rain all day, it just makes more sense to get heavy duty outerwear–you definitely don't want to get stuck with one of those touristy ponchos people pass out. Rain jackets get a bad rep for being "too sporty", but lucky for us, sporty is in this season. (Thanks, Alexander Wang.)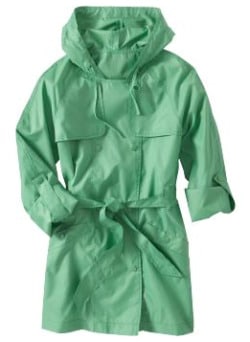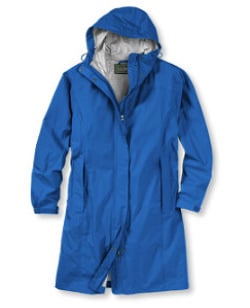 Product Information: Green rain jacket – Old Navy, Blue Rain Jacket – L.L. Bean
Some more tips for getting dressed on rainy days:
If it's rainy but there aren't enough puddles to justify wearing wellies, I prefer wearing leggings and a skirt or rolled-up boyfriend jeans rather than regular jeans. This is because I hate when I can feel water soaking through to my ankles! Just double up on tights or get winter leggings if it's a bit chilly, and you're good to go.
Don't be afraid of fun brights! I typically stick to classic Hunter boots, but if you are a fan of bright, bold colors, a rainy day is the time to wear them! Umbrellas and boots come in all kinds of fun colors and patterns, and a gloomy day is the perfect opportunity to add a pop of cheery color.
As with dressing for all weather conditions, think function first. That said, dressing practically doesn't mean you have to sacrifice style.
For even more rainy day fashion tips and outfit ideas, don't miss our article What to Wear on a Rainy Day!
Snow
3. Plenty of Scarves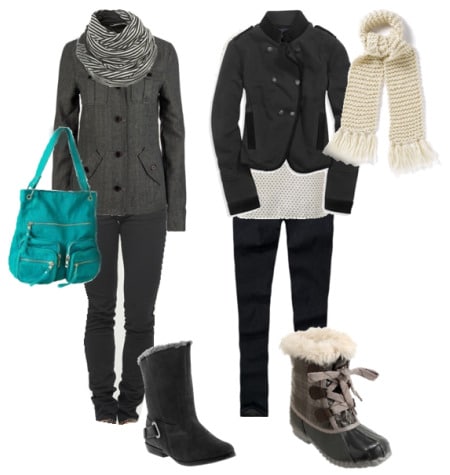 Product Information: Outfit #1: Striped scarf – Topshop, Grey coat – Tillys, Black skinnies – Roxy, Motorcycle snow boots – Piperlime, Blue bag – Old Navy Outfit #2: Cream scarf – Accessorize, Military coat – American Eagle, Polka-dot top – Topshop, Denim leggings – Tillys, Plaid snow boots – Love My Shoes
I couldn't survive winter without my scarf collection! Scarves are such a cold-weather essential; they not only keep you warm but also accessorize your outfit.
I recommend owning at least one large knit scarf, like the cream one in outfit #2, as well as at least one lighter, more decorative scarf. Depending on the weather and the thickness/texture of your coat, you may need a variety of different scarves. Scarves come in all different price ranges, so you can build a small collection no matter your budget.
4. Gloves
Gloves are definitely a winter staple. You already know you need them, but you don't have to stick to the basic black glove (unless you want to). Have fun with your gloves–let them add a little extra something to your winter wardrobe. Here are a few fun pairs of gloves that I love: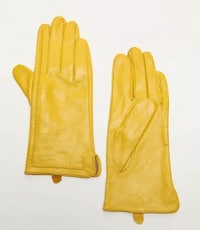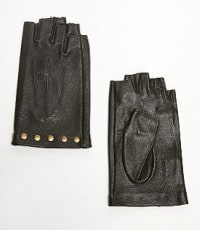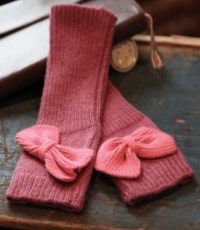 Product Information: Yellow leather gloves – Urban Outfitters, Studded gloves – Urban Outfitters, Pink fingerless gloves – Ruche
More tips on dressing for snowy days:
Other must-haves: a great coat, boots that keep your feet warm (and look amazing), and warm socks.
Layering is key. While it's freezing outside, classrooms sometimes blast the heat, so you want to make sure you have on a few lighter layers that you can put on or take off at will.
When it comes to coats, pick something functional and fashionable. If you tend to go for more dressy looks, you might want to consider a longer wrap or car coat. More of a casual gal? Stick to basics like pea coats or anoraks.
Hot, Hot Heat
5. A Sun Hat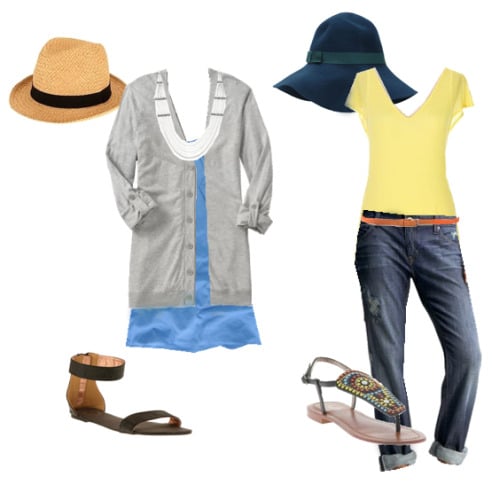 Product Information: Outfit #1: Straw fedora – Urban Outfitters, Blue tank dress – Forever 21, Grey cardigan – Old Navy, Sandals – Urban Outfitters, Beaded necklace – Old NavyOutfit #2: Floppy hat – French Connection, Yellow top – Anthropologie, Boyfriend Jean- Gap, Orange belt – Forever 21, Beaded sandal – Piperlime
When you are in the sun all day, it's important to always protect your skin and eyes from the rays. One of the most fashionable ways to do it? Rock a sun hat. Fedoras are still in style for spring, and they lend a laid-back feel to anything you put on. A floppy hat, on the other hand, has a vintage look, and works great for the beach or for a day of outdoor shopping.
6. A Great Pair of Sunnies
Sunglasses add a touch of class to even the most casual of outfits, and they also protect you from the sun (and hide your over-tired eyes). While aviators are go-to classics, they won't work for everyone. The most important thing is that your shades fit your style and face shape. Check out this guide on picking the right sunglasses for you face to find out what will work for you. Here are a few of my picks: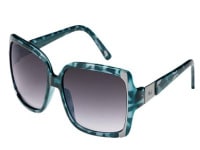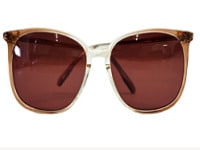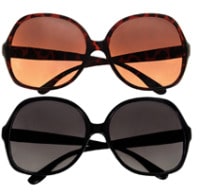 Product Information: Marbled blue shades – Fossil, Cat-eye sunglasses – American Apparel, Oversized sunnies – Fred Flare
More tips for getting dressed when it's sunny:
Your local vintage or thrift store is a great place to look for sunglasses! They often have a large variety of styles at wallet-friendly prices.
Plain flip-flops are great (and cheap), but don't be afraid to try something new. Gladiator sandals, wedges, or espadrilles can be just as comfy as a $5 pair of flip flops.
You hear it all the time, but that's because it's important: always wear sunscreen! If you take the time to look fashionable, you should also take the time to protect your skin. While leather handbags are in, looking like one yourself is not.
How do you dress for the elements?
Do you come from somewhere famous for its extreme weather? Do you have tips on what to wear for a snow storm? Do you sport bright and bold rain boots, or do you stick to basics? I'd love to hear from you!