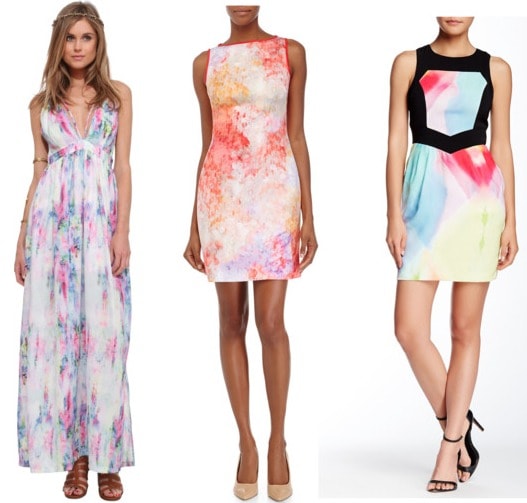 Necessary Clothing – Neiman Marcus Last Call – Nordstrom Rack
Fall will be here before you know it, so take advantage of your opportunities to wear cheerful pastel colors while you still can. Somehow just looking at these colors can brighten someone's day.
Pastels look good in every form: shorts, shirts, skirts, accessories… but lately watercolor dresses have been catching my eye. There's something calming about them. They are colorful but so gentle and not overwhelming; it's literally like looking at a painting.
If you like these beautiful dresses, you're in luck! Keep reading to see how I styled a watercolor dress for class and a night out.

Watercolor Dress: Class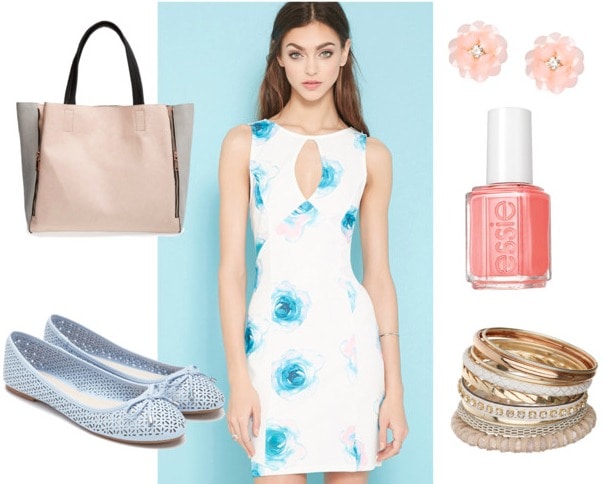 Dress – Bag – Shoes – Earrings – Bracelets – Nail Polish
This floral keyhole dress is perfect for summer! Wear it to class with sky blue flats and a big, dusty-pink-and-gray tote that holds all of your class necessities. Keep the outfit simple by accessorizing with just a few stacked bangles and cute pink flower stud earrings. Paint your nails with a peachy pink polish for a little extra pop of color.
Watercolor Dress: Night Out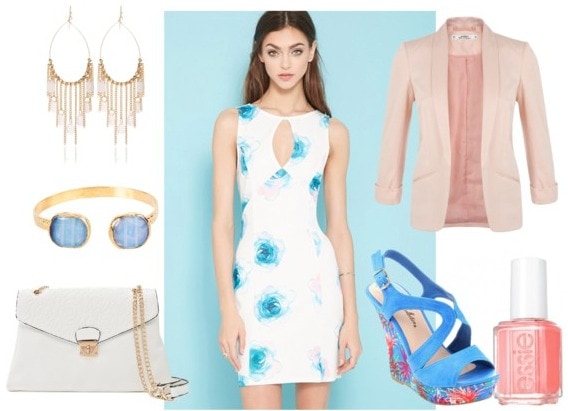 Dress – Blazer – Clutch – Shoes – Earrings – Bracelet – Nail Polish
For a night out, wear a pale pink blazer over your dress, then slip on some blue wedges. Add a gold clasp bracelet with matching blue stones, gold dangly earrings, and a white crossbody bag with gold hardware. Break out your peachy pink nail polish again and you're ready for your night out.
What do you think?
Do you own a pastel watercolor dress? Would you wear either of these looks? How would you style this for class and a night out? Let me know what you think!