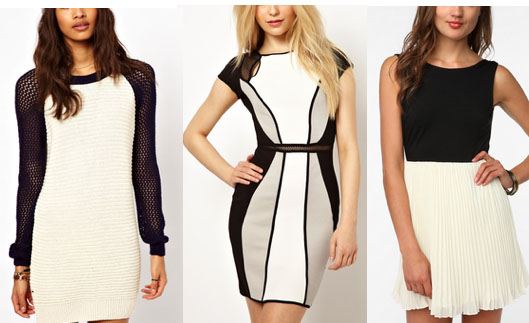 Do you struggle with transforming your outfits from day to night? Don't worry, CF is here to help turn that daily annoyance into a fun challenge. Class to Night Out focuses on one piece per week, and aims to help you take your look from study sessions in the library to dancing the night away.
Is there anything more classic than black and white? It's chic, it's versatile, you really can't go wrong. If you've been following us regularly, you already know that this combination is a huge Spring 2013 trend, so if you're looking for some styling inspiration, you've come to the right place.
This week, I'll be showing you how to wear a trendy-but-classic black and white dress for both a day of classes and a night out. Read on for more!
Black and White Dress: Class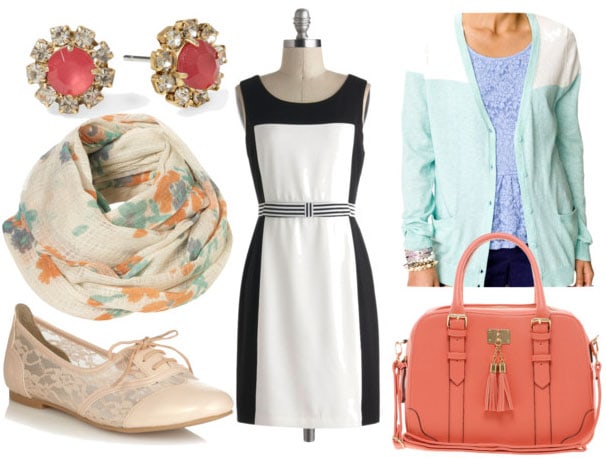 Dress, Cardigan, Scarf, Bag, Brogues, Earrings
Since this dress can skew a bit too elegant for an average day on campus, dress it down with casual, yet polished pieces like a mint cardigan and a soft floral infinity scarf. This gives the look a laid-back feel, while still giving off a sophisticated vibe. Play with color by adding a structured coral bag and matching crystal earrings. Complete the look on a girly note with a pair of cream-colored lace brogues.
Black and White Dress: Night Out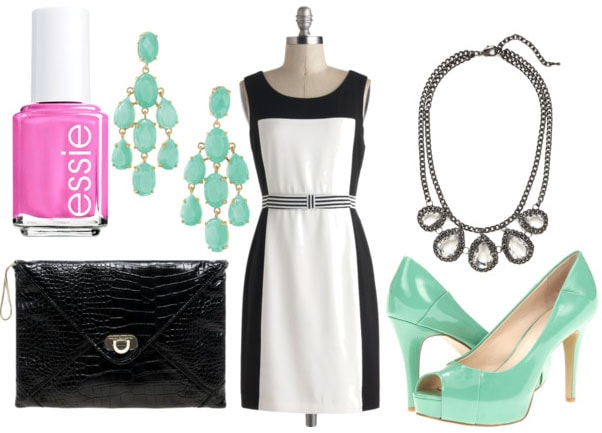 Dress, Clutch, Pumps, Necklace, Earrings, Nail Polish
Mix this classic frock with a bold pop of color for your night look. Grab a pair of mint peeptoe heels and matching chandelier earrings to create an eye-popping color combination that's both edgy and sophisticated. Next, accessorize with a crystal teardrop statement necklace for a little extra sparkle and add a sleek black snakeskin clutch for a touch of glamour. Complete the look with bright fuchsia nails.
Your thoughts?
Will you be wearing black and white this spring? How would you style this dress? Be sure to let me know what you think of the outfits in the comments, I'd love to hear your thoughts!