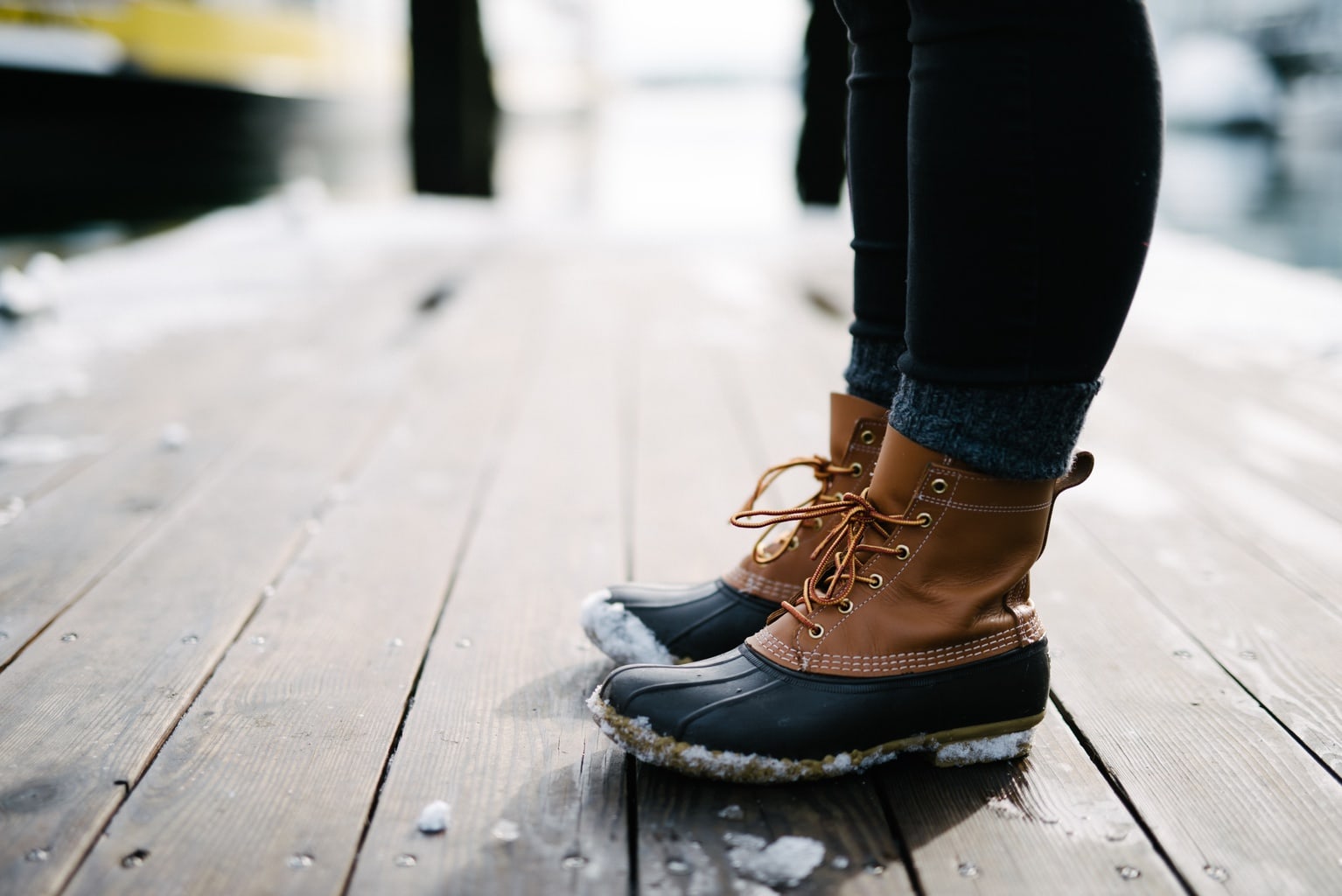 Welcome to the latest edition of Ask CF! Every two weeks, we select a reader fashion question and answer it here on the site. Do you have a specific fashion question for us? Scroll to the bottom of this post to learn how to send it our way!
Ask CF Question
Dear CF,

Hi! This is my first year in a new town. The winter weather here is completely different than what I'm used to experiencing. The lowest temperature it gets where I'm from is 65, but here the high some days is 43 – not to mention that it snows! I have no idea how to dress for this weather and definitely not the snow. Can you help me?
Our Response
As a girl who was born and raised in the southern United States and attends college in the "oh-so-snowy" region of Northern Ohio, I completely understand how you feel. Dressing for a day of trekking to classes through piles of unplowed snow can be a difficult task; however, I have learned some useful tips that I'm more than happy to share with you!
Invest in a pair of snow boots. And, when I say snow boots, I'm not talking about Uggs. While they might be comfortable, they are not going to keep your feet warm or dry. I'm talking about heavy duty, waterproof boots with good traction. I've seen too many girls slip and fall on their way to class (including me) to not take this tip seriously.
Find a good winter coat. While a quality coat can be a bit pricey, I would definitely say it's worth the money. Ladies, your North Face just isn't going to cut it anymore. Look for something that extends past your hips. You'd be surprised how much warmer those extra inches of fabric can keep you!
Layer, layer, layer! This is by far one of the easiest things you can do to keep warm on those snowy winter days. Tights under jeans and button-downs under sweaters are a must. Don't forget accessories either! A knit scarf, a beanie, and gloves look chic and help trap body heat.
I've come up with three outfits that are definitely fit for those winter flurries. Whether you're attending class, going on a date, or heading out to a party, you'll be set to brave the cold and look super-cute while doing it.
P.S. Everybody says that you will eventually adjust to the colder temperatures, but I'm pretty sure that's just your body going numb from the cold. Either way, I promise, it gets better!
Outfit #1: Class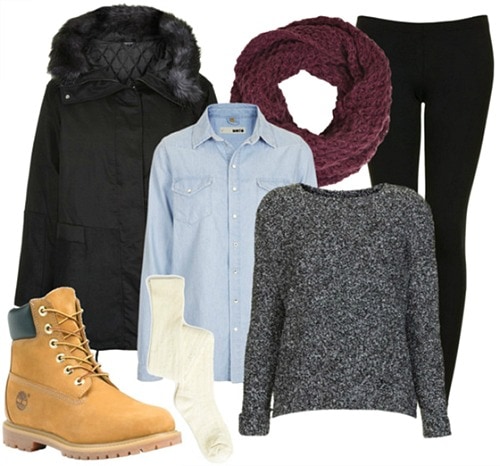 Product Information: Leggings, Button Down, Sweater, Coat, Socks, Boots, Scarf
Leggings and oversized sweaters are staples for any girl who's rolling out of bed on a snowy winter morning. This outfit is equal parts warm and cute, plus it's comfy enough to be worn for a long day of classes. The key to this look is in its layers. Lecture halls and classrooms can get often get stuffy, so you'll want to shed those extra layers as soon as you get inside.
Outfit #2: Date Night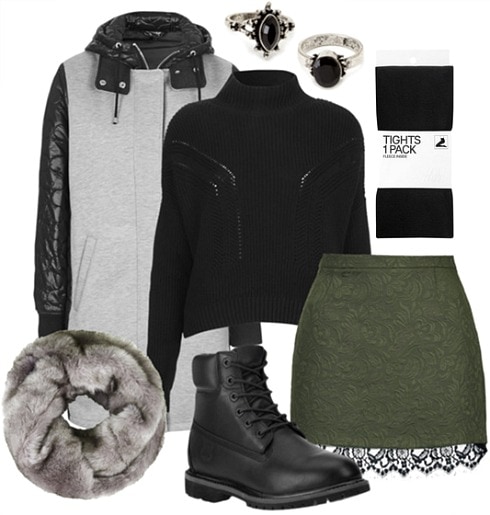 Product Information: Sweater, Skirt, Coat, Tights, Scarf, Boots, Rings
Want to look cute for a date, but still stay warm? This outfit is for you! Depending on the activity planned for the night, you may need to tweak this look a little. Since most students I know lack cars on campus, I would prepare for a walk in the snow, so ditch those heels and opt for a cute pair of boots instead. Throw on thick tights to keep out the cold, and you'll be dressed to impress without the risk of frostbite.
Outfit #3: Party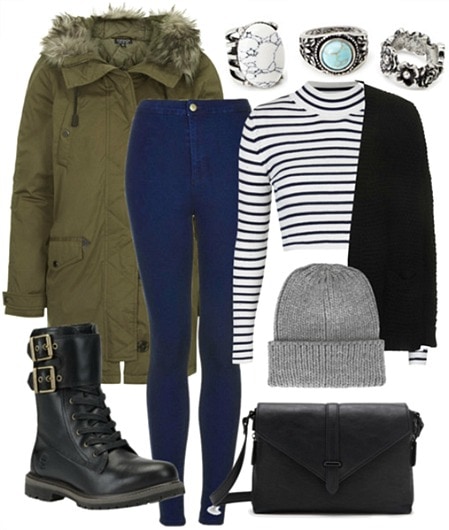 Product Information: Crop Top, Jeans, Cardigan, Parka, Beanie, Boots, Bag, Rings
Parties can be a blast, but the walk to and from can be brutal if you're not properly dressed. The high-waisted jeans and crop top combo is one of my favorites for going out. It's still fun and fashionable without sacrificing any warmth. A cardigan and parka will give you an extra layer of protection on the walk over, but can be easily tossed aside so you can dance the night away.
Do you have a pressing fashion question? Ask away!
Is there a piece in your closet that you never know how to style? Do you have an important event coming up? Is there a certain trend that is completely lost on you?
If you have a question you want to see answered in this column, just send it on over via email to askcf @ collegefashion.net and one day you might see your question answered right here on the site!
Please note: We get A LOT of email and unfortunately we will not be able to respond to every single question. However, we will read through each question and then decide which ones will be most helpful to the most readers. Thank you for your understanding.
What do you think?
What's your best advice for facing the snow? Do you have a favorite accessory to keep you warm? Would you wear any of these looks? Let us know in the comments!