This post may contain affiliate links, which means we may receive a commission if you purchase through our links. Please
read our full disclosure here
.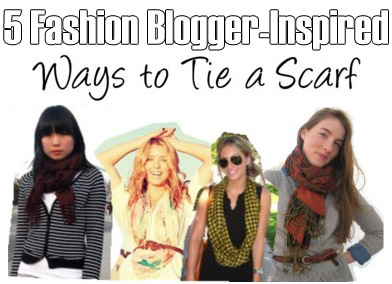 With Fall finally arriving (albeit a little late here in California), scarf season is officially upon us.
While I usually add a scarf as a last-minute detail when I'm running out the door, I often don't have time to style it as part of the ensemble – so it can end up looking sloppy. This season, though, I've vowed to use my scarves to make an impact, so I've been scouring the web for different ways to wear them.
I get most of my fashion inspiration from bloggers, so today I'm going to show you five ways to style your scarves, inspired by some of my favorite fashion bloggers.
1. The Casual Loop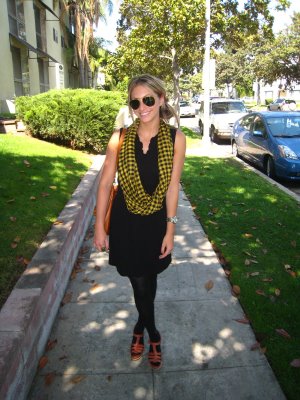 The stylish Emily from Cupcakes and Cashmere shows us that even a casual looped scarf can make a big impact on an outfit. The key is to choose a scarf with a bright color or interesting print and pair it with a more subdued ensemble. This allows the scarf to the the focus.
An infinity-style scarf like Emily's is a perfect addition to any fall wardrobe. Of course, if you don't want to run out and buy one, you can always take a regular scarf and tie a little knot in the back to make it look like a circle scarf. You could also discreetly safety pin it in the back.
2. The Knot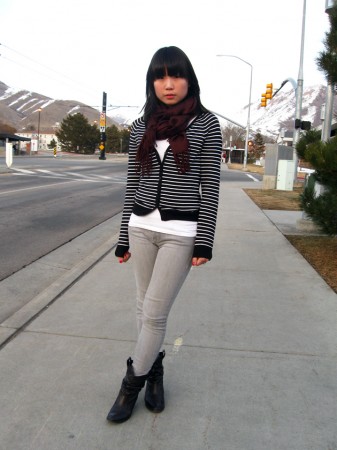 Elaine from Clothed Much rocks a knotted scarf here. To recreate this look, simply loop the scarf around your neck a few times and then knot it.
This style is great for the times when it's freezing cold out (or, about 50 degrees here) and you need all the clothes and layers you can get. Because this style is fairly simple, once again, make your scarf pop by choosing one in a bright color or with a great pattern.
3. Belted Scarf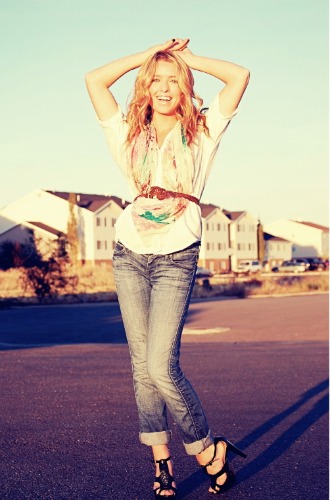 Here we see Sydney from The Daybook demonstrating that scarves aren't just for those cold, gray days. Instead of hiding her outfit behind the scarf, Sydney used hers as an element of her outfit, and threw a belt over it to ensure that she still had a beautifully defined waist.
As with Emily's scarf, choose a circle scarf for this look (or transform your regular scarf into one) and pair it with a plain top and belt. Again, choose subdued separates to allow the scarf to be the statement piece in your outfit.
4. Wrapped Scarf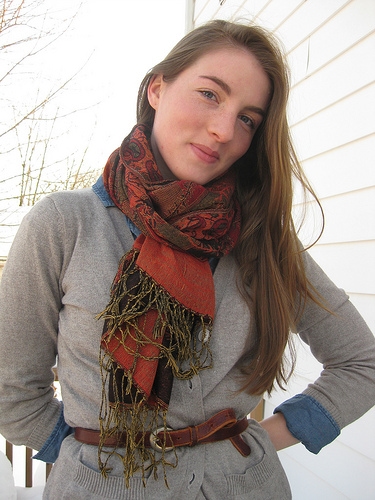 Tania from What Would a Nerd Wear styled her fall scarf much like Elaine did, but instead of knotting it, Tania wrapped hers.
To create this look, take your scarf, fold it in half, wrap the folded scarf around your neck, and pull the loose ends through the looped end and tighten. If the ends of your scarf are longer, you can then knot them together.
5. Neck Warmer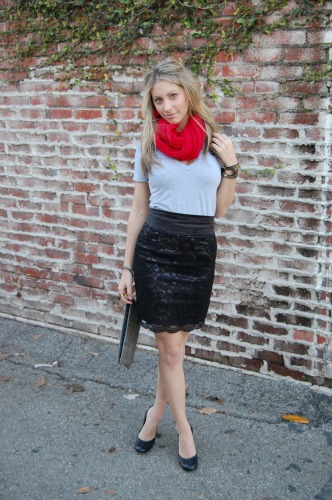 Once again we see Emily from Cupcakes and Cashmere making a bright entrance with her red scarf – a great look for the holidays.
By looping the scarf multiple times around your neck, you will stay warm all day long. Again, you can either use a circle scarf or regular scarf here. If you use a regular scarf, make sure to tuck the ends of the scarf underneath so they're not hanging out. And, if you want extra warmth, choose a scarf made out of wool or flannel.
Thoughts?
How do you wear your scarves? Do you like these ideas? Do you wear scarves in the winter? Do you like your scarf to make a statement or it is more of an afterthought for you? Let us know with a comment!