This post may contain affiliate links, which means we may receive a commission if you purchase through our links. Please
read our full disclosure here
.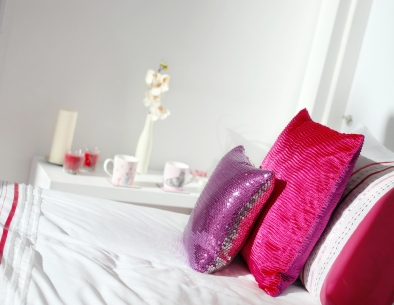 Photo: iStockPhoto.com
Picture the scene — you're flipping through a home decor magazine and come across a page that completely speaks to you. The colors, the layout, the furniture and decor, everything is perfect! (I feel like this every time I open a Better Homes and Gardensor a Real Simple.)
Then your eyes flick down to the price, and all the happy inspiration goes out of you.
If this sounds familiar, never fear: there are plenty of places I frequent for dorm decor that have inexpensive but wonderful designs. Just like when you score a ridiculously cheap but gorgeous piece of clothing, finding fantastic decor on the cheap can make you feel like you just won the lottery.
Below, I'll list my top three favorite places to find dorm decor on a budget, as well as some fabulous yet affordable pieces that they have to offer. (For a similar article on the clothing side, check out the top 10 places for fashion on a budget!)
3. Urban Outfitters
For whimsy, boho-chic, and one-of-a-kind dorm decor, there's no better place than Urban Outfitters! I love visiting their gigantic store in Boston's Quincy Market, but their website is unsurpassed in inspiration and selection.
Their products have a retro, vintage, and generally humorous and kitschy approach to design, and are classic enough to deserve a place in every fashionista's dorm.
Here are some examples of wonderfully priced and gorgeous pieces: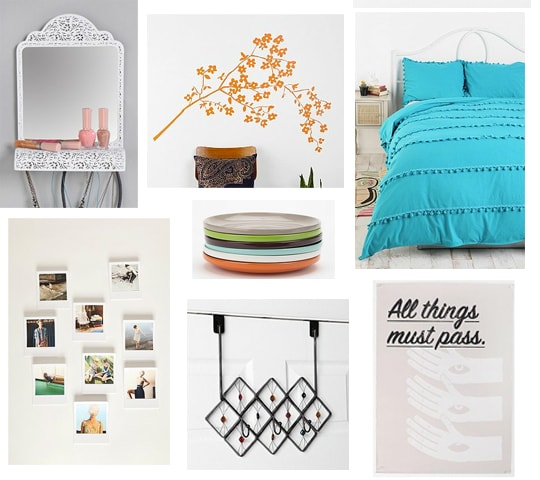 Product Information: Mirror/Jewelry Holder, Wall Decal, Duvet Cover, Poster, Jeweled Over-the-Door Hanger, Polaroid Frames, Stackable Dishes
2. Target
It seems like Target can do no wrong — their collection of dorm decor is comprehensive and affordably priced, and there are some truly great steals to be found! They're especially great for inexpensive furniture, which can cost a small fortune at other places.
Their dorm lines are designed for small college spaces, so they should be easy to transport in and out of your school when the time comes. I love their graphic, bold color prints, and they even issue a special dorm room shopping checklist every August!
Some great Target picks:
Product Information: Shadow Box, Chandelier Decal, Tree Wastepaper Basket, Owl Lamp, Black Frames, Sofa Bed, Damask Bedding
1. IKEA
Not surprisingly, the Swedish powerhouse IKEAis my favorite place to find the most phenomenal dorm decor. Their prices are so cheap because you have to construct some of the furniture yourself, but I look at it as a blessing — you save money and become more acquainted with power tools!
They also have great inspiration rooms to draw ideas from, with aesthetics ranging from colorful and playful to refined and sophisticated. IKEA is a wonderful place to find inexpensive basic furniture, but they also dabble in modern design, with amazing results! And they're great for simple bedding necessities.
My favorite IKEA picks (I swear by that side table — my family bought one when I was six years old, and it's still in great condition twelve years later!):
Product Information: Bamboo Chair, Side Table, Swivel Chair, Bedding, Steel Bookcase, Sheepskin Rug
What do you think?
Do you frequent any of these three stores? Where do you head for dorm decor on a budget? Do you have a great story about a interior design steal? Let us know with a comment!