This post may contain affiliate links, which means we may receive a commission if you purchase through our links. Please
read our full disclosure here
.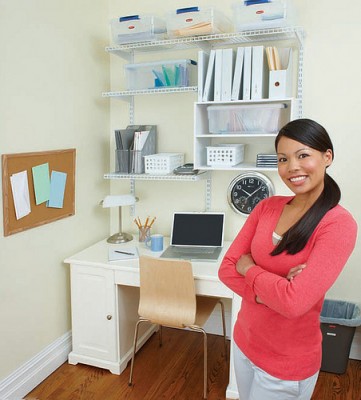 With the first week of 2011 behind us, the thought of settling back into a regular routine might be overwhelming. Traveling, keeping New Year's resolutions, and a fast-approaching Spring semester can make any college girl feel stressed even before returning to campus!
But you can do something to reduce the stress: A clean, organized space can put your mind at ease and keep you focused on achieving your goals. Make 2011 your best academic year yet: utilizing a few of these ideas, you can reduce clutter in your apartment or dorm and create a more relaxing study environment in the new year.
Under-Bed Storage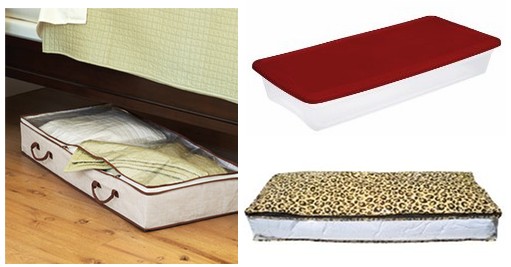 Product Information: Brown/Ivory Bin – Walmart, Plastic Bin w/ Red Lid – Target, Leopard Storage Bag – Target.
Both dorm rooms and apartments are usually lacking in space, but as a College Fashion reader, it's unlikely you're lacking in clothes. Storing off-season clothing, blankets, and infrequently worn garments in under-bed storage bins keeps them out of sight and frees up closet space. Also, you'll still be able to easily access your things while keeping them safe from spills, moths, and even grabby roommates. Containers come in many styles; from flimsy to rigid, and clear plastic to leopard-print (my favorite!).
Hooking Up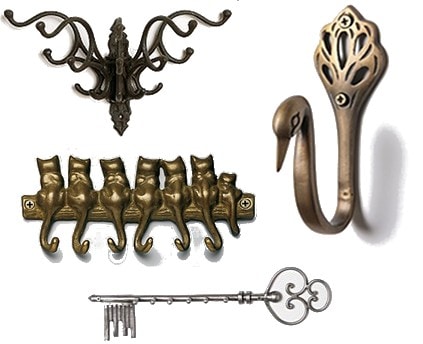 Product Information: Cast Iron Multi Wall Hook – Urban Outfitters, Cat Hook – Restoration Hardware, Cygnus Hook – Anthropologie, Key Hook – Anthropologie.
Look up: another oft-overlooked source of additional space in a tiny dorm or apartment is the walls! Wall hooks come in a variety of styles and sizes, and can be used to hold an even larger variety of objects or accessories. Scarves and hairbands can be draped over single hooks or knobs, while multiple, daintier hooks do a great job of holding necklaces, belts, and keys. Hat and coat racks can also be hung on the walls to create more floor space. If you don't have the budget or ability to pursue the items listed above, check out a local thrift store. A good polishing or fresh coat of paint can give new life to your inexpensive find!
Organizing Shoes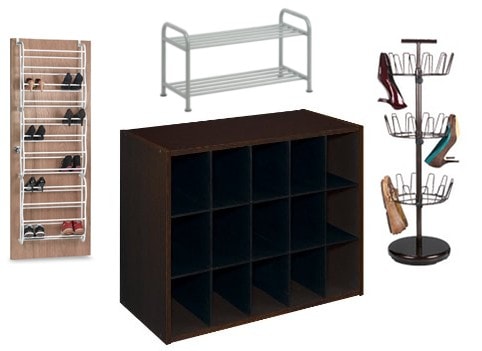 Product Information: Over-the-Door Shoe Rack – Bed Bath & Beyond, Small Shoe Rack – Ikea, Shoe Cubbies – Target, Shoe Tree – The Container Store.
Organizing your shoes will keep you from tripping over them and allow you to pick out a pair more quickly before you head out for class. There are tons of shoe storage options for every room, from neat cubbies to plastic hanging sleeves. Don't feel like stuffing your beloved shoes into a tight space? Display them on a shoe tree! The possibilities are endless.
Fashionable Files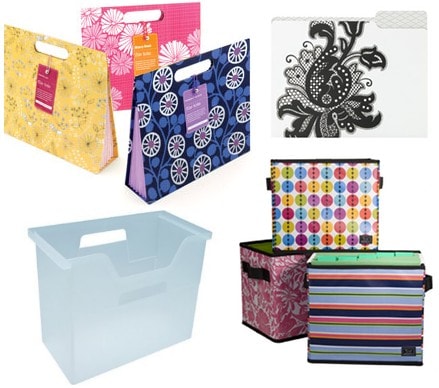 Product Information: Clear Plastic File Box – Staples, File Tote – See Jane Work, Decorative File Folders – OfficeMax, Colorful File Holder – See Jane Work.
Like many college girls, I keep my notes from completed courses in case I need to review them for a more advanced class. Rather than stacking them in binders or dumping them into a tub, I like to sort mine into a file box. Desktop file boxes are much sleeker than a typical "banker's box", and some even come with handles for easy toting. You can label each subject with a different tab to find your notes fast, and express your own style with decorative folders…which are also usually super-cheap!
What do you think?
Do you know any creative ways to stay clutter-free? What's something that helps you focus more on studying? How are you updating your space for 2011? Leave your thoughts in a comment!