This post may contain affiliate links, which means we may receive a commission if you purchase through our links. Please
read our full disclosure here
.
Now that we're all home for the holidays, we can fully appreciate the benefits of home life like never before. Dorm life, at least for me, has already faded to a dim memory in the light of home-cooked meals and a much more sizable bed that I can sprawl out on without worrying about falling off the edge.
Style, however, never takes a vacation — so while we're all busy digesting our holiday meals, let's take a look at three beautifully decorated dorm rooms and apartments of CF readers, each with their own unique tastes and interior design. In this third installation of Dormspiration, we'll be exploring Epiphany's single at Wake Forest University, Sarah's apartment bedroom at Truman State University, and Camille's on-campus apartment at the University of Maryland. Enjoy!
Epiphany (Wake Forest University): Inspired by India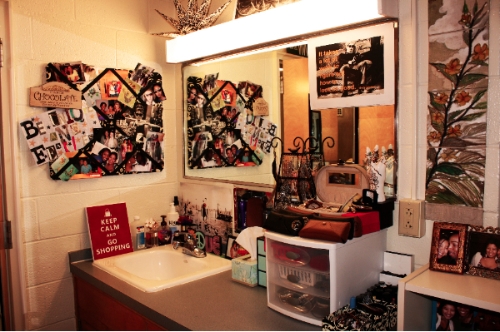 As soon as I saw Epiphany's room, I was immediately drawn to its rich color scheme and unique pieces. Everywhere you turn, there's something unusual and gorgeous, whether it's a carved piece or an interesting texture. Epiphany really worked hard to make her room feel warm and homey, and she certainly achieved it!
The key elements of Epiphany's dorm that make it so cohesive include a color scheme of golds, reds, and browns, a taste for blending unique patterns and textures together (see her gallery of frames!), and a collection of fascinating pieces picked up from her travels. Read on to learn about Epiphany's interior design style!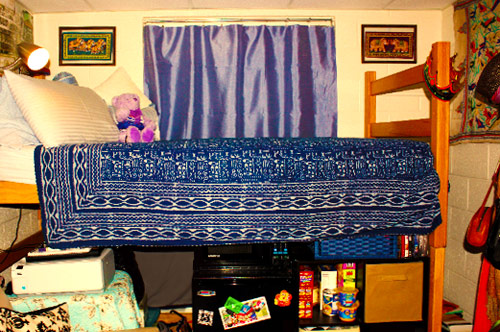 The deep blue of Epiphany's bedspread complements the reds and golds of her decor, and I love the juxtaposition of damask and bohemian prints, as well as the framed prints that create symmetry.
Epiphany doesn't let the confines of a small single limit her creativity! A true college fashionista, she incorporated "many trinkets from thrift stores" and even "managed to fit a couch" in her room, which is her favorite aspect of the space. Below, I asked her to explain her design and share some budget-friendly dorm design tips:
What inspired your dorm room's design?
"My design is inspired by my trip to India and the love I have for the people in my life. Dorm rooms tend to be a bit cold, and I'm living there for an entire year, so I wanted it to be warm and homey. I spend a lot of time in my room and I thought it was important for me to feel the most comfortable in it. I absolutely love how it turned out."
Where are your favorite pieces from?
"My pieces come from a variety of places. Some from India, thrift stores, Marshalls, TJ Maxx, Target, and Walmart. I love finding unique items in the most obscure places!"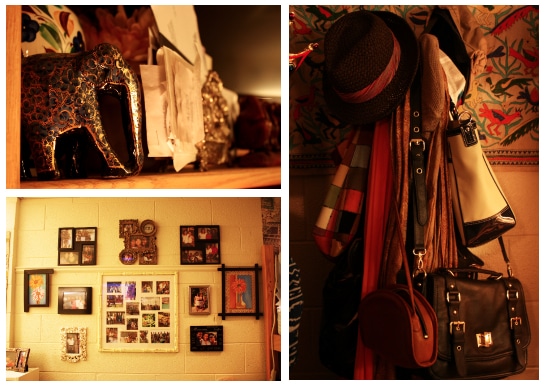 Epiphany's metallic elephant is absolutely gorgeous, as is the arrangement of frames, keeping in line with the room's symmetry. Even her accessories contribute to the cohesive and homey nature of the dorm.
What's your secret for decorating on a budget?
"My secret to decorating on a budget is patience. The sale racks have become my best friend over the years. I've also learned that if you absolutely love something, then don't risk losing it by waiting. If it is in your price range, go ahead and get it if it is a timeless piece that you can use for years. Also, thrift stores and consignment shops are great places for decorative items because often you can bargain down the price with the owner."
What's your favorite memory of something that's happened in your room?
"One time, my friends ambushed me at 10 o'clock at night on a Thursday and said we were going out to a club in a nearby city. I am not a huge club person, but they gave me no choice! All three of us were in my room, getting dressed and chatting. It was so much fun – and we had a blast at the club, too!"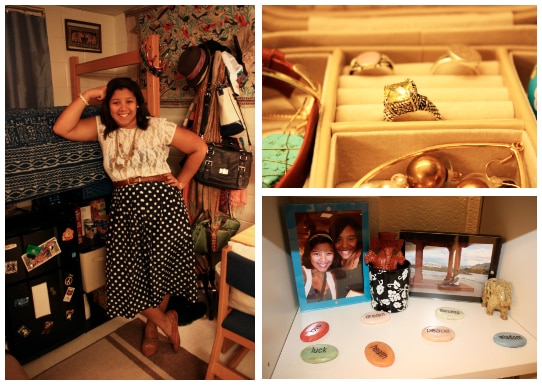 Epiphany is every bit as eclectic and put-together as her room, and I love how she made a shadowbox out of a shelf with a few trinkets and a framed photo. Also, you've probably noticed that she is a phenomenal photographer!
Sarah (Truman State University): Liberty of London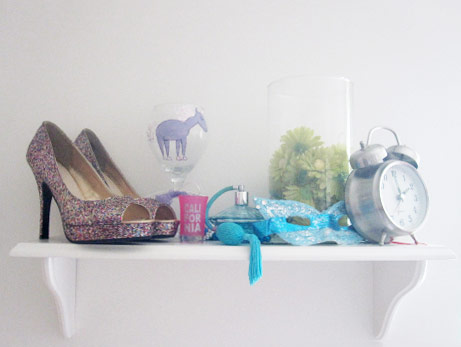 Sarah's apartment bedroom at Truman State University is light, bright, and full of Liberty of London prints (with many from their Target collection!). I love the pops of bright color everywhere, and the unexpected pieces that make the room feel so cheerful and feminine.
White is definitely the clean slate that Sarah has made full use of as a simple backdrop for her eye-popping design. It helps her room feel so whimsy and lighthearted — the perfect place to come home to after a stressful day at school! Below, she describes what inspired her style.
What inspired your design?
"Liberty of London! Their collections are pretty, fun, quirky, and retro – all of which are things that I love."
Where are your favorite pieces from?
"My most favorite piece in my room is my pink desk. It was brown, ugly, and falling apart when I bought it off of Craigslist for $15. It's crazy what a can of "soda pop pink" paint and a few hours can do. My second favorite piece is my cork board necklace display, also a DIY project. It's both functional and decorative! And lastly, my stuffed penguin named Pippin (who sits atop my armoire) is an essential piece in my room. Forget boys, every girl needs a penguin to make her smile."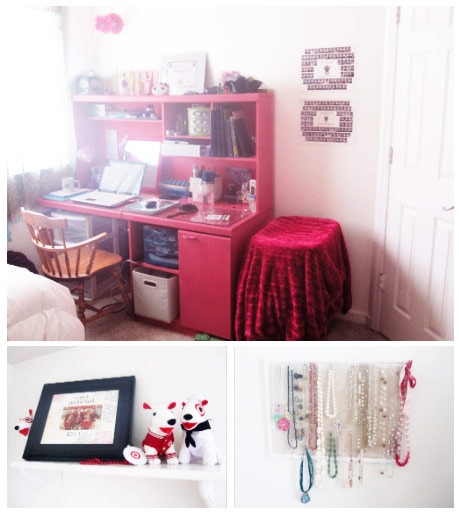 Sarah found the desk and hutch on Craigslist and painted them pink herself! I love the Target dogs on the shelf above her bed, as well as the simple and pretty jewelry organizer that she made herself.
What's your secret for decorating on a budget?
"My secret for decorating on a budget is to shop often and be creative. I became obsessed with the Liberty of London for Target collaboration that came out last summer, and all of the pieces I bought were at least 50% off because I went to 2 different Targets twice a week to find what I wanted for less. The curtains and the makeshift wallpaper are actually re-purposed fashion scarves, which I bought for about $4 apiece (they retailed at around $20 apiece). Thrifting and searching through your grandparent's old stuff is also great, that is how I found the pretty lace and the flowers that are on top my armoire. And lastly, display what you already have! Random knickknacks and awards always have a place, just play around with arranging them in a fun and creative way."
What's your favorite memory of something that's happened in your room?
"Since I live in an apartment, my bedroom itself is a pretty peaceful place (limited mostly to doing homework, sleeping, and pinteresting)… but I did watch all of Arrested Development on Netflix and that was pretty awesome."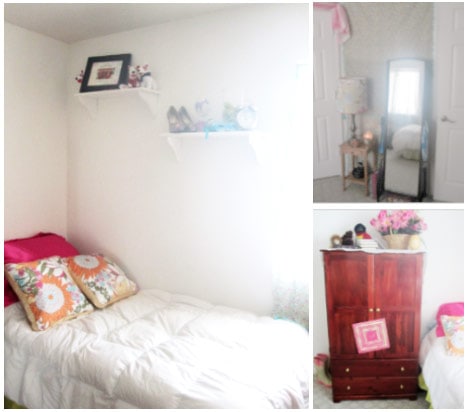 The flowers atop the armoire bring so much life into the room, as do the fun prints on the pillows and lampshade. I love the pinks and greens on the bedspread — they're so fresh and pretty!
Camille (University of Maryland): Trendy, Calm, Fun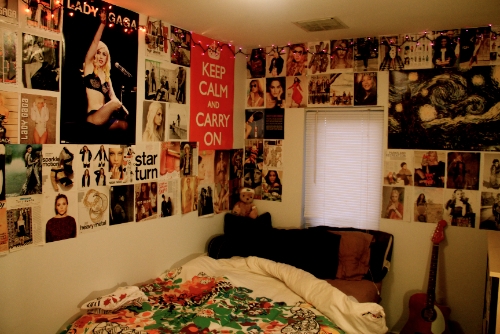 Camille's on-campus apartment at the University of Maryland perfectly showcases her interests while staying on top of interior design trends and still looking totally unique. How did she manage this difficult feat? Camille blends a geometric display of various pop culture images and posters, perfectly placed typography, and a bright, colorful color scheme to tie everything together.
I'm absolutely in love with how comprehensive and creative Camille is when it comes to wall decor — she definitely has an eye for how to arrange photos and posters, and she really makes an effort to make her room reflect who she is as a person. Below, she answers a few questions about her style and decor.
What inspired your design?
"I'm not sure there is one specific thing that inspired my design! I knew that there were large posters that I was dying to have on my wall , but I also knew I wouldn't be able to afford to keep buying posters. That's when I turned to magazine pages, which in actuality are just miniature posters! I ripped out magazine pages of pictures that intrigued me, of people that I liked, and of colors, images and brands that I gravitate towards.
I wanted to put entire pages on my wall rather than cutting out abstract shapes because the geometry of it gives it a cleaner feel and more chic of a look. I'm also a Marketing major, so I'm naturally inclined towards advertisements, especially fashion ones!"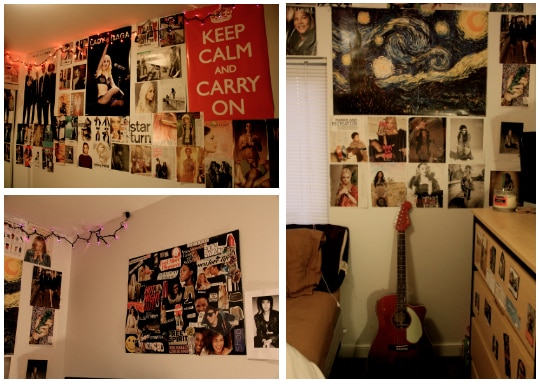 Camille's wall has a fantastic blend of images from pop culture and historic artwork, and everything is arranged wonderfully, with the larger posters evenly spaced amidst the smaller ones. Also, the DIY collage on the wall is the perfect contrast to the geometric arrangement of the posters!
What are your favorite pieces in your room?
"I'd have to say my favorite pieces in my room are all the images of Lady Gaga I have, especially the huge poster of her sitting at the piano, which I ordered from Amazon for ONE dollar! I, too, am a musician and I look up to her so much as a fellow artist and as a woman. She inspires me every day! I got most of my images of her from magazines.
Aside from my Lady Gaga obsession, my favorite piece on my wall is my vision board — a poster collage of phrases and images that I hope to manifest into my life. This piece is completely unique to me since I made it. I draw a lot of inspiration from it and it keeps me in alignment with what I want out of life."
What's your secret for decorating on a budget?
"My secret for decorating on a budget is staying true to what actually interests me. I didn't want to assign my room one specific theme or aesthetic so I would have to go out and buy things that fit that style. I wanted my room to be a hodgepodge of things that I like, which in turn made my room more distinctive and it made it easier to find random and cheap things. Magazines are a very easy way to decorate on a budget, and I had a lot of magazines laying around so I figured instead of throwing them away, I'd make use of them!
I decorated using things I already owned. Perfume bottles are easy to decorate with, for example. I also hung up all my necklaces with push pins, and I have a lot of keepsakes like concert ticket stubs and inspirational quotes that I stick up for design and encouragement. And we all know Christmas lights (or in my case, Halloween lights, since they're purple and orange) can make a room appear more whimsical and enchanting, which can be very relaxing after a long day."
What's your favorite memory of something that's happened in your room?
"My favorite memories from my room are all the times I've had friends over and we've sat on my bed and just watched TV. It's the simple things."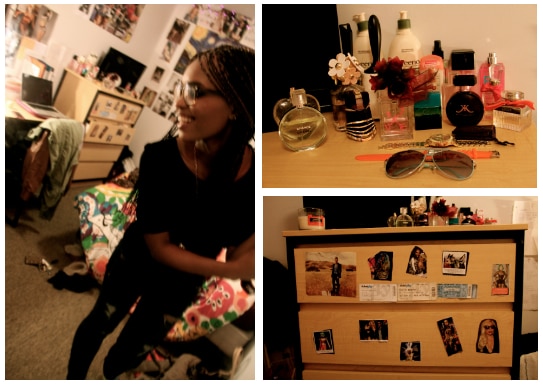 Camille is just as trendy and fun-loving as her room, and the personal touches everywhere truly make her on-campus apartment her home!
What do you think?
Which of the three rooms was your favorite? Do you prefer a minimalist approach to interior design, or are you a fan of making your walls a canvas for your imagination? Where were the unique pieces in your dorms and apartments found? Let us know with a comment!
Want to be in an upcoming Dormspiration post?
We're always looking for more reader submissions for future Dormspiration posts! To see your room featured here, just send in 1-2 photos of your decor and a brief description of your design to [email protected]. Bonus points if you have a friend take a picture of you in your room. Can't wait to see your submissions!