This post may contain affiliate links, which means we may receive a commission if you purchase through our links. Please
read our full disclosure here
.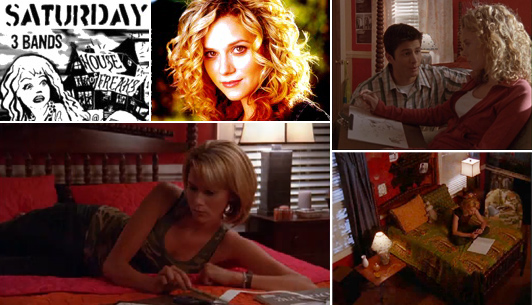 Photo Credits: Tumblr, Fanpop, OTH-Caps.com
Have you ever watched a television show and thought, "Wow, I wish I lived in character A's bedroom"? Some shows just have a certain ability to create truly memorable sets that become characters in their own right. (See our post on Blair Waldorf's dorm room for another example of this!)
One of the most memorable television sets in recent years for me was Peyton Sawyer's bedroom from One Tree Hill. A visual reflection of her personality as well as her growth as a character, Peyton's room became almost as iconic as Peyton herself. It had a truly unique punk rock vibe not captured on screen in such a way before.
Want to infuse some Peyton into your space? Here is the complete guide to decorating your bedroom in her style!
Peyton's Space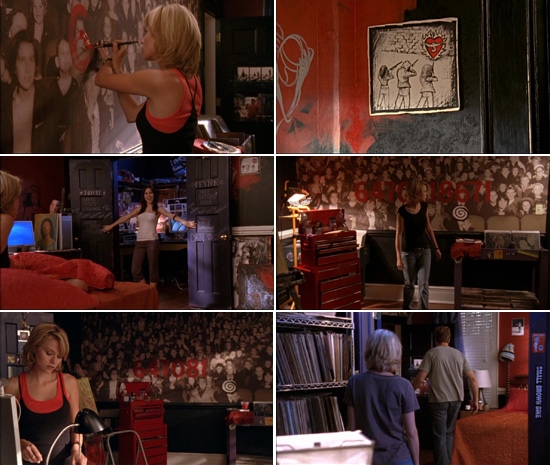 Photos: OTH-Caps.com
For four seasons of One Tree Hill, Peyton's bedroom was a character in its own right. Its walls reflected every change in her life, from friend drama and boyfriend problems to dealing with the fact she was adopted and being stalked. Surrounded by her art and her music, Peyton found solace in her private sanctuary. Even after she moved out of her childhood home, her bedroom inspired both the name of her music label, Red Bedroom Records, and the look of her office.
Want to see more? Here's a video tour of Peyton's room, narrated by One Tree Hill's Executive Producer:
Get The Look: The Peyton Essentials
Now that you've seen Peyton's room, here are some tips and essential products to help you recreate her bedroom's punk rock vibe in your own space!
1. Red and Black
From her walls to her bedding to her artwork, Peyton's room had a clearly defined color scheme to create a true rock and roll vibe.
While I'm sure your college (or your landlord) would frown on the red walls, there are some easy ways to incorporate this color scheme into your space. Use black as your foundation color for items like comforters and rugs. Then, pop in bits of red through smaller pieces like pillows and lamps. Look for items with funky designs like circular patterns, skulls, or even numbers (reminiscent of Peyton's painted wall!).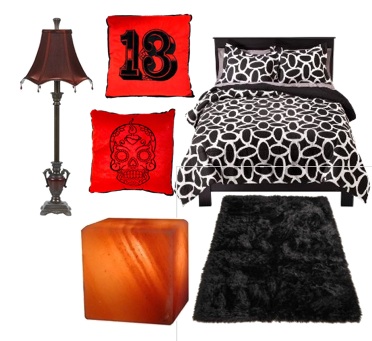 Bedding, Rug, 13 Pillow, Skull Pillow, Candle, Lamp
2. Metal Furniture
Step into Peyton's room, and you'll feel like you're stepping into an old rock club in the city or a vintage record store. This industrial look is thanks in part to all her metal furniture, like her build out that houses her record collection. Copy this vibe for your own space by investing in a small desk or set of shelves made from metal. If you have more space, upgrade to a metal desk, chair, or even an iron bed frame.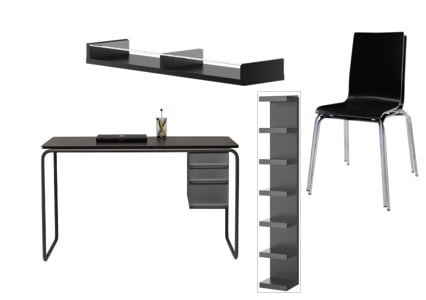 Desk, Long Shelf, Tall Shelf, Chair
3. Wall Art
Probably the most standout feature of Peyton's room is the all the cool stuff on her walls. She makes her mark with personal art painted right on the wall, posters, and scattered records.
To truly capture Peyton's love of music, try hanging some vintage records and some old-school music posters. You can even create your own one-of-a-kind records at says-it.com. Have a little extra space? Complete the look with a record player like the one Peyton had on the show.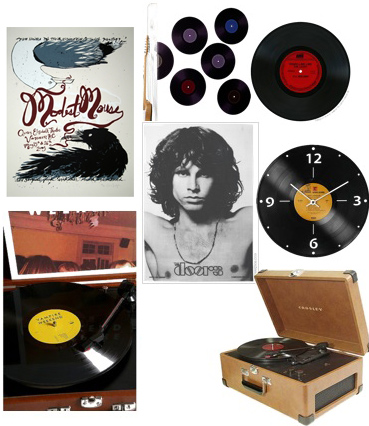 The Doors Poster, Modest Mouse Poster, Clock, Decals, Red Record, Record Player, Vampire Weekend Record
Your thoughts?
What do you think of Peyton's bedroom decor? Would you try this style yourself? Let us know with a comment!