This post may contain affiliate links, which means we may receive a commission if you purchase through our links. Please
read our full disclosure here
.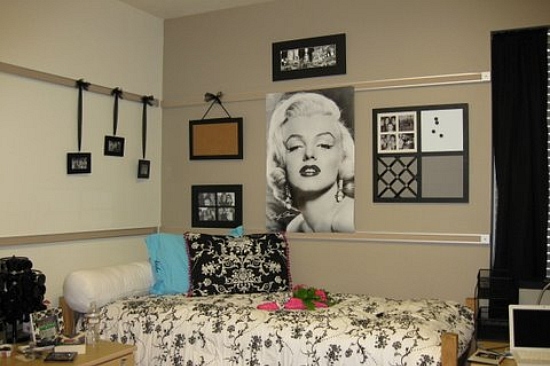 It's official: fall semester has begun. Most of us have been getting back into the swing of things with classes, extracurriculars and jobs.
You girls living on-campus are probably all settled into your new dorm room, which is hopefully well-organized. However, if you feel like your room looks a bit bland, that's where dorm room decorating comes in. The right decorations will make your place feel like a home-away-from-home.
Stumped for ideas to spice up your dorm? Here are some items to get the creative juices flowing:
For Your Bed: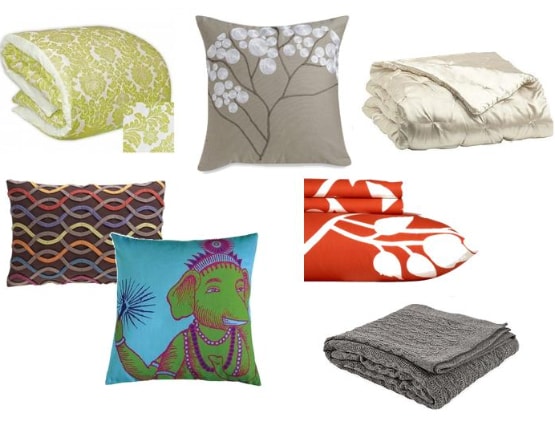 Product Information: Damsel in Damask Duvet, Canopy Bird Toss Pillow, Madison Quilt, Lucas Pillow, Bazaar Pillow, Marimekko Sheets, Throw Blanket
Your bed is the centerpiece of your dorm, so make sure you have a comforter that you'll enjoy looking at every day. Your bed is also a great place to play with different colors, fabrics and textures.
Above, I included two comforters as well as a sheet set to showcase the many stylish options out there for dorms. Pillows come in tons of styles and sizes and are a fun way to decorate your bed– you can never have too many! Finally, because most dorms are freezing, buy a soft throw blanket in a pretty color that you can use on your bed or for when friends visit.
Lighting & Flooring: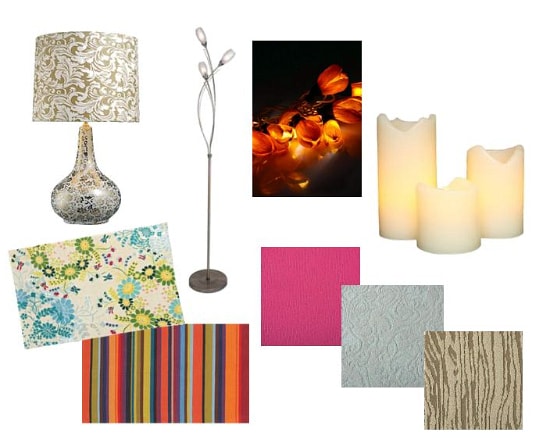 Product Information: Table Lamp, Floor Lamp, Wall Lights, Flameless Candles, Floral Rug, Striped Rug, Carpet Tiles- (1, 2, 3)
It's easy to overlook these two aspects of dorm decorating, but don't! Adding a stylish rug or lamp can change the way your entire room looks.
The florescent overhead lighting in dorms is often harsh, but adding a table or floor lamp will give your room softer lighting. Wall lights are another fun way to add lighting to dorms, and they come in lots of fun styles. If you're a girl who loves candles, try some of the flameless variety, because, as you know, open flames are banned in most dorms.
A throw rug will create a homey feel and will look great in any dorm room. Carpet tiles are another flooring option, which are inexpensive and easy to install.
Wall Decorations: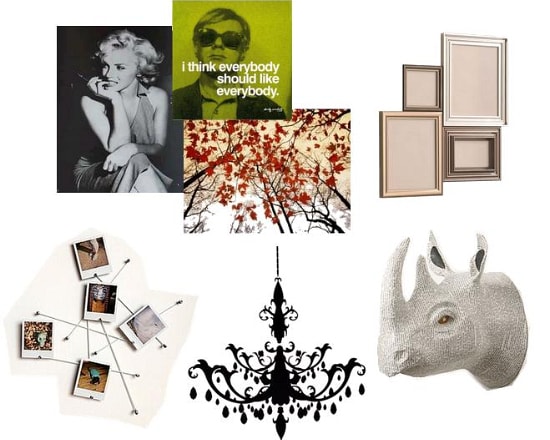 Product Information: Marilyn Monroe Poster, Andy Warhol Poster, Tree Print, Frames, Photo Holder, Chandelier Wall Decal, Rhino Bust
Dorm room walls are notoriously bland and are therefore a huge blank slate for decorating. Walls are the perfect place to try out lots of fun and unique designs and styles.
Posters are always a popular wall decor choice, but instead of slapping some on the wall with Sticky Tack, try framing them for a unique look. For more easy wall decor, place photos of friends and family in structural holders for an artistic look, or try reusable wall decals to add a chandelier to your room! You can even go for something fun and unexpected like this rhino bust.
Accessorize, Accessorize, Accessorize!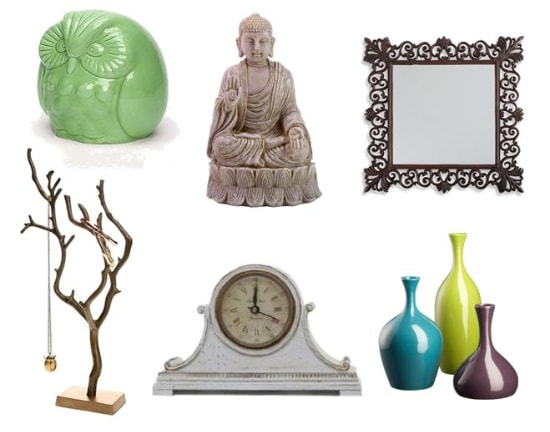 Product Information: Owl Bank, Buddha Statue, Mirror, Jewelry Stand, Clock, Vases
This is probably the most important part of interior decorating– adding accessories! We all know that when it comes to fashion, accessories make the outfit , and it's really no different with decorating. Accessories can make (or break) any room's decor.
The accessories I chose above are ones that reflect my personal style, to give you some ideas, however the accessories you choose for your room should reflect your style. Look for new and interesting items that you love or bring a few trinkets from your old room at home. Most of all, be sure to express yourself!
More Tips for Decorating Your Dorm:
You and your roommate don't need to have matching decor. If you want to buy identical floral pink comforters, by all means go for it, but I find that girls who decorate in colors and patterns that complement each other often have the best-looking rooms.
With that in mind, be sure that you show off your individual style. It's what makes you unique that will make your dorm feel like you.
I said it above and I'll say it again, read up on your school's dorm policies. It's better to know what is and isn't allowed than to be hit with a hefty fine from an RA because you made a hole in your wall to hang a picture. (If that's the case, Command Hooks are amazing!)
Learn to get creative with your decorations. For example, try framing some pretty wrapping paper or fabric for a DIY look that is sure to get compliments.
Look in unexpected places to find one-of-a-kind pieces. Take trips to thrift stores, flea markets and even check websites like Etsy to find unique items for your dorm. Even take a look in your parents' or grandparents' garage– you might find the perfect vase or lamp for your space.
Not sure where to start? Find inspiration online. A simple Google search for 'stylish dorm rooms' can lead you to tons of decorating ideas. Or if you're a fan of Gossip Girl, you can check out Calli's post on creating a Blair Waldorf-inspired dorm room.
What do you think?
What do you think of these decorations? Did you find any inspiration for your dorm? Any advice you'd like to share about your own experiences? Be sure to leave a comment and let me know your thoughts!