We're back with another decorating post, focusing on an overlooked part of your room: your desk. But more specifically… your dorm desk chair.
Having a good desk setup is crucial, as it's where you spend so much of your time. If you work from home, if you're a student, if you have an office or a creative studio, all of the work happens at a desk.
Plus, this work naturally involves a lot of sitting, so getting a desk chair for college that is comfortable but is still stylish is important! (If you haven't considered upgrading the standard-issue chair that came with your dorm room, I recommend you do it and regulate that standard chair to "occasional seating for guests"!)
We've rounded up eight different desk chairs for college that can serve comfort and practicality with style:
1. This Retro-Styled Chair That's Comfortable to Boot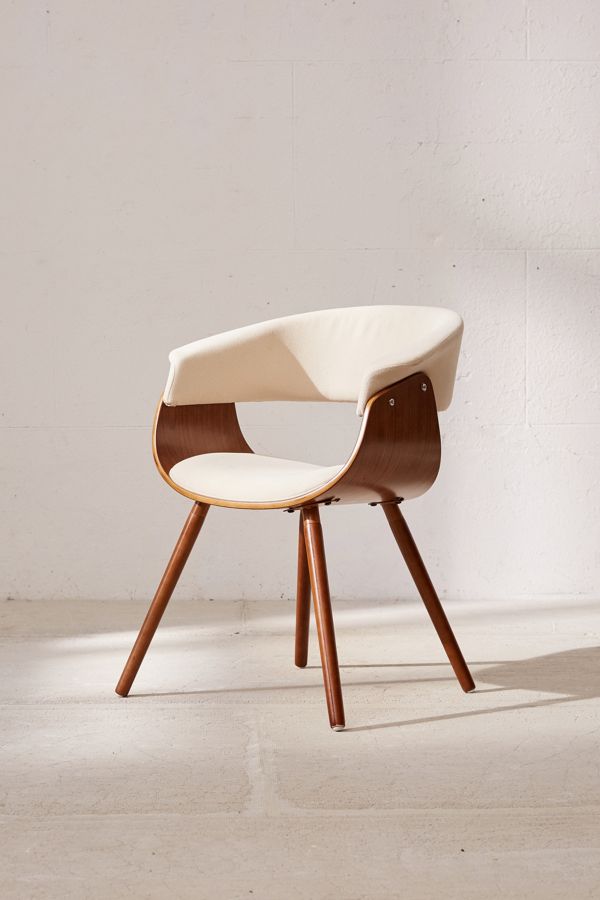 I will start with the best: This chair is my favorite of all the chairs on this list. I love the rounded style of the chair, which isn't as common in desk chairs and could go with various aesthetics.
This chair is from Urban Outfitters and has a padded back and bottom. Pair the wood with similar wood tones for a retro match-matchy look, or do contrasting wood shades for a mismatched vintage style.
2. This Ultra-Modern Find from Target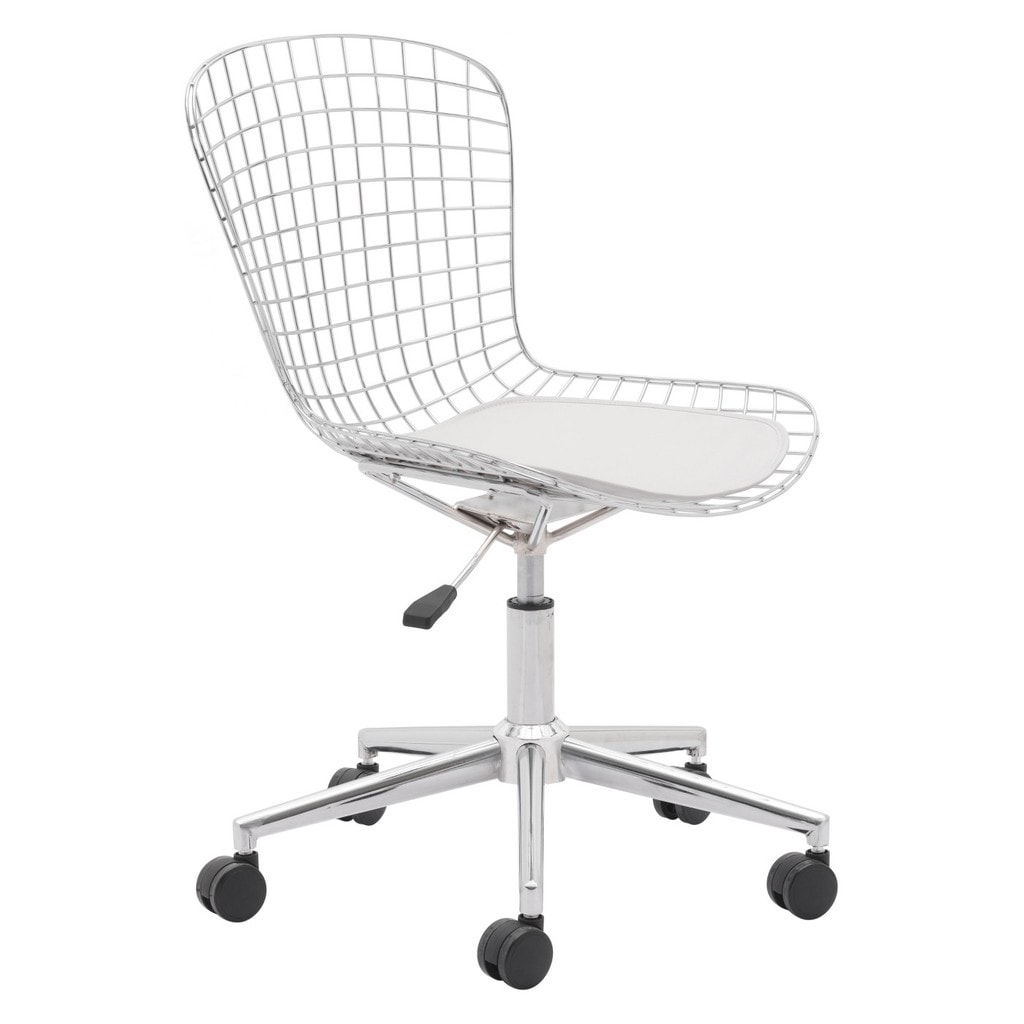 I think everyone has walked into Target needing to buy three things and coming out with ten. You don't have to feel guilty about this chair because it is a modern piece perfect for a crafting desk, a regular work desk, or even a pretty addition to a makeup vanity.
It's a swivel chair, which is a chair style I prefer, and you can adjust the height, which is great if standard desk sizes are too large or small for you.
3. This Grown-Up Chair for Future Girlbosses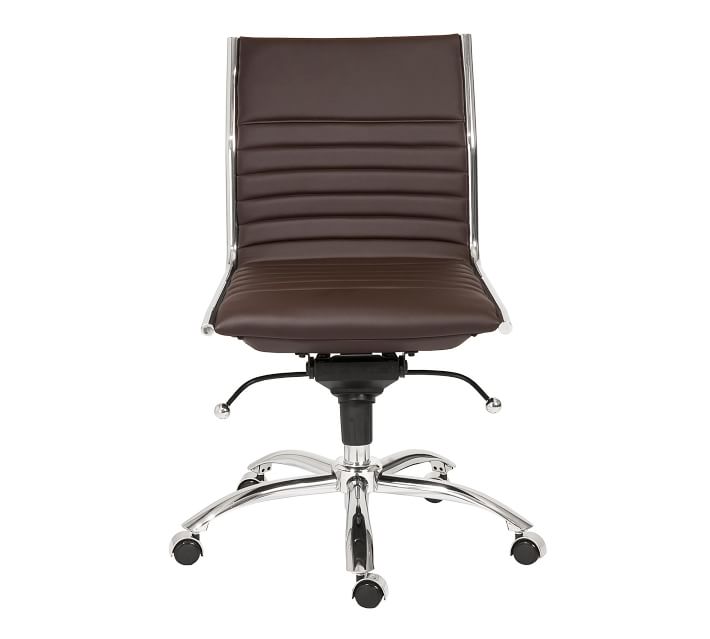 This chair is a splurge item compared to the rest of the chairs, but it is a desk chair that will last you forever. It comes in six colors with silver accents and one gold accent. It's a swivel chair with adjustable height, but it also has an adjustable tilt change.
This is a chair that is going to go with you from college to your first apartment, to your first house, to your own office, and can go with anything and commands seriousness.
4. An Ultra-Cute Director's Chair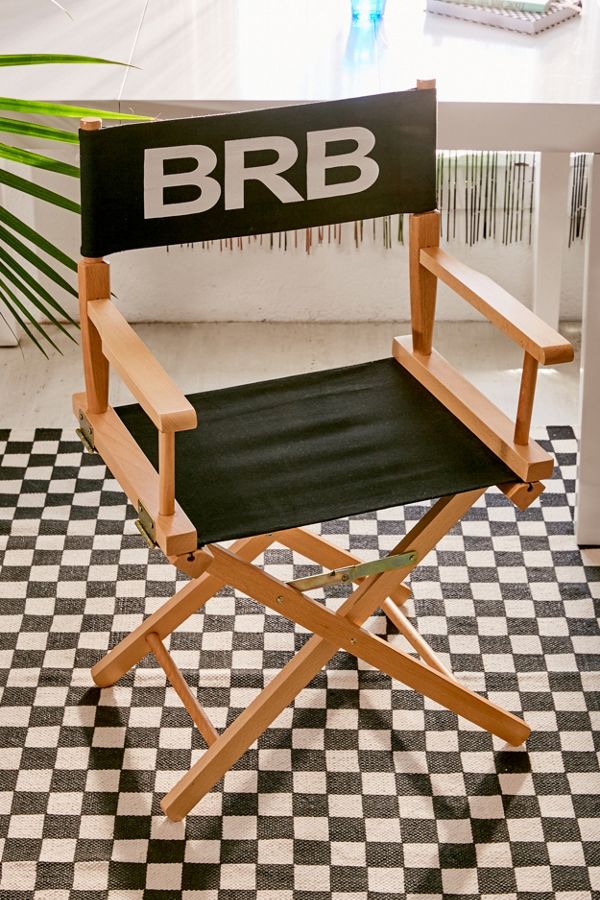 A complete turnaround from the chair above, this cute director's inspired chair screams of quirkiness. Not only is this chair comfortable, but it serves as a great conversation piece and added decorating for a room. This chair proves that style and practicality need not be mutually exclusive.
BRB, gonna go buy one myself…..
5. A Glam Tufted Chair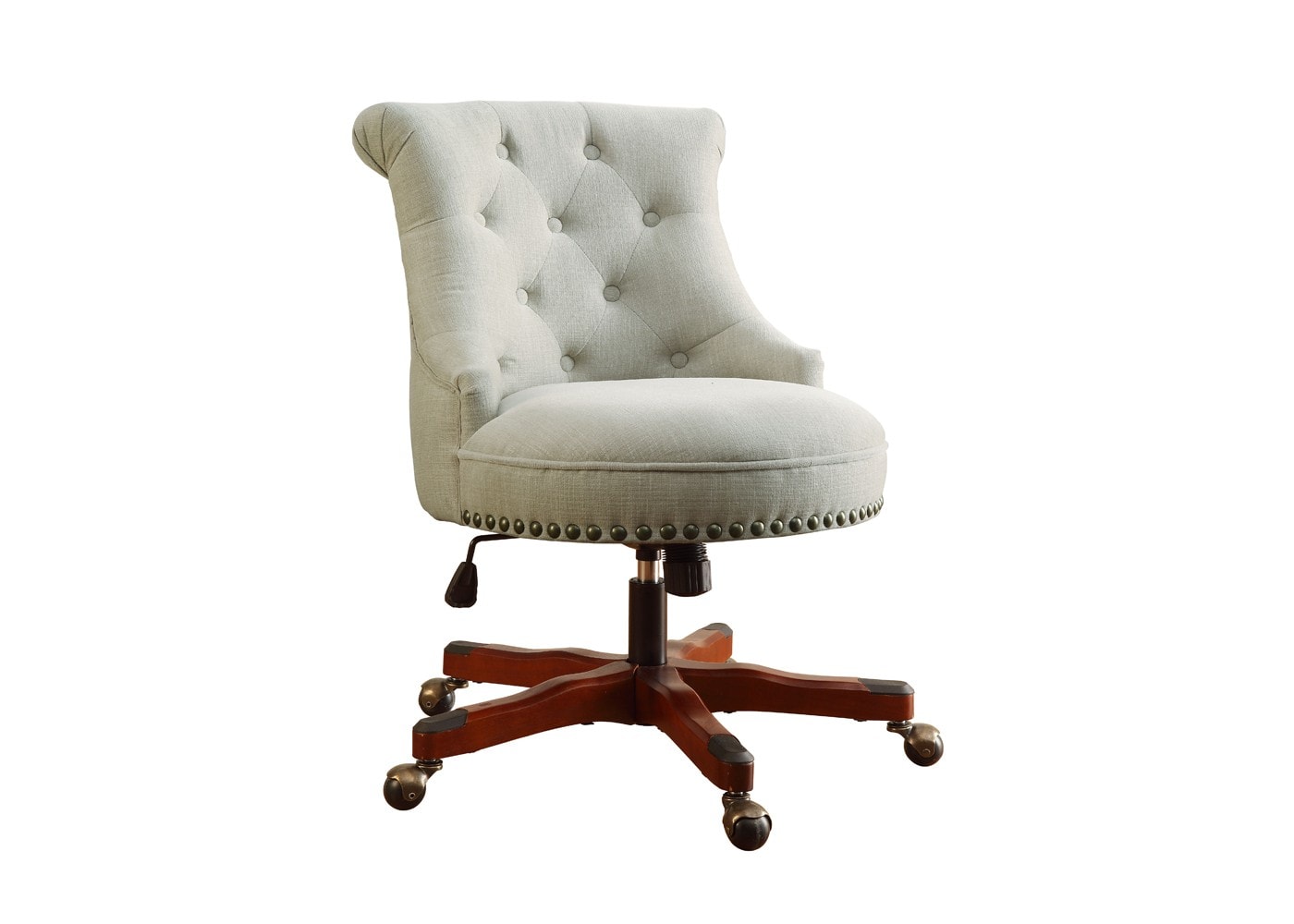 Target amazes again with great affordable furniture options. This pretty chair is sophisticated and grown-up but with a homey vibe. Some office chairs can look a little sterile and cubicle-esque, but this one looks like it'd fit into a well-loved space.
This chair looks comfy but stylish, and I could picture myself perched atop it for hours, writing creative assignments or researching those dreaded college essays. Also, this chair has an adjustable height, which is important for me since I'm shorter than average, and many desks are too tall to be comfortable without an adjustable chair.
6. This Sleek, Modern Lucite Chair That Will Blend in Anywhere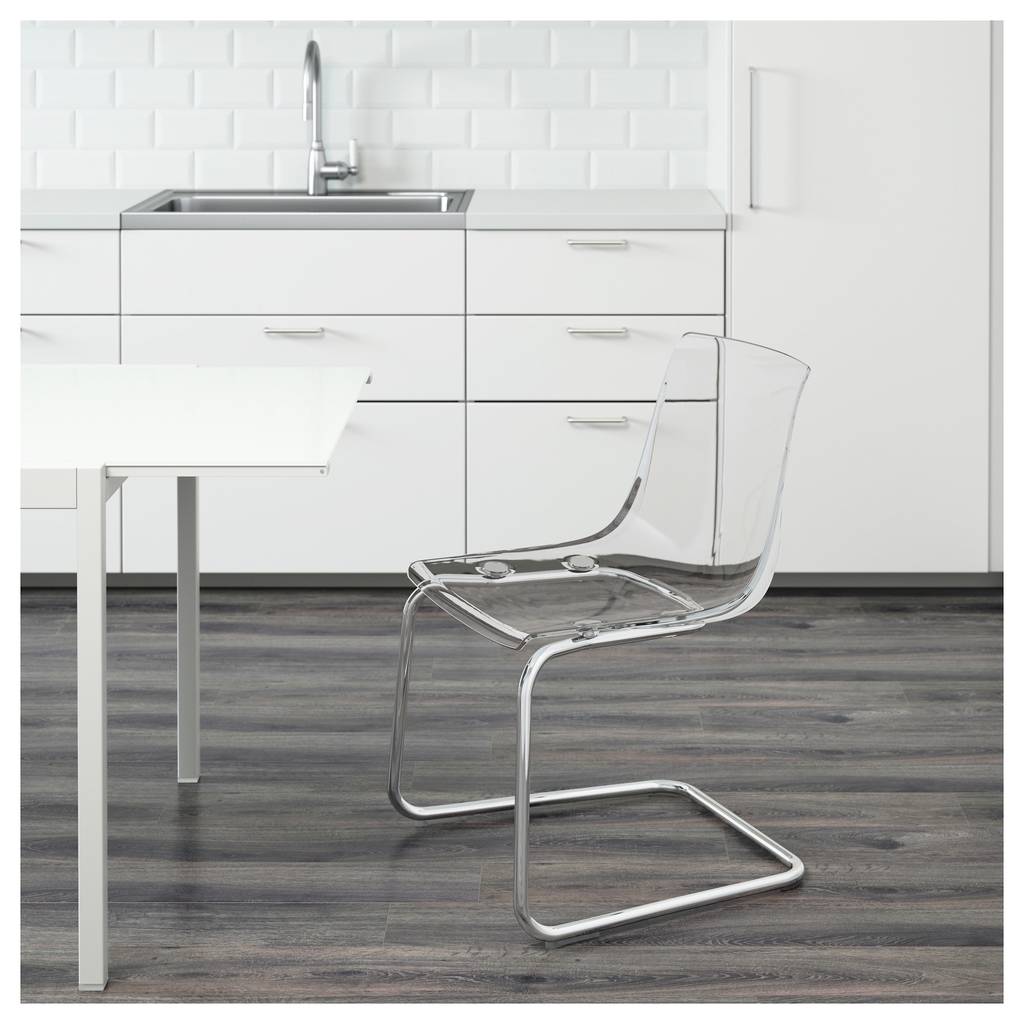 Clear chairs are all the rage with modern decorating, and this chair gives the illusion that you are floating in midair. It is also the cheapest chair on the affordable furniture mecca Ikea list. On their website, Ikea puts the chair in a dining room, but there is no reason this chair wouldn't look good at a desk.
The clear style, I think, would look amazing against a glass table for double clear decorating or against an all-white or all-black desk. For a colorful update on an often colorless area of a room, contrast the chair with a yellow pink.
Orange or other bright-colored desk for a fun but grown-up vibe. You could also add a cushion if you prefer something cozier — any color would look great on this chair.
7. The Coziest, Fluffiest Desk Chair of All Time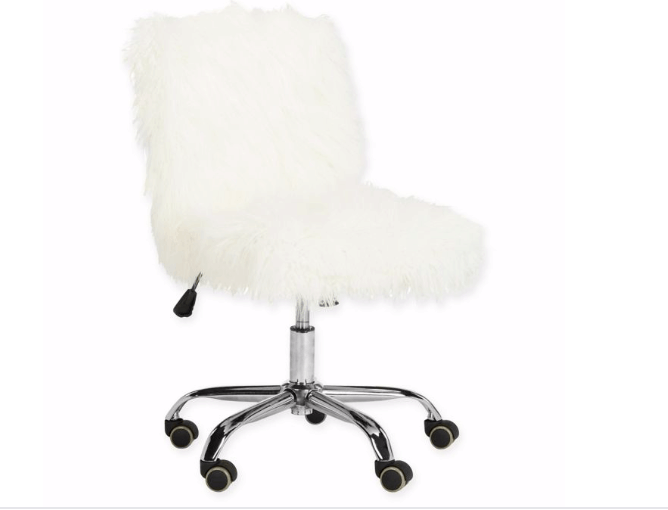 Faux fur chairs are not just reserved for beautiful makeup room setups, they can also be used to give a little bit more glamour every time you sit down to work. This faux fur chair can be found on Overstock.com, and the store also has faux fur chairs in other shades if white isn't your style.
This versatility of white means you can go monochromatic with pops of color or contrast the fur with patterns like stripes or animal prints. I can picture this with emerald or dark red jewel tones — the perfect desk combo for the holiday season.
8. A Classic, Reliable, Comfortable Option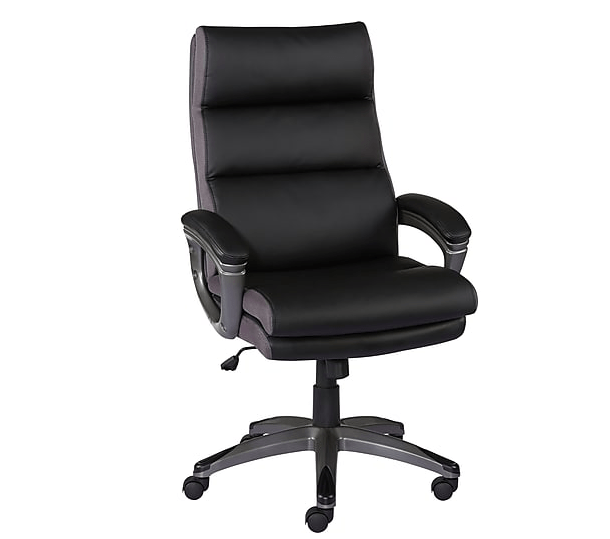 Finally, we have the most practical college desk chair of the bunch. It's basic but ultra-functional and incredibly comfortable if you spend much time at your desk. Desk posture is super important. Sitting at a desk that is not adjusted for your height can cause future problems like headaches, pins, and needles, back pain, or muscle strain.
If you already have back pain, an improper chair can inflame it further, so a chair that can be adjusted properly and has good back support is incredibly important. A chair like the one above from Staples gives you comfort and support without sacrificing the look of your office and desk.
What style of desk chair for college do you prefer for your space?
Do you like swivel chairs or regular chairs? (I'm a swivel gal.) Let us know what your favorite chair was below!
Enjoying these dorm desk chairs? For the perfect finishing touch to your dorm room, we have these other posts from our archives below –