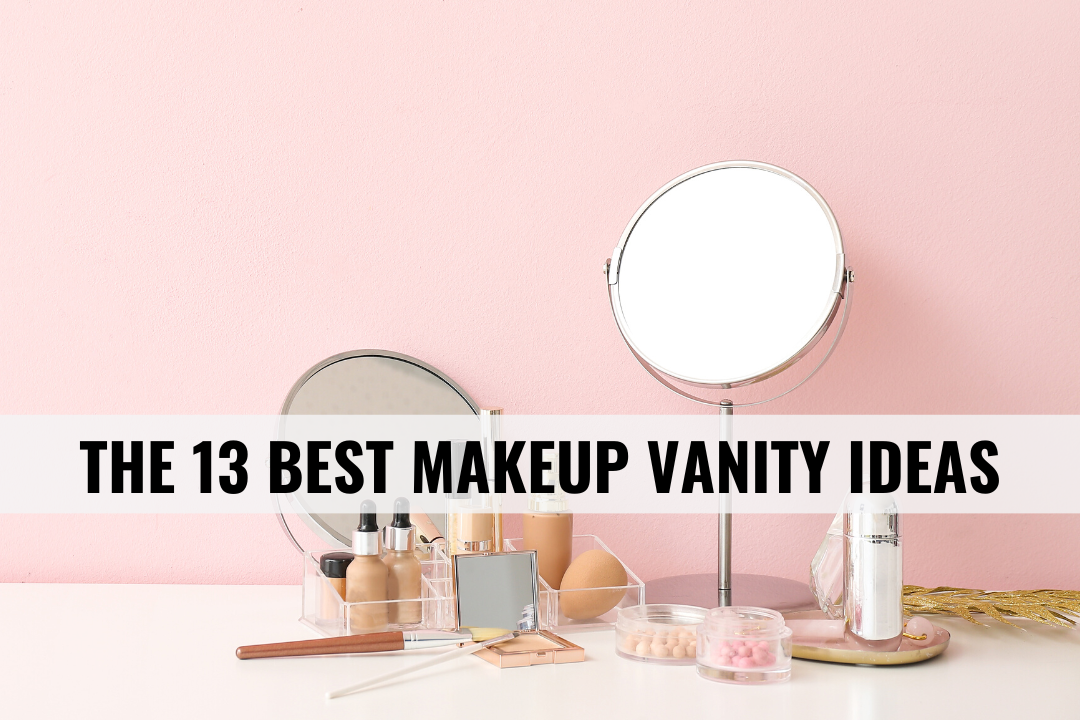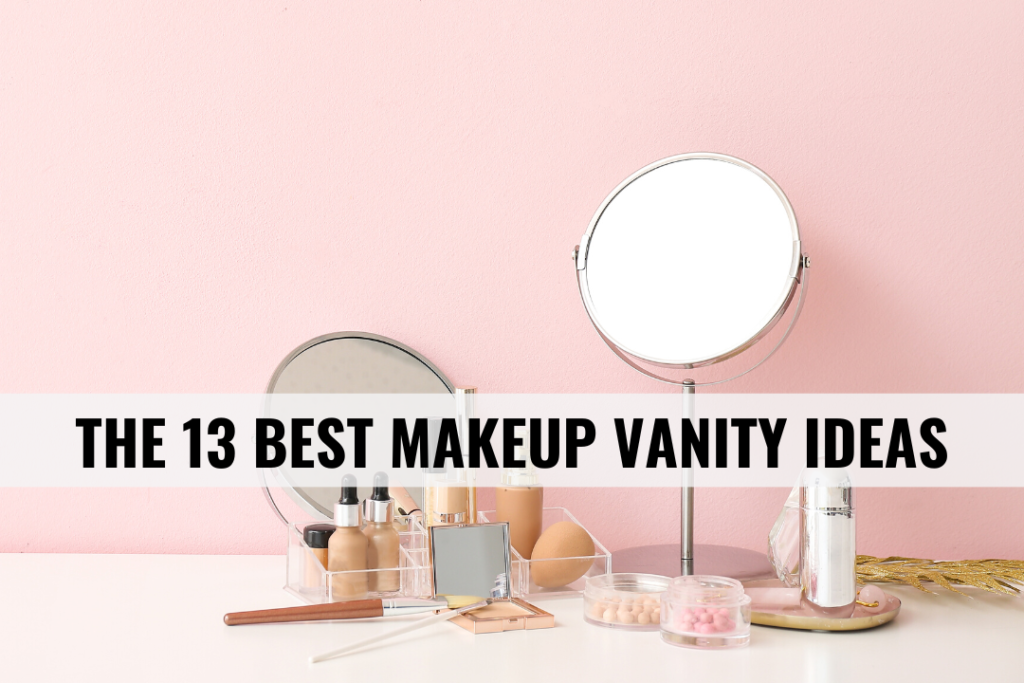 Do you have a ton of makeup and no place to put it? Or, are you craving a calming space for yourself where you can get ready every day?
If so, you should consider getting a makeup vanity for your bedroom. Makeup vanity desks (and wall-mounted options, which we'll get to below) are the perfect way to store all your makeup and have a place to get glam.
An added bonus of a makeup vanity desk is that it looks super cute as bedroom decor.
Below, I'll share everything you need to know to set up a cute and functional makeup vanity space in your bedroom.
Related reading: The 17 Makeup Essentials Every Woman Needs
Things to Consider When Shopping for a Bedroom Makeup Vanity:
If you are interested in setting up a makeup vanity in your room, here are a few things that you should consider.
First, you will need to assess where you can place the vanity in your bedroom and how much space you actually have. Always measure your space before you buy furniture! It's important that you have enough space to sit and do your makeup comfortably, so factor in enough space for a chair when you measure.
One huge part of picking out a vanity is deciding on the shape that you want. Vanity mirrors come in a bunch of different shapes, so you might have one that you like better. We'll share a variety of options below.
Also, I am sure you have probably seen vanities with lights on them. This is an option to consider, depending on how well-lit your space is. Some vanities come with lights, and some do not, so make sure you know whether you want or need lighting on your vanity before you buy one.
Lastly, think about the style of vanity you want. This new makeup vanity desk is going to be an addition to your room, so you will want to make sure that it goes well with the style of your room. For example, do you want a more simple vanity, or do you want a boho-chic style vanity? These are all questions to consider.
To help you in searching for the perfect vanity to add to your bedroom, this post will show you the best bedroom makeup vanity ideas to get you started.
Bedroom Makeup Vanity Ideas to Try
1. Foldable Makeup Small Space Vanity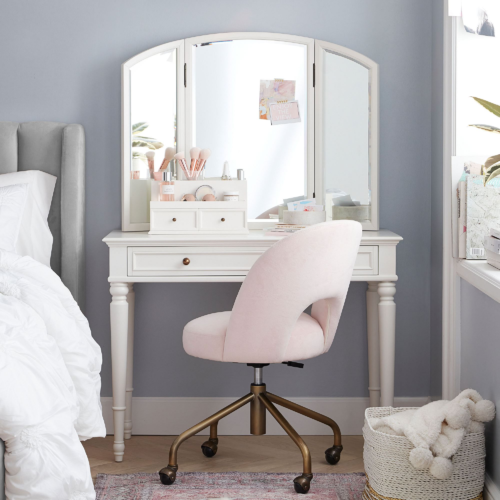 Let's start with a very popular and classic type of vanity that you have probably seen before. It is the folding mirror makeup vanity.
This is a great option for those of us who don't want to miss a thing when doing our makeup. This folding makeup vanity desk will make sure that you look absolutely flawless because the mirrors will show you every angle of your face.
Also, an added bonus to this small space-approved makeup vanity desk is that it comes with storage. You'll have a whole drawer to store your favorite supplies, plus plenty of space on top for everything else.
2. Midcentury Vanity Desk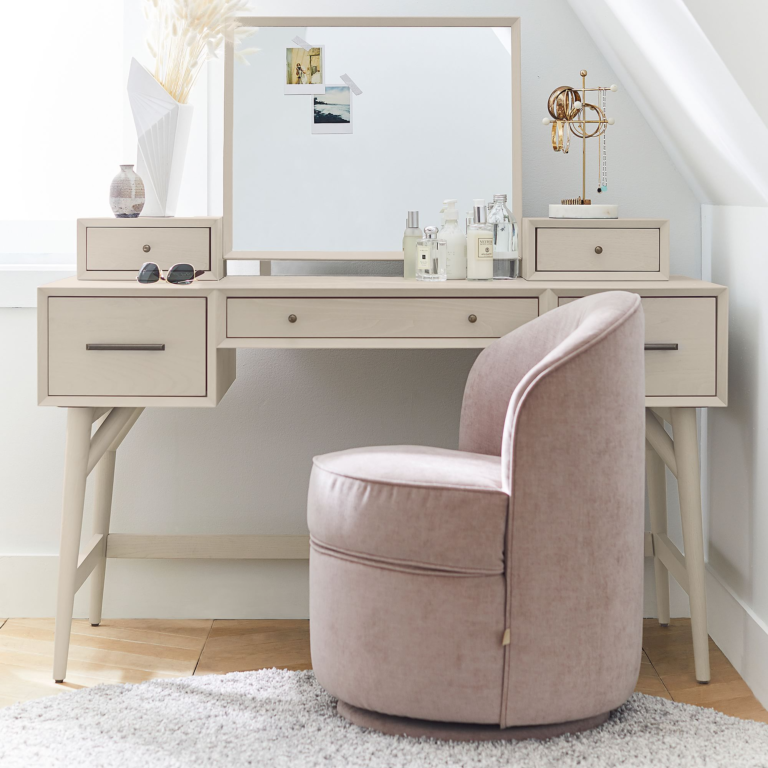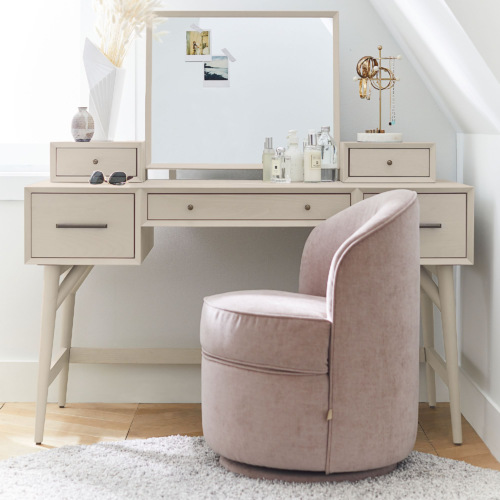 If your room is giving more of an eclectic or boho-chic style, I definitely recommend going for this mid-century vanity makeup desk!
This vanity desk is a cool mid-century vanity that comes in a beautiful cream color that's different from your usual white.
Once again, this vanity is heavy on storage space. It has a whopping five drawers so you can stay super organized and keep your vanity top mostly clear.
3. Touch Screen Vanity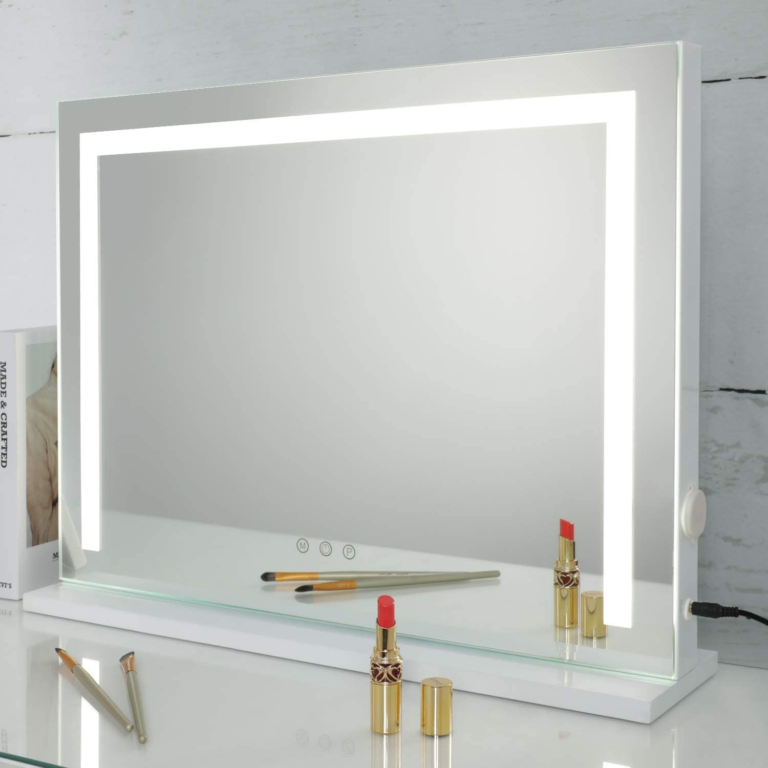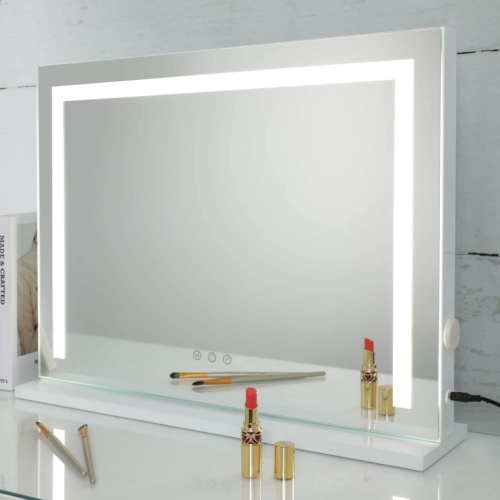 Touchscreen mirrors are becoming incredibly popular for vanities. They allow you to control the lighting on the mirror using the touch screen feature, so you can get it exactly how you want.
If this sounds cool to you, I recommend this touchscreen mirror, available on Amazon. You can add it to any vanity table so it will work with most setups.
Also, I love that the lighting is installed inside of the mirror. This is also a cool alternative to the classic light bulbs on the outside of the mirror. This gives the vanity a more modern look.
4. Classic Gold Vanity Desk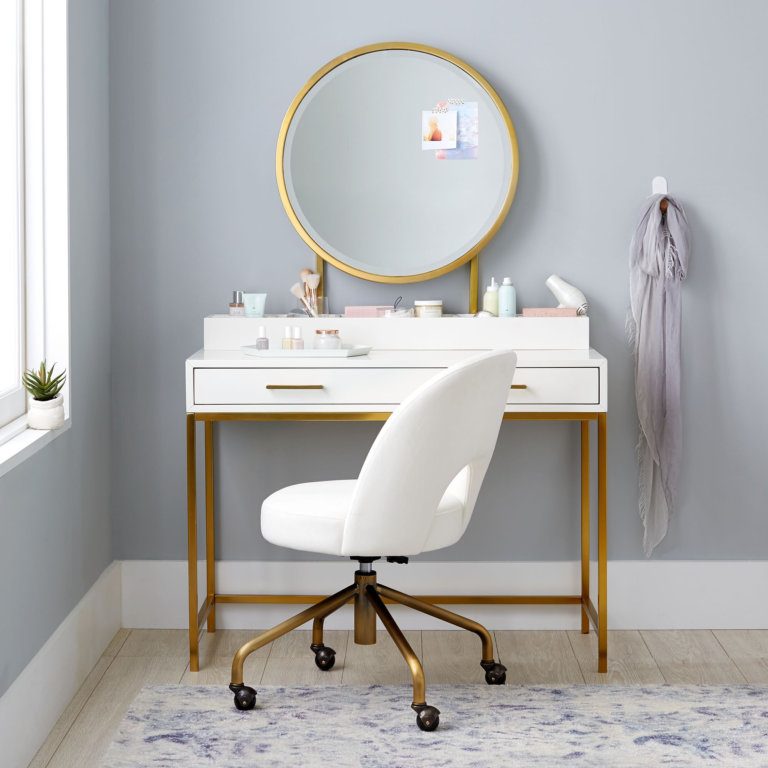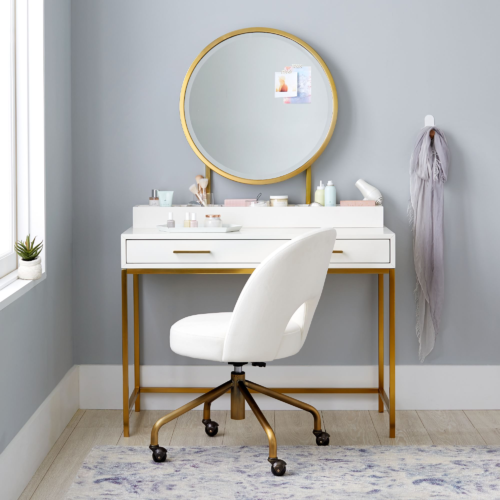 If you want a makeup vanity desk that is beautiful and timeless, you should go for this gold vanity desk.
This vanity desk is awesome because it comes with so much storage! It has both a drawer and an included set of mini organizers to keep on top of the vanity for the products you use every day. If you love to be organized, this is the one for you.
5. Wall-Mounted Vanity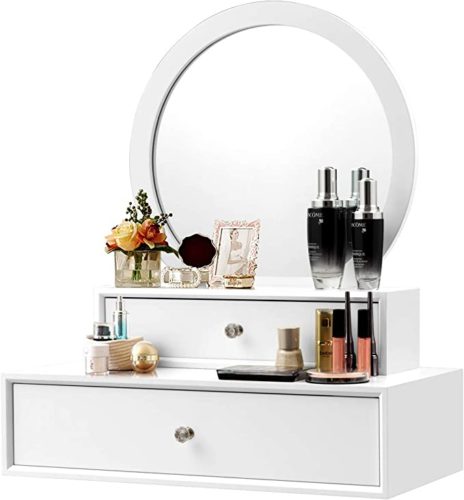 If you are very limited on space in your room, you can still set up a vanity space! A wall-mounted vanity is a great option if you're short on floor space but still want a vanity.
If you have never seen a wall-mounted vanity before, they look like this. They usually come with a few drawers and a mirror to complete the vanity.
An added bonus is that it will also save you the time and effort of having to put a full vanity together. This is always a plus for busy college students!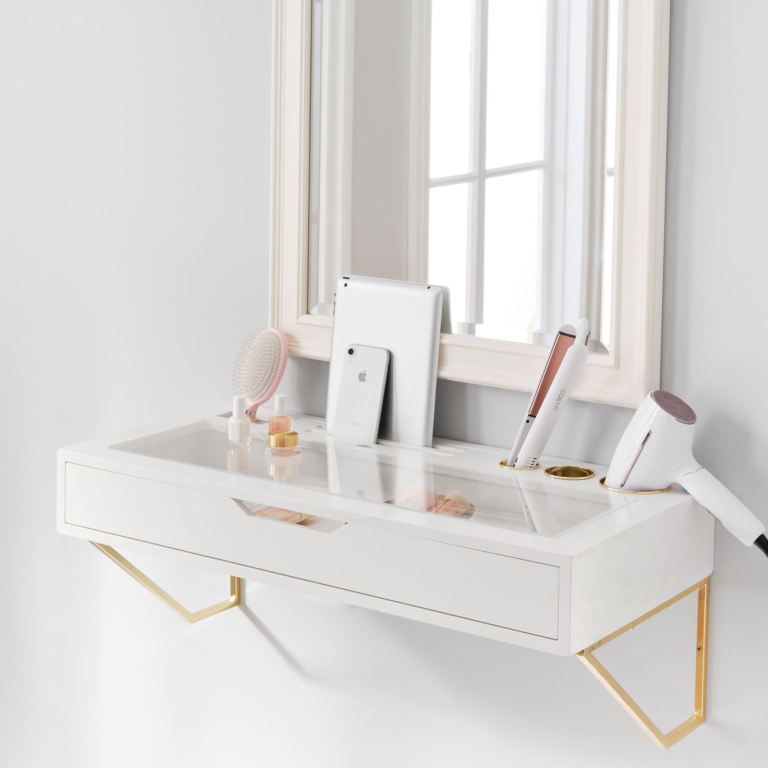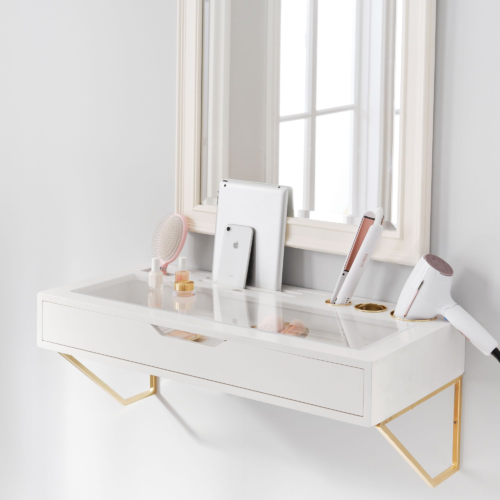 Here's an alternative wall-mounted vanity that you can use with any mirror you already have. Like the other wall-mounted vanity listed above, this one is small and doesn't take up any floor space.
I particularly love this bedroom makeup vanity idea because this vanity can hold your hot tools (blow dryer, flat iron) and even your tech (phone, tablet) while you get ready!
There's also tons of storage included in this sleek vanity; it's all-around perfect.
7. Large Mirror Vanity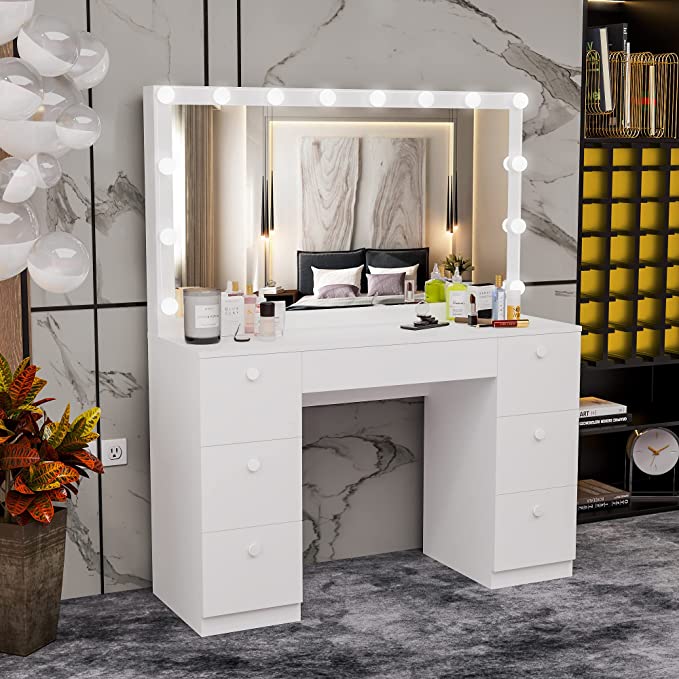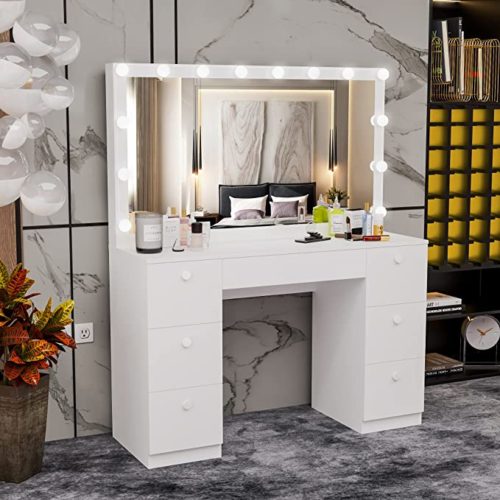 If you want the classic vanity with the large mirror and bright lighting, I recommend adding this one to your room!
This vanity is pretty big, so you will need to make sure that you have enough space for it in your bedroom. However, a good thing about this vanity is that if you have a lot of makeup, it definitely will have enough storage for you!
Also, this vanity comes with a huge mirror and a lot of lighting. All of your friends will want to come and get ready in your room!
8. Mini Vanity Desk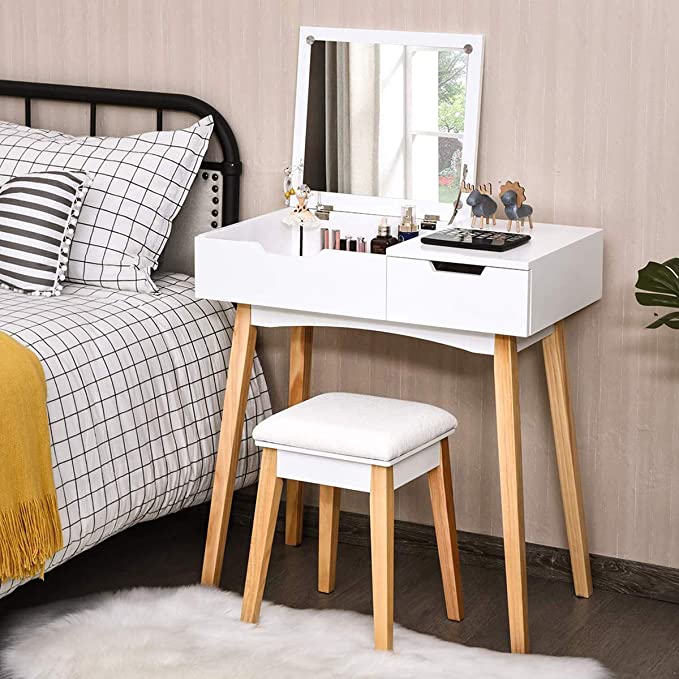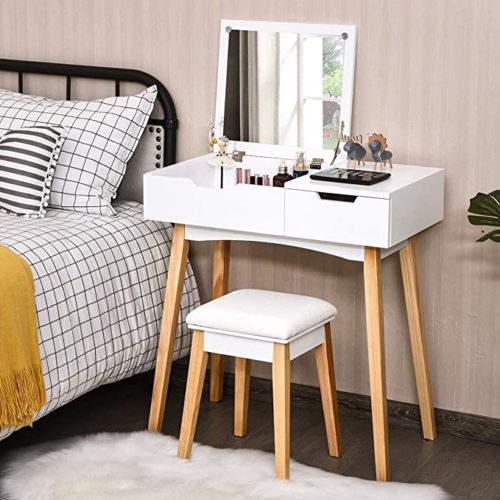 If you have just enough space to fit a smaller makeup vanity desk in your room, I recommend getting this mid-century mini vanity desk.
This mini vanity desk comes with basically all of the features that a normal-sized vanity would like a mirror, storage, etc.
However, this vanity mirror desk is more compact, so if you have only a smaller part of your room that is available, you won't have to worry because you will be able to fit this vanity.
As a bonus, the mirror folds down in this unit, so you can use the table as a desk when you are done getting ready.
9. Elegant Vanity Desk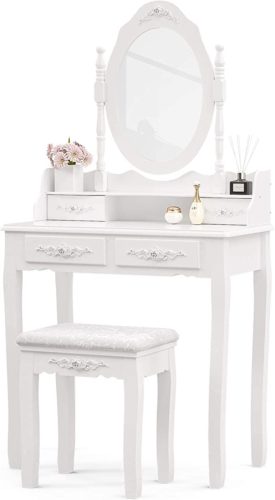 If your room has a preppy and elegant vibe to it, I recommend going for this rose-carving makeup vanity desk! It's so girly and traditionally feminine.
This makeup vanity desk is absolutely gorgeous. It comes in white and has an oval-shaped mirror that will work perfectly for your classy look in your room.
Related reading: The Cutest Preppy Room Ideas We're Obsessing Over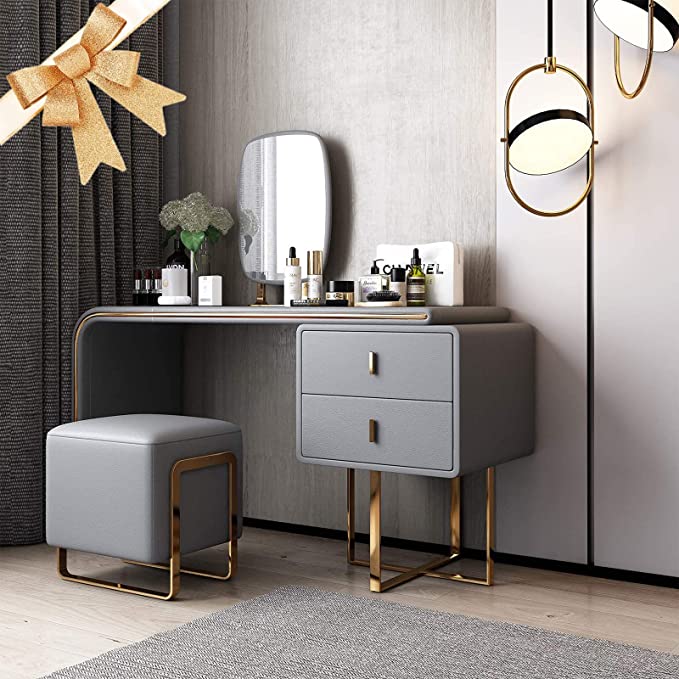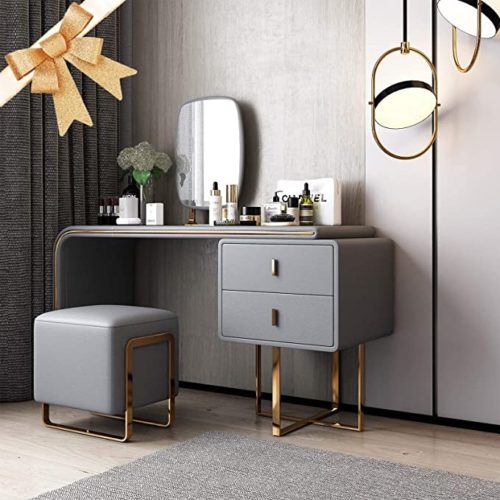 If the furniture in your room is more modern, you will most likely also want a modern-looking vanity. If that's your vibe, I absolutely love this modern-style vanity from Houzz.
This vanity looks more modern and different from most vanities because of the way that it is designed. Plus, it comes with its own matching seating to save you the hassle of finding a separate chair.
11. Corner Vanity Desk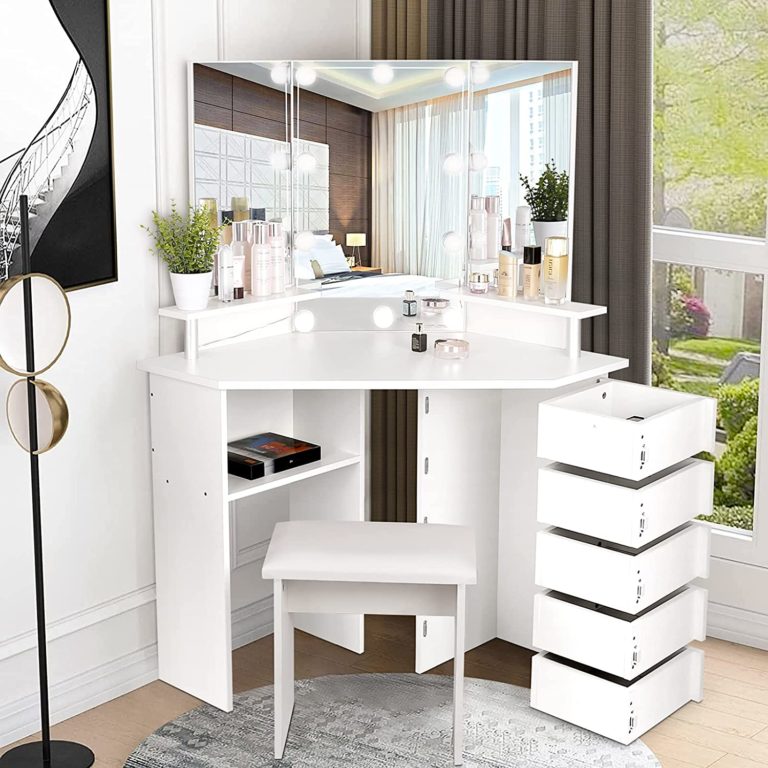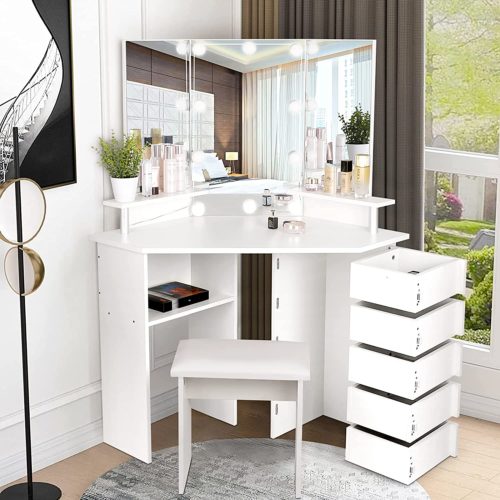 If you have a corner of your room open for a vanity, here's one of my favorite bedroom makeup vanity ideas that's perfect for your space.
This corner vanity will do the trick if you are looking for some more things to add to the empty space in your room or if you are looking for something that will be easier to fit with your other furniture.
And don't worry, just because this vanity is meant for corners of rooms, it doesn't mean it doesn't come with storage. This one has TONS. You will be able to store all your necessary items in this vanity with pull-out drawers!
12. Vanity Desk with Shelves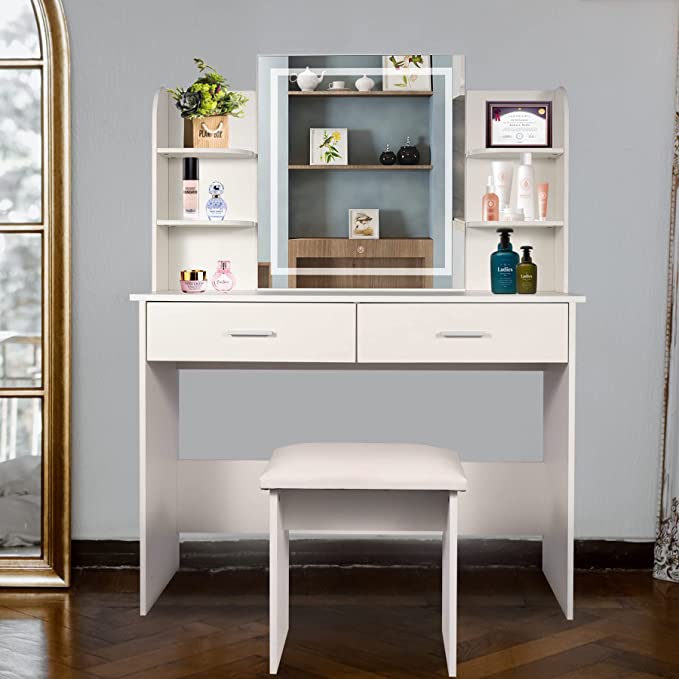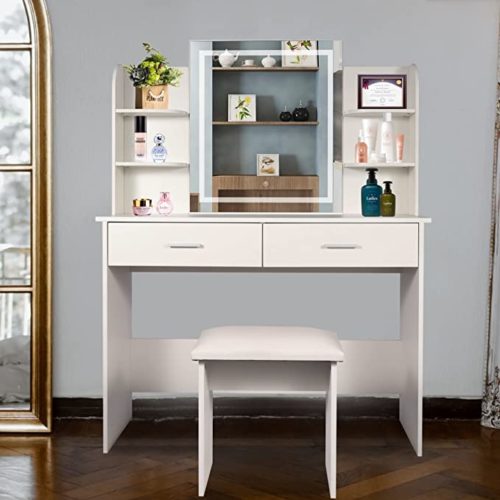 Most vanities come with drawers so that you can store your makeup or whatever other items that you would like to keep in your vanity.
However, if you want extra storage space or if you want to put some decor and items on display, this vanity desk with shelves is a great option.
This vanity will not only give you drawers for storage, but it will give your space some additional decor.
13. Round Vanity Mirror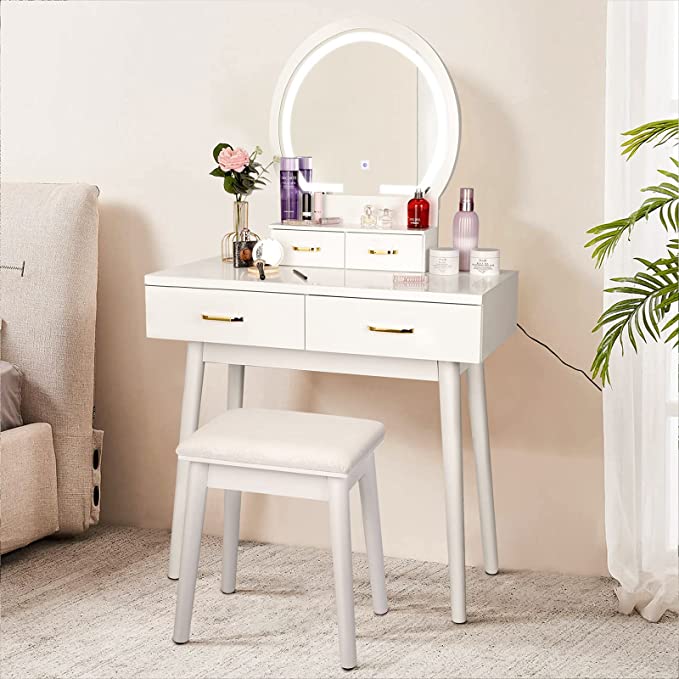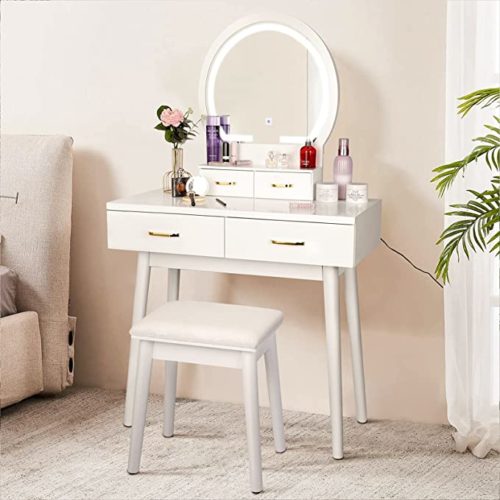 If you don't like the other rectangle or oval mirror options as much, I love the round-shaped mirror featured on this vanity.
This is a cute alternative to the other mirror shape options for vanities. Plus, it comes with a touchscreen mirror AND vanity stool, so it has everything you need in one set.
What do you think of these bedroom makeup vanity ideas?
Which one is your favorite from this list? How often are you going to be using your vanity?
If you like these bedroom makeup vanity ideas, you might want to check out our related posts below —