This post may contain affiliate links, which means we may receive a commission if you purchase through our links. Please
read our full disclosure here
.
As much as I deny its existence, the day will come when we will graduate from our undergraduate/graduate/professional schools and become, as the saying goes, "real people."
When that day comes (newly minted freshmen, savor your freedom and lack of responsibility!), it might be time to shed the clichéd college posters and move on to more classic furniture, lighting, and decor. I love Audrey Hepburn and Animal House as much as the next person, but there's a time and a place for them, and the real world demands more from you than college ever will.
That said, graduating from buying all of your furniture at Target to buying everything at IKEA is only a short-term fix to a long-term solution. Decorating your room to reflect your new, post-grad persona doesn't have to break the bank.

In this article, we'll talk about three ways to make your room feel more grown-up, including decor tips, organization guides, and shopping advice. Let's get started!
1. Rethink your walls.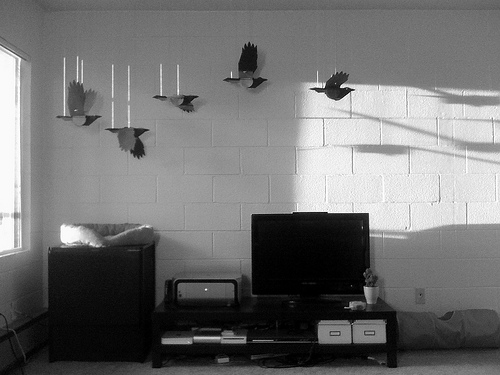 When it comes to making a space feel more mature, less is more. Gone are the days of plastering your walls with 4″ x 6″ prints from the local pharmacy – while that was the de facto way to fill a blank space on a dorm wall, there are plenty more ways to add color and interest to your room or apartment.
Investing in vintage prints from travels is a great place to start, since their simpler color schemes are easier on the eyes than endless lines of blurry iPhone snaps. The WPA's National Park serigraphed posters are a great example!
Instead of hanging up 10-15 framed images that are all the same size, check out Apartment Therapy's tips for re-thinking the gallery wall. One 27″ x 40″ blown-up movie poster with a few smaller prints can carry a lot more weight, and be significantly more visually interesting than a battalion of 8.5″ x 11″ black frames.
Move beyond two dimensions and think about 3-D designs, like punched-out hearts in a simple square frame.
2. Pick (and stick with) quality bedding.
Chances are, you're not sleeping in a twin XL bed after college. While the debate of splurging or saving on bedding in undergrad is an ongoing and valid debate, it only makes sense to invest in quality sheets when you're in the "real world."
After all, these will probably need to last you a while, and you probably don't have all your friends using your bed as a couch to eat pizza at 3am anymore. (The operative word here is probably.)
Take an afternoon and really get a feeling for what kind of bedding you like. Is it high-thread-count cotton, silk sheets, linen, or something else? Unless you absolutely have to, don't resort to ordering online without feeling the fabrics first.
If your mattress leaves something to be desired, do your best to invest in a mattress topper. While these can get somewhat pricey, they're way more effective than a foam topper, and will definitely last you much longer.
According to a study by The Daily Mail, 82% of people don't know how often to replace their pillows. Apparently you should get a new one every six months to avoid the buildup of dust mites and dead skin. With great freedom comes great responsibility, and apparently a great many trips to your local department store.
3. Whip your closet into shape.
If ever there was a time when closet organization was imperative, it's when you start taking on responsibility (and rent, and utilities, and dealing with Time Warner Cable).
While it might have been socially acceptable in college to throw on the nearest pair of yoga pants and run out the door to lecture, having a job and all of its attendant duties necessitates a functional, orderly dressing area that streamlines your morning routine.
If you can, try to have all of your hangers match. I swear by Huggable Hangers, which sell add-on packs of finger clips for hanging up all of the pencil skirts which will inevitably join your closet if you pursue professional work after school.
Double-hanging closet rods were made for tiny closets. If you're moving to a city or a place where you know your closet will be lacking in space, invest in one and thank yourself later.
A sturdy shoe rack (like this one from Target) is important, especially if you'll have to match your business-casual low heels to your outfit every morning. Again, if you have the option, go in-person to the store and see how much weight the various options can bear. Don't trust the website images!
What do you think?
What are your tips for post-grad living? What do you think of our advice? What do you wish you knew before moving in to your current apartment or dorm? Let us know with a comment!