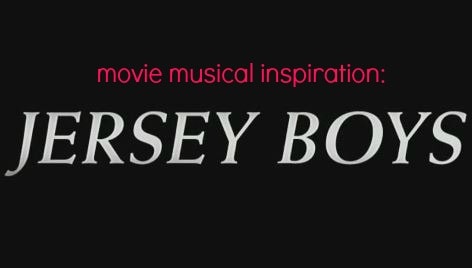 Designer collaborations are one of our favorite things here at CF, and there have been some pretty exciting ones in the past – remember the crazy 400-piece Missoni for Target collaboration that threw everyone for a loop a few years ago?
While large fashion powerhouses tend to partner with mid-tier department stores for their more affordably-priced lines, the realm of home furnishing collaborations has always seemed to prefer the independent designer, with some even branching into online Etsy stores and up-and-coming names in design.
When it comes to dorm and apartment decor, designer collaborations are a great place to look for unique pieces that will only be available for a short while. Even a small accessory here and there can dramatically change the look and feel of a room.
In this article, we'll talk about our favorite home furnishing designer collaborations at all different budget levels, covering everything from the large-scale to the indie designer. Let's get started!
Nate Berkus for Target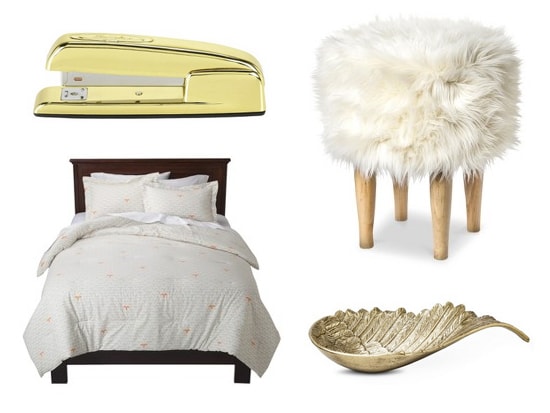 Our Nate Berkus for Target picks: Stapler, Faux Fur Stool, Bowl, Bedding
If you like clean lines, metallic accents, and kitschy-cute details, look no further than the Nate Berkus for Target collaboration. Gold-plated everything – from scissors and staplers to wing-shaped bowls – reign supreme beside faux fur covered stools and delicately patterned origami comforters.
Ideal for a simple room with one metallic tone throughout, Nate Berkus specializes in nature-inspired design with a geometric twist. Keep the other colors in your room neutral for a soothing color palette that is perfect after a trying day in class or at work.
Etsy for West Elm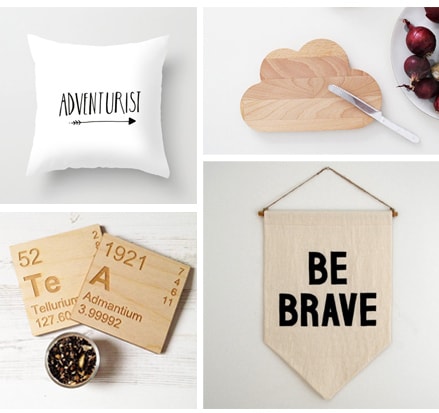 Our Etsy for West Elm picks: Adventurist Pillow, Periodic Table Coasters, Be Brave Banner, Cloud Bread Board
The end-all-be-all of independent, unique design is undoubtedly Etsy, a haven for those who dabble in handcrafts and the powerhouses around the world alike. West Elm, a well-known home furnishings company, hand-picked various Etsy products from shops all over the place, and have compiled them into city-based categories, each with their own distinct style and flair.
These pieces tend to be smaller decor items that can easily blend into any room's color scheme or design. Get them while you can, since many of these items sell out rapidly and it's difficult to predict when they come back in stock.
Design By Conran for JCPenney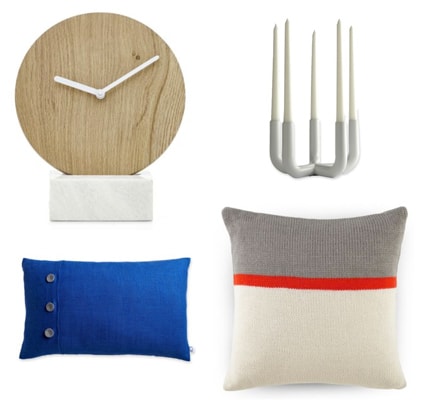 Our Design by Conran for JCPenney picks: Clock, Candelabra, Striped Pillow, Button Pillow
Legendary British designer Sir Conran has crossed the pond and made his debut stateside with his home furnishings line for JCPenney. Characterized by grays, navys, and simple no-fuss style, his slightly pricier pieces are great for transitioning into post-grad life and adding a bit of subtle sophistication to any room.
Keep your color palette slightly toned-down or smokier to blend well with these pieces – think dusky European den, but then brighten it with white lines to balance out the potentially heavy gray tones.
What do you think?
Do you like these designer collaborations? What other collaborations have you noticed and appreciated? Are you hoping that more designers and small businesses will partner with large-scale companies in the future? Let us know with a comment!