This post may contain affiliate links, which means we may receive a commission if you purchase through our links. Please
read our full disclosure here
.
One of the absolute best things about college is having your own space – a place to call home while away from your parents' nest.
And like any home, you want your living area (whether it be a dorm room, studio apartment, or luxury condo) to feel welcoming to both you and the people you invite in. I sound like a total housing nerd right now, but I truly believe that even if you live in the "worst" dorm on campus you can turn it into a home with a little TLC.
Why you should decorate your dorm:
It's important to remember that this is your sanctuary for the next year, so it deserves a little attention. I know people who say they won't be in their dorm often, so they keep their walls sparse and don't add any personal touches.
I personally disagree with this and believe the logic may flow the other way – if your place is more of a jail cell than a room, you won't want to spend time in there! Even if you don't plan on studying in your room or crash at friends' places often, you'll feel happier and less homesick if you decorate your dorm.
If the idea of having a fun and unique space to show off appeals to you, keep reading! I like to think that your home should be as fun as possible – there are so many DIYs and cute ways to decorate that transform a temporary dwelling into a dream home.
Below are some items and themes I usually incorporate into my room to give it a personal, homey feel. Don't stop there though – choose items that make you feel relaxed and remind you of home, then go with it!
Scroll down to check out all 18 of my dorm decor picks: (Bonus! They all ring it at under $100)
Hanging Decor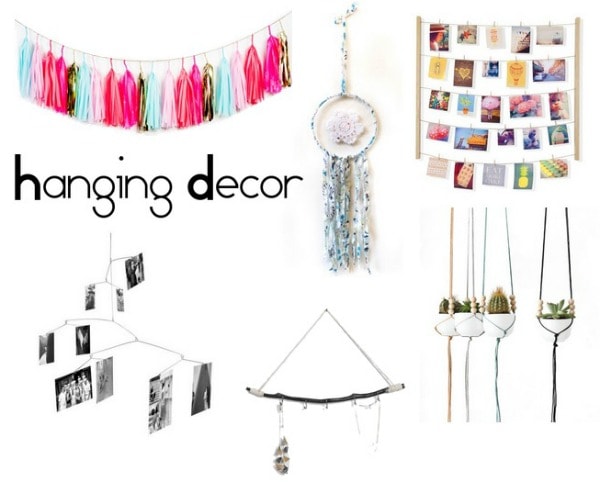 Product Information: Tassels – Etsy, Dream Catcher – Dormify, Hanging Photo Display – Nordstrom, Hanging Planters – Etsy, Branch Jewelry Stand – Urban Outfitters, Photo Mobile – Casa
It may be my inner child coming out to play, but things hanging from the walls and ceiling is so cool! Not only can these items be placed in a unique location that may otherwise not receive much love, but hanging objects are great ways to incorporate color and infuse your personal style into your space.
The tassels and dream catcher are fun and whimsical, while the hanging planters and jewelry holder have a practical, minimalist vibe. The hanging photo display and mobile will let you show off your fave pics, plus they look much cooler than your average picture frame or photo album.
Cozy and Relaxing Decor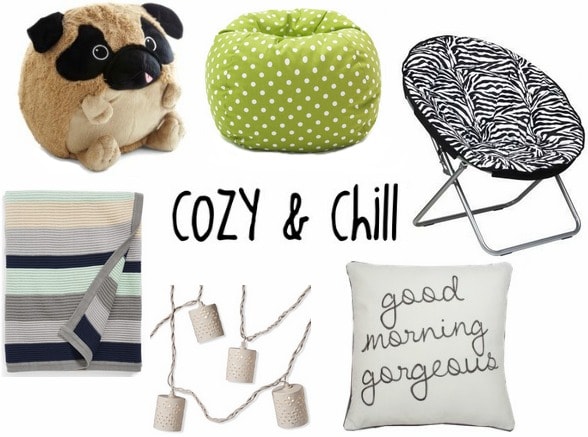 Product Information: Pug Pillow – ModCloth, Bean Bag – Overstock, Zebra Chair – Kirklands, Pillow – Dormify, String Lights – Target, Throw Blanket – Nordstrom
Your room probably comes with a bed (yay for furnished dorms!), but don't let that be the only place you relax. Last year, my roommate and I made an under-the-bed fort (try this if you have a lofted bed) with blankets and husband pillows. All of our friends loved to drop in and relax in the cozy spot that was perfect for movie nights or late-night cookie dough chats.
Our fort made me realize how important it is to create a plush, comfortable environment. (Just make sure not to fall asleep before studying!) You don't even need a bunch of pillows – the same effect is created with a cozy throw blanket or even twinkle lights.
Having extra seating is always a good thing to have, and the bean bag and foldable papasan chair are both cute options that work for small spaces.
Nature-Inspired Decor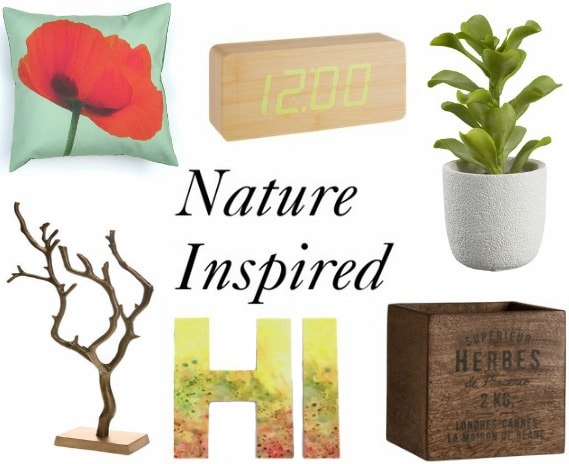 Product Information: Poppy Pillow Cover – Etsy, Wood Clock – Wolf & Badger, Potted Plant – Crate and Barrel, Wooden Box – H&M, Decorative Letters – Deny Designs, Tree Jewelry Holder – Urban Outfitters
People who know me will laugh at what a big emphasis I place on nature when I'm truly terrified of bugs, but bringing a bit of the outside world into your home will make it feel less sterile and also peaceful.
For example, the calming rays of sunshine radiating off the "HI" sign above will make you feel safe and cheery. Even having some wood-based objects in your room will break up the texture and add an artsy, outdoorsy feeling without having to bike, climb, or hike. And of course, a potted plant is the perfect way to literally bring the outdoors in.
What do you think?
How do you usually make your apartment or dorm comfortable? Do you think it's necessary to decorate your room or can you leave it as is? Let me know in the comments!