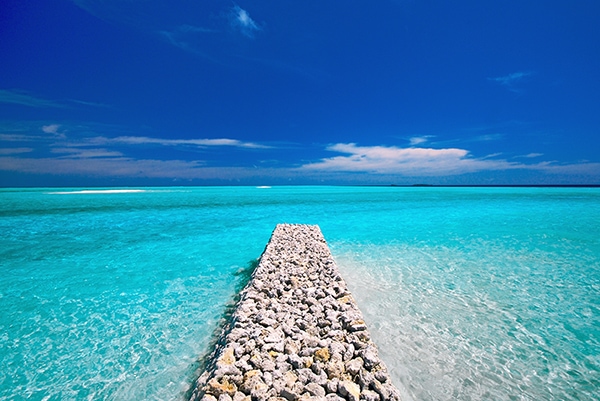 Finally, finally, finally.
We made it over that hump of the first half of spring semester, and now it's time to have a little fun before we dive back into school and lose ourselves to hours of homework and studying.
Spring break is like a breath of fresh air that ends way too quickly, but we need it to survive and rejuvenate.
If you're one who enjoys your break by just relaxing at home while your mom does your laundry, there's no shame in your game. But if you're one who sees spring break as an opportunity to get as far away from campus and home as possible, this one's for you.
Last week we shared some of our spring break travel must-haves. Today, I'm helping you actually prep and pack for your trip. This guide on how to prepare and pack for a tropical spring break getaway is what I follow every time I travel. Let's get started!
Travel Prep:
1. Check the weather
I mean…how obvious, right? It's mostly common sense, but a trick I have to offer you is to check the weather of your destination from previous years. This way, you'll be able to prepare for when it's time to pack and you'll know exactly what to bring.
Timeanddate.com provides both past and current weather forecasts for cities all over the world.
2. Check airline bag policies
This is definitely another given, but if you're one who airline hops and doesn't travel through the same company each time, it's important to check bag policies and fees.
Some companies, such as Delta, American Airlines or Sun Country, allow customers to bring a carry-on plus a personal item for free and offer the option to check bags for a fee. But others, such as Spirit Airlines or Frontier, charge their customers a fee to even bring a carry-on.
It's important to keep in mind that although the airlines that charge carry-on fees may run lower flight prices, they can end up costing the same as a higher priced airline once you pay the baggage fees.
I always make sure to check the airline policies before I even book my flight so I don't run into any problems after booking.
3. Notify your bank before you depart
Calling your bank and leaving a note on your account for when and where you will be traveling can prevent your debit or credit cards from locking while you are enjoying your trip.
Sometimes when purchases are made in a destination outside of your home state, the bank will flag it or deny it, which could result in your account being frozen or locked.
I always make sure to do this even if I'm only traveling a few states away because I don't want to spend my time in a money bend and I'd rather be safe than sorry.
Note: Some cards, such as American Express, will automatically approve transactions when you travel, but it's important to know your card's policies ahead of time. If you're unsure, be sure to call them before you depart.
4. Create a packing list that you can bring with you on vacation
Keeping a packing list, whether it's hand-written or on your phone, can be very helpful when packing to leave or come home.
I always make sure to bring the exact list with me on vacation so I can refer back to it when I'm packing to come home. This way, I can make sure nothing is missing or left at my hotel.
5. Invest in luggage tags that make a statement
Waiting to spot out your luggage on the baggage carousel as hundreds of bags go around in circles is most definitely one of the top ten worst ways to pass time (or at least it is in my book).
There's nothing worse than chasing down a bulky suitcase and then hauling it off the claim just to find that it's not yours and you have to hoist it back up so it can find its rightful owner.
Investing in luggage tags that stand out or make a statement is a must when traveling.
Luggage tags are a great investment as they run relatively cheap and can be used for multiple trips.
Packing Prep:
1. Roll your clothes inside your suitcase
An alternative to folding, rolling your clothing items can keep your suitcase more organized and will force you to pack more efficiently, keeping your suitcase less cluttered and showing you where your free space is. (Contrary to popular belief, rolling clothes doesn't actually give you more space in your suitcase than folding, but it does help you maximize your suitcase space!)
Rolling items like shirts and shorts can also help with preventing creases or wrinkles. There's nothing worse than opening up your suitcase after a flight to see that all of the clothes you brought have been wrinkled.
And if you're one of those travelers who is anti-bag check and swears by only bringing carry-ons, this tip especially works best.
2. Pack a sweater
Though you may be going somewhere tropical, it's always nice to have something to fall back on if the weather becomes iffy or your hotel has the A/C on high.
Sweaters can be bulky when packing, but it's better to be safe than sorry.
I always make sure to pack one especially if I'll be on the beach. Sunrise and sunset walks can be a little chilly with the ocean breeze!
3. Don't forget the jeans
Jeans always come in handy when traveling anywhere, even if it's somewhere tropical.
I always make sure I have a pair of jeans packed with me anywhere I go, in case the weather turns but also to have something to style an outfit around if I'm looking to do something early morning or after sunset.
4. Pack items that can be worn more than once and styled in multiple ways
There are many clothing items that can be styled in many ways and serve the purpose of more than just one use. This ultimately will save you room in your suitcase and will prevent you from over-packing.
I always try to pack less pants than shirts because items like jeans or shorts are easier to sport multiple times and if it's something as simple as that, they can be dressed up or dressed down given any occasion.
Pro tip: You can even plan out your outfits ahead of time with an app to ensure you bring the bare minimum of items.
5. Throw fabric sheets into your suitcase
Putting fabric sheets in with your clothes will allow for them to maintain the fresh laundry scent and avoid the musky old smell of a suitcase.
It's a simple way to avoid bringing a huge bottle of perfume along and to keep your clothes soft and clean.
Thoughts?
What are some travel tips that you live by or did this guide come in handy? Leave a comment below, I'd love to hear your input!