This post may contain affiliate links, which means we may receive a commission if you purchase through our links. Please
read our full disclosure here
.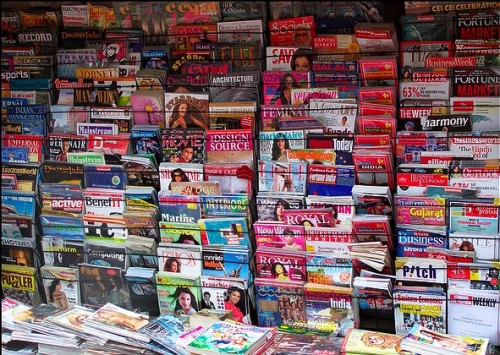 Who doesn't love a good magazine? There is just something so rewarding about going to the campus store or local newsstand after a long week and picking up a few of your favorite glossy indulgences to peruse over the weekend.
However, once we've devoured each and every article, studied every fashion and beauty tip, and gushed over our favorite celebrities, we're left with a bunch of used magazines that take up space and create messy piles no matter how hard we try to organize them.
While throwing our beloved magazines away is one option, here at College Fashion, we believe we can put these treasures to use in ways that are both creative and good for the planet. Here are a few of our favorite ways to recycle old magazines:
1. Dress up a notebook.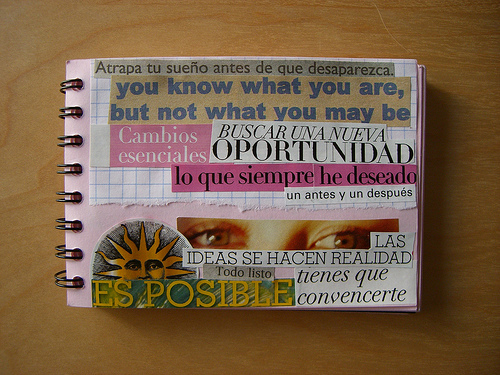 We've all had those semesters where we get to school and realize we forgot to pick up a notebook during back-to-school shopping. While the campus store is always stocked with these class essentials, school store notebooks often tend to be plain or feature the school name, logo or mascot as the only decorations.
Next semester, why not dig into your old magazine stash to create a personalized notebook cover instead?
To do this, flip through your magazines and cut out pictures, large quotes, and anything else that appeals to you. Lay out your clippings on the notebook cover and arrange them into your desired design. Once all your clippings are in place, glue everything down. Finally, to ensure your notebook will be able to endure the elements (and being shoved in and out of your bag), finish the cover with a layer of clear contact paper, available at most craft and stationary stores.
2. Use as wrapping paper.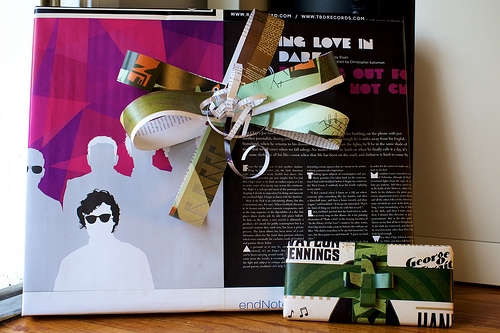 What is an awesome gift without some equally awesome wrapping paper? Ready-made wrapping paper is fun, of course, but it can be very expensive and hard to access if your campus isn't located in a large city or town.
With graduation gift season fast approaching, we think we've found the solution: Utilizing our magazine collections to create one-of-a-kind wrapping paper that is both personal and creative.
Look for article spreads that reflect your recipient's specific tastes. For large presents, lay out the amount of selected pages needed to cover your gift on the floor or a tabletop and tape them together to achieve a cool patchwork design. For smaller gifts that only require one page, try to choose beauty spreads that feature multiple products scattered on one page. You can even create gift tags and bows for your boxes!
3. Create an inspiration collage.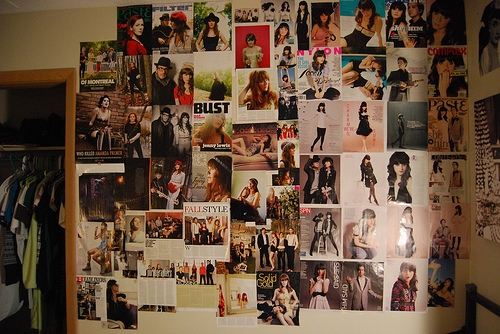 Let's face it: Most of us buy fashion magazines because we can't get enough of their high-fashion photo spreads, in-depth tend reports, and beauty tips. They inspire us to try new hairstyles, to pair articles of clothing we wouldn't normally, and to be the best fashionistas we can possibly be.
So why not utilize everything you love about your favorite publications to create a collage of inspiration or inspiration board for your walls? Get creative. Make a border around your bedroom at home or completely cover a wall of your dorm room.
Another option is to pin photos up on the inside of your closet door. You can also pin up fashion and beauty tips. Rotate new ones in as the seasons change or keep your favorites up all year long!
Your thoughts?
Now that you've seen my ideas for how to re-use your old magazines, I want to hear your tips! How do you recycle your favorite glossies? Do you make collages and inspiration boards? Do you have any other ideas for how to recycle magazines? Leave a comment and let us know!