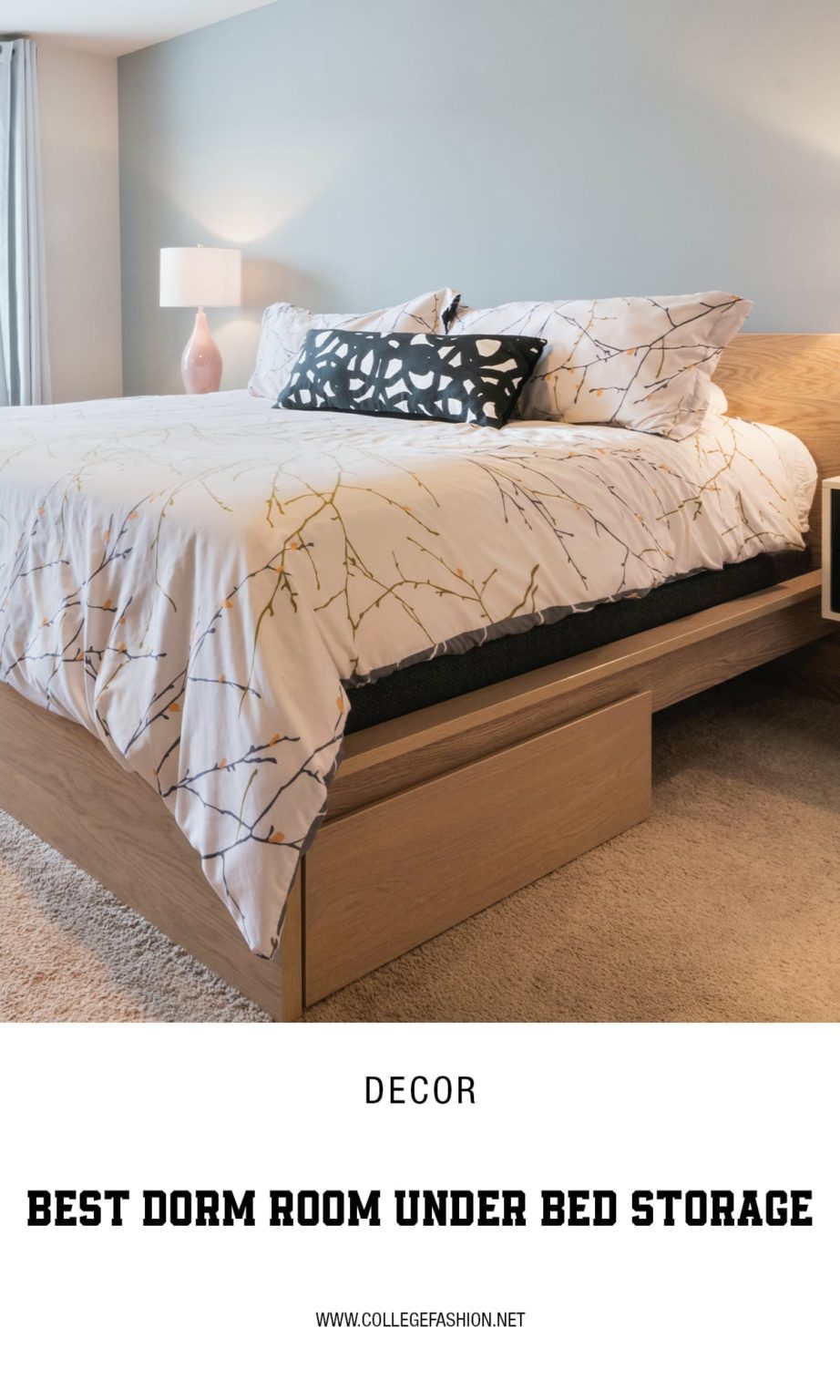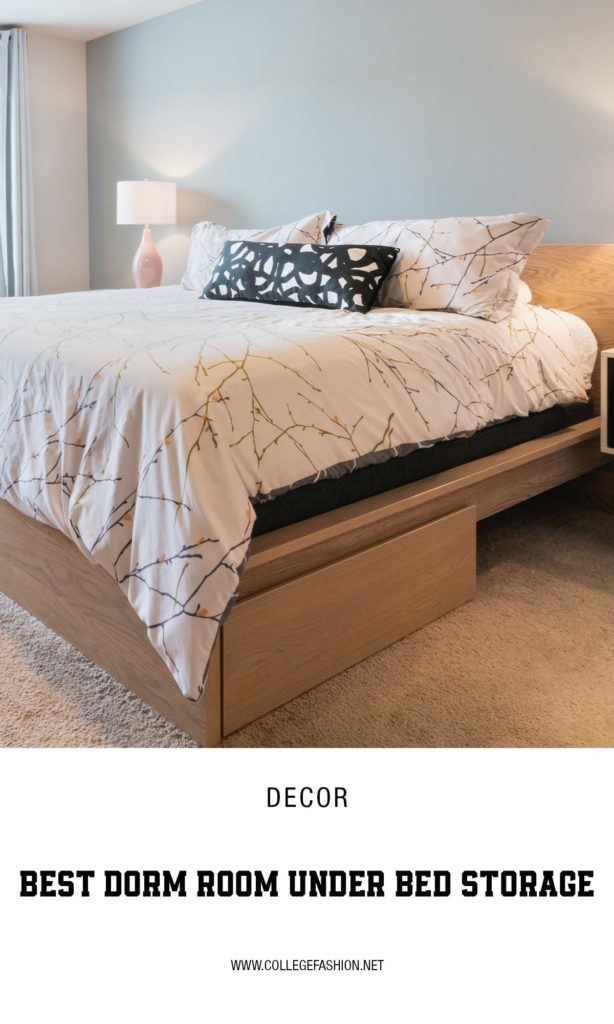 As you prepare to move into your college dorm room, it's important to consider how to make the most of the limited space. Since college dorm rooms are usually small and cramped, it's crucial to use every inch of available space wisely.
You can optimize the limited square footage by utilizing under-bed storage, which is often an area that goes unnoticed. We've scoured the internet and compiled a list of the best dorm room under-bed storage solutions to help you maximize your space and keep your belongings organized.
Discover a range of storage options, from stackable storage bins to bed risers with built-in storage, that can help maximize the limited space of your dorm room. Using proper storage solutions, students can effortlessly manage their belongings, maintain neatness, and optimize their living areas.
Below, we'll share our favorite dorm room under-bed storage products, as chosen by CF writers:
Also Read: The Ultimate Guide to Dorm Room Storage
Say Goodbye to Clutter: The Best Dorm Room Under-Bed Storage Solutions
Maximizing storage space in your dorm requires clever organization techniques and the right tools. Here are eight under-bed storage solutions to help you keep your dorm room clutter-free and organized:
1. Lifewit Large Capacity Clothes Storage Bag Organizer
Looking for an affordable and versatile way to store your clothing or bedding under your bed? Look no further than the Lifewit Large Capacity Clothes Storage Bag Organizer.
Made from durable polypropylene, this organizer set comes in three colors to match most decor and can be easily cleaned with a cloth.
With its clear window, you can easily see what's inside each bag, making it simple to find what you need. Plus, its foldable design means it can be stored away when not in use.
It's hard to beat the convenience and ease of a good fabric storage bag, making this Lifewit organizer a must-have for keeping extra clothes and seasonal items tucked away out of sight.
2. Fabric Under Bed Storage Bins
Another great option for dorm organization is fabric under-bed storage bins from Amazon. These lightweight and collapsible containers are perfect for storing shoes, accessories, or small items and can be easily tucked under your bed.
The best part about these bins is that they're so aesthetically pleasing. You won't mind seeing them sticking out from under your bed, plus the handle makes them easy to grab when you need to bring things out.
3. Amazon Basics Under Bed Fabric Storage Container Bags
Embark on a shoe adventure with the Amazon Basics Under Bed Fabric Storage Container Bags, your trusty sidekick in the quest for the ultimate footwear organization!
Banish the chaos of jumbled shoes and cluttered closets as this ingenious organizer swoops in to save the day, utilizing the untapped realm beneath your bed to create a secret shoe sanctuary. With these container bags as your ally, you'll effortlessly conquer disorder, protect your beloved shoes, and always have them ready for action.
But the wonders of the Amazon Basics Under Bed Fabric Storage Container Bags don't stop there! This heroic organizer can accommodate up to 12 pairs of shoes, turning the underused space into a functional storage hub. Featuring a clear top cover and sturdy handles, you'll navigate through your mornings with ease, quickly identifying and retrieving your chosen shoes for the day's battles.
4. Sterilite 56 Qt./53 L Wheeled Latching Box Clears, Quart
Introducing the Sterilite 56 Qt./53 L Wheeled Latching Box Clears, Quart – your personal storage chariot, ready to whisk away clutter and transport your belongings to a realm of organization!
Seriously, though, with its spacious interior and handy wheels, this storage box glides effortlessly from under your bed — no more yanking a heavy and dusty container when you want your winter clothes.
The Sterilite 56 Qt./53 L Wheeled Latching Box is a storage solution with a transparent design for easy viewing of stored items. The latching lid keeps items secure and dust-free. Plus, if you spill something or a sprinkler goes off in your building (it happens!), your belongings will be safe as opposed to fabric bins. Just another benefit to think about!
5. Supowin Underbed Storage Containers Bin with Lids
Behold the Supowin Underbed Storage Containers Bin with Lids, your personal treasure chest, for safeguarding your prized possessions from the perils of clutter and disorganization.
These containers are super cute and neutral, perfect for matching any dorm room color scheme. We also love that they have a space for labels so you can get ultra-organized and remember what's inside without opening your bin. (We love a label maker around here!)
Achieve a clutter-free and organized room with the Supowin Underbed Storage Containers. They are perfect for storing seasonal clothes, bed linens, or shoes.
6. Under Bed Storage Containers with Wheels
These Metal Under-Bed Storage Containers with Wheels are perfect for maximizing dorm room space.
Made from high-quality metal, they offer durability and sturdiness for long-term storage. With tool-free assembly and 360° rotating wheels, these containers are convenient to set up and move around, providing easy access to belongings. The foldable design allows for compact storage when not in use, and their versatility extends beyond under-bed storage to various areas of the dorm room or other spaces.
The only drawback of these bins is that they don't have a lid. This might mean your belongings will get dusty under your bed. On the other hand, if you like to be able to grab things immediately without opening a box, these could be perfect for you. I could also see them used for things like boxed food and beverages that don't fit in regular under-bed containers.
7. Whitmor Zippered Underbed Bags
The Whitmor Zippered Underbed Bags are a practical storage solution for dorm rooms, especially if you need to store large items like blankets.
With a clear vinyl top, these bags offer easy visibility of contents, while the zipper closure protects items from dust, dirt, and pests. The reinforced seams ensure durability, and the unstructured body allows for convenient folding and storage when not in use.
Perfect for storing linens, blankets, clothes, and accessories, these bags feature handles for easy accessibility and portability. Plus, they are crazy affordable at under $10 for a set of two!
8. Vixdonos Metal Trunk Decorative Storage Box
If you love those vintage vibes, you'll adore the Vixdonos Metal Trunk Decorative Storage Box – the ultimate storage companion for your college dorm or small living space!
This versatile trunk is so cute and gives off a nostalgic feel with its gold details and sturdy white construction. While this trunk could definitely be used under a bed, it's also a great option for storage anywhere in your dorm since it's so cute and aesthetic! Talk about versatility.
Dorm Room Organization: What to Store Under Your Bed
Wondering what to keep under your bed in your dorm? Here's what we recommend.
1. Luggage
To save space in dorm rooms, it's useful to consider using luggage instead of buying a specific under-bed bin. Luggage offers versatility in terms of size and material, allowing for the storage of a wide range of items. And if you're flying to college or just lugging tons of stuff, you'll need your suitcase at school anyway.
Soft-sided luggage can be easily tucked beneath the bed, while hard-side luggage provides a more secure and durable option. So, whether you're looking to store extra bedding, clothing, or other items, luggage is a great choice for maximizing storage space in your dorm room.
2. Out-of-season clothing
To save space in your dorm room, consider using luggage as storage for out-of-season clothes. This will keep your items organized and out of the way until you need them.
The best part about storing out-of-season clothes is that it will help you get ready every day, knowing the only items in your closet are things you can actually wear right now. It makes it 10x easier to create a capsule wardrobe each season.
3. Linens
One way to keep your extra bedding, blankets, and linens organized and easy to reach is by storing them neatly under your bed in boxes or your luggage. I don't know about you, but I love having extra blankets ready for winter in the Northeast (or when my building blasts the A/C).
4. Shoes
Shoes can easily become cluttered and disorganized in a small dorm room. Storing them under your bed can help keep your shoes neat and tidy while maximizing floor space.
Make sure to choose a bin or bag with a sturdy material that can hold the weight of your shoes and protect them from dust and dirt. (There is nothing worse than dust collecting on suede boots, for instance!) Wheeled storage containers can also be suitable for shoe storage, making it easier to move and retrieve your footwear when needed.
Do you utilize the space under your bed for storage?
To maintain a tidy and uncluttered dorm room, it's essential to have suitable under-bed storage. This extra space can be utilized with luggage, plastic storage bins, or rolling containers.
You can store out-of-season clothing, linens, and shoes in this under-bed storage to keep your room organized and clean. You should select the storage options that are best suitable for your individual needs from various available options in the market.
Do you use the space under your bed for storage? If so, what do you put there? Do you use fabric bins or plastic? Tell us your thoughts by leaving a comment down below.
If you liked this article about the best dorm room under-bed storage, consider checking out these other articles —