Maybe I've watched too many movies featuring glamorous secretaries and power-suited CEOs, or maybe I've pored over my J. Crew catalogs a few times too many.  Whatever the cause, I've always been unreasonably excited about office attire. (The blazers, the pencil skirts, the button downs, the practical-yet-pretty pumps! )
But some of that enthusiasm wanes when the sticky reality of summer humidity sets in. When temperatures rise, it can be a challenge to look professional and fashionable and avoid melting in the heat, especially if you walk to work.
If you're spending your summer in an office for a job or internship, today's post is all about looking cool, calm, and collected even when you're feeling overheated and frazzled! (For more, check out previous CF posts on summertime workwear, how to jazz up business casual, casual summer office outfits, and decoding dress codes.)
Tips and Tricks for Office Fashion
Material matters! Natural fibers like cotton and linen won't trap sweat the way synthetics such as polyester will. That being said, pure linen wrinkles like crazy, so you may want a slightly sturdier linen/poly blend to get the best of both worlds.
Blazers and snug button-downs are especially susceptible to sweat and deodorant stains due to the tight armholes. Choose antiperspirants/deodorants that dry clear to avoid marks. If sweat is especially problematic for you, apply antiperspirant once before you go to bed, then again in the morning. This gives the active ingredients ample time to kick in and block sweat production.
Another quick tip: if you don't have oil blotting sheets with you, those paper toilet seat covers are great for soaking up oil and sweat. Weird but true.
If your workplace keeps the AC on full blast, don't forget to bring a light jacket or cardigan.
Office jobs tend to involve a lot of sitting, so make sure to test out your clothes! A skirt hemline that looks appropriate when you're standing will likely ride up once you're seated. Likewise, some waistbands may dig uncomfortably into your skin… something you definitely want to avoid if you're going to be sitting for eight hours!
Same goes for the bending test: at some point in your day, you'll probably drop a pen or a sheet of paper. The bend and snap (and flash) is not so fabulous when your boss happens to be standing right behind you. 
Avoid jangly bracelets if you're going to be answering the phone or filling out paperwork all day. The noise will likely be distracting.
Summertime Workwear Inspiration
Read on for office-appropriate — but fashionable — outfits for varying dress codes.
Relaxed Refinement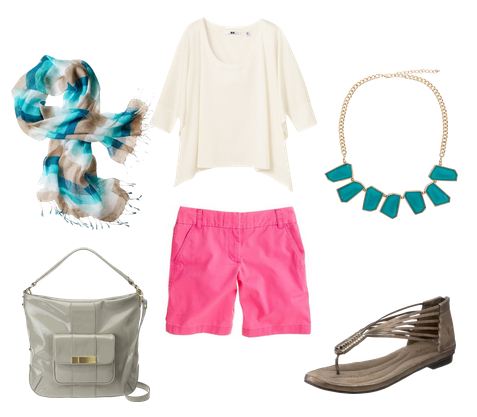 Product information: Top, Shorts, Sandals, Necklace, Scarf, Bag
Perhaps you work in a casual environment and your boss wouldn't care if you showed up to work wearing nothing but a tea cozy. But here you are browsing College Fashion and you're probably not a house elf, so I'll assume that you like to make a good impression via attire. Remember that a little polish goes a long way when it comes to how you're perceived, especially if you're the youngest employee in the office.
This easy outfit is really just a glorified T-shirt-and-shorts combo. Small upgrades like metallic sandals instead of flip-flops and crisp chinos instead of denim shorts make a big difference! Trendy details like a geometric necklace and striped scarf show your personality but won't detract from your professionalism.
Creative Chic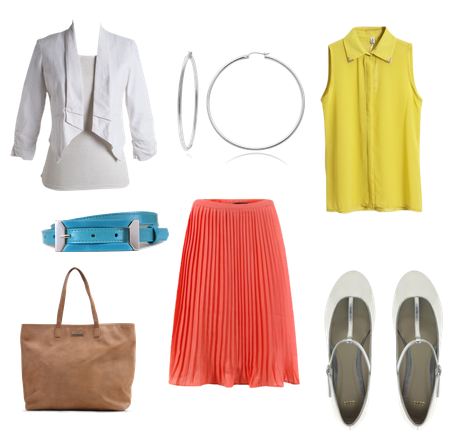 Product information: Jacket, Top, Skirt, Flats, Belt, Earrings, Tote
If you work in a slightly more conservative office, you're probably expected to sport business casual duds. In this setting, hot pink shorts might not fly, but that doesn't mean you can't have some fun with color. After all, it's summertime!
Show off your style savvy with colorblocking, but make sure you temper the bold hues by choosing classic pieces like this sleeveless blouse and belted knee-length skirt. Keep your shoulders covered with a linen blend blazer: this one has a fun drape detail to keep it from looking stuffy.
Now it's time for accessories. Metallic hoops and T-strap flats are fun but not over-the-top. (Subdued metallics are okay, full-on glitter or sequins might not be.) A neutral tote holds all your essentials and anchors the otherwise colorful outfit. Note that the more formal your dress code, the more structured your bag should be: a sturdy satchel looks more professional than a slouchy hobo.
Professional Polish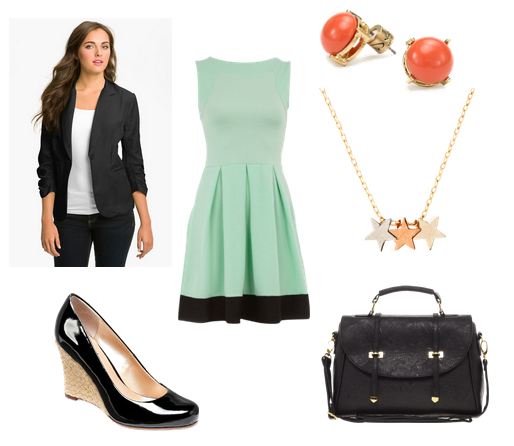 Product information: Blazer, Dress, Wedges, Earrings, Necklace, Satchel
If you're intent on a rapid ascent up the corporate ladder, you'll have to dress the part! While this outfit is more formal than the previous two, it's still age-appropriate and stylish.
Pencil skirts and tucked-in tops can be uncomfortably restricting in the summertime, so why not go the easy route with a dress? Pick a more structured silhouette (e.g. fit-and-flare, A-line, sheath) in a substantial fabric like ponte or thicker cotton, and make sure the neckline is high!
Patent wedges give you the professional look of heels but are less likely to induce crippling pain the way a thinner heel might. (Plus, these ones are soKate Middleton! If it's good enough for the Duchess of Cambridge, it's good enough for the office!) Though you'll want to keep your jewelry small, stud earrings and dainty pendants can be a (subtle) way to inject some individuality.
What do you think?
Do you work in an office? Any tips to share on how to stay comfy, cute, and professional during the summertime? Let us know in the comments!