This post may contain affiliate links, which means we may receive a commission if you purchase through our links. Please
read our full disclosure here
.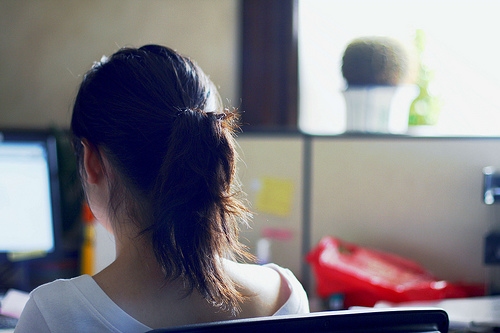 As I'm sure you guys know, fashion-wise, pretty much anything goes on a college campus – while here at CF, we're always talking about dressing well for every occasion, it's not like we're forced to wear suits to our 9AM lectures. Because of this, it's easy for us college girls to lose sight of how to dress for a more professional setting. I graduate soon, and although my new job doesn't require business professional dress, I know that the time will come when I need to step it up from my typical jeans-and-cropped-jacket uniform.
Although business dress sometimes gets a bad rep for being boring or stuffy, dressing well for a professional setting doesn't mean you have to let go of personal style. As with any new trend or style you adopt, it just takes a little experimentation to find out what works and what doesn't.
Whether you're already in the workforce, want to add pizazz to your intern attire, or just want to dress up a bit more for class, this week's fashion challenge is to brighten up your business casual wear!
Tips & Tricks for Styling Business Casual Attire
Everyone's definition of "business wear" is different. Fortunately, we've broken the rules down for you in our post: How to Dress Professionally – Business Dress Code Basics. Also, see our tips for what to wear to work or an internship. In general, it's usually better to overdress than underdress in a business setting, so err on the side of formality if you're unsure.
Neutral colors are your best friends. You can't go wrong with trousers or blazers in black, navy, gray, tan, or brown. Mix and match these pieces for a solid basic outfit.
Keep it looking professional by wearing closed-toes heels or flats. Peep-toe shoes and sandals are generally not appropriate for most business-casual occasions.
Have fun with jewelry! The right earrings, a statement necklace, cocktail ring, or watch will add personality to your look.
Have a favorite top for nights on the town? As long as it doesn't show any cleavage (and isn't sequined, neon, or cheaply-made), it will often look great underneath a blazer for business casual occasions.
A simple dress looks amazing under a blazer, too! Add tights to make it more formal.
To push some style boundaries, try a pair of high-waisted trousers.
Cropped trousers have been popular in recent years as well. They're easy to pair with pumps, but I've also seen them worn pulled down over high-heeled, knee-high boots.
Business Casual Outfit Inspiration
Outfit 1: Playful Business Casual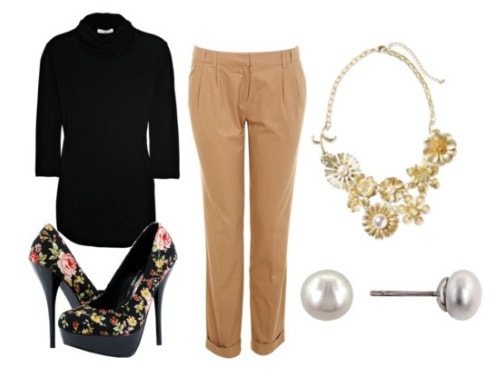 Turtleneck, Trousers, Necklace, Pumps, Earrings
A basic canvas of camel trousers and a cozy black turtleneck will keep this outfit looking professional, but add some fun with a pair of patterned pumps, a statement necklace, and stud earrings! The great thing about decking out an outfit with accessories is that they can easily be removed if the setting changes.
Outfit 2: Conservative Business Casual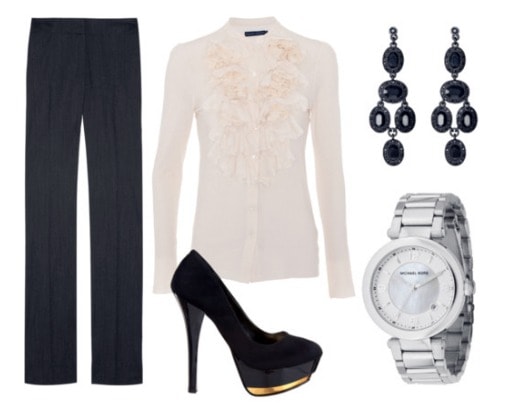 Trousers, Blouse, Pumps, Watch, Earrings
An outfit like this is best if you are unsure of exactly how to dress – like I said above, it's always better to go more formal than less in a business setting. This look is conservative and safe, yet anything but boring! You can't go wrong with a pair of gray wool trousers and black pumps, but add a little personality with a ruffled blouse. Finish with a menswear-inspired watch and chandelier earrings. (Swap the flashy earrings for studs if it's a truly conservative workplace or you aren't sure.)
Outfit 3: Smart Casual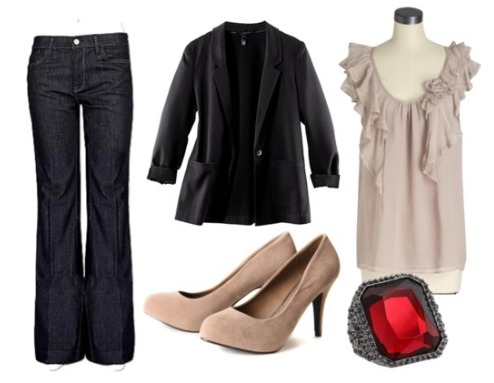 Trousers, Blazer, Blouse, Heels, Ring
First, a word of warning: Always double check with your internship coordinator or the people in charge of the occasion before wearing an outfit like this — in some settings, dressed up jeans are acceptable, but it some situations, they are a total no-no! That being said, I love how easy wide-leg trouser jeans are to dress up! Layer a cute top under a blazer, and finish with pumps and a cocktail ring.
Rocked the Challenge? Send Us Your Pictures!
Did you take your business casual wear and turn it into a sartorial statement? Take some snapshots and send them to fashionchallenge AT collegefashion.net along with your name, school, a description of what you're wearing, and your blog URL if you have one. We'll feature your photos here to inspire other CF readers! (Check out here and here for examples).
We can't wait to check out the submissions!
What Do You Think?
Do you ever have to wear business casual outfits? What are your favorite ways to make them unique? Does your current job (or future dream job) require professional attire? What fashion challenges would you like to see in the future? Let us know with a comment!