AMany WVU students love the close proximity to Pittsburgh, PA, as it provides plenty of opportunities for exploration. Over a long weekend, my best friend Anusha took me to the famous Mattress Factory museum. We wandered around the gallery, taking in all the wonderful art exhibits, like the famous Yayoi Kusama installation, which was a source of true inspiration.
Anusha's style always manages to catch my eye, even while I am admiring breathtaking art. The ensembles she puts together show that she is the definition of a traveler; whether that means traveling to various fashion eras or wearing pieces she's collected from around the globe. She is the kind of modern fashionista that is beyond the boxed definition of vibes and style complexes; this girl goes after what she wants. 
For our latest WVU fashion feature, let's meet Anusha: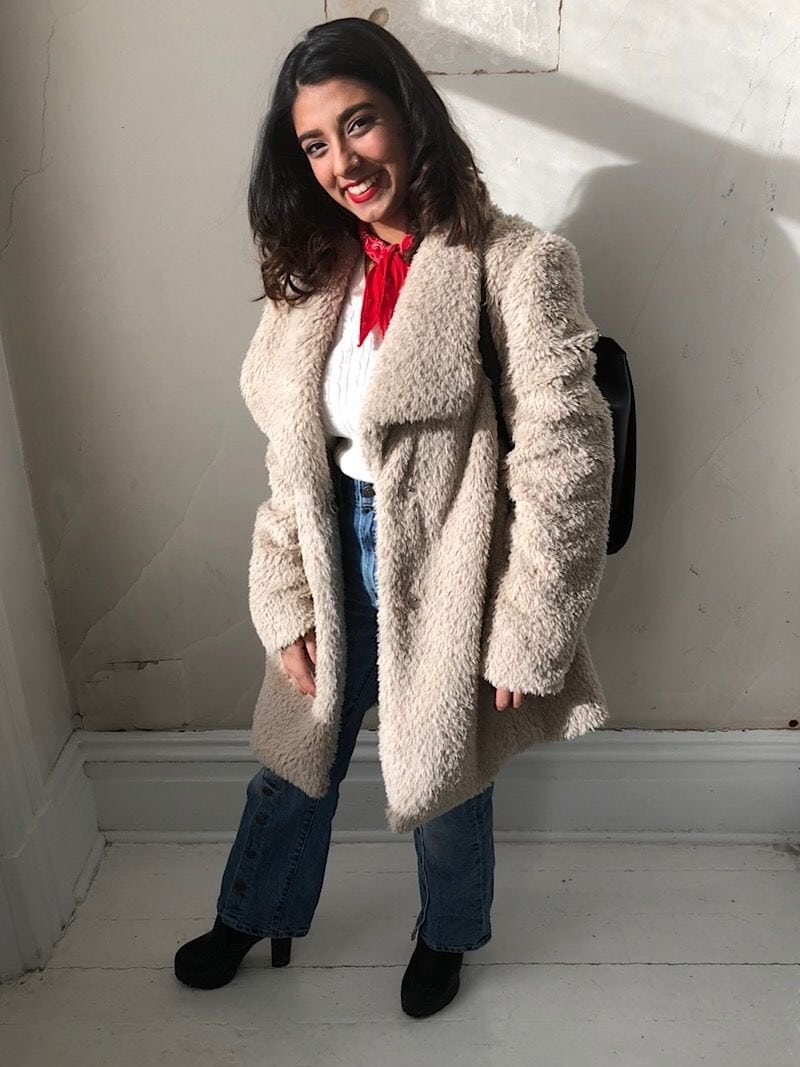 Anusha 101
Name: Anusha
School: West Virginia University
Year: Sophomore
Majors: Psychology & Women's and Gender Studies
Hometown: Portland, OR
Let's Talk Fashion
Who or what inspires your style? "I personally don't think I'm in touch with what's cool these days! I guess I take a lot of different inspirations for style each day. I'm really inspired by the different time periods of fashion. I'm really into the early '70s style right now. Some days my [inspiration might] be a certain theme, [like] plants, light, [or] water, or matching a character I know. I love mixing and matching different time pieces and looks together."
Where do you like to shop? "When I was younger I used to be a big fan of shopping at the mall [at stores such as] Nordstrom, Forever 21, [and] Claire's, etc. with friends, but as a student my budget is pretty tight and my fashion sense has really developed, so I try to look for cute and high quality brands and fabrics in thrift stores. I also buy a lot of secondhand pieces online from places like Poshmark and Depop!"
How would describe your sense of style? "Eclectic."
Why did you choose this particular outfit? "I've been rewatching That 70's Show and I'm digging Jackie's outfits. This one is inspired primarily by her super chic look."
Do you have any favorite trends? "Oh man, I really don't know what the trends even are right now."
What fashion advice would you give to other students looking to improve their style? "Honestly, just be creative with it. It's great if you stick to what's trending, but also… do your own thing. If 'your thing' is sticking to what's trending, then that's okay too! Basically, remember [that] it's important to be able to express yourself and fashion is a great way to show [that] and empower who you are as a person. It's always cool to explore around with different styles."
Do you have any favorite fashion designers? "I love the guys who design Lucky Brand jeans. But at the moment I have no favorite designers. I do know Tim Gunn though! I can do a great impression. 'Designers, make it work.'"
What do you do for fun? Do you have any unique hobbies or interests? "Lately I've been really busy with school and work but I love doing outdoor activities, especially backpacking with WVU's rec center. I love traveling and I've been to 24 countries and I'm only 19, so I'm really blessed to have been able to do that. I also love painting, pottery, and going to different music and art events. I'm trying to teach myself the harmonica right now!"
If you could raid anyone's closet, who would it be? "There's honestly so many. Off the top of my head, at the moment I would love Jackie's closet from That 70's Show or even Blair Waldorf's from Gossip Girl, definitely David Bowie's but with a guarantee that everything is somehow in my size!"
Elements of Anusha's Outfit
1. This Coat Though.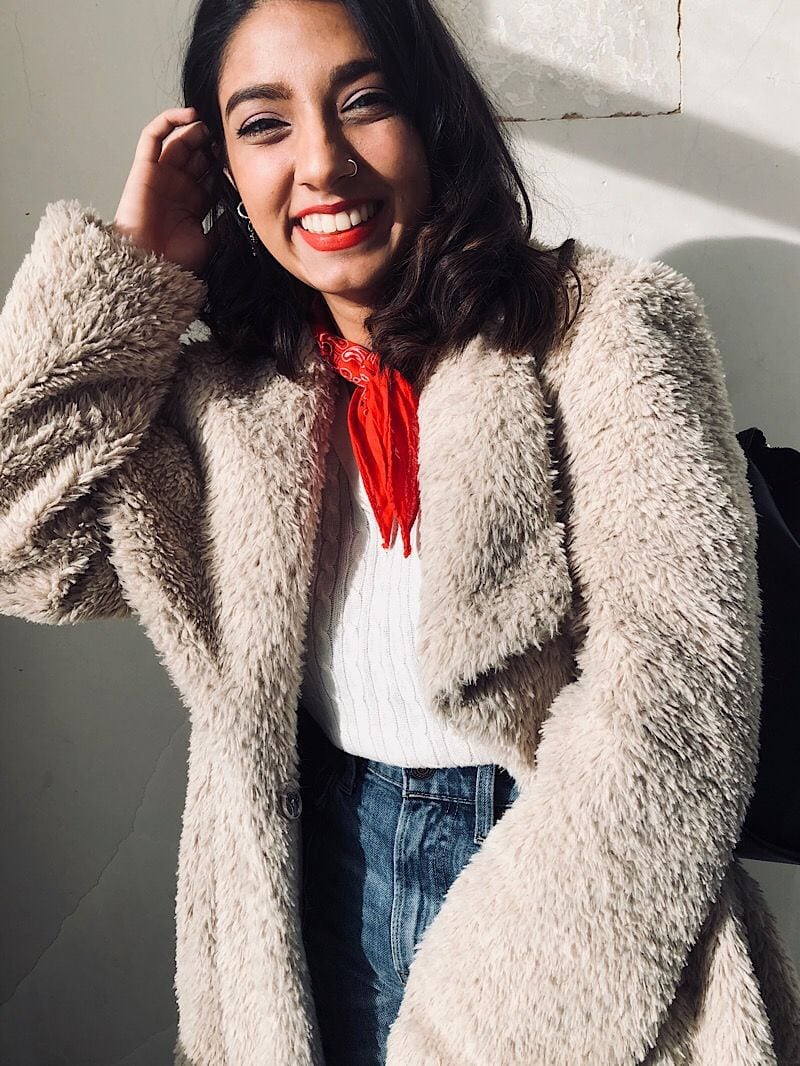 Doesn't Anusha look adorable in my fuzzy faux fur coat? This coat kept her warm and fashionable even under the worst winter conditions.
Thanks to its neutral tan-taupe color, this coat can be paired with just about any ensemble. Personally, one of my favorite parts about the coat is that it immediately enhances an entire outfit.
Anusha's sweater is a vintage garment straight out of her mom's college days, which is a neat memento to have, not to mention sustainable! She topped her look off with a sassy red bandana which matches her swipe of cherry red lipstick.
2. Drool-Worthy Jeans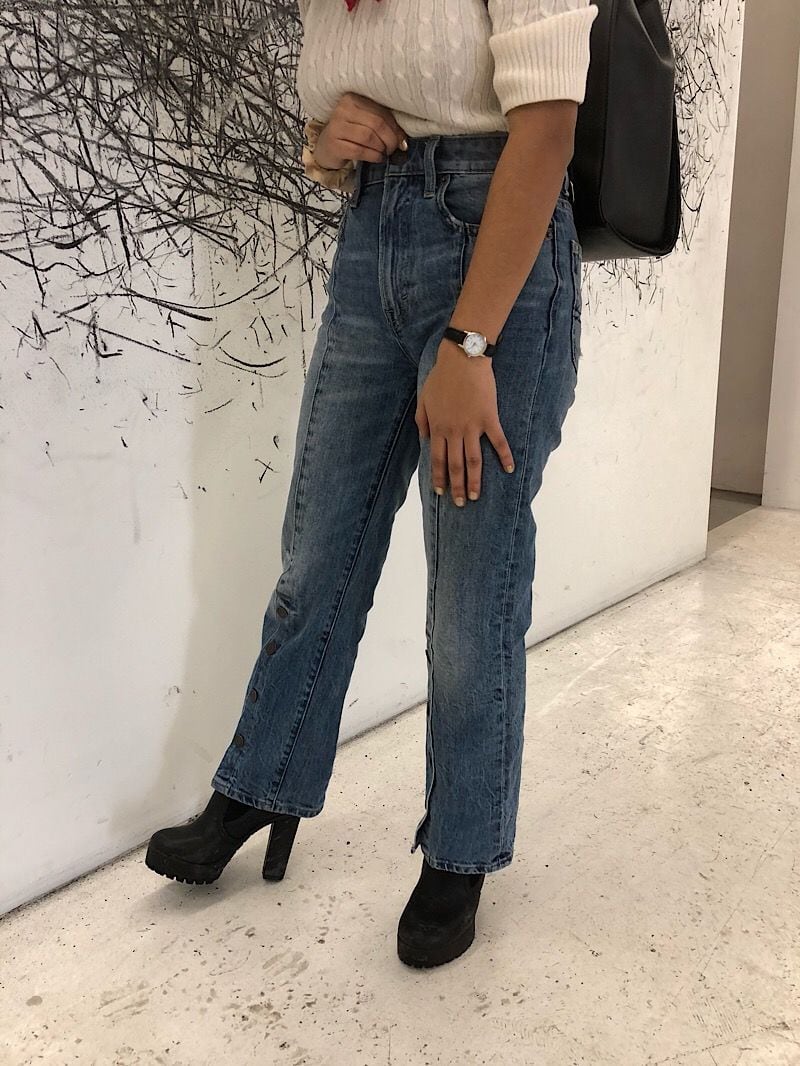 Do you know how difficult it can be to find a good pair of high-waisted jeans that aren't skinny jeans? The boot-cut style really creates a conversation and they pair well with her black Zara booties.
I also love the mid-seams that travel down the pant leg. With accents like that, and the four bronze buttons up the calf, these additional details add so much flavor. 
3. Black Backpack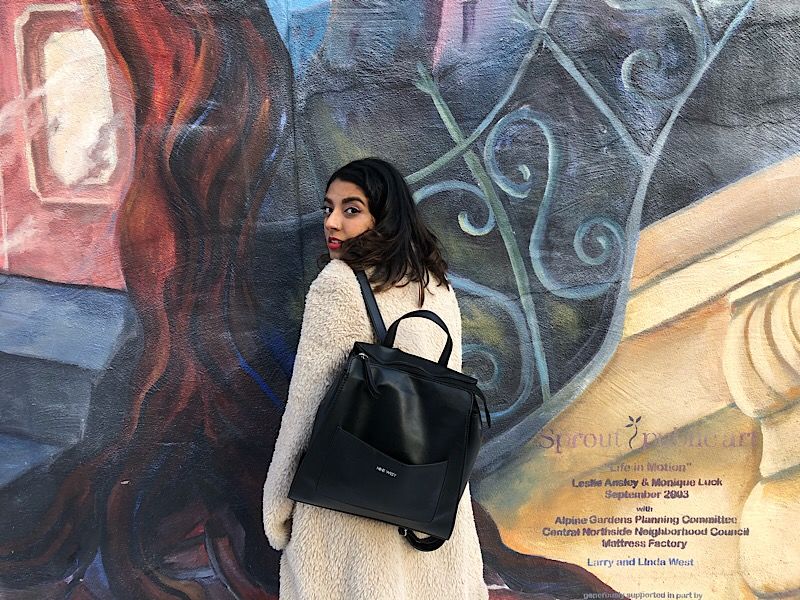 If you thought her outfit couldn't be any more complete, check out Anusha's backpack. The simplicity of the style and the size make this item perfect for traveling on foot through Pittsburgh. This backpack matches her black booties flawlessly.
Whether you see her coming or going, Anusha has all eyes on her in this stunning ensemble. 
What do you think of Anusha's outfit?
Would you wear her bandana and booties? Are you a fan of high-waisted jeans? Let us know what you think below!