This post may contain affiliate links, which means we may receive a commission if you purchase through our links. Please
read our full disclosure here
.
You knew this was coming — after nearly two months of analyzing some of the most stylish men in recent history, we're finally talking about the man and the legend David Bowie. (We've covered David Bowie's style here before, but after so many requests, we couldn't resist doing a few more takes on his iconic look!)
David Bowie (also known as Ziggy Stardust, his androgynous alter-ego) burst onto the music scene in the late '60s. Bowie was a cult favorite, and released hits such as "Fame," "Let's Dance," "and "Space Oddity." I remember him best from his creepy-yet-amazing film role in Labyrinth. Over the span of his 5-decade career, he has sold over 140 million albums.
David Bowie has some fashion connections as well – he's been married to Iman, one of the world's first and most famous supermodels, for the last twenty years.
At the time, Bowie's music was groundbreaking, and so was his glam/psychedelic/androgynous/rock and roll stage persona. His loud and risky ensembles set the stage for many big music personalities to come (like Lady Gaga and Nicki Minaj!).
Ready to steal a little Ziggy Stardust style? Read on my friends!
(For more in our Stylish Men series, check out our posts on Mick Jagger, Freddie Mercury, Andre 3000, Kurt Cobain, Michael Jackson, Seth Cohen from the O.C., Johnny Depp, and Kanye West.)
David Bowie's style is build around two main elements: varied suits and bright colors. In the prime of his fame, it was nearly impossible to catch Bowie in a plain suit — his were always embellished with sequins, printed with bold patterns, or tailored in a unique way.
Bowie was known to wear a lot of ruffled shirts under his sports coats and blazers. This gave even the most classic jacket a whimsical spin. He was also big on neon colored make up, gravity-defying hairstyles, platform shoes, and bright printed scarves. During the height of his fame, David Bowie even wore crazy things like leotards, velvet catsuits, and leopard print pants!
Need a few outfit ideas to get you started? Read on!
Outfit Inspiration
Jacket, Shirt, Shoes, Pants, Necklace, Lipstick
I can't believe I found this blazer — it looks just like one that David Bowie was famously photographed in (see photo above)! Balance out the business of the striped jacket with a solid colored pair of pants and shirt — in bold colors, of course! Finish the look with a lightning bolt necklace, pink lipstick, and leopard print shoes for an extra boost of eccentricity.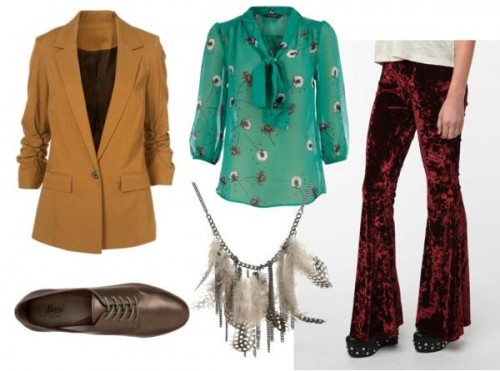 Jacket, Blouse, Pants, Shoes, Necklace
Allude to David Bowie's seventies style by rocking a pair of velvet bellbottoms and a flowy blouse. Add a long-cut blazer, metallic oxfords, and finish with a feathered statement necklace.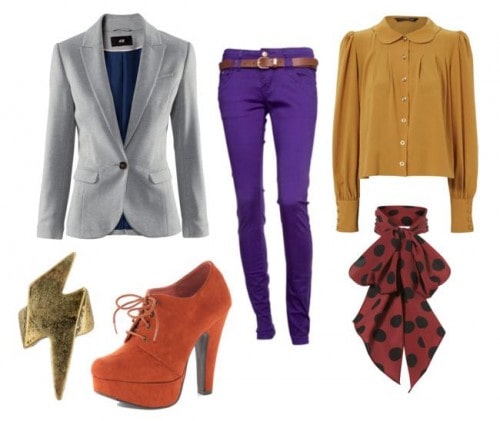 Jacket, Pants, Blouse, Bow Scarf, Shoes, Ring
Bold colors and classic items with a spin make this outfit totally Bowie-worthy. Start with a base of purple skinny pants and a mustard colored blouse. Add a classic blazer, but up the style with a crazy bow(ie) scarf, platform shoes, and a lightning ring.
What Do You Think?
Do you listen to David Bowie's music? Have you seen Labyrinth? What do you think about his style? Is it too over-the-top for you, or do you think it's appropriate for his stage persona? Who else would you like to see CF cover? Be sure to tell us what's on your mind by leaving us a comment!