This post may contain affiliate links, which means we may receive a commission if you purchase through our links. Please
read our full disclosure here
.
Whaddup, CF? Je m'appelle Sara, and I'll be taking over the Fashion Inspired by Art column! Roanne has left some big, stylish shoes to fill, and I hope you'll love my posts as much as you guys have loved hers.
I don't know about you guys, but once temperatures get above 75 degrees, my #1 priority is to be is cool and comfortable – without sacrificing style, of course! This Fashion Inspired by Art post is all about being cute and cool despite scorching summer temps, while pushing the envelope with artistic mixed prints in a classic, summery pattern: polka dots.
Your fashionable inspiration comes from an installation by Yayoi Kusama, a household name in the world of avant-garde art. The installation, "Ascension of Polkadots on the Trees," features several trees on a major thoroughfare, wrapped in fabric covered with Kusama's signature polka dot motif. The installation was part of the 2006 Singapore Biennale: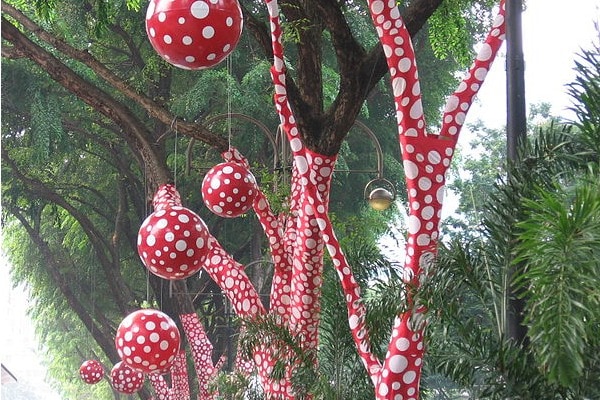 Yayoi Kusama's "Ascension of Polkadots in the Trees", 2006, via Wikimedia Commons
About Yayoi Kusama
Born in 1929 in the Nagano prefecture of Japan to a conservative family, Kusama began creating art as early as age 10, and, according to her autobiography, she experienced auditory and visual hallucinations from a very early age. These visions prompted her to create art, and included the pervasive polka dots that would become her signature motif.
After WWII, Kusama briefly took classes in traditional Japanese painting, but disliked the discipline's rigidity and master-student instruction. After discovering a book of Georgia O'Keefe's work, Kusama wrote her and sent her a few of her watercolors, and O'Keefe responded with encouragement. Soon after, she moved to the United States, where she lived in Seattle and eventually New York City. She gained massive recognition for her paintings, sculptures, and cultural happenings protesting the Vietnam war.
The repetitive nature of her artwork is cathartic; Kusama wishes to "oliterate" her anxieties with repetition, which forces her to face her fears through the process of making art. This process of "obliteration" produced such works as a room filled with cloth phalluses to address her sexual anxiety, and more recently, dazzling and beautiful installations usinglight and mirrors addressing the concept of eternity and infinity.
Unfortunately, her struggles with mental illness forced her to leave the United States in the '70s for Japan, where she checked into the mental hospital where she lives to this day. Despite this, she continues to make art and has had major retrospectives at Tate Modern, the Whitney Museum, and the MOMA. In 2012, she collaborated with fashion giant Marc Jacobs for a Louis Vuitton line.
Outfits Inspired by "Ascension of Polkadots on the Trees"
Haute Dots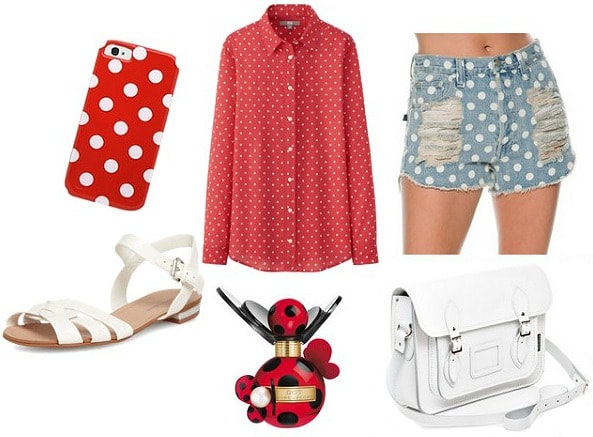 Phone Case, Blouse, Shorts, Sandals, Perfume, Bag
Polka dots don't get enough love. They're classy and cute, as well as girly and gamine. Plus, like stripes, this print is always a chic choice that never goes out of style. There's something about polka dots that just screams summer – that whole '50s pin-up/rockabilly/Lana del ReyBorn to Die erastyle that works anywhere, but looks best poolside with a popsicle in hand.
Truly emulate Kusama's work with this artsy yet fashionable summer look, which incorporates an all-over print. However, the limited red-and-white palette keeps the outfit from looking too dotty. (Sorry, I had to say it!)
Tuck a dotted cotton blouse into these adorable high-waisted shorts, then tone it down with a classic white satchel and matching sandals. Add a polka dot phone case for a fun touch, as well as a spritz or two of Marc Jacobs' Dot perfume. If you want to push the outfit even further, try a pair of cute polka dot flats or even a dotted satchel.
Just a Little Dotty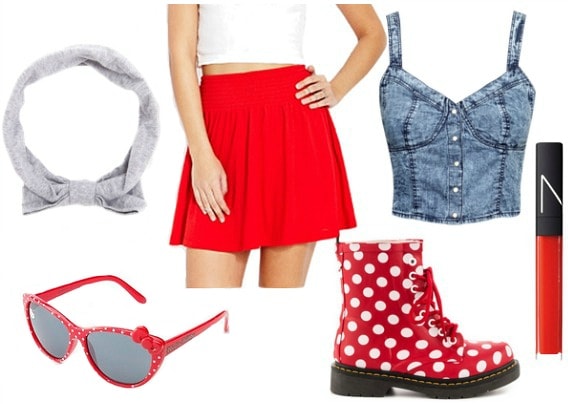 Headband, Skirt, Bustier, Sunglasses, Boots, Lipgloss
If you're not ready to fully commit to the dot life, try incorporating the pattern into your accessories. Start with the summery combination of a full skirt and bustier, then add on some killer accessories, like dotted sunnies and Doc Martens. (When I said killer, I meant killer. How amazing are these Docs?!)
Finish the look with a swipe of red lipgloss, then do something fun with your hair. A topknot and knotted headband combo is always a fab choice for hot weather, but you could also tie your hair back with a polka dot hair bow.
Ascension of the Career Ladder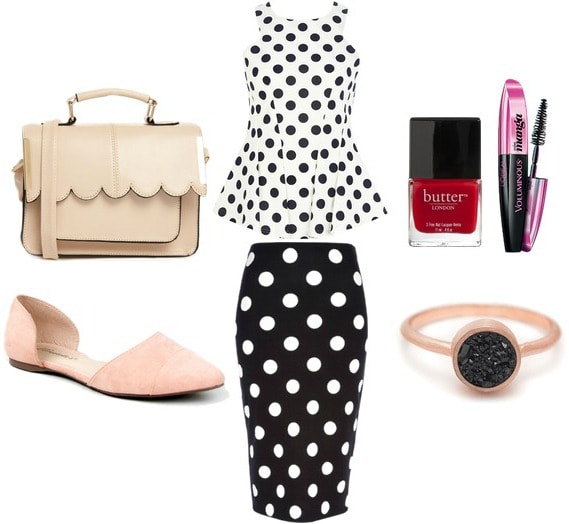 Bag, Top, Nail Polish, Mascara, Flats, Skirt, Ring
Perhaps you'd like to wear your appreciation for Kusama's artwork to your summer internship? You fashion maverick, you! Swap out red-and-white dots for black-and-white ones; black-and-white ensembles are having a huge moment right now, and neutrals are more polished for a professional setting.
Keep the silhouette classic and contemporary with a peplum top and knee length pencil skirt, or eschew the skirt for a pair of printed trousers. Add an edgy, of-the-moment druzy ring in a round setting, or play with the polka dot motif by accessorizing with a strand of black-and-white pearls or some classy drop earrings. Keep the rest of your accessories neutral and polished to keep the focus on the dots.
Complete your work look with just a touch of color on your nails and a Japanese art-inspired mascara. If you find yourself shivering in your overly air conditioned office, throw on a summer-weight cardigan.
Final Thoughts
I love how playing with repetition and proportion can elevate a classic print, like the polka dot, into a stylish and creative ensemble. By striking a balance between sophisticated and thoughtful with cute and quirky, you can perfectly tap into the whimsical spirit and stunning power of Kusama's work.
I firmly believe that polka dots work for every girl, and are appropriate for nearly any situation. So, if these ensembles are all a little too out there for you, don't fret: you can always channel her artwork with a classy red polka dot dress, a polka dot purse, or a simple spotted flat.
What do you think?
How do you feel about Yayoi Kusama's work? What's your favorite way to wear polka dots? What artists would you like to see featured in this column in the future? Let me know in the comments below!