Francesca was one of the first people I met at Barnard and now that we live across the hall from each other, I've come to appreciate her unique and purposeful sense of style.
She's one of those people that I can talk to about anything under the sun: From politics to mental health to makeup, nothing is off-limits with her. I was excited to sit down and talk about her ever-evolving fashion sense, and her perfect denim-on-denim outfit.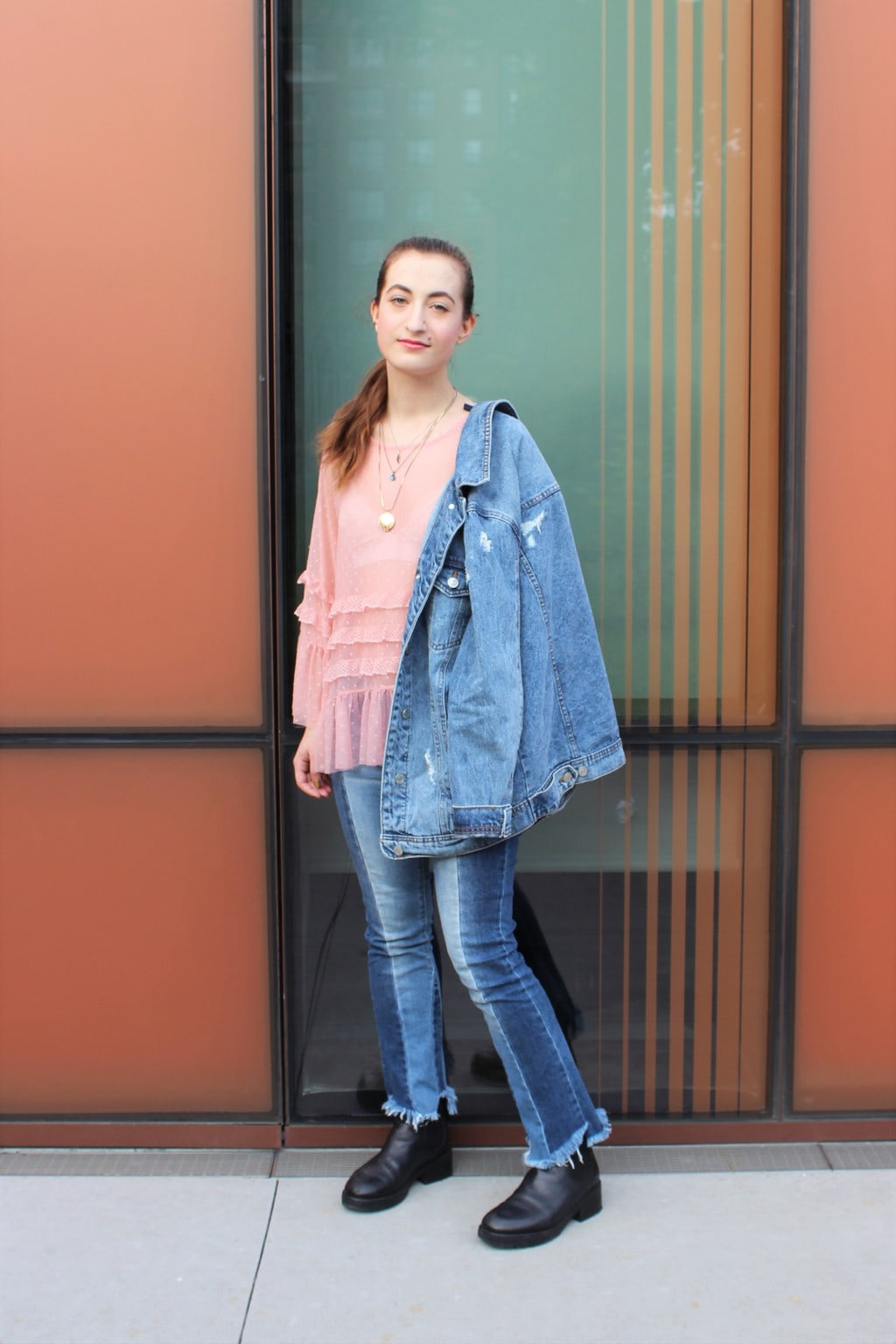 Francesca 101
Name: Francesca
Hometown: Pound Ridge, NY
School: Barnard College at Columbia University
Year: Junior
Major: Urban Studies with a Concentration in Race & Gender, Minor in Environmental Science
Let's Talk Fashion
Who or what inspires your style? "I'd say definitely a mix of children's aesthetic and those chic grandmas with purple hair and giant bohemian scarves on the subway who you look at and you're like 'that's what I want to be at 75.'"
Where do you like to shop? "Because I am a big believer in sustainable practices and the clothing industry is one of the biggest polluters, which a lot of people don't know. I try to buy as many of my clothes used as I can because it's actually an extremely effective form of recycling. I'm also super cheap so if I can get a t-shirt for $3 and it has a couple holes in it, I'm still happy. You can also find some really unique pieces from different eras and also I love clothing that's been customized, so things with patches sewn on or hand sewn because I like the historical value in it. That being said, when I do buy new pieces I tend to go off the sale rack at Urban Outfitters, Zara, [and recently I've been] taking advantage of the indefinite 50% off sale at Nasty Gal."
How would you describe your sense of style? "I like to be comfortable but still have a sense of playfulness with my outfits. I used to try to be really edgy and wear dark colors and leather, but now that I have to wear all black as a makeup artist at MAC, I love to play with color and textures in my looks. I've started rediscovering the fun of pairing unexpected things together and incorporating pieces that are almost so ugly and weird that they become cute and unique."
Why did you choose this particular outfit? "Because I had no other clothes because it's laundry day! But also I decided to pair these [jeans with a distressed denim jacket] because I've been wanted to try the denim on denim trend, hence the paneling on the jeans, which I think prevents it from being too overpowering. I added a touch of femininity with the ultra over-the-top lacey sheer pink shirt that I think balances the rougher boots and jeans."
What fashion advice would you give to other students looking to improve their style? "Use college as both an opportunity to make mistakes and to experiment when it comes to your fashion, but also as a source of inspiration. I come up with a majority of my looks by seeing people around me and taking cues from their aesthetic. I struggled a lot in high school with trying to find my own sense of self with my fashion choices and how I presented myself to the world and I think a lot of that manifested itself into trying to look edgy and cool – like I mentioned before. It wasn't until I stopped calculating the fashion choices and just followed my instincts and what I gravitated to organically that I really discovered a style of my own. And I think a lot of that also has to do with letting go of how you hope to be perceived and instead going with what makes you feel comfortable and empowered."
What are your favorite trends right now? "Oversized everything. That trouser trend I love because you look really put together but it feels like pajamas. Also, the gingham and tartan print trend because you can play with the sizing and colors and things like that. This isn't necessarily a fashion trend per se, but I really appreciate the growing acceptance and visibility in the fashion world of body modifications as a form of creative expression. Women like Ruby Rose, Cara Delevingne, and Zoe Kravitz, my one and only love, who all are very recognizable for their tattoos and hair and piercings, have really expanded the traditional definition of beauty."
Do you have any favorite fashion designers? "Christian Siriano because I've followed him since his Project Runway days and he's committed to designing beautiful pieces for all women. And then the Marchesa 'sisters' [Georgina and Keren] who have perfected the ultra-feminine aesthetic. And also, Slow Factory, which is a small independent brand that partners with nonprofits as well as bigger organizations like NASA, to create socially conscious clothing with a message. My friends Anisa and Mojdeh modeled for [their] campaigns and my friend Ella is the assistant to the designer."
What do you do for fun – do you have any unique hobbies or interests? "I'm a professionally trained makeup artist, so I obviously love playing with all things beauty. I've recently started incorporating makeup back into my daily routine; as surprising as it may seem. Up until recently I would either be completely be bare-faced on most days or on the rare occasion go all out with full coverage and fake eyelashes. I was either zero or [one] hundred. I have really pushed myself to try to take a less is more approach and be okay with spot concealing, a little blush, and mascara. So experimenting with that has been fun!"
If you could raid anyone's closet, who would it be, and why? "Definitely the Knowles sisters because they both really play with color and volume in a really interesting way; Beyoncé on the more glamourous side and Solange in a more classic and simple way. Also, Elaine Welteroth who is the editor-in-chief of Teen Vogue and one of my general inspirations because she's incredible in every sense of the word and truly redefining the fashion industry in a progressive and inclusive way."
Where did you get this outfit? "The top is Highline off the sale rack at Lord & Taylor, the bralette is [also from the sale rack] but this time at Urban Outfitters. These pants are thrifted and the jacket is also thrifted. My mom got me the boots in Italy. And my necklaces were all gifts."
Elements of Francesca's Style
1. Pink Sheer Ruffle Top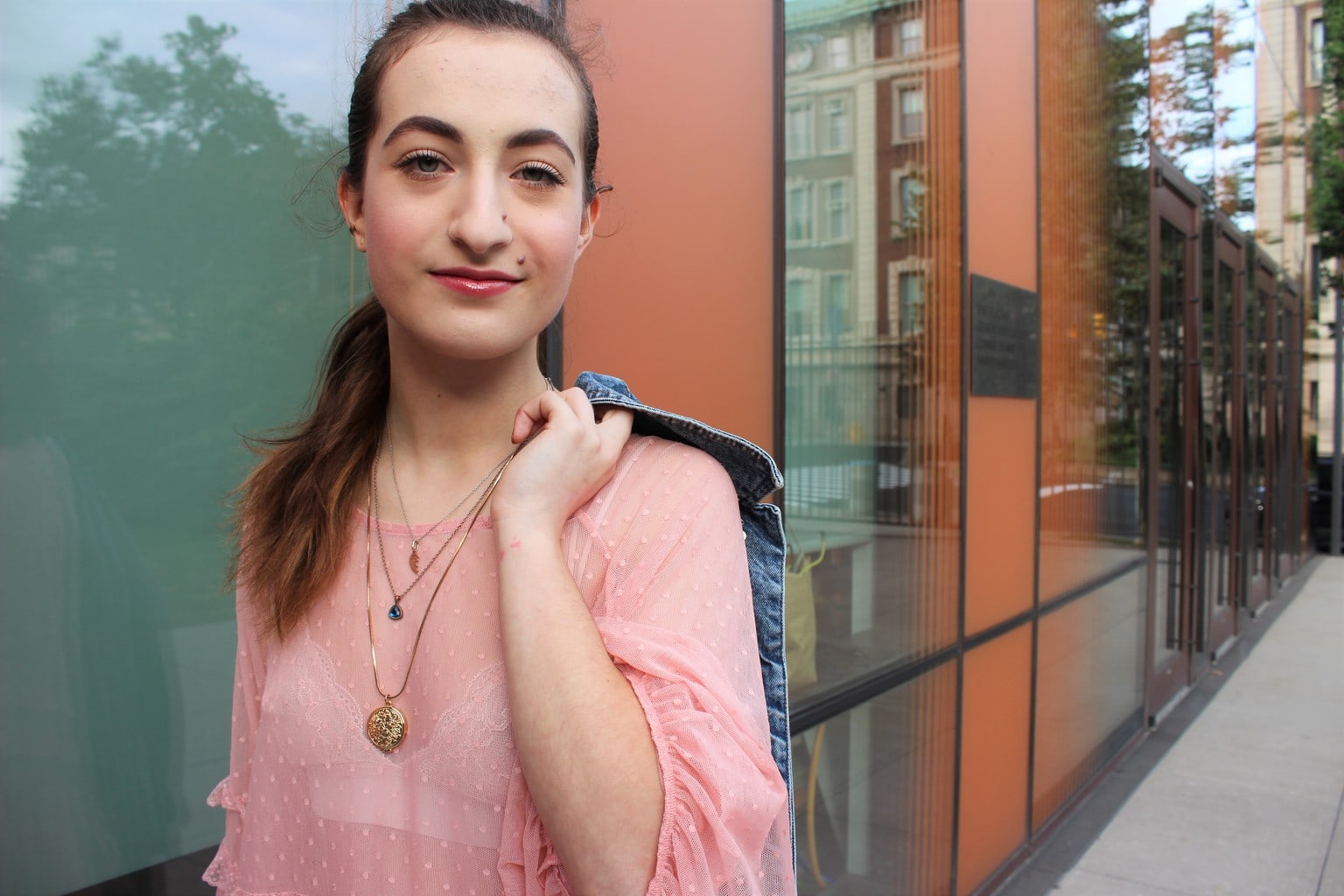 Not only does this top have ruffles decorating the sleeves and body, but it also has subtle dots decorating the fabric as well. The millennial pink tone is very feminine and the ruffles give it a youthful feel, while the sheerness makes it an edgier piece perfect for day or night.
2. 3-Trends-in-1 Pair of Jeans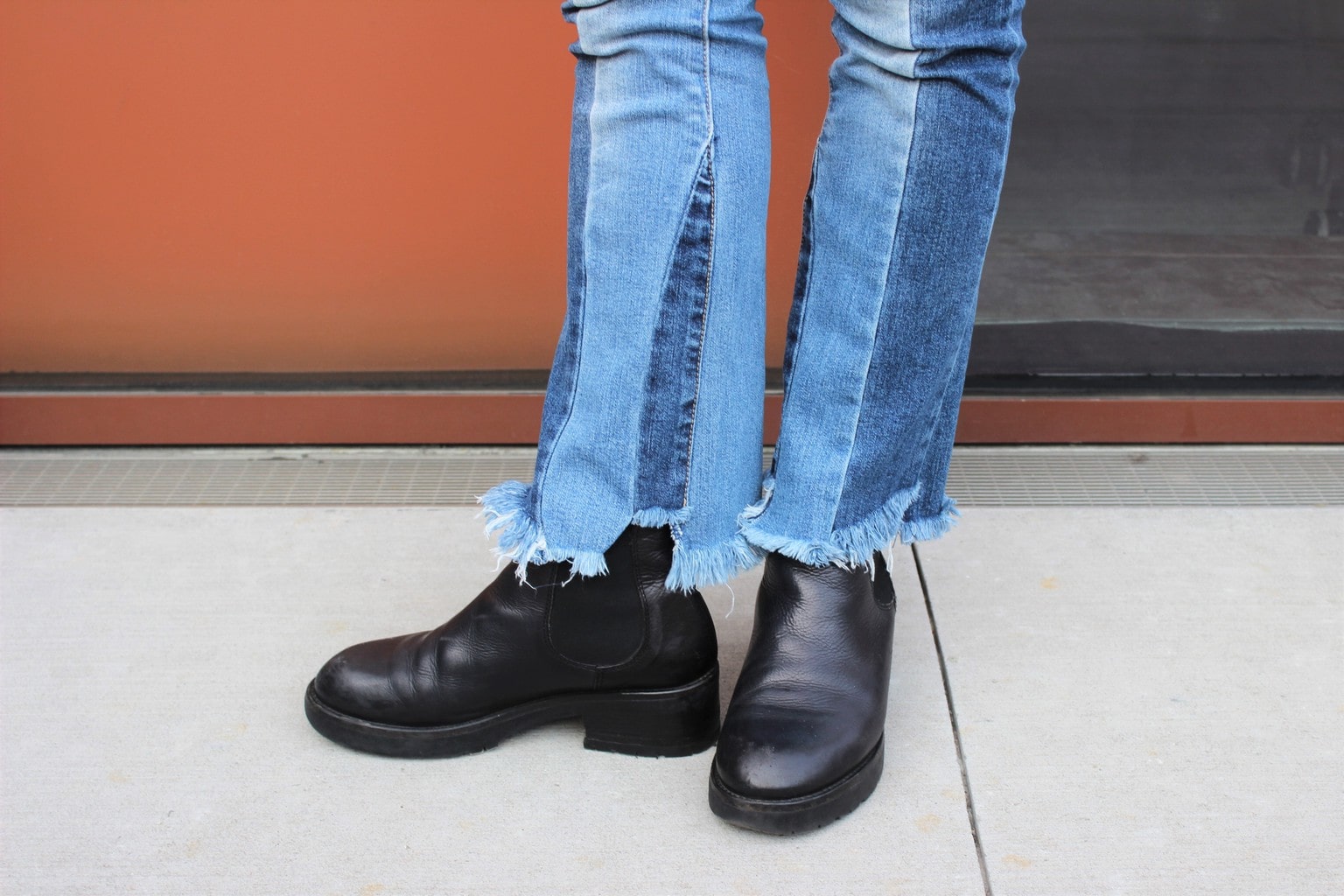 Not only are these jeans two-toned, but they also feature a crop kick leg with a raw edge! Usually we shy away from combining too many trends at once, but these jeans prove you can do just that without looking like a fashion victim. The darker paneling on the jeans gives them a '70s vibe which is perfectly paired with the flowy blouse.
3. Layered Necklaces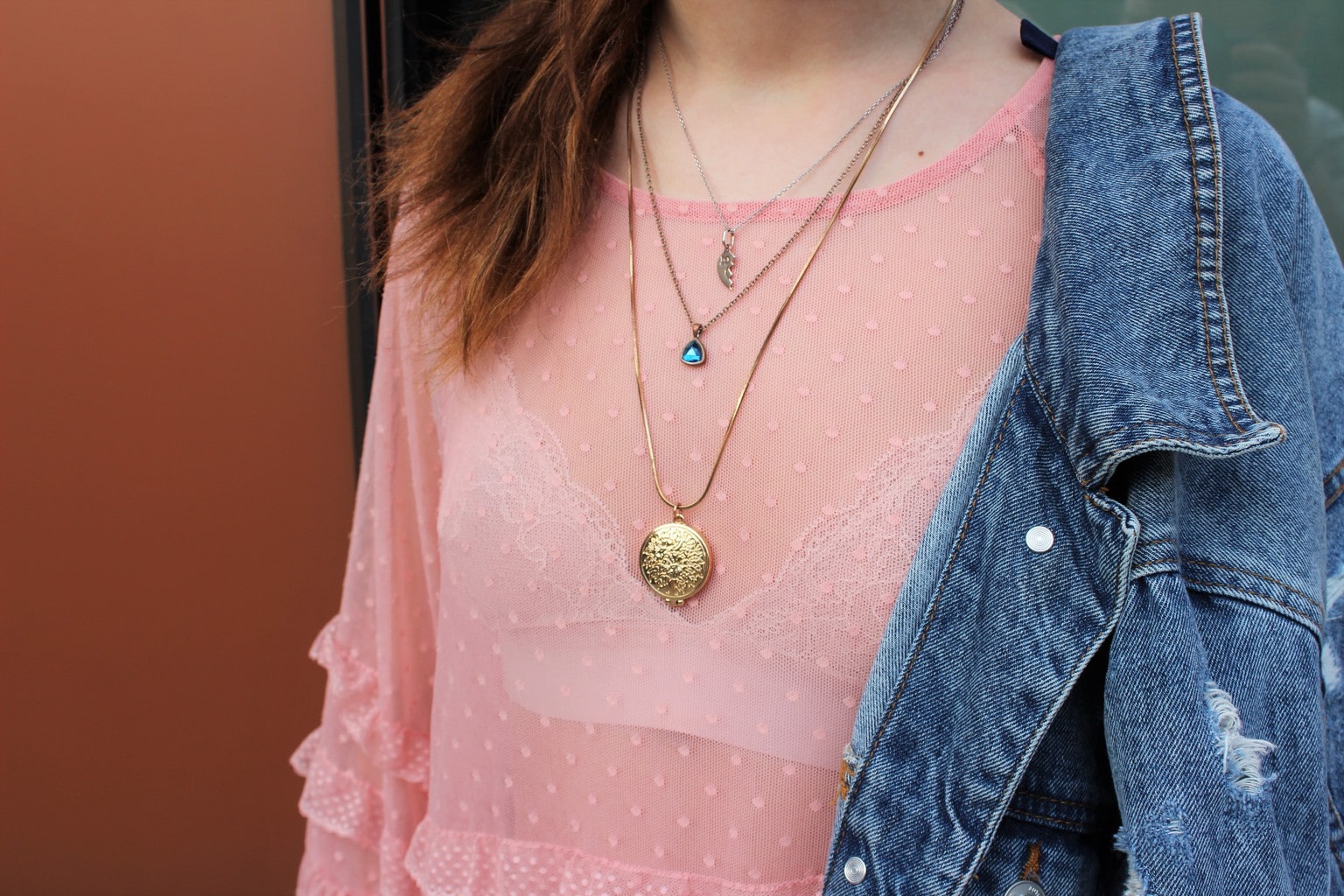 Each of Francesca's necklaces were gifts from loved ones including a split heart necklace that matches her twin sister's other half. Accessories are a great way to carry a little bit of the people you love with you wherever you go and these pieces, with their varying lengths, do just that.
Now tell us what you think!
Do you like to play around with traditionally masculine and feminine pieces in your outfits? What are your thoughts on the two tone denim look or the crop-kick trend? Is this denim-on-denim outfit your thing, or do you think we should leave that look to Britney and JT? Let us know in the comments below!