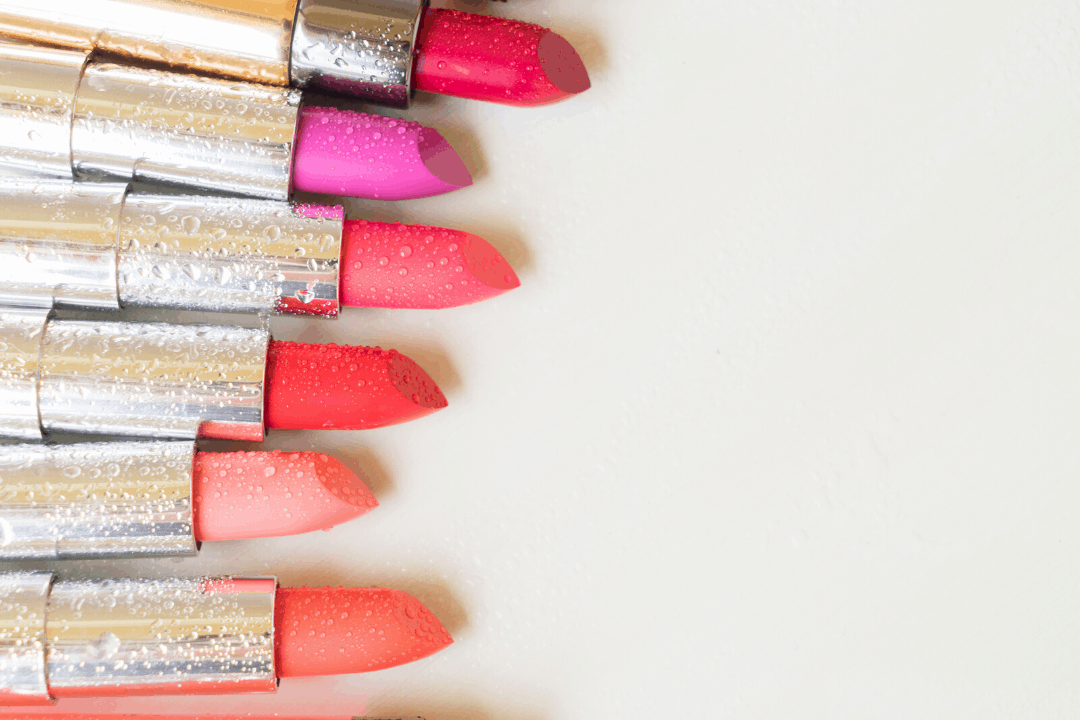 How many times have you wanted to wear a certain lip color, but changed your mind at the last minute because you couldn't think of an outfit to match, or you didn't know how to do your makeup to go with it? It happens to me all the time. I go to Sephora, buy a cute lip color, and then it just sits in my lipstick bag. (Yes, I have a special makeup bag dedicated to lipstick.)
I love lipstick and I want to inspire myself to wear mine more. So to help myself and you, I've created this guide. Here's what to wear with bold lip colors:
Red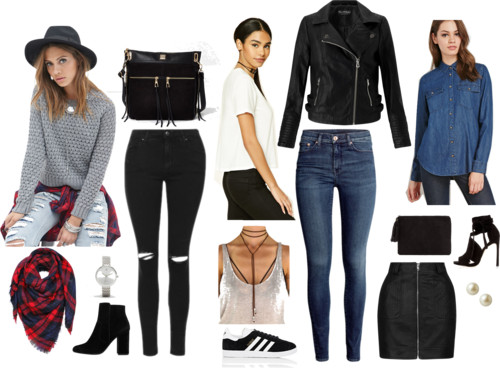 Products: Gray Sweater, Black Bag, Black Jeans, Booties, Watch, Scarf, White Tee, Black Necklace, Adidas, Leather Jacket, Blue Jeans, Chambray Shirt, Black Clutch, Leather Skirt, Pearls, Black Heels
Red lips are classic, sexy, timeless, and also a bit intimidating for some!
I have many shades of red lipstick — I am so in love! When I put it on I feel like I can conquer the world. (See our post on the power of red lipstick for more on this!) Plus, wearing red lipstick makes your teeth look whiter and who doesn't love that?
Follow some of these basic red lipstick tips and go conquer the day:
Stick with a light to medium eye look. In general, don't go too dark or heavy with the eye makeup or else there will be too much going on.
Your outfit doesn't have to be all neutral, but don't add too much color either. If you want to have some other red in the outfit, then make it a shade lighter or darker than your lips to avoid looking overly matchy.
Blue is a great color to wear with red lipstick because the shades are complimentary.
Add a little something extra with bold brows.
Here's a guide from The Every Girl on how to match your skin tone and red lipstick (because red lipstick comes in many different bases). Or you can just go to Sephora and they can color IQ you! Also, we wrote a red lipstick guide on this very subject a while back.
Here are my go-to shades of red lipsticks: NARS Annabella, Stila Beso, and Rimmel London Play with Fire. See also: Our fave red lipsticks of all time.
Hot Pink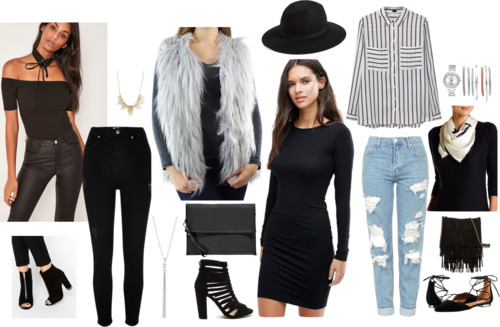 Products: Black Bodysuit, Zipper Booties, Hat, Statement Necklace, Black Jeans, Fur Vest, Clutch, Silver Dangling Necklace, Caged Heel, Black Dress, Striped Shirt, Boyfriend Jeans, Lace Up Flats, Scarf, Fringed Bag, Bracelets
I will admit that seldom do I wear hot pink lipstick, but I am still obsessed with the look! The best part is that hot pink can be worn in any season.
Use these tips to make hot pink lipstick work with your wardrobe:
Again, stick to a natural eyeshadow look. These shades are usually quite eye-catching, so you want to balance them with a lighter eye.
If you wear blush, stay in the same color family and go a shade or two lighter.
Keep your outfit neutral. If you want a pop of color, then throw on something navy. Otherwise, save the really bright colors for the spring! Remember that the lip color is the focus.
The more fair skinned you are, the lighter and brighter the pink you can pull off. Alternatively, darker skinned ladies can rock deeper, richer hot pinks with ease.
Here are the shades that are in my beauty bag: Tarteist Hot Pink, Nars Greta, Revlon Stormy Pink
Plum/Burgundy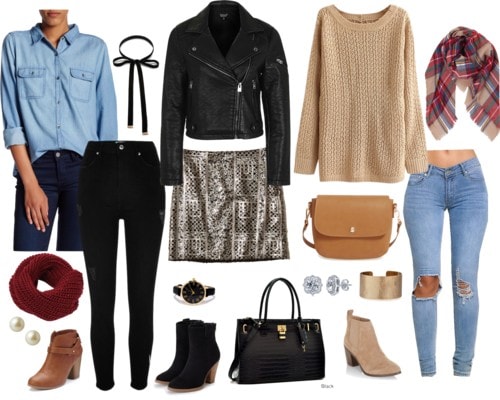 Products: Chambray, Black Jeans, Burgundy Scarf, Pearls, Choker Necklace, Dark Brown Booties, Leather Jacket, Sequin Skirt, Watch, Black Booties, Black Bag, Oatmeal Sweater, Plaid Scarf, Brown Bag, Gold Bangle, Light Jeans, Studs, Light Booties
This is one of the easiest lip colors out there to match with clothing — and one of the most versatile! This lip color reminds me of the Vampire Diaries (no complaints there) and is the PERFECT color for fall. It's dark, but not overly dramatic.
If you want to try plum lip color, here are a few pointers:
Clothing wise, almost anything goes because plum is such a versatile color!
If you're fair skinned, go for a deep berry color, while medium to dark skin tones can get away with a true wine and dark burgundy.
Stray away from red and pink blushes, and look for blushes that are neutral, bronzed, or even a berry tone.
Keep the eye shadow nude.
My favorites: Rimmel Lasting Finish in Plum, Tarteist in Frenemy, Nars Adacious in Charlotte
Black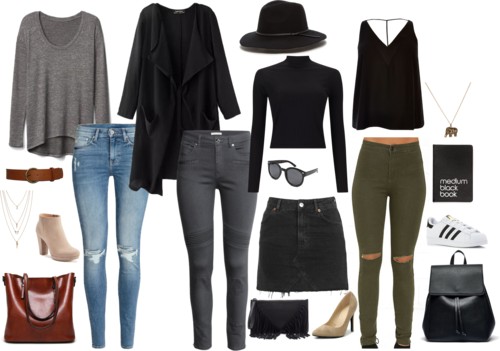 Products: Gray Sweater, Brown Belt, Layered Necklaces, Booties, Brown Tote, Light Jeans, Black Cardigan, Gray Jeans, Black Hat, Black Long Sleeve, Glasses, Black Skirt, Black Clutch, Nude Heel, Black Tank, Olive Jeans, Black Bag, Adidas Shoes, Black Notebook, Elephant Necklace
So this color is a recently trending lip color that's all over Instagram lately. I want to try this, but I have to admit I am a little scared! (If you do it, then so will I! Deal?)
Black lipstick can look scary if styled wrong, but it can also look really cool if done right. While psyching myself up to try this one, I did some research on how to rock it. Here's what the pros say:
Avoid wearing any other bold makeup. Again, obvious – this is a VERY bold makeup look in itself.
Stay away from bronzer and just apply a soft sweep of blush on the cheeks.
Skin tone doesn't matter with black lipstick as it does with others, so it looks good on everyone!
If you are scared to dip your feet in all the way, put some gloss over the black or mix in some other lipstick to tone down the harsh color.
And if you're ever need any black lipstick inspo, then turn to Kylie Jenner. (She rocks it!)
Some cult classics: Kat Von D Studded Kiss Lipstick in Slayer, Make Up For Ever Rouge Intense in Satin Black, Maybelline Color Sensational in Pitch Black
Metallic
Okay, so I didn't include an outfit set for metallic lipstick just because any color can be metallic. We've seen this look on celebrities and on the runway, so it is time we finally try this look for ourselves!
Metallic lipstick is easy to pull off with some pointers:
You don't have to even buy any lipstick for this look! Just pat some shimmery metallic eye shadow on top of your current lipstick.
Avoid shimmer on the eyes or highlighter on the rest of your face – you want the lips to be your shiny element for balance.
For fair and light complexions, go for bronze or darker metallics, and those with darker skin, go with silvers and golds. Again, we want contrast.
Here's a couple of different shades: Buxom Full-On in Michelle, Anastasia Beverly Hills in Venom, Wet n Wild Color Icon Metallic in Peony Express
BUT WHICHEVER SHADE YOU CHOOSE TO ROCK, LOOK LIKE THIS WHEN YOU DO IT..
What do you think? Which of these daring looks have you tried? Any tips for bold lip success? Let us know in the comments below!