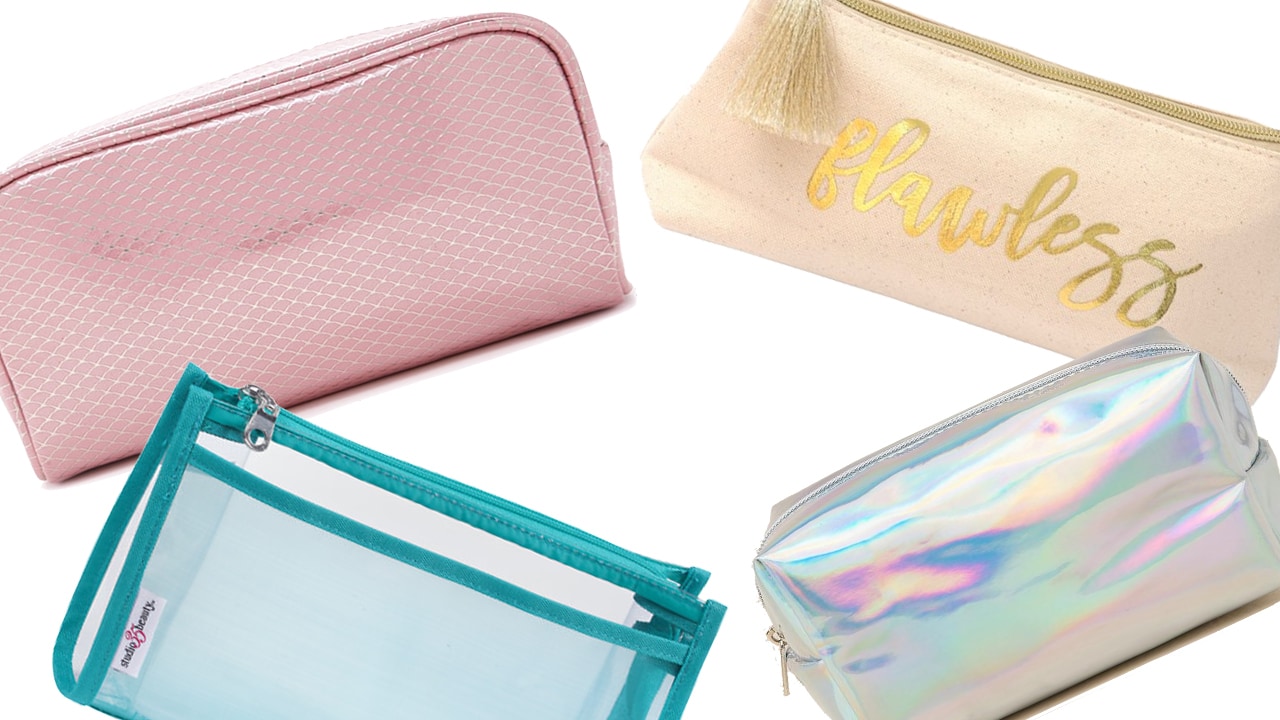 Commuting every day to college can be stressful. Us commuters have the added pressure of being extra prepared: If we forget something, we have to function without it for the day. I envy the on-campus students who can easily run back to their rooms five minutes before class.
To ease this pain a little (on the beauty front, at least), packing a makeup bag with some essentials can make your day run smoother.
You've read our commuter makeup tips — now let's get specific. Here are some key necessities, aside from hair ties and a hairbrush, that you should keep in your commuter makeup bag.
1. Travel Makeup Wipes

Products: Garnier SkinActive Micellar Wipes – Target | Simple Cleansing Facial Wipes – Walgreens | Neutrogena Makeup Remover Cleaning Wipes – Ulta
First, and most important, are makeup wipes. If you include only one item from this list for your makeup bag, make sure it's this one. These. Things. Are. A. Godsend.
My classes start early in the morning, so my makeup is done in little to no natural light. I've gotten good at applying my makeup this way, but there are days when mishaps happen (e.g. I forget to blend my foundation right, I wipe mascara onto my eyelids, etc.).
Keeping makeup wipes in your bag gives you a quick and effortless way to fix makeup boo-boos on the go, and they're great to simply refresh the face.
They're especially useful if you need to completely remove your makeup (like before working out at the campus gym) or if you've just had enough of makeup that day and need it off of your face.
2. Deodorant

Products: Secret Scent Expressions Wild Sugar Deodorant – Target | Dove Advanced Care Antiperspirant in Shea Butter – Walgreens | Degree UltraClear Dry Spray Black + White – Walmart
Packing a stick of deodorant in your makeup bag might seem unusual, but trust me: It's important. Warmer weather (which is coming), creates plenty of opportunities for not-so pleasant body odors to arise. Having deodorant on hand keeps you prepared.
Alternatively, if you don't sweat much, pack a travel-sized one just in case a friend needs a helping hand. My best friend found herself in need of deodorant when we were hanging out, and my trusty Dove travel-sized stick saved the day. It's a little weird but so worth having.
3. Perfume Sample Spray

Products: Tocca Cleopatra Perfume – Sephora | Maison Martin Margiela Replica Beach Walk – Sephora, Nordstrom | Flora by Gucci Gracious Tuberose – Ulta
Perfume sample sprays are the most common makeup/beauty sample out there. You know you have at least a few lying around your room!
Perfume samples are fantastic because you get to sample expensive perfumes for free (without spending $$$). However, when you start collecting more and more of them, they can become hard to manage.
What to do with these sample perfume sprays? Stick one (or more) in your makeup bag! Keeping perfume samples close by makes you much more likely to actually use them. Additionally, having a perfume or two on hand is a great way to freshen up your scent throughout the day.
4. Concealer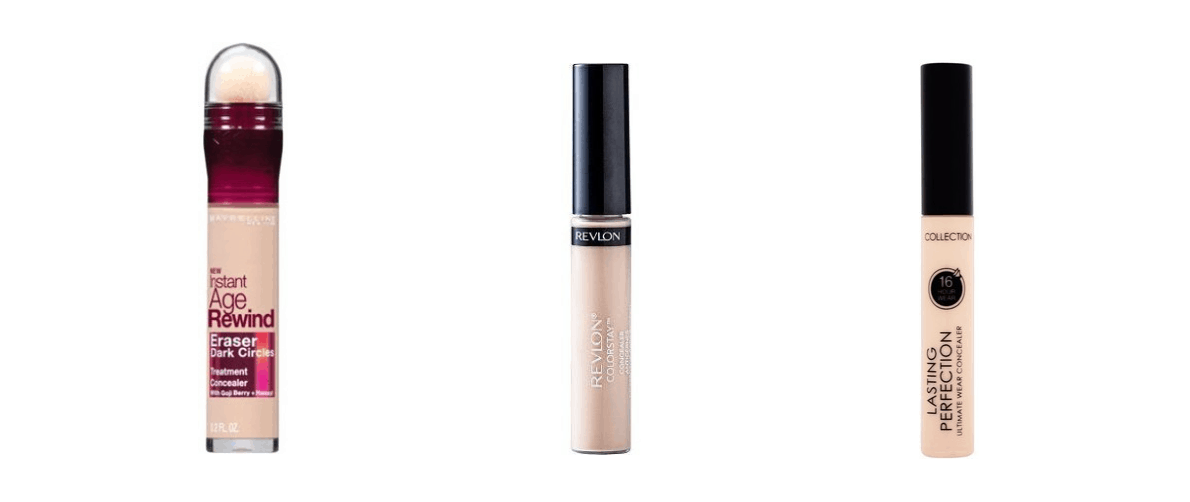 Products: Maybelline Instant Age Rewind Concealer – Ulta | Revlon ColorStay Concealer – Walgreens | Collection Lasting Perfection Concealer (various colors from same seller) – Amazon
The next must-have in any commuter makeup bag is some good concealer. I always have my concealer on me because my face is oily and tends to break down my makeup quickly. Having this on hand makes it easy to re-conceal my spots in a snap.
Many college students experience acne breakouts or have residual acne scars. Though acne is ultra common, it can make some people feel embarrassed and self-conscious about their physical appearance. Packing concealer in your makeup bag can be a good safety net if you feel like you might need a confidence boost during the day.
5. Lipstick / Lip Balm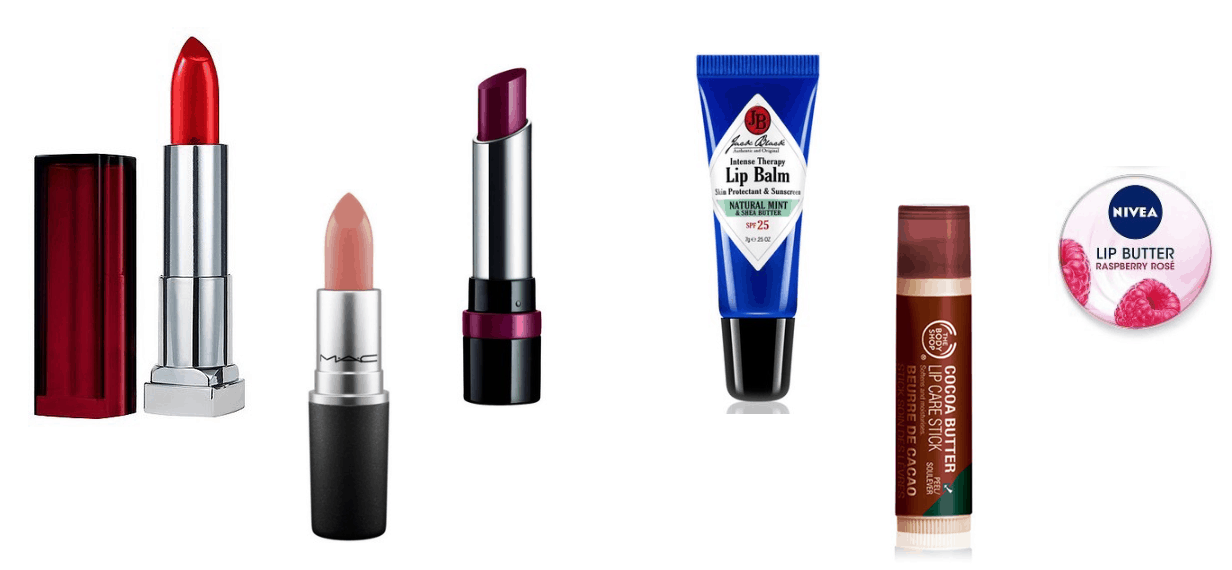 Products: Maybelline Color Sensational Lipcolor in Red Revival – Target | MAC Velvet Teddy – MAC | Rimmel The Only One Lipstick in One of A Kind – Ulta | Jack Black Lip Balm – Sephora | The Body Shop Cocoa Butter Lip Balm – Body Shop | Nivea Lip Buter in Raspberry Rose – Walgreens
Finally, have your favorite lipstick and/or lip balm on hand. Since they're such tiny products, it's totally possible to include both types in your makeup bag.
Lipsticks are great to have if you rock bold lip colors, because you can easily touch up during the day. Alternatively, lip balms are fantastic if you want to give your lips some moisture and general care. Regardless of your makeup preferences, lipstick and/or lip balm is a vital part of any commuter's makeup bag.
What Do You Think?
What are some commuter-friendly beauty products you absolutely love? Let us know below!