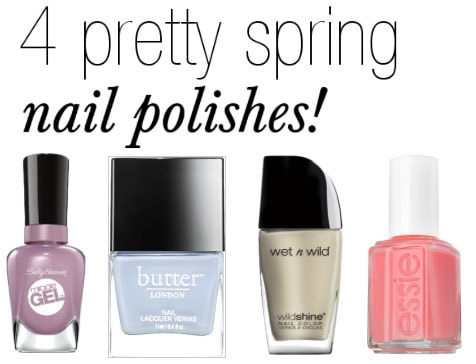 Even if it's still cold where you are, you can still bring a little bit of spring into your life – in the form of beautiful, pastel nail polishes! This week, I wanted to share some new nail polishes colors that I am loving this season.
Thankfully, spring officially arrives in a week and a half, so I hope these nail polish colors give you the strength you need to get through the rest of winter. Read on to see my Spring 2015 nail polish picks:
Sally Hansen Miracle Gel Polish in Street Flair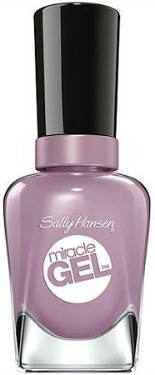 $7.99 at Ulta
Sally Hansen's Miracle Gel polishes are some of my favorites. They give you the look and feel of a gel manicure, along with the long-lasting effect, but there's no need to go to the salon and fork over $20.
They apply really well, and the colors – this one especially – are beautiful. Street Flair is a muted purple hue that's on-trend for spring. It's girly, but it's also almost a neutral because it has a beige tone to it. If you haven't already, try out these polishes. They're definitely worth it, and the price is completely reasonable.
Butter London Nail Lacquer in Kip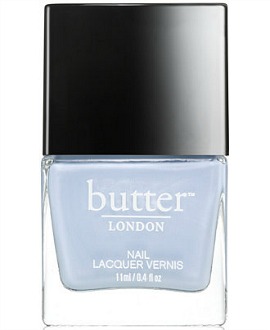 $15 at Beauty.com
I LOVE Butter London's nail polishes. The shades are so beautiful and so opaque – long story short, they're worth the higher price tag.
This one, called Kip, is part of their new High Tea line for spring, and doesn't it just look like something you would wear for a high tea with your friends? I thought so, even though I have never been to a high tea… Regardless, this color is amazing and the formula is just as great. Give this a try if you're looking to splurge on a great color!
Wet n Wild Wild Shine Nail Color in Yo Soy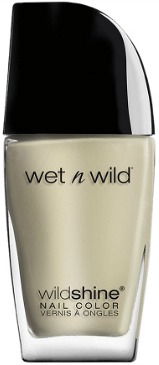 $.99 at Walgreens
First of all, this polish is 99 cents. Yes, that's right. 99 cents! I love Wet n Wild because their prices are crazy cheap but the quality – for most of their products – is actually quite good. I especially love their nail polishes.
They recently redesigned their nail polish packaging and even added a few new colors, like this one, which is called Yo Soy. I'm not entirely sure how to describe this color…maybe a silvery-beige? Whatever color it is, I like it – this polish is definitely going to be a new favorite. And for the price? You have no reason not to add this to your collection.
Essie Nail Polish in Haute as Hello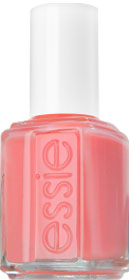 $8.50 at Beauty.com
I am so obsessed with coral nail polishes, and I don't think that obsession will ever end! This one by Essie, called Haute as Hello (adorable!), is currently on my toes right now and I love it. It's just so bright, fun, and girly. I think it's going to become one of my go-to nail polishes.
It's hard to pick the perfect coral – some are too orange and others are too red. This one is on the pinker side, which is what I prefer. Give this a try if you're looking for the perfect coral nail polish.
What do you think?
What are your favorite spring nail polishes? Do you use any of these? Would you like to see more posts like this in the future? Remember to tell us your thoughts by leaving a comment!