This post may contain affiliate links, which means we may receive a commission if you purchase through our links. Please
read our full disclosure here
.
Whenever I have some extra money to spare, I always treat myself to a manicure and/or pedicure. One of my favorite things to do at the salon is look at the giant wall of nail polishes and search for the perfect color. However, as much as I love finding the right shade of polish at the salon, I actually only own a few bottles myself. On the other hand, I have friends who own huge bags filled with dozens of nail polishes.
But whatever the size of your nail polish collection, there are some colors that every girl should own. So here are our top 5 must-have colors, as well as some tips for finding your perfect shade:
#1 A Classic Red
Product Information: Love & Beauty's Rose, Chanel's Dragon, OPI's Big Apple Red, Essie's Who's She Red
Red is a timeless shade for your nails; it's the perfect basic choice that works for both formal and everyday events. A classic red will never go out of style.
#2 A Pretty Pink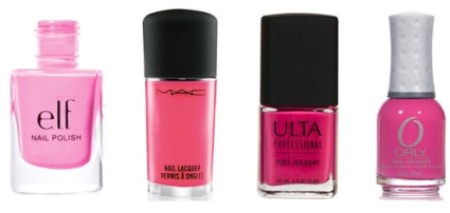 Product Information: Elf's Bubblegum Pink, M.A.C.'s Steamy, ULTA's Berry-Go-Round, ORLY's Basket Case
Pink polish screams feminine and is always a popular pick at salons. The color is a great choice for spring or summer and brighter shades really pop against a (hopefully faux) tan.
#3 A No-Nonsense Neutral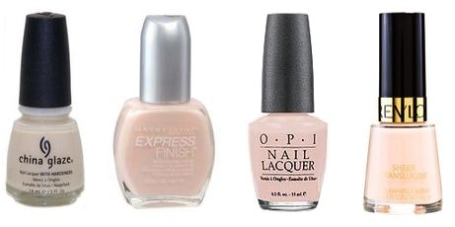 Product Information: China Glaze's Linger, Maybelline's Blushing Bride, OPI's Malaysian Mist, Revlon's Barely Peach
A neutral shade is the perfect polish to wear if you want a barely-there look that will never appear over-the-top. Natural shades of polish are also great choices for conservative workplaces or interviews.
#4 A Mysterious Dark Color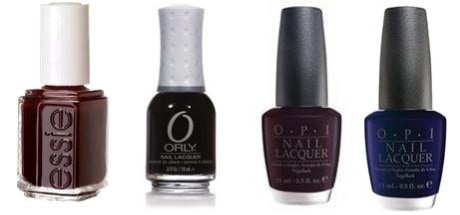 Product Information: Essie's Material Girl, ORLY's Liquid Vinyl, OPI's Lincoln Park After Dark, OPI's Yoga-ta Get This Blue!
As soon as September hits, I usually switch over to darker-colored polishes and stick with them throughout most of fall and winter. There are lots of options here when it comes to shades – you can go with a bold black or a polish with blue, purple, red or brown undertones. Dark colors look chicest on shorter nails, and do require more maintenance than lighter hues because chips are more obvious.
#5 A Color That Makes You Happy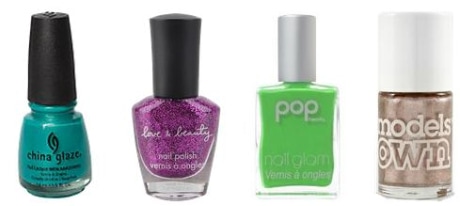 Product Information: China Glaze's Turned Up Turquoise, Love & Beauty's Plum Glitter, Pop Beauty's Radioactive, Champagne by Models Own
I'm sure most of you know that color can affect your mood, so I think that everyone should own at least one polish color that just makes you happy. It can be your favorite color, a metallic or something with some sparkle. You could even try a trendy polish, if that's your style!
Tips for Finding a Perfect Shade of Nail Polish
The key to finding the perfect nail polish color is to locate the shade that works best with your skin's undertones. OPI's website has a tool for doing this (found under 'try it on'), and although it can only be used for the company's nail polishes, it will give you a good idea of the general shades that would work best on you.
It's also important to remember that polish often looks different on your nails then it does inside the bottle. To know what I'm getting before I buy, I check online for reviews or pictures to see if anyone has tried the polish in question. All Lacquered Up is my favorite place to look; the woman who runs it has tried thousands of different nail polishes, gives honest opinions and takes lots of pictures. It's a fantastic resource.
What do you think?
Do you agree with these choices? What are your must-have colors? Do you own a ton of nail polish? What are your favorite nail polish brands? Be sure to leave a comment and let us know!