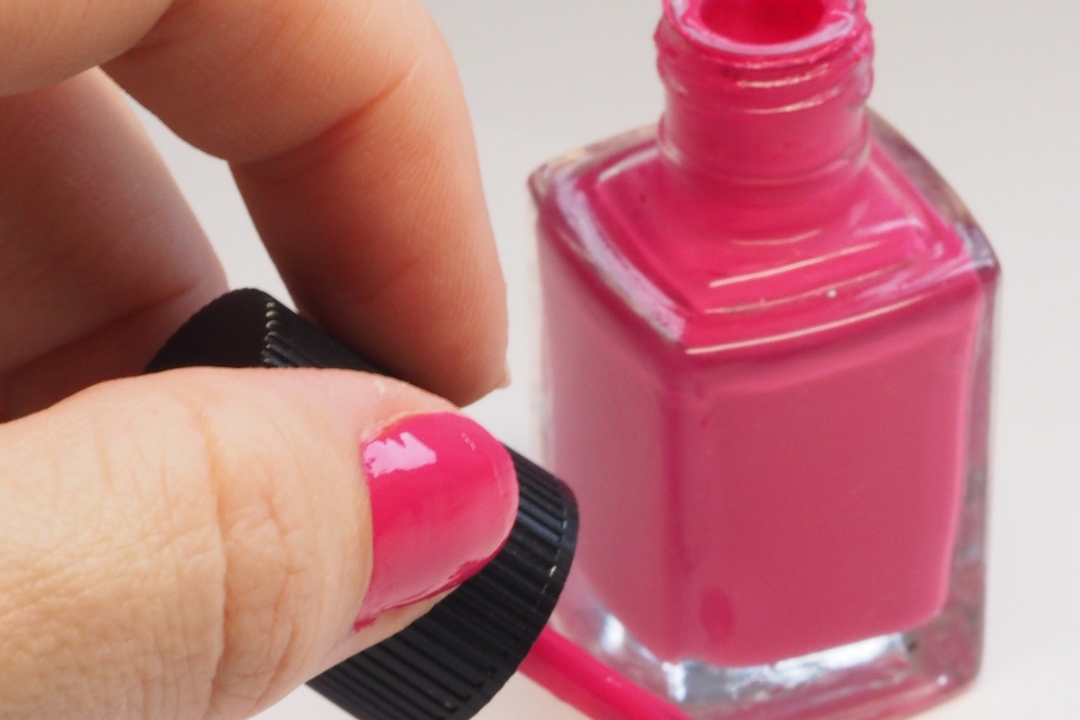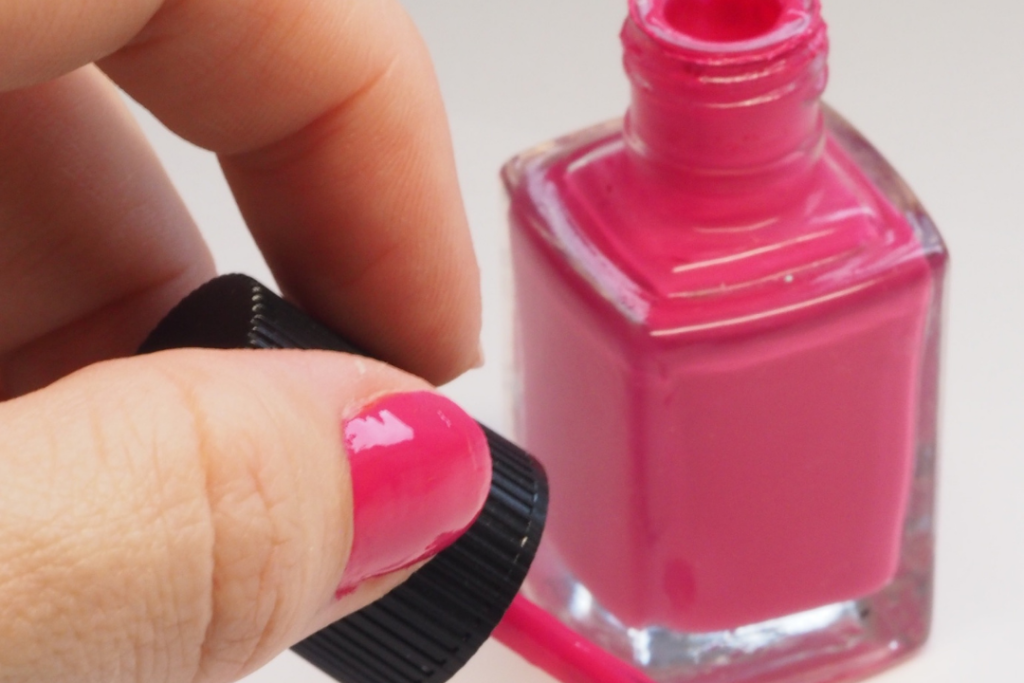 Chanel is a universal symbol of class, fashion, and taste. The minds at Chanel never disappoint on the runway and they also never disappoint when it comes to designing new nail polish colors. Over the past few years, it seems as if they have been setting a new nail trend every few months!
Perhaps more remarkable than Chanel's ability to start trends is their ability to create nail trends that will stand the test of time and be adored for years to come. Bringing black polish back into style? That was thanks to Chanel's Black Satin! The navy blue nail craze? Thank Chanel's Blue Satin! And that's not to mention the "greige" fascination we've seen more recently – once again, it can be attributed to Chanel!
But as gorgeous as Chanel's nail colors are, their prices are a bit high. It's true that not everyone can justify spending $25 for a bottle of nail polish, so below, I'm going to show you some of the best dupes for four of Chanel's most coveted nail polish colors. Enjoy!
Black Pearl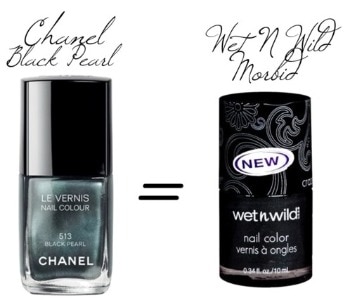 About Black Pearl:
Chanel's Black Pearl is a new addition to their polish line and fashionistas everywhere are already raving about it! After this pearlescent, shimmery blue-green polish was spotted on the nails of the runway models, girls everywhere were dying to get their hands on it. Now that it's officially available to purchase, fashion bloggers and celebs alike have been spotted rocking this moody hue on their nails.
The Dupe:
Even though this polish is new and there aren't that many dupes out yet, I managed to find one… Wet N Wild Craze Nail Color in "Morbid", which retails for $1.99 – yes, one dollar and ninety nine cents – at CVS or any other local drugstore! That's practically a savings of $23!
While Morbid isn't an exact match for Black Pearl (see swatches of Morbid here!), I think it's really difficult to tell the difference between the two. Both colors are a black base with a teal micro-glitter that can result in a nail that looks black, blue, or green, depending on the light! So, if you've been dying to try this color, go grab Morbid and give it a shot!
Editor's Note: While seeking out this product online, I came across a few blogs that said Wet N Wild's Craze line may have been discontinued recently. However, many stores such as CVS, Walgreens, etc. seem to still have the line in stock. So if you're interested in this dupe, head to your local drugstore NOW before all the bottles are gone!
Particuliere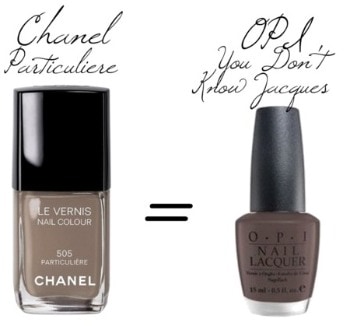 About Particuliere:
Chanel's Particuliere is perhaps the most coveted nail polish shade of the past year. It's a beautiful muddy taupe/gray/mushroom color that officially started the "greige" trend we've all been obsessed with lately! Luckily, since the trend exploded last year, there are tons of dupes on the market that you can grab for much less than $25.
The Dupe:
I actually have TWO dupes for Particuliere to share with you guys, one you can get at the drugstore, and one that's slightly higher-end.
My favorite dupe for this color is OPI's "You Don't Know Jacques" which sells for around $8 at some drugstores, nail salons, ULTA, or anywhere else you can buy OPI! (Click here to buy it on Amazon!) It's a little bit darker than Particuliere, but it's very hard to tell the difference.
Another favorite Particuliere dupe that I talked about in my post, The 4 Hottest Nail Polish Trends for Winter 2010-2011, is Rimmel London's "Steel Gray", which is slightly more gray than Particuliere but equally pretty and still quite similar. Steel Gray retails for $3.99 at CVS.
Riva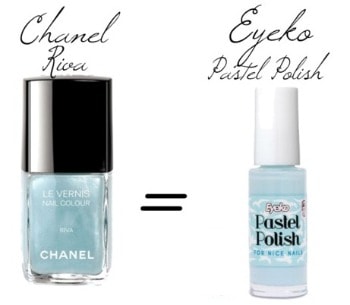 About Riva:
Riva is a relatively recent addition to the Chanel line, debuting as part of the 2010 Cruise collection and launching for sale back in November 2010. This beautiful light robin's egg blue with teal micro-glitter ignited an uproar amongst nail polish gurus, and the shade quickly sold out everywhere. I am personally still dying to get my hands on a bottle!
The Dupe:
I have spent quite some time searching for adequate dupes for this beautiful hue and have found a few that come dangerously close to an exact match!
The absolute best Riva dupe I've found is Eyeko's Pastel Polish. Although Eyeko is a UK-based company, if you're in the US, you can buy this shade directly from their website for $6. (US ladies, this is your best bet – I've never seen this polish in a store!) This shade is the closest match for Riva that I've seen yet.
However, if you don't want to order nail polish online, there are a few more domestic options for you! The first is Sephora by OPI's "Havana Dreams" which sells for $9.50 on the Sephora website, or China Glaze's "Moody Blue" which has been discontinued but is still available at some beauty stores for around $5 to $8 usually!
Paradoxal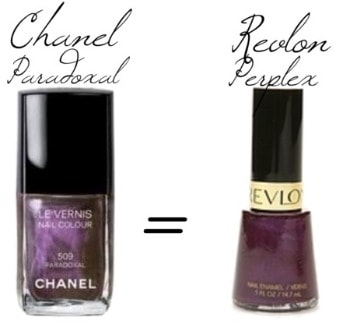 About Paradoxal:
Chanel's Paradoxal is another one of their most popular and coveted hues. It is a deep violet color with beautiful purple-blue shimmer. As soon as it launched last year, nail polish lovers everywhere were searching for an appropriate dupe for this color, and I believe they found it!
The Dupe:
Revlon's "Perplex" (hmm, oddly similar name to Paradoxal, no?) is almost an exact replica of Paradoxal. Perplex managed to capture the beautiful purple and gray base color while also mimicking the Chanel shade's pink-purple micro-shimmer.
Since nail polish addicts everywhere started snatching them up, it's a little tricky to find a bottle of Perplex nowadays. That said, I know that it's still out there and you may still be able to get a bottle at your local drugstore! (There are also bottles available on Amazon and eBay!) And the cost savings is worth the search: It retails for $4.99 at CVS, which is about $20 less expensive than the Chanel color. So, if you're craving this color, go for the Revlon because you get a nearly identical color at a fraction of the cost!
What do you guys think?
Do you guys like these dupes? Are there any other Chanel colors that you've been dying to find a dupe for? Let me know your thoughts in the comments!