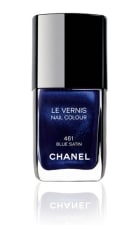 Remember how trendy black nail polish was last year? Even the super-preppy were rocking the black nail trend as bottles of it flew off the shelves everywhere! Now it's time to get ready for the next big thing in nails. This spring, there is really only one nail polish color you're going to want to be wearing: navy blue.
There has been lots of buzz in the fashion world lately about Chanel Blue Satin (461) Nail Polish, and now it's SELLING OUT everywhere at lightning speeds. The shiny deep navy shade was originally debuted on the models at the Chanel Spring 2008 RTW runway show, and is by far the trendiest nail color for spring. Bottles are going fast and are sold out at Chanel.com but are still available at Neiman Marcus (where I just bought mine!) EDIT: As of Jan 15th, Blue Satin is SOLD OUT at Neiman's!
If you don't want to pay $19 for a bottle of the real Chanel stuff (and I don't really blame you), you can get the "look for less" with a bottle of Wet N' Wild Wild Shine in Sapphire Blue #445D, available at your local drugstore. Shop fast though – this shade too will probably sell out fast. Anyone else remember how even Wet N' Wild black nail polish was impossible to find last year?
What do you think of navy blue nail polish? Will you be wearing this trend or letting it pass? Are you going to buy Chanel's Blue Satin or do you think I'm crazy for having bought it? Let me know in the comments!