This post may contain affiliate links, which means we may receive a commission if you purchase through our links. Please
read our full disclosure here
.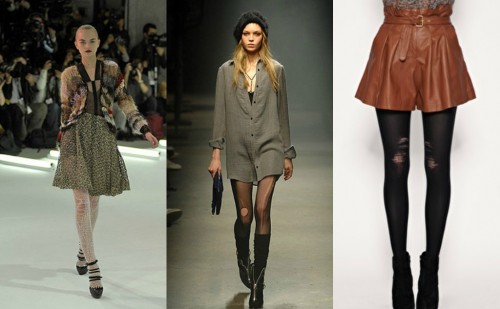 Torn tights seen on Rodarte and Alexander Wang's runways, as well as for sale at ASOS. Credit: 1, 2, 3
Just a few days ago, I had one of those gut-wrenching encounters with a chair, where I swung my legs the wrong way and snagged my hosiery on a sharp edge. As my favorite pair of tights ripped, I felt them transform from chic to Ke$ha in a second flat. It may be my classically feminine sense of style, but I'm personally not a fan of laddered tights (the professional term for ripped tights).
But Alexander Wang and Rodarte, top designers of our generation, beg to differ. They are not strangers to sending ripped hosiery down the runways. Other stylish trendsetters like Erin Wasson and Kate Moss have been rocking them for years. And the look is trendier than ever for winter 2011.
So who's right? It all comes down to your personal style. As a girl who wears hosiery at least three times a week, I wouldn't go through nearly as many pairs if I rocked ripped tights. But at the end of the day, I just think they're too Taylor Momsen for my sense of style.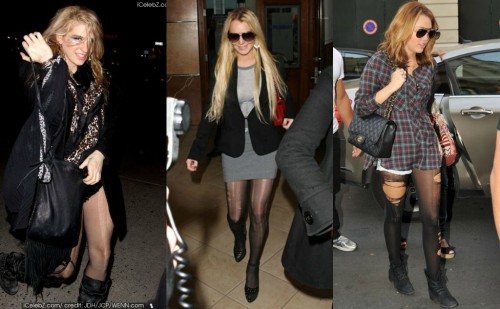 Ke$ha, LiLo, and Miley Cyrus all wearing laddered tights. Photo Credit: 1, 2, 3
Would You Wear Laddered Tights?
Do you wear torn stockings, or do you opt for unsnagged? Would you buy them pre-torn or rip them yourself? Does this trend look trashy or stylish to you? Leave a comment below and let's discuss!