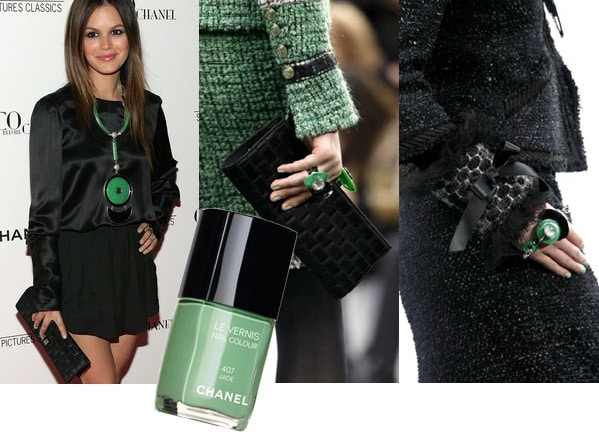 Rachel Bilson and models at Chanel wearing jade green nail polish, and a photo of Chanel Le Vernis in Jade
As every fashion fan knows, with every Chanel collection comes a new polish trend – it's practically tradition. Right now, the color of the moment is jade green, a lighter-than-evergreen, darker-than-mint shade, and everyone from Rachel Bilson to Drew Barrymore is a fan.
Originally, the jade green hue in question was created exclusively for Chanel Fall 2009 Ready to Wear, but overwhelming response from fans helped bring the polish to stores. Chanel Le Vernis in Jade debuted on Chanel.com recently and it's already well on its way to selling out.
Since dark nails have been the fall standard for years now, it's refreshing to see a lighter color in style for fall. While Chanel previously made waves with their dark evergreen color, Jade is a more fun shade that's likely to become mainstream soon.
Personally, I've been obsessed with this shade since I saw it on the runways and already have a bottle of my own. It's one of those colors that works on everyone, and it's such a fun change from the typical navy blue or black I usually rock in fall.
Of course, if you don't want to drop the cash for Chanel, you can always find cheaper versions at Sephora or drugstores. Who What Wear recommends Illamasqua Nail Varnish in Milf ($14 at Sephora.com), and OPI also has a matte shade called Gargantuan Green Grape Matte ($8, at salons) that's also quite similar.
So what do you think? Would you wear jade green nail polish? Or do you usually stick to more basic nail colors? Leave a comment and let us know what you think of this hot polish trend.