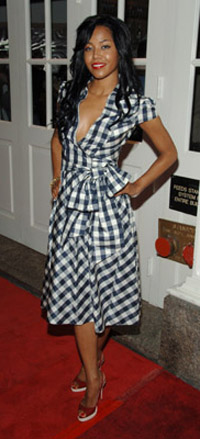 From left: Amerie in Diane Von Furtstenburg, Christopher Kane dress on the runway, Lauren Conrad in McQ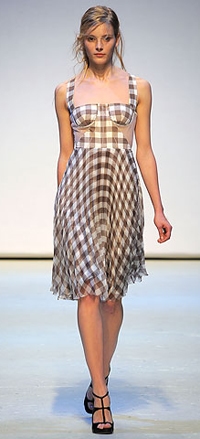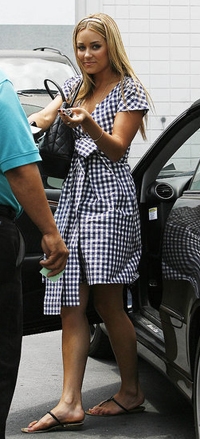 Hundreds of iconic beauties throughout the years have sported gingham. From Brigitte Bardot's pink and white gingham wedding dress to Dorothy's classic blue frock in the Wizard of Oz, gingham has certainly made its mark on fashion history. And this season's resurgence of All-American-chic has not left this print out. But would you wear it?
Much less alternative and more wholesome than plaid, there are two main directions to go in whilst wearing gingham. One way is to play up and embrace the squeaky-clean image – throw on a headband and keep your look simple and low key. Another way is to bring the print into the modern age with a different cut of dress and dolled up accessories.
I've created two example ways to wear gingham for you to check out below.
Outfit #1: A Throwback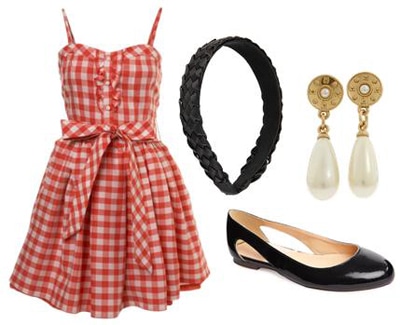 Product Information: Red Gingham Dress: Miss Selfridge, Woven Headband: Forever 21, Pearl Drop Earrings: Carolee, Patent Flats: Fred Flare
Outfit #2: Make It Modern
Product Information: Grey Cami: Style for Less, Gingham Skirt: Christopher Kane, Gold Earrings: Zad, Nude Pumps: Nine West
Thoughts? Questions? Concerns?
Would you wear gingham, or do you think it's too farm girl? Personally, I love it! I'm looking for a gingham sun dress as we speak. What would you wear it with? Debate in the comments!