This post may contain affiliate links, which means we may receive a commission if you purchase through our links. Please
read our full disclosure here
.
I know the Minions brought short overalls back in 2013 and I'm totally late to the party, but I honestly don't know how I ever lived without denim dungarees in my wardrobe. They've got the instant-outfit-formula quality of all one-piece rompers and dresses, but they're also incredibly versatile.
If you're like me and only just arrived on the front step of this party, I've come up with four different ways to style overall shorts– I hope they convince you to try out the trend with me!
1. Just a Little Bit Girly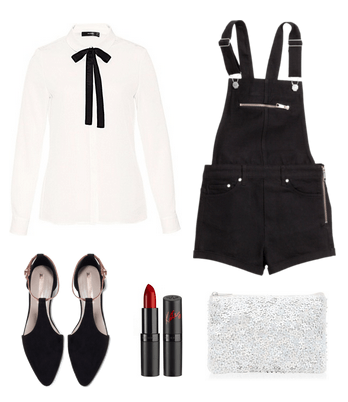 Product Information: Shirt – House Of Fraser, Overalls – H&M, Flats – Zara, Lipstick – Rimmel, Clutch – New Look
This House of Fraser blouse is definitely an investment piece, but I love the effortlessly girlish flair of tie-neck blouses– and so does Charlotte Russe, who also makes a short-sleeved version that's perfect for current temperatures. I also love the edgy zip detail on these overalls, especially when juxtaposed against the large black bow.
To elevate the ensemble, I went with black ankle-strap flats and red lipstick. Since they're both versatile basics, I threw in a sequined clutch to mix things up– because why not?
2. All-American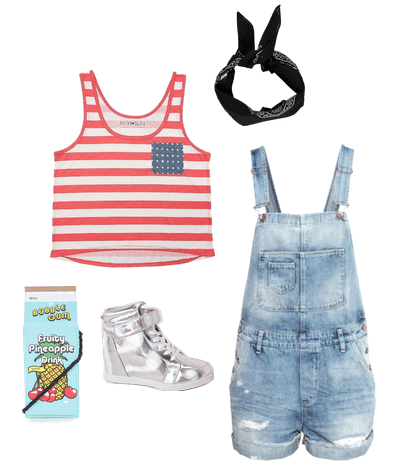 Product Information: Top – Target, Overalls – H&M, Headscarf – Boohoo, Sneakers – Missguided, Bag – ASOS
If you're noticing a pattern in my outfit sets, it's because I can never say no to these adorable novelty-shaped bags. But really though, carrying around an imaginary carton of pineapple juice in ninety-degree weather? Yes please.
I also couldn't resist throwing in this subtly patriotic tank top (it's still July!)– but between the cute crossbody bag, basic blue dungarees, and these show-stopping sneakers, you could just go with a plain t-shirt.
3. With a Flannel Shirt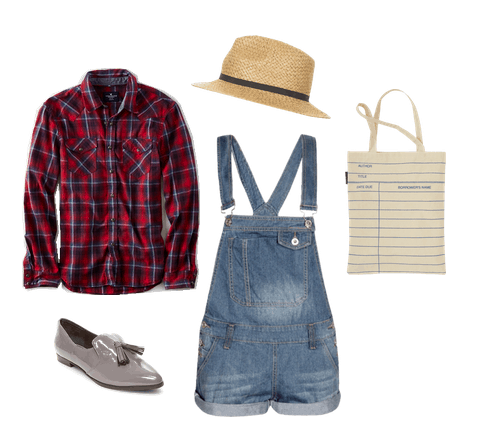 Product Information: Shirt – American Eagle, Overalls – Boohoo, Hat – Topshop, Tote – ModCloth, Flats – Steve Madden
Will I ever write a post that doesn't feature least one fabulous hat? I don't think so. Today's option is this summery straw fedora, because straw and denim are always a yes in my book. If you want to go the whole hog, you could also tie your hair in pigtails– but hats win every time (for me, at least).
My favorite thing to wear with short overalls this month are flannels with rolled-up sleeves, but chambray shirts are also really cute with black dungarees. Loafers instantly add another interesting menswear-inspired element to the look, and quirky book totes are always appropriate.
4. Tie-Dyed and Fabulous
Product Information: Bralette – Free People, Overalls – Boohoo, Backpack – ModCloth, Sandals – Stonefox
If you've already mastered the art of styling overall shorts à la Alexa Chung, this amazing tie-dye pair is the perfect summer style challenge. I love this Free People bralette, and black means it won't steal the spotlight from these unexpected dungarees.
I love color, so I couldn't resist throwing in a lavender backpack. If you're worried about looking like a box of Crayolas, any neutral-colored bag will play well with the crazy colors on your overalls.
What do you think?
Would you try overall shorts? If you have, what's your favorite way to wear them? Do you think they're here to stay? Let me know in the comments!