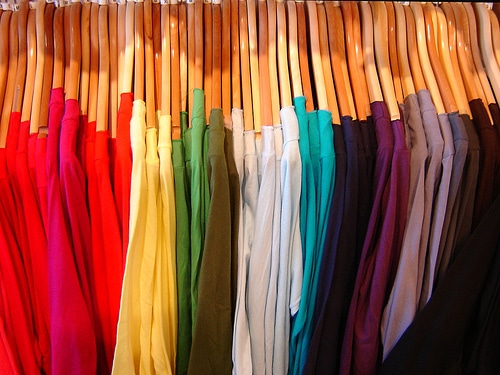 Looking for a simple way to spice up your outfits this season? Try adding a splash of color! Spring is the perfect time to shy away from dark, harsh hues in favor of new neutrals, pastels, and brights. These five colors are set to be the trendiest of the season.
1. Pink Champagne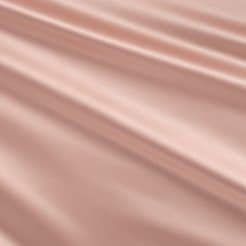 Pink champagne is the epitome of femininity. This delicate shade of nude pink has only a hint of color, making it perfect to wear as a neutral. There's something a bit glamorous about pink champagne too, however, as a bit of shimmer or sheen usually finds its way into the mix. Dresses in this hue are super trendy, especially when paired with black, while pink champagne-colored accessories have more of a vintage feel. If you're not into this particular pink, try it's edgier sister shade, rose gold.
Hot Picks

Product Information: Passion No 1 Sweat Shirt, New Look. Boyfriend Blazer, Forever 21. Peep Toe Wedges, Mod Cloth. Tri Color Mini Skirt, Wet Seal.
2. Turquoise There has never been a better time to wear this stunning hue: turquoise is set to be THE hottest color for spring. Reminiscent of tropical islands and bright ocean water, turquoise is one of those rare colors that, although intense, is universally flattering and extremely versatile. If you're feeling adventurous, turquoise is a great color for dressy pieces, and can look downright elegant in silk or sheer chiffon. Turquoise accessories are also great for adding a pop of color to an otherwise monochromatic outfit.
Hot Picks

Product Information: Ruffle Stream Tube Top, Forever 21. Oversized Stretch Cocktail Ring, Asos. BC Footwear Bicycle Built Flats, Piperlime. Grandeur Bow Headband, Forever 21.
3. Light Army Green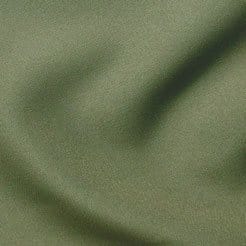 Expect to see light army green a lot this season in menswear-inspired pieces: it works perfectly for cargo shorts, trench coats and harem pants alike. The color itself is mix of grey and green that, when combined, creates a flattering, easy to wear shade. This particular hue is laid back and effortless, perfect for us college girls!
Hot Picks

Product Information: Cuffed Twill Camp Shorts, Old Navy. Marc by Marc Jacobs Classic Q Natasha, Piperlime. Oversized Jersey T-Shirt, Net a Porter. Belted Bloomer Shorts, Top Shop.
4. Coral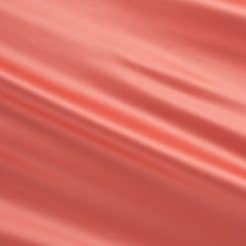 A gorgeous blend of pink and orange, coral is hot not only for clothing but also for beauty products this season. The color instantly warms up an outfit and adds instant pretty to a made-up face. Coral can be bold or feminine depending on the amount of orange or pink in the blend or simply what it's worn with: dark colors, leathers and metallics will create a bolder look, while nudes, whites and pinks lean towards femininity. Keep your corals around for summer, too–this shade looks gorgeous against tanned skin!
Hot Picks

Product Information: Panier Clutch, J. Crew. Frilly Bandeau Bikini, Topshop. Coral Peep-Toe Ballet Flats, Saks Fifth Avenue. Love Label Belted Dip Hem Dress, Very.
5. Lilac Take a cue from Zoe Saldana at the Oscars and try super-flattering lilac this spring! This shade of purple is luxurious and romantic without being heavy, perfect for warmer weather. The soothing, floral-inspired hue does double duty as it warms any skintone and adds a pastel punch to your look. Like coral, lilac's trademark sweetness can be downplayed when you wear it with edgier pieces.
Hot Picks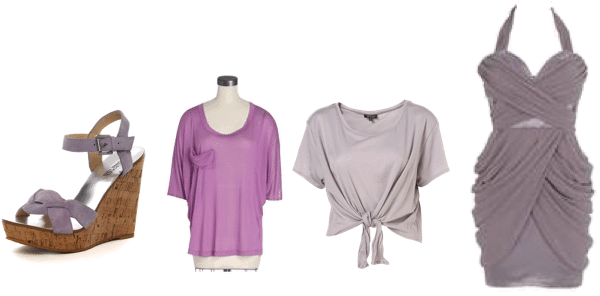 Product Information: Amber Wedge Sandal, Michael Kors. KAIN Label Pocket Kimono Tee, Piperlime. Crop With Knotted Tie, Topshop. Grecian Drape Dress, Lipsy.
What's your favorite spring color?
Which shades are you going to be wearing this season? Did your favorite color make this list? Are there any other colors that you're excited to wear this spring? Let me know with your comments!