This post may contain affiliate links, which means we may receive a commission if you purchase through our links. Please
read our full disclosure here
.
Exactly two weeks ago, I wrote this post about trends that we'll be seeing everywhere this spring. One of the trends that I listed was Athleisure. To recap, athleisure basically describes the fact that athletic wear has turned into a major fashion phenomenon, both in and out of the gym. And there's a lot to love: Who doesn't want to be comfortable and stylish?
The trend has surpassed the original leggings-and-tee combo phase, into a magnificently chic phase with striking colors, fabrics, and cuts. Here is a more elaborate (hopefully inspiring!) guide to Spring 2016 Athleisure!
1. Intricate Straps
Elle Magazine is definitely right about the "X-factor" being the hot trend for 2016: It's everywhere, ranging from haute-couture gowns to fast-fashion athletic wear.
For athletic wear, we're particularly looking at criss-cross straps on sports bras and tanks. I love the illusions that these create! If you love to show off your back at the gym, this is definitely the trend for you.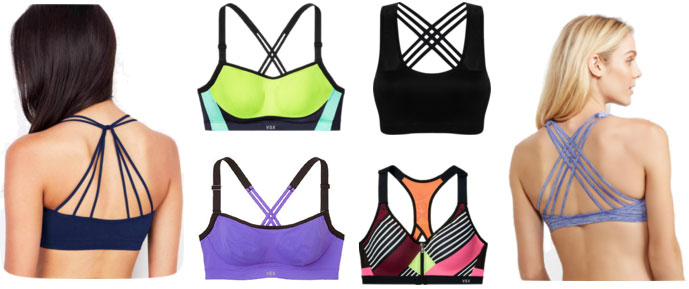 Products: Black (Left), Green, Black (Right), Purple, Multi, Gray
2. Modern Mesh
Mesh is back and more futuristic than ever. We'll continue seeing it in apparel, shoes, and even accessories. It's such a chic way to expose some skin! I love the look of mesh paneled leggings, or hints of mesh on a gym bag.
Also, the sheer hoodie on the right would look super cute with any of the brightly colored bras from the above section. It's a little daring but super on-trend: Wear it with a mega dose of confidence!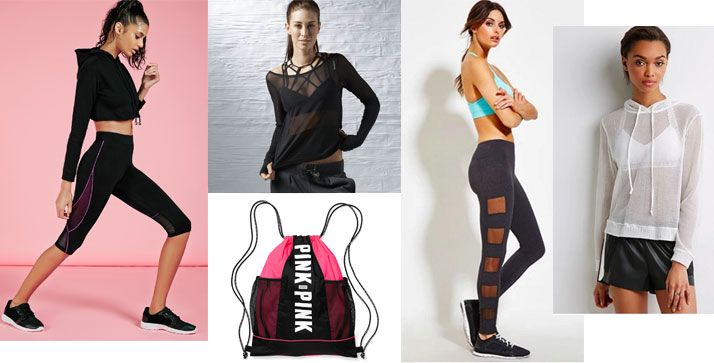 Products: Leggings, Top, Gym Bag, Leggings, Top
3. Iridescent Colors & Prints
I am guilty of wearing all black to the gym way too often, and I bet some of you are too. For this season, the fashion industry is begging you – and me – to be bold and switch it up! For 2016, the hottest activewear incorporates bright, neon and pastel colors, often with a hint of shimmer or metallic sheen thrown in for extra style.
Personally, I have my eyes on these Asics (under $100!), and the orange + pink activewear combo on the right – so cute!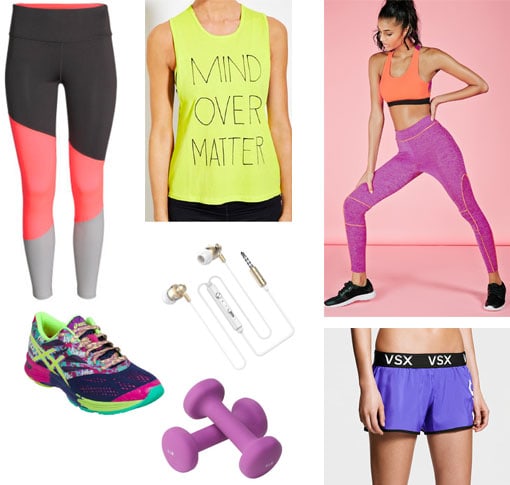 Products: Leggings, Top, Sneaker, Headphones, Weights, Shorts, Leggings
What do you think of these 2016 fitness fashion trends?
How do you like these trends and/or products? Which ones have you adopted or plan to adopt? Currently, colorful + strappy sports bras are on my to-buy list! I'd love to hear your thoughts!