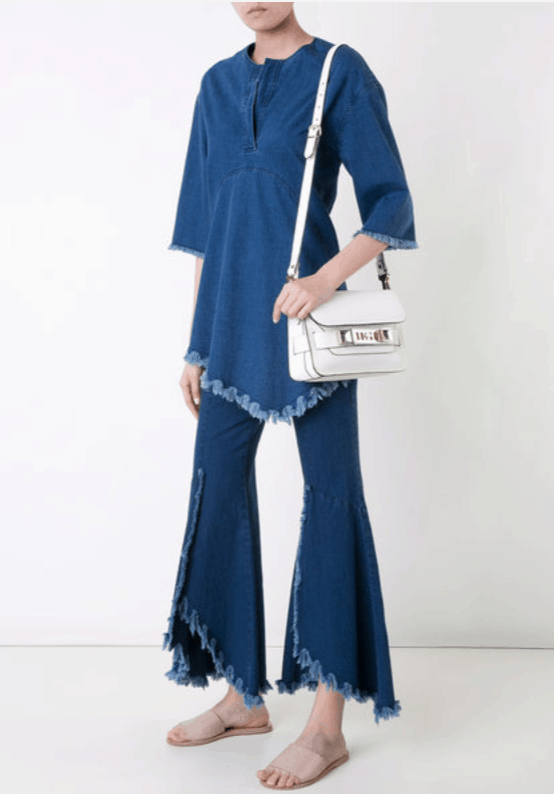 Designer Jeans – Goen.j at Farfetch
I love jeans. Vintage jeans, [window shopping for] designer jeans, hand-me-down jeans, embroidered jeans, distressed jeans . . . the whole lot. I love jeans.
I also love new trends. And lately, amidst shimmery shoes, faux fur bags, and newsboy caps poppin' up all over the place, I also keep seeing ruffled jeans.
These kind of jeans get their name from the ruffles and/or fringes on their hemlines. They're like the same concept as a party nail — they're normal jeans until the pop of pizzazz at the bottom! They're fun and fancy, and bring a little something extra to your everyday jean.
Also, they come in many different colors and kinds, so you'll have no trouble finding a pair that suits you best. Below I'll show you 3 different kinds of ruffled jeans and how to style them. I <3 these, and I know you will too!
Ruffled Jeans Outfit 1: The Dark Pair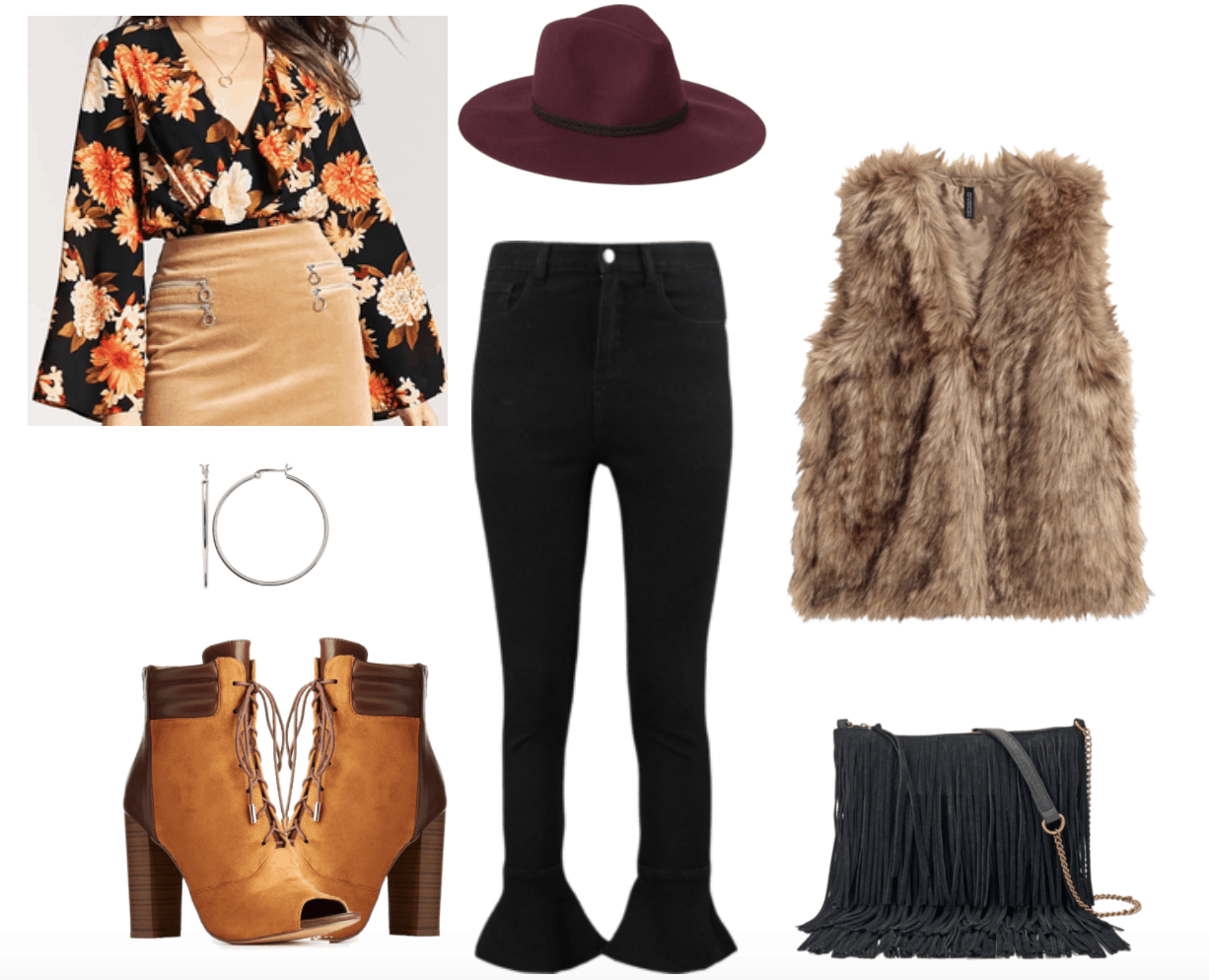 Products: Jeans – Boohoo, Top – Forever 21, Vest – H&M, Booties – Charlotte Russe, Bag – Kohl's, Fedora – Gap, Earrings – JCPenney
For our first ruffly jean outfit, I found a classic black pair of ruffled jeans to suit your everyday needs — I mean, black literally goes with everything.
To spruce these up a bit, grab a dainty, bell-sleeved floral top that adds some fall into the mix (it's not winter yet!). A (faux) fur vest comes next to add both warmth and chicness. Pair this look with open-toed brown booties, like these ones from Charlotte Russe.
To glamorize, curl your locks and adorn your head with a stylish burgundy fedora. Pop in some gold hoop earrings, carry all your necessities in a black fringy purse, and you are ready to take on this day.
Ruffled Jeans Outfit 2: The Fancy Pink Pair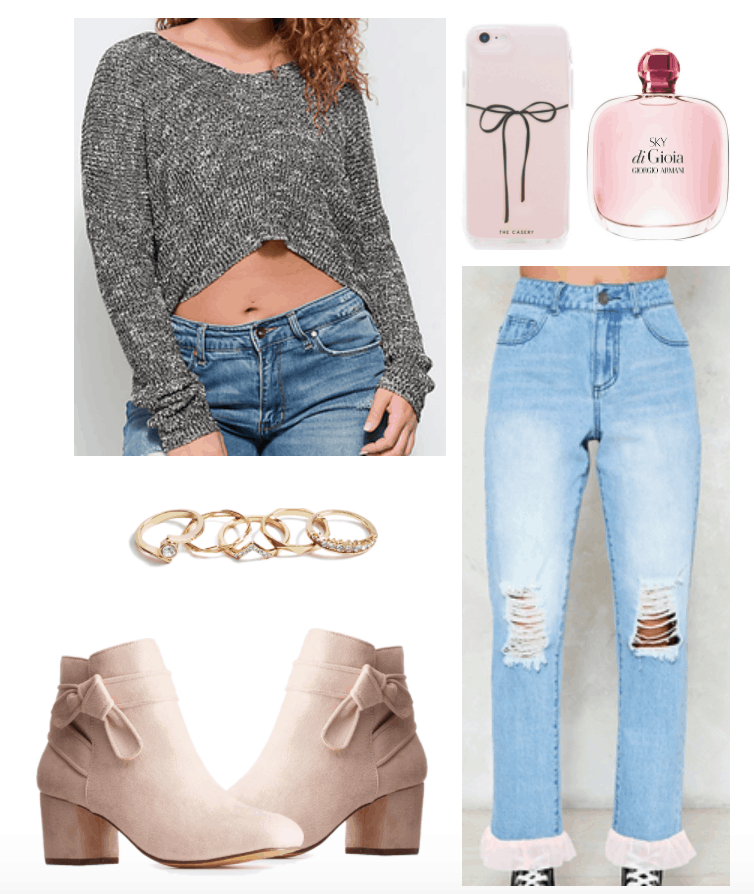 Products: Jeans – Nasty Gal, Sweater – Zumiez, Booties – Charlotte Russe, Phone Case – SouthMoonUnder, Ring Set – Guess, Perfume – Ulta
I told you they come in fun varieties! These adorable distressed pink ruffle jeans are calling your name if you're looking for something a bit dainty, a bit fun, and a whole lot of unique to your closet.
Because these jeans are so distinctive, couple them with a simple, cropped grey sweater for some contrast. Then, grab some sweet baby pink booties (because you can never have enough pink).
A gold ring set will work perfectly to add some glitz to this look. To continue with the pink motif, grab a sweet bow phone case. Finally, spritz yourself with a lovely fragrance and get ready to show off your fancy new jeans.
Ruffled Jeans Outfit 3: The Classic Pair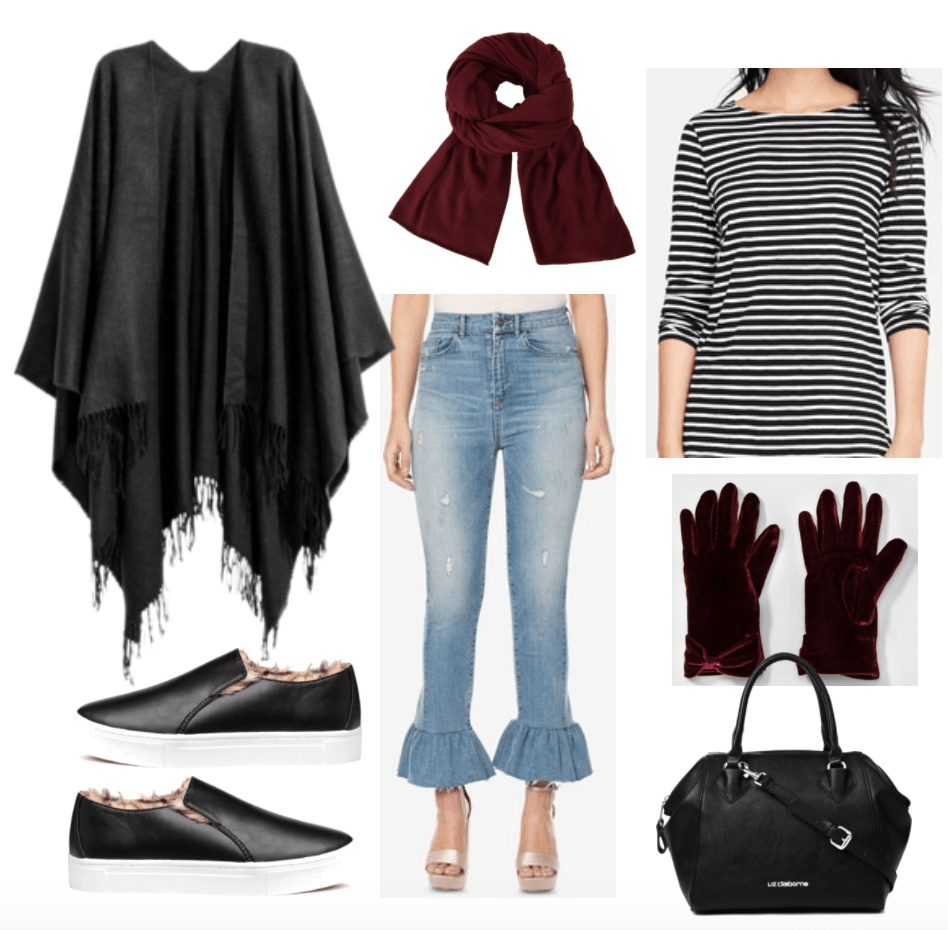 Products: Jeans – Macy's, Poncho – H&M, Tee – Old Navy, Scarf – John Lewis, Sneakers – H&M, Satchel – JC Penney, Gloves – Target
Ahhh, the classic pair. Simple, blue denim with a hint of somethin' special on the hem line. Oh, and high-waisted too? Yes, please.
Pair these denim ruffled jeans with a black and white striped top. Because it's officially the proper weather to wear capes and ponchos again, drape yourself with a black fringed poncho to keep away the cold (and look flippin' awesome).
Black slip-on sneakers come next — these ones are wonderful because they are lined with (faux) fur. A black handbag is suitable for all your needs, and a burgundy scarf and velvet gloves will keep you warm and toasty. You look magnificent!
How do you feel about ruffled jeans?
Do you like this trend or do you think they look a bit wonky? Which outfit is your fave? What are your current favorite trends? Start the convo below!