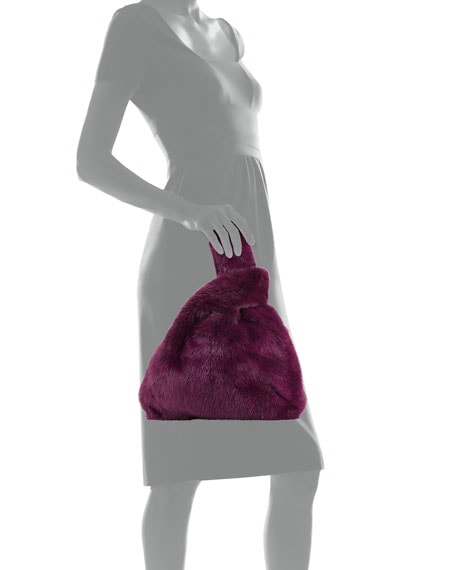 You know those trends that you see everywhere but haven't completely jumped on board with yet (sock boots, ahem)? Yeah, we understand.
If this is how you feel about the fur bag fad dominating the runways as of late (cue Christopher Kane, Prada, and Fendi – among others), never fear, CF is here to help ease your minds and guide this discussion.
Now, as you all know, fur (of the faux variety, obviously, because we <3 animals) is the warm and cozy texture that automatically transports us to fall leaf pile jumping and winter hot cocoa drinking. It is the softness of a blanket that you want to curl up in, and the warmth of a jacket you want to fight the bitter winds in. Essentially, fur = colder weather, and we're all about it.
Faux fur is already accepted and commonly seen in coat form, boot form, even slides form. But as a bag? Mehh. I can understand some apprehension.
Thankfully there are tons of different colors, forms, and outfit ideas to pair with a fun fur bag. Down below you'll find 3 different types of fur bags, tons of faux fur bags to buy, and perfect outfit pairings to boot. Make sure to let me know how you feel about this trend in the comment section, too!
Fur Bag Type 1: The Colorfully Colored Bag
Other kewl options…
• This bright pink number (perfect with an all-black ensemble).
• This metallic handled piece with the loveliest fall colors you ever did see.
• This Milly handbag if it's about time for a splurge.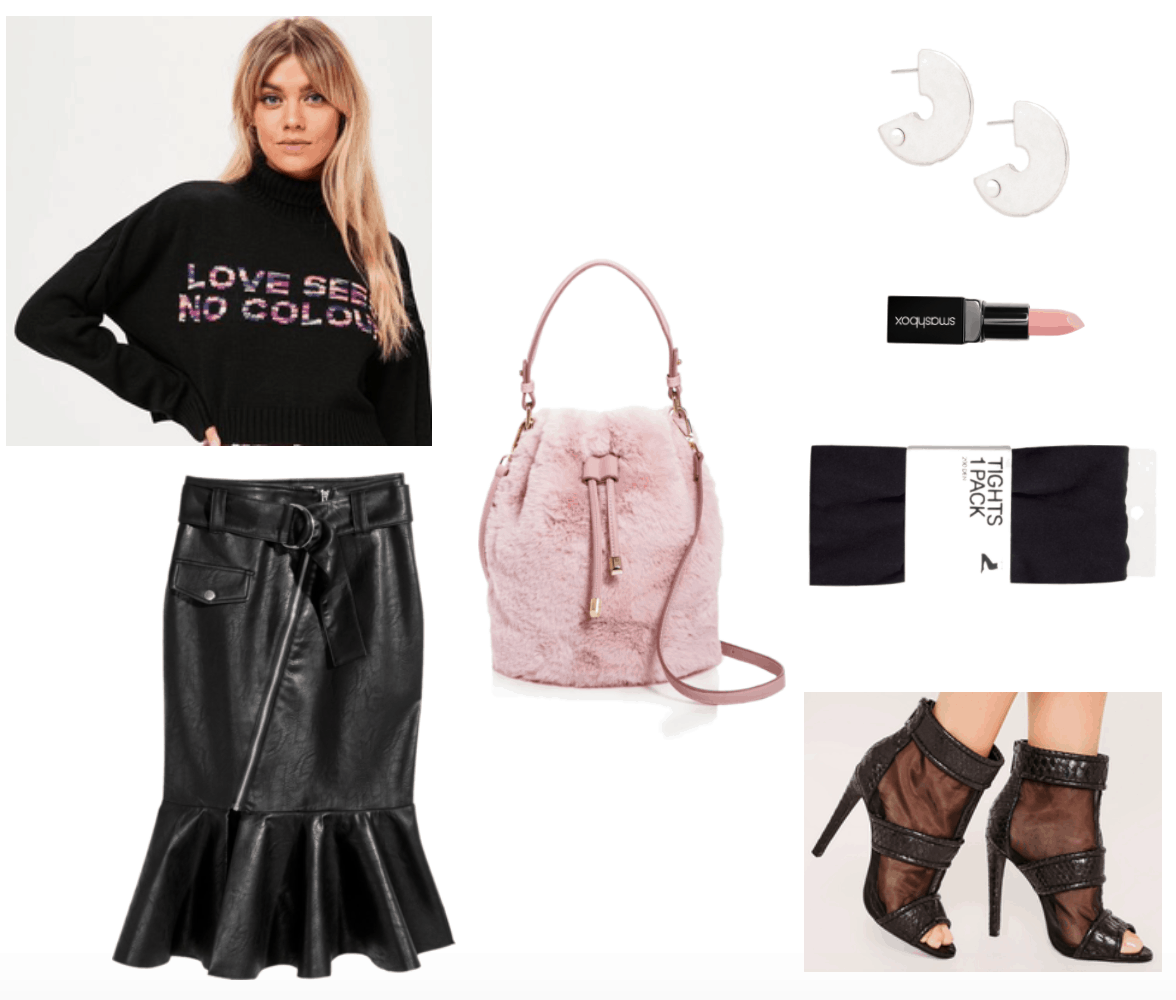 Products: Bag – Bloomingdale's, Jumper – Missguided, Skirt – H&M, Boots – Missguided, Lipstick – Gilt, Tights – H&M, Earrings – Lucky Brand
If any of you were wondering, the millennial pink trend is still around, so finding this dusty pink faux fur bucket bag makes me pretty excited. This ahdorable number – and outfit – is perfect for a night on the town with your gal pals or special someone.
To start off, slide this chic and edgy leather skirt (isn't the mermaid bottom fabulous?) over a sassy jumper. The "Love Sees No Colour" slogan is both stylish and rings true in our current political climate.
For extra edge, slip on some simple black tights and über hawt black booties with sheer panel detailing. These boots were def made for walking. Finally, add some geometric shaped earrings and a dash of pink lipstick and you are ready to run the world (you are a girl after all).
Fur Bag Type 2: The Royal Clutch
Or these ones…
• This clutch comes in pastels. Nuff said.
• I feel elegant just thinking about this bag.
• Again. Splurge.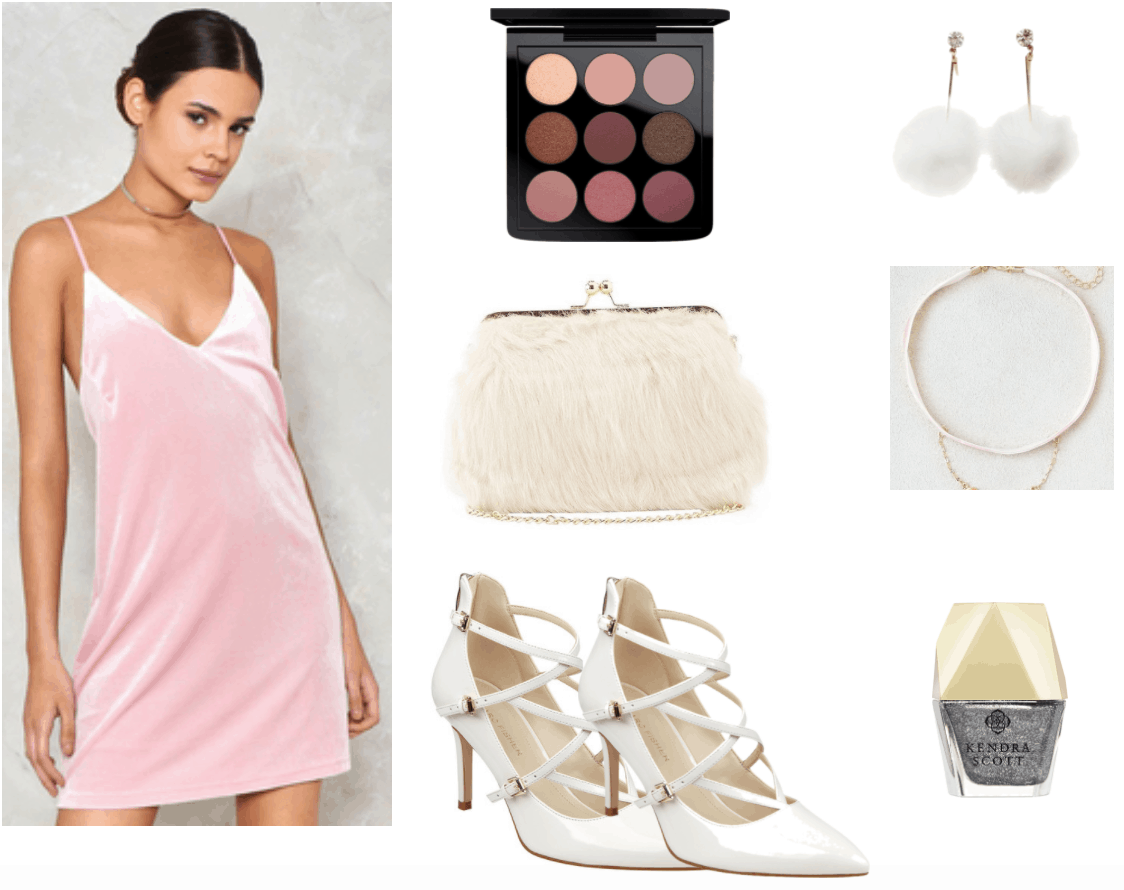 Products: Clutch – Charlotte Russe, Dress – Nasty Gal, Pumps – Marc Fisher, Earrings – Amazon, Eye Shadow – MAC, Choker – American Eagle, Nail Polish – Kendra Scott
Okayokayokay so this bag immediately gave me royals in fur vibes. Like Princess Diana in an ivory fur coat or Princess Kate being fab in a fur hat? Well, anyways, up next on our list are fur clutches (specifically the ones that make you feel like you're a princess heading to a ball…).
Whether you're on your way to a cocktail party (age permitting!) or want to dress like Regina George for Halloween, this ivory faux fur clutch is here to help ya. Pair this with a stunning pink velvet dress because you're not afraid to mix up textures. Slip on some patent leather pumps for a tad of class (and height!).
Glam up with fun and fuzzy puff ball earrings and a blush and gold choker. Stick with a natural lip and make sure your eyes be poppin'. Sticking with the pink theme, focus a mauve/maroon color in your eyes' crease and outer corners and get ready to wow them all. A dash of sparkly nail polish completes this princess-esque look.
Fur Bag Type 3: The Eccentrically Shaped Bag
Oh, and these too…
• Yep, they have critter shaped bags.
• Kendall and Kylie made a hobo bag!
• This one has eyes. Oh, also, ya guessed it, splurge.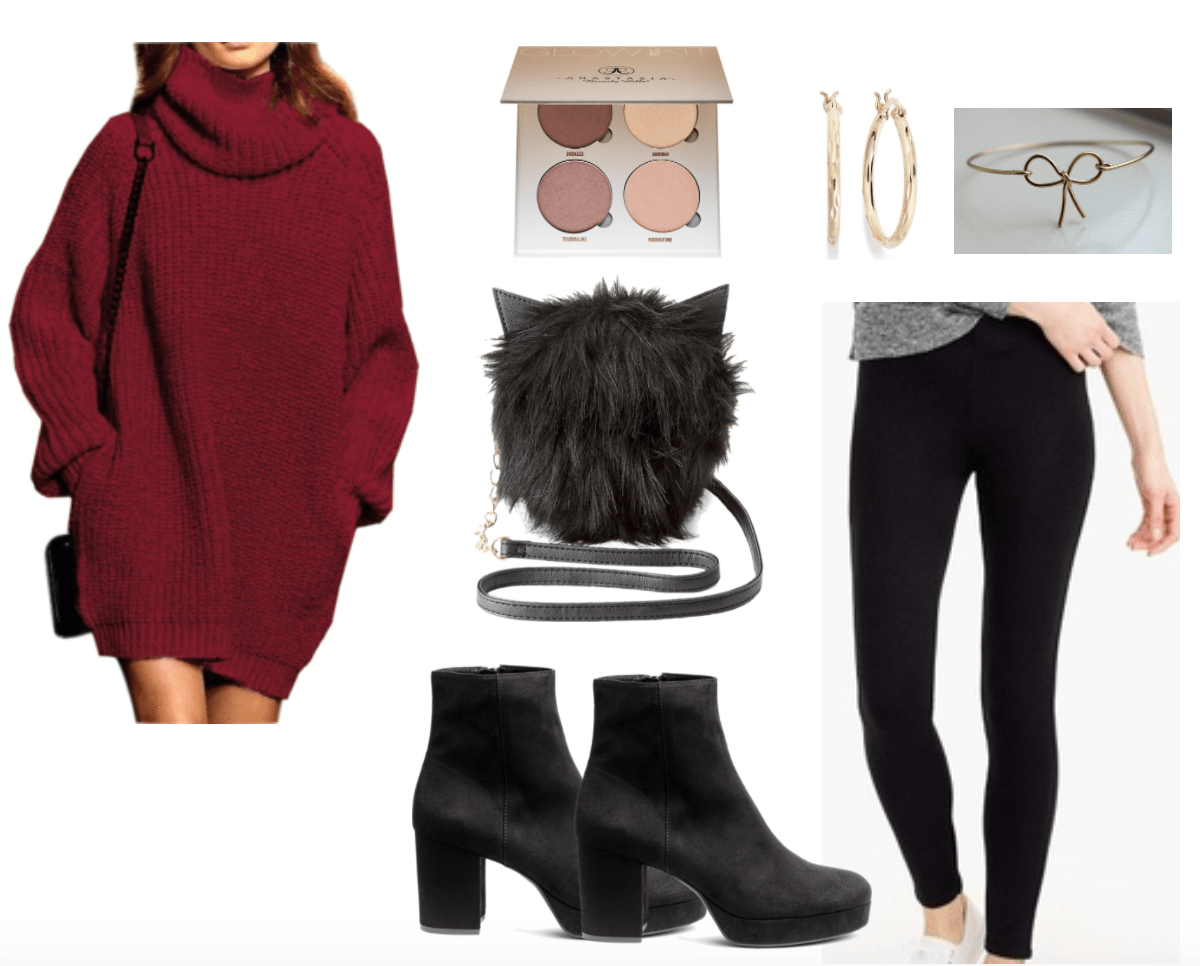 Products: Bag – Charlotte Russe, Sweater Dress – Amazon, Leggings – J.Crew, Boots – H&M, Bangle – Etsy, Earrings – Macy's, Glow Kit – Anastasia Beverly Hills
Does this outfit scream comfy, cozy, and cute or what? This black cat-eared faux fur bag was way too sweet to pass up. I mean, look at it. It has ears.
To doll up this bag, add your fave loungy sweater and tried-and-true black leggings. Add some heeled booties if you want to dress it up a tad. Simple gold hoops and a lovely bow bangle will add the perfect amount of glitz. This look calls for keeping your hair natural and down or in a messy ponytail.
Finally, swipe some highlight on your cheekbones, bridge of your nose, and the inner corners of your eyes, and watch your face (and the room) get a whole lot brighter. Get ready to wow your classmates in this ensemble.
Thoughts?
I gotta know how you feel about faux fur bags. Do you love 'em or leave 'em? How do you like to style yours? Let me know in the comments below.