This post may contain affiliate links, which means we may receive a commission if you purchase through our links. Please
read our full disclosure here
.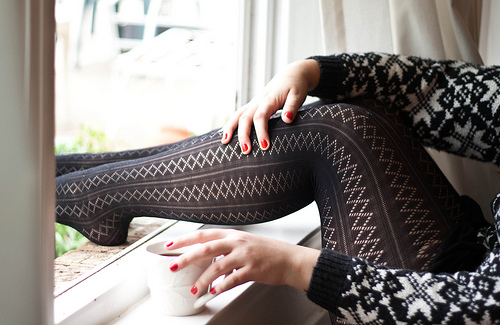 The right legwear will get people talking | Photo Credit
Tights. Pantyhose. Leggings. Thigh-highs. If you're a girl that can't bear to part with her dresses and skirts in the cooler months, (and why would you?) you're in luck! For the last few seasons, the fashion industry has given us numerous ways to cover up (and show off) our legs that are as practical as they are fashionable.
To honor all the pairs of tights, socks, and leggings that keep our wardrobes interesting and fresh all year long, I'd like to dedicate this fashion history lesson to the history of hosiery. Keep reading to discover how this trend has evolved over time and see why we continue to make it work!
History of Hosiery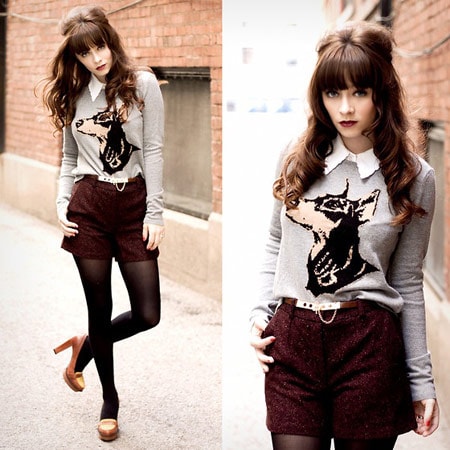 Shorts become multi-seasonal with black tights | Photo Credit
In modern usage, "hosiery" is a generic term meant to encompass a variety of legwear, including tights, socks, leggings, stockings, thigh-highs, and pantyhose.
Every time I think I've found the oddest piece of information in my fashion history education, I learn something new. For this post, the surprise came at the discovery of the Hosiery Technology Center, which works in "assisting the hosiery industry to compete in a global environment through training, R & D, hosiery testing, E-commerce and new product development." That's impressive enough, but I also found Legsource, a free service provided by the center to give information about hosiery products, including an extensive slideshow concerning hosiery history.
According to HTC, one of the earliest sightings of hosiery was around 400-500 A.D. when a pair of red, knitted socks was discovered in a tomb in Egypt.
Some of the most unique hose produced during the Renaissance were inspired by military victory. In 1477, for example, the Swiss gained a very important victory over the Duke of Burgundy. After battle, "the soldiers mended their ragged uniforms with strips of tents and banners." Thus inspired, the Swiss-German people produced leggings and hose, along with other pieces of clothing, that were purposely slashed to reveal contrasting fabrics underneath. This style was copied throughout Europe into the 1500s.
Entering the 20th century, the fibers used to produce hosiery shifted from wool and mixed wool to cotton.
According to Glamor Daze, a vintage fashion blog, nylon stockings appeared in New York stores on May 15, 1940. Amazingly, over 780,000 pairs were sold in the first day alone!
Due to their massive popularity, "nylons" became the generic name for all hosiery manufactured during the '40s. Interestingly, when nylon production shifted to the WWII effort, women would paint seams on their legs to make it look like they were wearing nylons. There's a skill I bet you'd never think you'd need to learn!
Postwar, women were upset with the quality of their stockings, claiming they ripped more than they used to. Good Housekeeping investigated their accusations, and they discovered that women were expecting their 15-denier (den-yer) nylons to hold up like their 30-40 denier prewar nylons. Denier is a measure of the density of fibers in the stockings, so the higher the number, the thicker they are. Good Housekeeping's advice was as follows: "Have a stocking 'wardrobe.' It's smart, it pays, and it's a subtle mark of good taste. Hosiery that complements the clothes and shoes you're wearing—in weight, in color, in detail such as heel design—shows you to be a woman with fashion know–how."
Today, we see hosiery for business, for play, and even for royalty, but one thing holds true: no matter how many trendy makeovers it receives, hosiery is here to stay.
Why We Still Love This Trend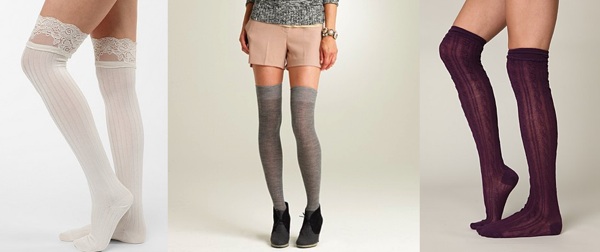 Versatile thigh-highs from Urban Outfitters, J. Crew, and Free People
What's not to love about garments designed to keep your legs feeling warm and looking sharp? Here are three more reasons to champion legwear in all its incarnations:
It adds that certain something to a look. Whether the "something" you're searching for is sophistication, whimsy, color, mystery, or fun, a growing array of styles can help you achieve your perfect look.
It extends the wearability of your clothes. As I mentioned earlier, the inclusion of hosiery into your closet will open you up to more outfits for more occasions. With a few well-chosen pairs of leggings, warm tights, and cozy socks, you'll expand your wardrobe without blowing a bunch of cash!
It keeps you put-together. Even on your most hectic mornings, a trusty pair of leggings with a long sweater and your favorite sneakers or moccasins will always look more like an outfit than a pair of sweatpants. Ditto for a simple day dress paired with tights in a striking pattern instead of bare legs.
What do you think?
How do you feel about hosiery? What's your favorite way to wear legwear? Any styles or types out there that you think should be retired for good? Any other trends you'd like to learn about? Leave a comment!