This post may contain affiliate links, which means we may receive a commission if you purchase through our links. Please
read our full disclosure here
.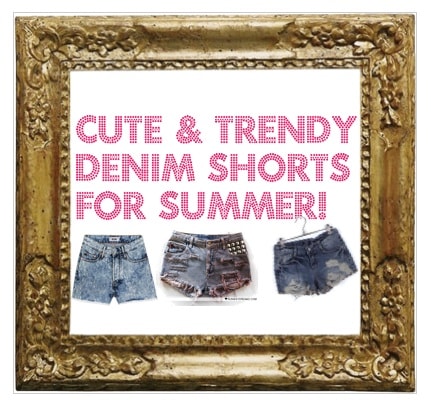 Spring is in full swing and summer fashion is right around the corner! While we love our skirts, dresses, and rompers for warm weather, there's nothing easier to wear or style than a great pair of shorts. From classic chinos to stylish scalloped and lace options, there's a short for almost every occasion.
Sometimes, however, it's best to keep things classic with denim shorts. As all savvy CF readers know, classic doesn't have to mean boring! Read on for cute and trendy denim short picks and outfit inspiration!
High-Waisted Denim Shorts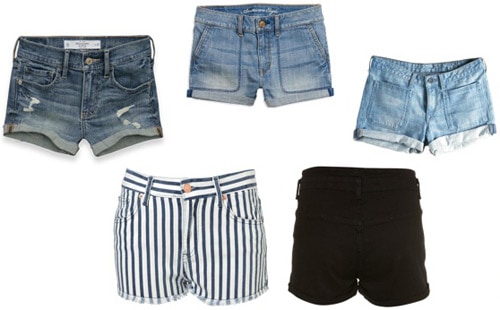 Product Information: Maura High Rise Shorts, Abercrombie & Fitch. Vintage Denim High Waist Shortie, American Eagle. Moto Denim Stripe High Waist Shorts, Topshop. Bridesmeade High Waist Denim Shorts, Jack Wills. Roxy High-Waisted Hotpants, Topshop.
A look popularized by the music festival and model-off-duty crowd, high waisted denim shorts are a trendy way to show off a great figure. Since this particular cut can show a lot of leg and tends to be fitted, make sure to watch the proportions on the rest of your look. Go for a loose-fitting tank or a baggy jacket layered over a fitted top for a look that's subtly sexy.
Looks with bohemian roots also pair well with high-waisted denim shorts! Check out starlets like Alexa Chung and Nicole Richie for further inspiration.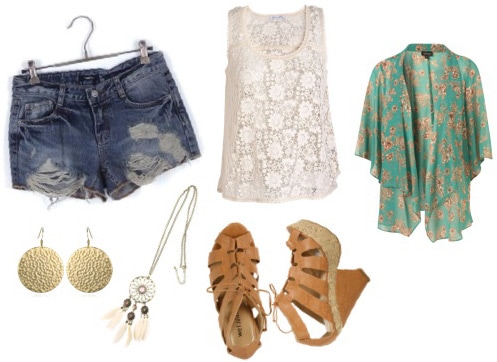 Product Information: Shorts, Yes Style. Earrings, Charm & Chain. Necklace, H&M. Crochet Tank, Delia's. Wedges, Wet Seal. Kimono Jacket, Topshop.
Colorful Denim Shorts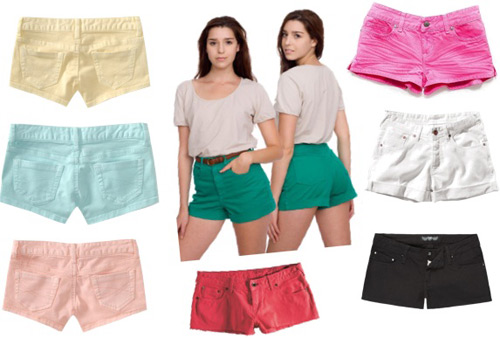 Product Information: Blue, Yellow, and Orange Stone Wash Denim Shorts, Aeropostale. Green Stretch Bull High-Waist Denim Cuff Short, American Apparel. Red Denim Shorts, Jack Wills. Pink Denim Shorts, Victoria's Secret. White Denim Shorts, American Eagle. Black Denim Shorts, Tilly's.
If you're a fan of bold looks, colorful denim shorts might be for you! Easier to wear than their full-length counterparts due to less fabric, bright, colorful shorts will look great against a summer tan. There's no better season to add a pop of color!
While celebrities have seemed to favor their skinnies in primary hues, spring pastels, rich jewel tones, and sassy neons are great alternatives for cropped varieties. Don't want to make a huge impression? Try black or white denim for a look that's eye-catching and on-trend.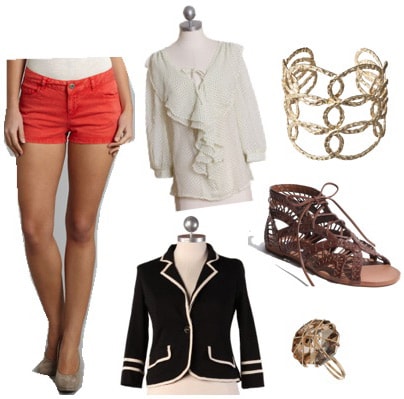 Product Information: Shorts, House of Fraser. Blouse, ModCloth. Blazer, Ruche. Cuff, Target. Gladiators, Nordstrom. Ring, Topshop.
Classic Denim Cut-Offs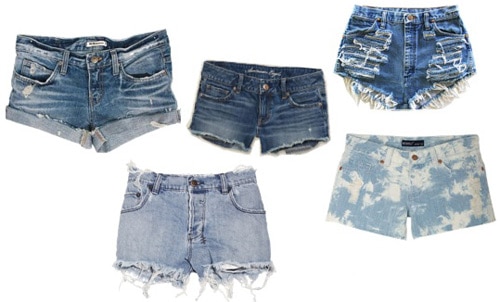 Product Information: Distressed Denim Shorts, Yes Style. Distressed Denim Cut Offs, American Eagle. Ksubi Mid-Rise Raw-Edge Denim Shorts, Net-a-Porter. Vintage Frayed Denim Shorts, Runwaydreamz. Tie-Dye Cutoff Shorts, Alloy.
The ultimate summer classic, every college girl should have at least one pair of daisy dukes in her wardrobe! Super casual and somewhat vintage-inspired, this timeless staple can be worn on the beach, around campus, or dressed up with a fitted blazer and tights. The wardrobe possibilities are endless!
Aside from the fact that these shorts are a perennial favorite, their widespread popularity means that they're not only easy to find year round, but also available at almost every price point. Find a pair you love and make the look your own!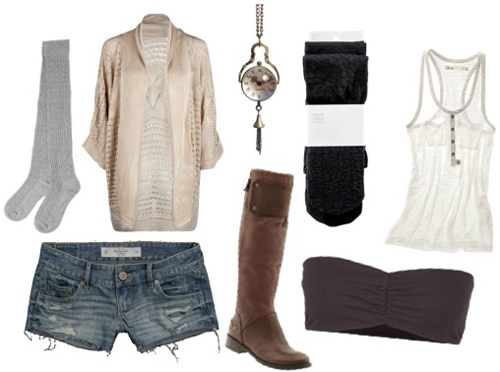 Product Information: Thigh High Socks, Punk. Shorts, Abercrombie & Fitch. Sweater, Tilly's. Globe Watch Necklace, Unique Vintage. Riding Boots, Piperlime. Tights, H&M. Bandeau, Tilly's. Tank, Madewell.
Your thoughts?
What do you think? Do you wear denim shorts in the summer months? What are your favorite styles? Any summer trends you'd like to see covered? Leave a comment and let us know!