This post may contain affiliate links, which means we may receive a commission if you purchase through our links. Please
read our full disclosure here
.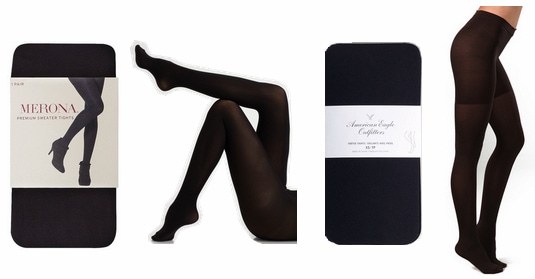 Move over, leggings – this winter, there's a hot new trend in legwear that's much more chic. If you can't guess by the title of this article; I'm talking about opaque tights.
We saw the look allovertherunways, and now the opaque tights trend has finally hit the streets (not to mention all the college campuses.) They're everywhere – paired with ankle boots, dresses, and even shorts.
Opaque tights truly are this year's leggings are a must-have trendy item that works in so many different outfits. The most popular tights are opaque black, but the look also works with bright colors from red to electric blue.
Why Tights Rock
Let me just take a second to say that I'm obsessed with this trend! Tights are a fab way to wear your fall dresses into winter (hello stretching the clothing budget), and a huge bonus – most are inexpensive! Also, I love the throwback to Edie Sedgwick and the '60s mod look. But here's the best part – tights actually do keep your legs warm!
How To Wear Opaque Tights
Tights are so versatile and they truly work with tons of different looks! Here are a few tips to get you started rocking this trend.
Try them with a sweater dress. Talk about cozy chic! Try a sweater dress over black opaque tights with cute ankle boots for effortless style.
Use bright colors sparingly. Remember that if you rock brightly colored opaque tights, keep the rest of your outfit simple and let your legs be the focus.
Try them with a party dress. Glam up your going-out look and stay warm while you walk to the bars or parties! Pair a sparkly dress with opaque tights, hot accessories and peep toe heels!
Try matching your shoes. Wear your tights with flats or heels in the same color for a look that makes your legs look a mile long!
Remember: Opaque, not semi opaque! There IS a difference. Opaque is hot this season, while semiopaque tights just look dated and are also much less slimming for your legs.
Shop This Trend
What do you think of the opaque tights trend? Do you love it as much as I do, or are you going to rock bare legs this winter instead? Let me know your opinions in the comments!