This post will show you what to wear in Dublin in 2021, with tips on what to pack for a trip to the Emerald Isle.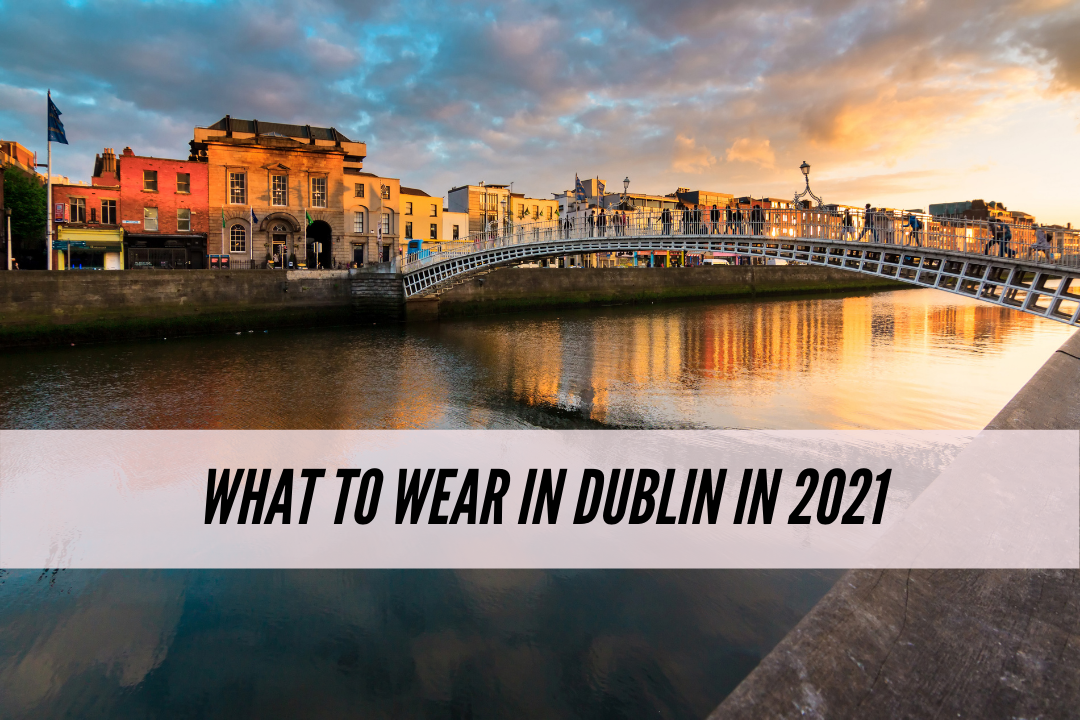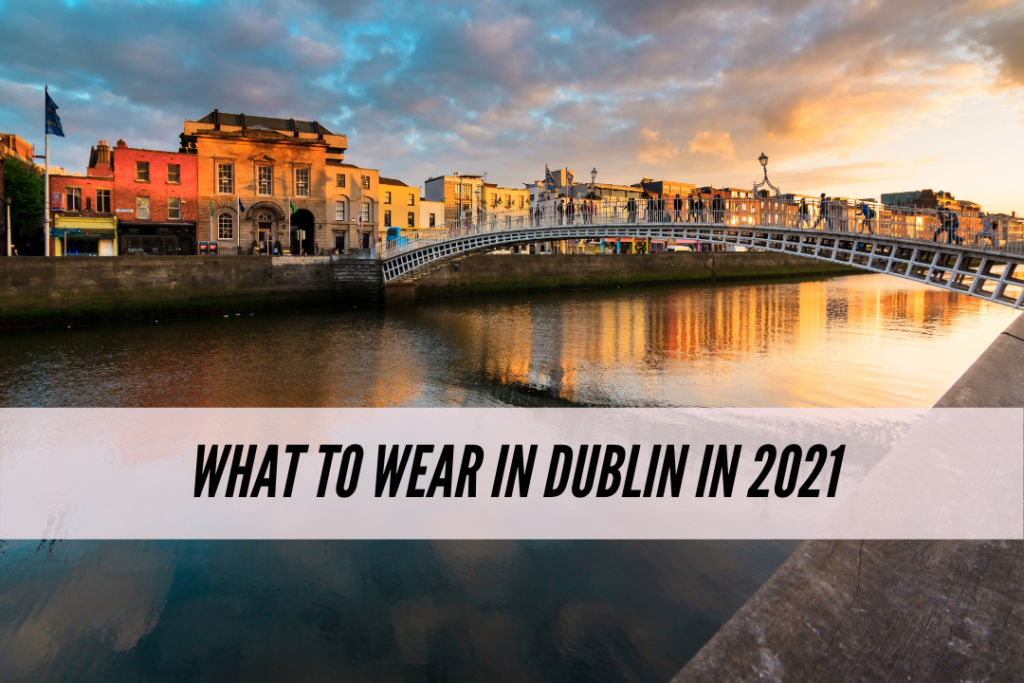 Happy St. Patrick's Day! In celebration of this holiday, we're featuring an Irish fashion trends guide centered around the city of Dublin.
Though travel for all of us is limited right now, we're all dreaming about where we want to go in the future, and Ireland tops many US students' travel bucket lists. So why not plan some outfits ahead?
Dublin, being the capital of Ireland, is the most common place to visit and with the city's rich history, sights and culture, you'll have a memorable time. (You'll just have to excuse the weather for the most part.)
So if a trip to the Emerald Isle is on your bucket list, you might have some questions about the styles in Ireland. That's where I come in. As a current college student in Ireland, I can give you some exact outfits that would be at home in Dublin.
The Irish look in one sentence, would be laid back but polished. It is not rare to see someone wearing casual sneakers and a statement bag together.
There are many Irish style icons including Maura Higgins, Ruth Negga, and Caitriona Balfe, amongst others.
While most Dubliners do follow trends, the main thought when choosing an outfit is combining formal and casual wear. It's all about blending pieces that you might not expect to be worn together, in order to stay comfortable in the changing weather conditions.
Whatever activity you decide to undertake while in Dublin or anywhere else on the island, there's an outfit for you.
Here my top suggestions for what to wear in Dublin.
Dublin Outfit 1.
This first example for what to wear in Dublin really brings sweet and practical together. Crop tops are really popular in Dublin and this floral one is perfect if you're visiting any the parks such as St. Stephen's Green or Mountjoy Square.
The Irish sneaker game is strong, with Converse, especially white ones, being a favorite. They're perfect for going around the city because sneakers are great for walking.
This green puffer jacket from Boohoo is edgy, modern and will keep you warm if the weather decides to act up which it does often. The faux fur collar adds a touch of urban class and you'll fit right in with the Dubliners and their faux fur coats.
Complete the look with a simple pair of high waist jeans from Asos. Nothing fancy but just good taste.
Dublin Outfit 2.
This outfit would be great for lounging around your hostel or walking through the National Gallery or any other gallery in the city. The Irish love their sweaters (called jumpers here), and this white roll neck tuck sleeve sweater from Missguided is a cute and cozy fit.
Again, we have some sneakers, a popular choice in Dublin. I see black Vans all over the place and they're so classic and look great with every outfit.
Since athleisure is definitely trending for the time being here in Dublin, the Vans go quite well with the comfy looking black leggings from Ardene.
To show some Irish pride, add the emerald-colored bracelet to top it off. Quite fitting in the Emerald Isle.
Dublin Outfit 3.
If your journey to Dublin falls in winter, this faux suede trench coat from Nordstrom Rack is a stylish deterrent from the cold that's perfect to wear in Dublin.
I love the soft, creamy color of this cable knit scarf which is a comfortable accessory if you're going up for a hike in the Wicklow Mountains, Glendalough or any other Irish mountain trail.
You'll always see someone on the streets, wearing a statement hat, so in winter add this adorable pink pom-pom beanie to your Irish travel wardrobe.
The golden brown trousers add a touch of class to the outfit and could be worn with a button down shirt or dressed down with a fun sweater.
Dublin Outfit 4.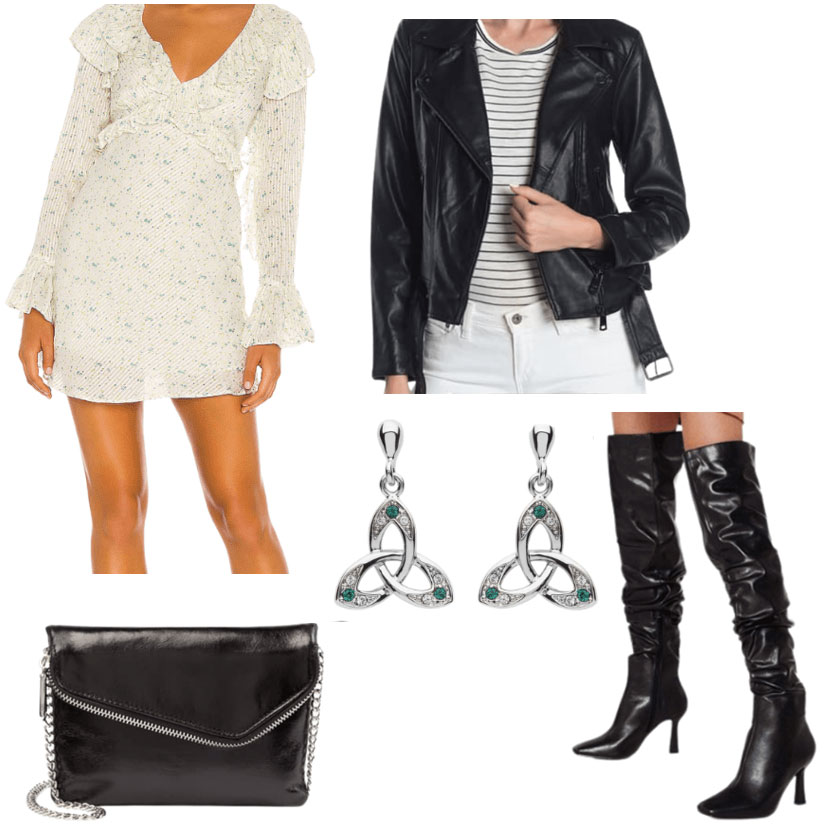 Products: Dress, Jacket, Boots, Clutch, Earrings
Finally, if you wish to experience the Dublin night life (whatever that will look like later in the year), you'll need a night out outfit that's polished, fun, and practical for navigating the city.
Short dresses are all the rage, and this ivory satin dress is bound to be a showstopper if you're pub-hopping or just strolling through Temple Bar. It has just the right amount of frills that it does appear girlish but is still beautiful and fashionable.
This edgy faux leather jacket is great for protection against late night chills (there's nothing an Irish person hates more than the flu, well a bad cup of tea is up there too). It's very sharp looking and is sure to turn heads.
The thigh-high boots are something I've seen on the streets for a while but have never had the courage to try. There's a ferocity to them that's fantastic to have if you're in a new country.
To hold everything you'll need for an evening out, we have a black leather clutch with a chain strap. It's elegant and edgy at the same time.
To pull the look together, we have a pair of trinity knot drop earrings with green crystals from Carrolls Irish Gifts, your one-stop shop for souvenirs in Ireland.
Bonus Must-Have for Visiting Dublin:
Now that you know what to wear in Dublin, here's an extra you need to add to any outfit.
One thing you should be prepared to carry with you most of the time when you're in Dublin, or anywhere in Ireland for that matter, is a good umbrella.
You never know if you'll meet a winter downpour or a summer shower. Also, have an extra one packed just in case the wind breaks the one you have.
Here are some cute umbrella picks: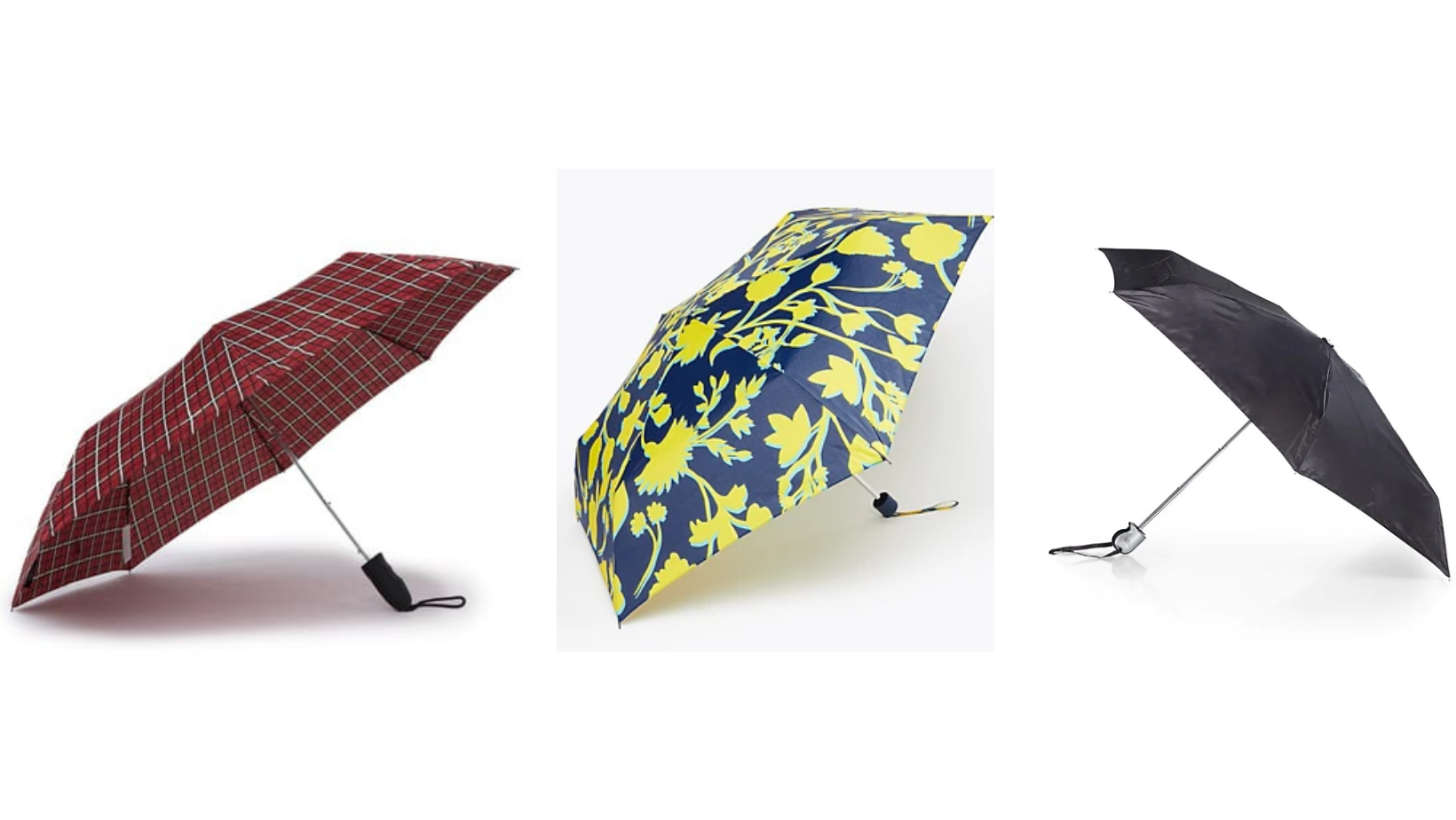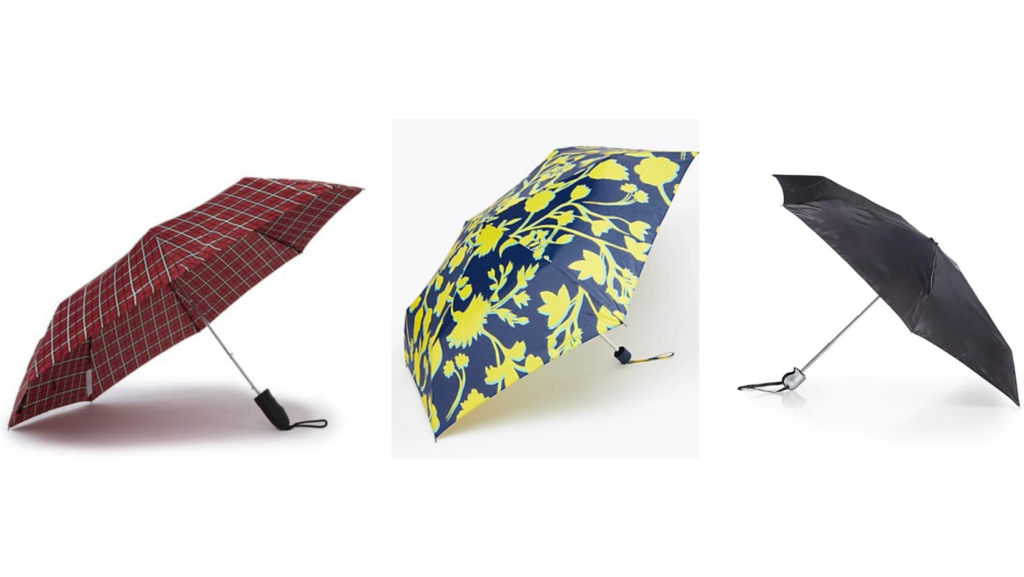 Products L-R: Plaid Folding Umbrella, Floral Compact Umbrella, Folding Umbrella
What do you think of our guide to what to wear in Dublin?
Have you ever been to Ireland? Where did you go? Did you have good craic? What countries are on your mind to visit? Let us know what you think in the comments below.