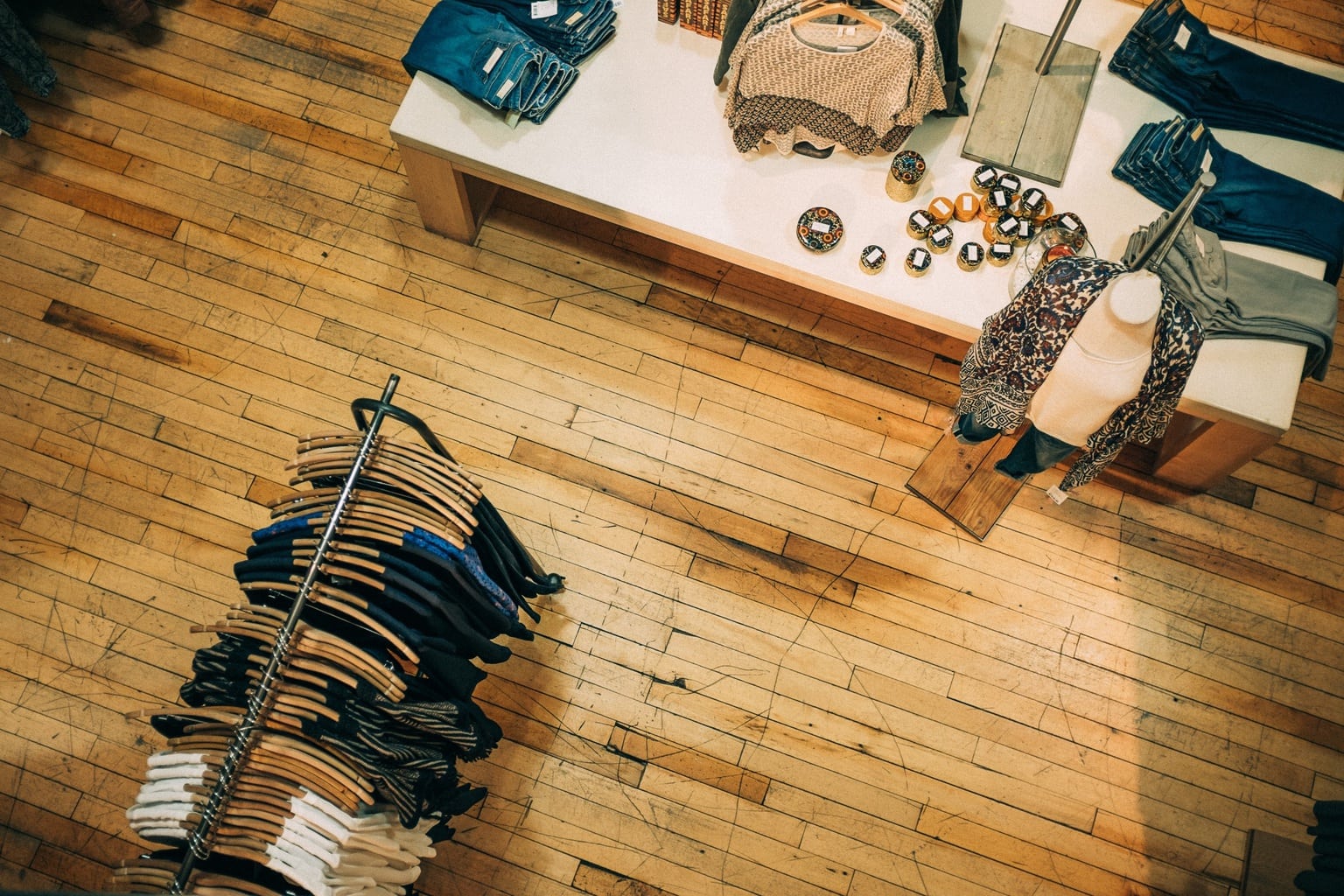 If we've learned anything from the recent boycotts on both sides of the political spectrum, it's that your dollar is more powerful than you think. If avoiding a product can have an impact, think about what impact buying a product can do – especially when the proceeds from that product go, in part, to a good cause.
Of course, you don't need to buy something to donate to a great cause like the ones listed below – if you prefer, donate directly to any of the charities below, or the charity of your choice! – but there's something VERY powerful about using products to literally wear our politics on our sleeves. Not only are you showing solidarity with those who share your beliefs, but with the marginalized and underserved who benefit from the organizations you donate to – all while looking super dope and fly as heck.
Below, I've listed a variety of products you can buy to show support for causes you may care about. If an issue you're passionate about isn't represented here, I urge you to seek out products you can buy to help. Here are a few suggestions to get you started.
Women's Rights
Women's issues are very near and dear to our hearts here at CF – after all, the majority of our readers and writers are women! From casual sexism to universal access to contraception to sexual assault prevention to advocating for women in STEM careers, the issues (and positions!) surrounding a woman's experience are as myriad and complex as there are women in the world.
The good news is, there are plenty of products you can buy and charities you can donate to that advocate for the advancement of women, including the products below: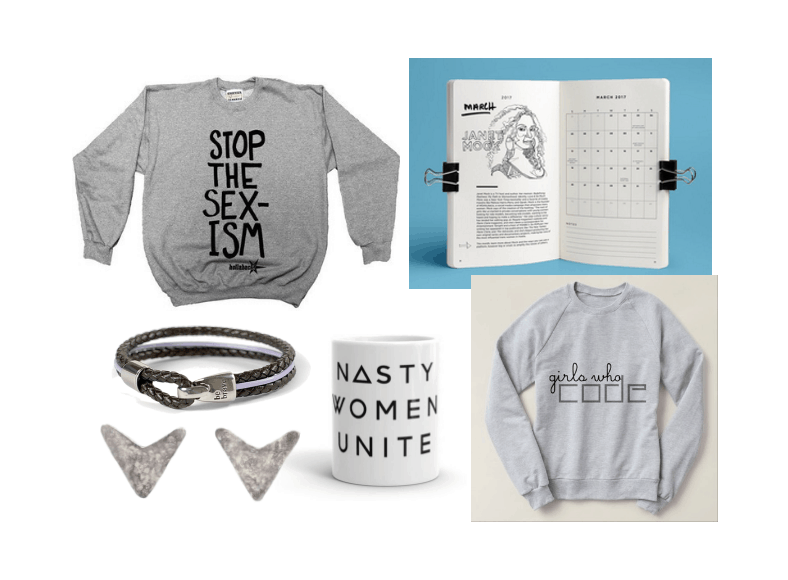 Products: Sexism Sweater – FeministApparel | Planner – Google Ghost | Bracelet – Bravelets | Earrings – Purpose Jewelry | Mug – The Outrage | Code Sweater – Zazzle
Civil Rights
Like women's issues, civil rights causes are both noble and numerous. Today, it's more important than ever to support groups who are committed to preserving and advancing the civil rights of marginalized groups, from people of color to the LGBTQ community to refugees and immigrants.
The products listed below support groups who advocate for civil rights: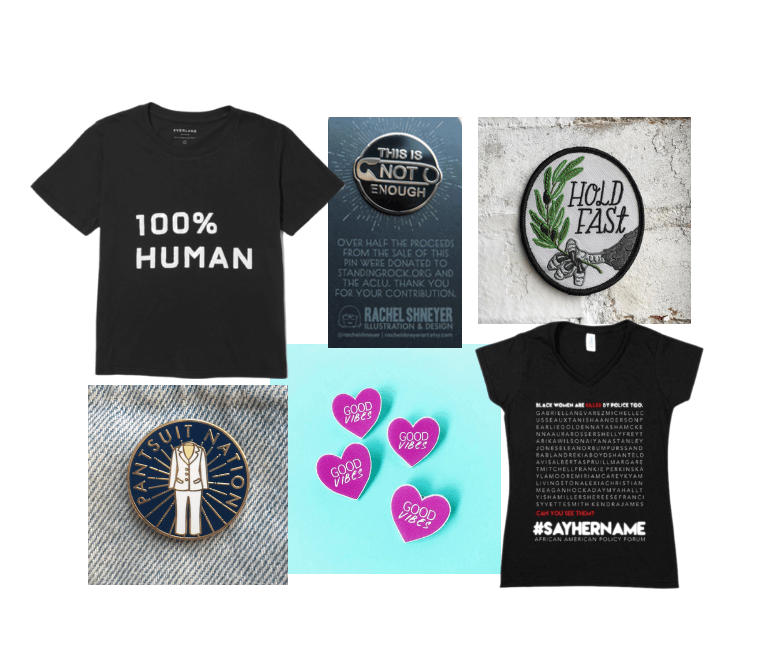 Products: Tee – Everlane | Safety pin pin – RachelShneyerArt (Etsy) | Patch – FrogAndToadPress (Etsy) | Pantsuit Pin – RhinoParade (Etsy) | Good Vibes Pin – PaperMoonCollective (Etsy) | Tee – Feminist Apparel
Animal Welfare
We are the only advocates our animal friends and family have, so it's important not to neglect their needs while we're off saving the world. These products support wildlife preservation efforts nationally and abroad, as well as caring for shelter animals and other initiatives for our favorite four-legged friends.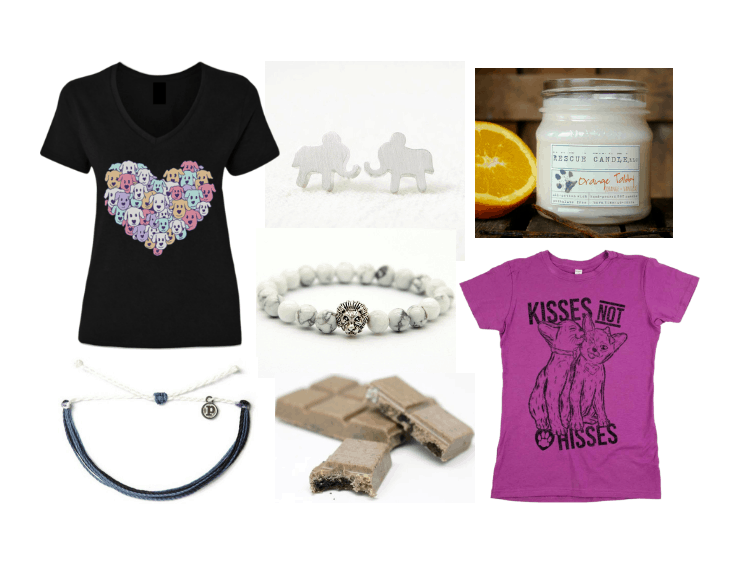 Products: Black tee – IHeartDogs | Earrings – LilahV (Etsy) | Candle – RescueCandle | Bead bracelet – Savannah Co | Bracelet – Pura Vida | Chocolate – Rescue Chocolate | Tee – Animal Hearted
Here's the info for the products featured above:
Each purchase from I Heart Dogs provides meals to dogs in shelters across the United States. This t-shirt alone provides 8 meals.
20% of the proceeds of these earrings are donated to the Humane Society.
15% of the proceeds of this candle are donated to animal rescue charities and the product is not tested on animals.
10% of the proceeds of all Savannah Co products go the Wildlife Conservation Network, specifically to lion conservation.
Pura Vida bracelets are handmade in Costa Rica by native artisans and 10% of the net proceeds of this bracelet goes to the Billion Baby Turtles project.
100% of the net proceeds of Rescue Chocolate products go to animal rescue organizations around the country. The Like White chocolate bar supports the No Kill Advocacy Center.
25% of the proceeds of every order from AnimalHearted goes to a non-profit or rescue organization.
What do you think?
Do you donate regularly to charity? If so, who? Do you buy products or from companies that also donate to charity or organizations? If so, what products? Let me know in the comments below!