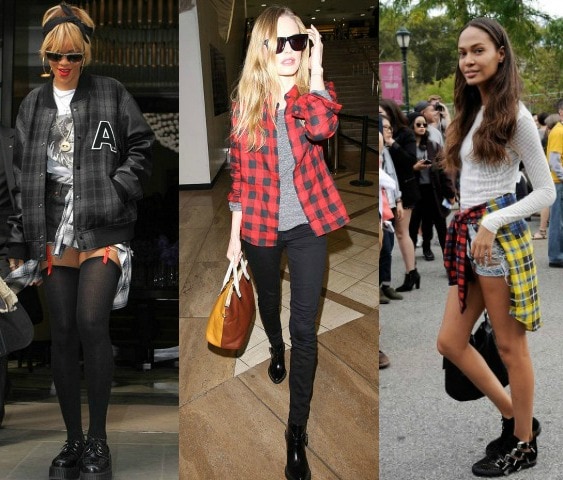 Photos: ELLE
Piece by Piece breaks down the equation of great style on a real college budget. When we love a look, we do the work by scavenging the internet for the absolute best-priced items, then recreate it for you! No trend is too extravagant, no look is too lavish, and no fashion moment is out of reach for the stylish College Fashion reader.
Women who already own and love a classic plaid shirt know just how versatile it can be. Perhaps as an equal and opposite reaction to trending sleek lines and patterned separates, plaid is becoming less of a preppy staple and going more the way Seattle and Marc Jacobs intended it; a devil-may-care piece thrown on as an afterthought.
To respect the grunge movement, the two outfits below are bare-bones and simple, but do not sacrifice style or self-expression. The only three things it takes to scruff up your look? A plaid shirt, a bold bag, and black (faux) leather shoes. Scroll down to learn how to add some grunge to your fall ensembles:
1. Willow Smith's Dressed-Down Grunge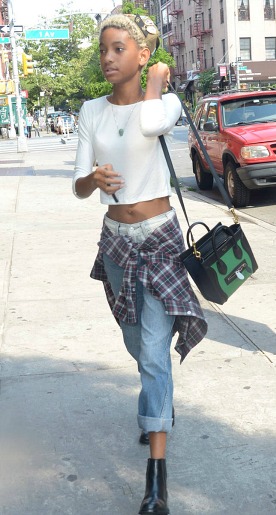 Photo Credit: ELLE
Willow executes the casual grunge look to perfection, a cruel trick of situational irony she was probably not counting on. That being said, I can't get over how studied her look seems. It's the perfect picture to take notes on – she tied her shirt around the waist (basically a direct ode to the original grunge movement), her color-blocked bag makes a personal style statement, and her black shoes hop on the "ugly" shoe trend train and ride it all the way to Street Style Station.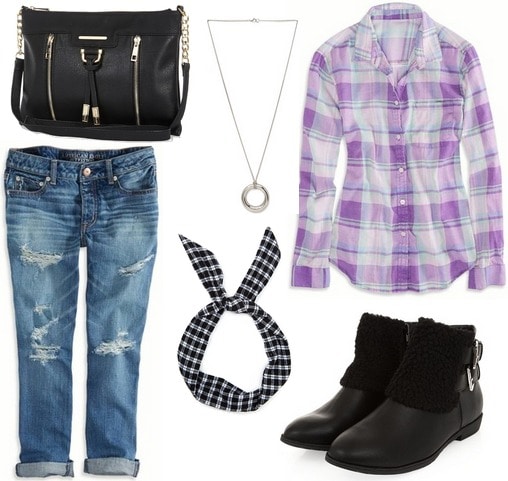 Product Info: Shirt, Jeans, Boots, Bag, Necklace, Headband
Just like Willow, the look above includes a plaid shirt, a statement bag of choice (I love the zipper symmetry and tassels on this one), and a pair of flat boots that are, yes, flat and buckled, but would hurt my heart to call "ugly".
Willow also appears to be wearing a headband and a silver pendant necklace. Cuff your boyfriend-style jeans just like her to show off your boots and tidy up an otherwise messy and baggy silhouette.
These jeans are an awesome deal and hail from one of American Eagle's amazing sales, plus both of the accessories are under five dollars each.
2. Mary-Kate Olsen's Boho Grunge Look
Photo Credit: ELLE
Mary-Kate's plaid look is a little more stylized than Willow's, but it's a great example of how to follow a trend without deviating from your personal style. Some women are simply incapable of leaving the house in baggy jeans and a flannel thrown around their waist, and I totally get that.
Mary-Kate looks both edgy and put-together, and a little bit of her signature boho style shines through. The key again is in how she wears her shirt: open and loose with rolled sleeves. Her statement bag is basically a party (that fringe!), and her heels qualify as cute, but are still what we're looking for – black and leather.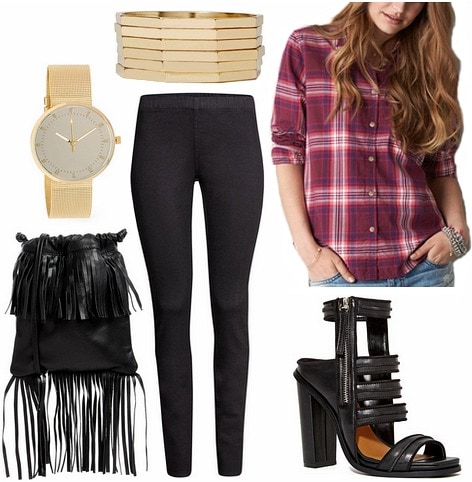 Product Info: Shirt, Leggings, Bag, Shoes, Watch, Bangles
A fringed bag, edgy heels, and loose shirt are the three things essential to creating a more polished grunge look like Mary-Kate. It always amazes me to see what a difference specific accessories make in an outfit. The black leather bag and shoes set the stage, but MK's gold arm party adds a definitive glam appeal to her grungy getup.
I'm obsessed with these Shoe Cult heels, which are about 50% off at Nasty Gal – an amazing deal for those of you familiar with this pricey brand. The shirt is on sale at American Eagle (basically, if you buy a full-priced item at AE, you're not doing it right), and the bangles are also from Nasty Gal's sale section.
What do you think?
I hope these looks gave you some new and accessible ideas as to how to wear your favorite flannel, and maybe made you fall a little in love with the scrappy appeal that is grunge. Do you think the pieces I picked are fairly priced? Which look will you be trying first? Comment below, and, as always, happy shopping!