This post may contain affiliate links, which means we may receive a commission if you purchase through our links. Please
read our full disclosure here
.
For this week's article, I wanted to write about a heavily requested topic– casual outfits to wear in class and around campus.
While writing this, I realized that there are many options for affordable casual looks, so this post will be the first in a two-part series. This week, we will focus on six different and budget-friendly ways to wear denim for under $100.
Denim is a staple in most college girl's wardrobes. Jeans are easy to wear, can easily be dressed up or down, and come in a variety of styles and washes. Because of that, they can become a sort of uniform, so try to mix up your style a few times a week with non-denim outfits.
Some quick tips:
If you already have some great pairs of jeans that you love, wear what you already have to save additional money.
I included skinny jeans in some of these outfits. If skinny jeans aren't your thing, these outfits would also look great with bootcut, straight or whatever style jean you prefer.
Outfit #1: Classic and Comfortable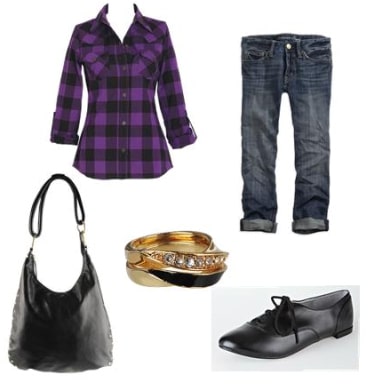 Product Information: Plaid Shirt- Delia's, Boy Fit Jeans- AE, Bag- Forever 21, Ring- Forever 21, Oxfords- Charlotte Russe
Outfit Total: $95
To me, this outfit looks effortlessly put-together. A button-up shirt is classic, but the purple plaid gives it an unexpected twist. These boy fit jeans are slouchy and comfortable, and the cropped leg shows off the adorable oxfords. I love the simplicity of the gold ring, while the bag is big enough to hold notebooks and everything else you need for classes.
Outfit #2: On Trend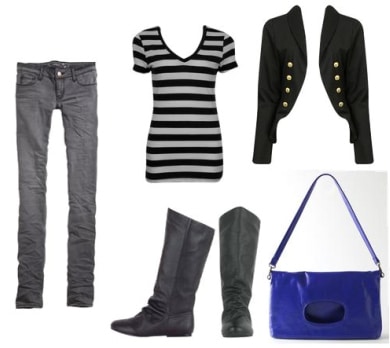 Product Information: Skinny Jeans- AE, Top- Forever 21, Blazer- Forever 21, Boots- Alloy, Bag- PacSun
Outfit Total: $98
This is a trendy yet laid back way to wear denim. I love the look of gray jeans, especially when they're tucked into boots. Wear them with a stylish striped top and military-inspired blazer for extra style points. Also, I love this bag– not only for the great blue color, but also because it can be used as either a shoulder bag or a clutch. Talk about versatility for your money!
Outfit #3: Preppy with a Pop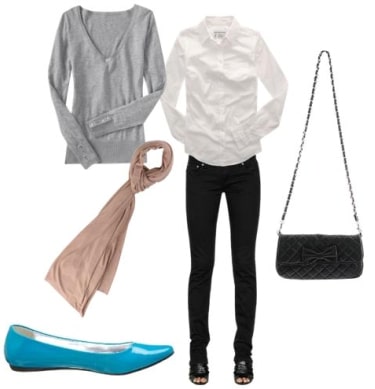 Product Information: Sweater- Old Navy, White Shirt- Aeropostale, Scarf- Forever 21, Straight Leg Jeans- Forever 21, Bag- Forever 21, Flats- Endless
Outfit Total: $96
Black jeans are super slimming and the straight leg looks good on almost anyone. Pairing them with a white button-up and a gray sweater is a preppy and classic look. I would roll and cuff the sleeves of the cardigan so the white shirt could peek through. Accessorizing with a nude scarf and quilted shoulder bag continues the classic look. Since the rest of the outfit is neutral, adding a bright pair of flats like these turquoise ones add a much needed pop of color.
Outfit #4: Rethinking Jeans and a T-Shirt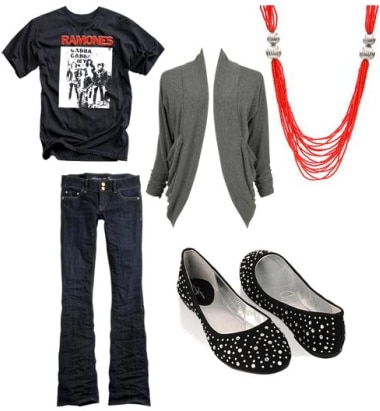 Product Information: Band T-Shirt- Mosh-Pitt.com, Cardigan- Forever 21, Necklace- ASOS.com, Skinny Flare Jeans- AE, Flats- Forever 21
Outfit Total: $96
There are some days when you just feel like wearing jeans and a t-shirt– which is understandable, but why not punch up that look with some unexpected accessories? I opted for a band tee in this outfit, but you can wear any type of graphic or solid colored t-shirt for a similar look. Also, instead of wearing a typical zip-up hoodie, put on a draped cardigan. Finally, wearing a bold necklace in a bright color and/or embellished flats makes you stand out.
Outfit #5: Subtle Femininity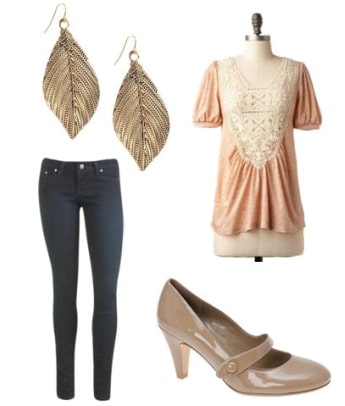 Product Information: Earrings- Forever 21, Shirt- ModCloth, Skinny Jeans- Wet Seal, Mary Jane Pumps- Aldo
Outfit Total: $89
This outfit is girly and sweet with a subtle use of color. The top is flowy and casual with an intricate lace detail in a pretty color. The nude Mary Jane pumps will make your legs look great, while the earrings add a delicate touch. This outfit would work for class or for when you're just hanging out around campus.
Outfit #6: Adding a Bold Scarf to Basics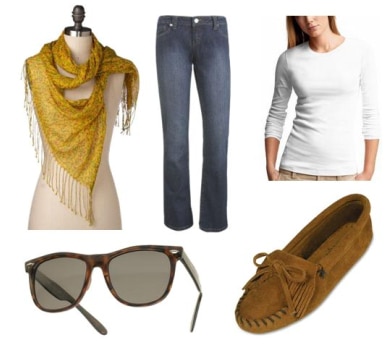 Product Information: Scarf- ModCloth, Skinny Jeans- Wet Seal, Shirt- Gap, Sunglasses- OCShades.com, Moccasins- Zappos.com
Outfit Total: $98
The best way to add style and color to an otherwise plain outfit is with a bright scarf. This ModCloth one is a pretty color and it can be worn so many different ways. The rest of the outfit is basic in order to let the scarf take center stage. If you don't already own moccasins, you should consider buying some – they are so comfortable and versatile! Sunglasses are probably my favorite accessory, so I added some Wayfarers to finish the look.
What Do You Think?
What do you think of these outfits? Are they worth the price? Which is your favorite? Do you wear a lot of denim? Where's your favorite place to buy jeans on a budget? What kind of casual outfits do you like?
As always, if you have a suggestion for a future Outfits Under $100, leave a comment and let me know!